5 Best Web Tools for Self-Employed Designers
Web design is a multi-disciplinary task that requires a person to have designing knowledge and excellent skill in developing a website.
Many software and web tools aim to ease the process of website development.
Having a well-designed and informative website is necessary for any business.
It is the responsibility of the designers to serve their clients with intuitive web pages.
Web designers no longer need to write lengthy code to create a website; several web tools are available to perform these tasks.
We have shortlisted the five best web tools to help you create an attractive website without stress as a self-employed designer.
Your Top 5 Choices for Web Tools for Self-Employed Designers
If you're looking to make website creation a simple affair – and one that you can do in just a few days – try to look at these top web tools.
1. WordPress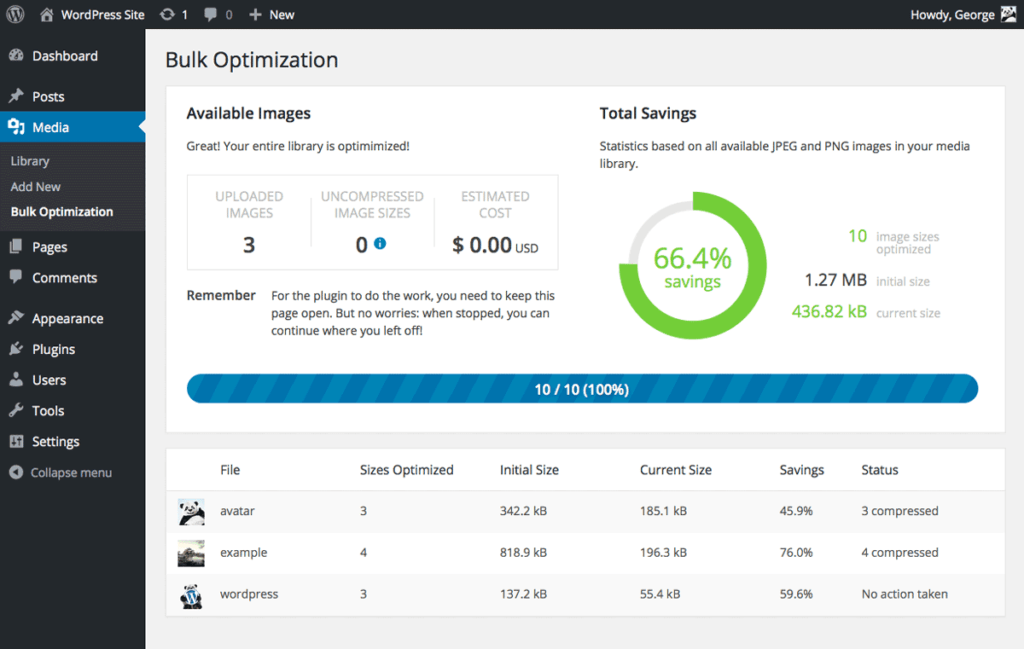 WordPress is the first on our list.
Without a doubt, it is one of the most efficient and best content management systems.
WordPress offers various plans to its customers, starting from a free variant to a premium e-commerce version, which covers the need of all levels of designers.
Today, over 40% of online websites use WordPress.
The WordPress web design tools are updated regularly to sustain in the competitive market.
Many of the latest web design software is inspired by WordPress.
With this tool, designers have more than a thousand options to choose from regarding in-built themes and plugins. 
WordPress allows designers to optimise and edit websites in a manner that suits their clients.
Its good UI and exclusive features make WordPress one of the top-ranked tools for web designers.
Not to anybody's surprise, this tool powers 27% of the websites across the internet and has a 76% market of the world's CMS.
This web design tool includes all the mandatory plugins that a designer would need to develop, optimise, customise and enhance the web pages they are designing.
2. InVision Studio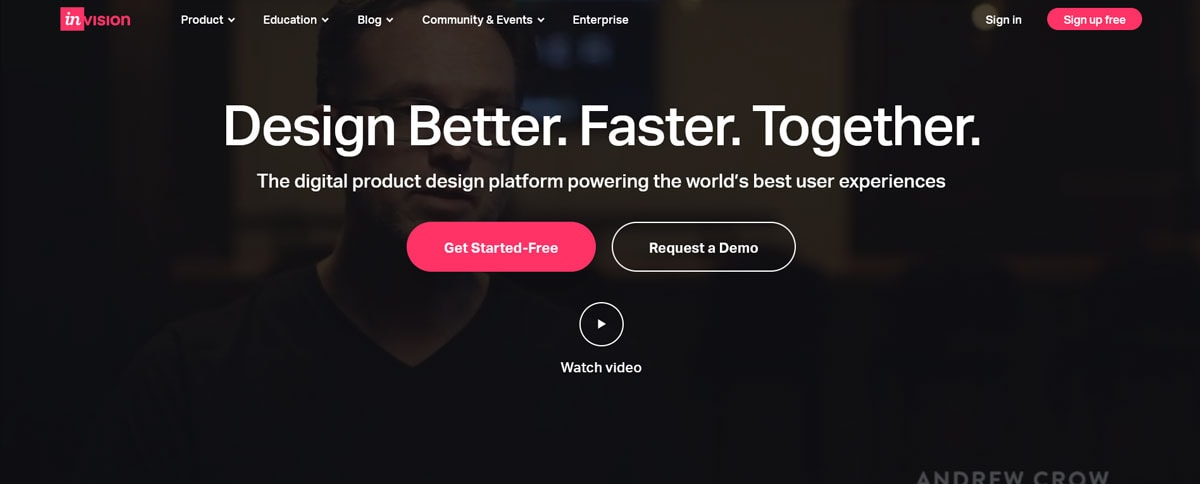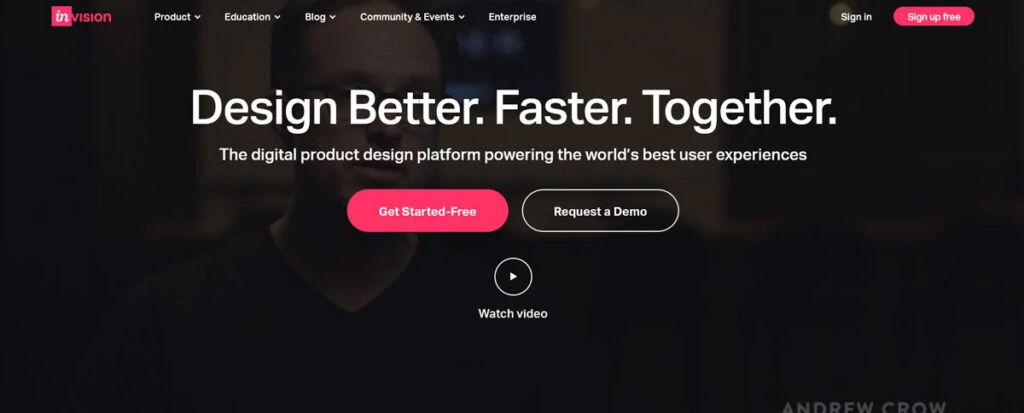 InVision Studio is one of the best web design tools that has already made an impression with its unique features.
Many web designers are shifting towards this incredible UI tool that includes several unmatched applications and serves as a complete package.
The fantastic features of this web development tool simplify the process of creating an attractive and user-friendly interface.
Besides, InVision Studio assists designers in creating an overall responsive and collaborative website.
Yes, this tool includes all the features that you might need while designing, but its most impressive aspect is the rapid prototyping that it offers.
With the help of this feature, a designer can create a complex yet beautiful web transition.
Such web transitions help designers achieve the animation level they have conceptualised, making them stand out.
InVision Studio performs most of your designing activities except developing the UI. 
It is hard to find another tool that can perform so many tasks.
This tool also allows you to create custom animations and transitions by carrying out interactions and gestures like hovering, swiping and clicking.
3. Photoshop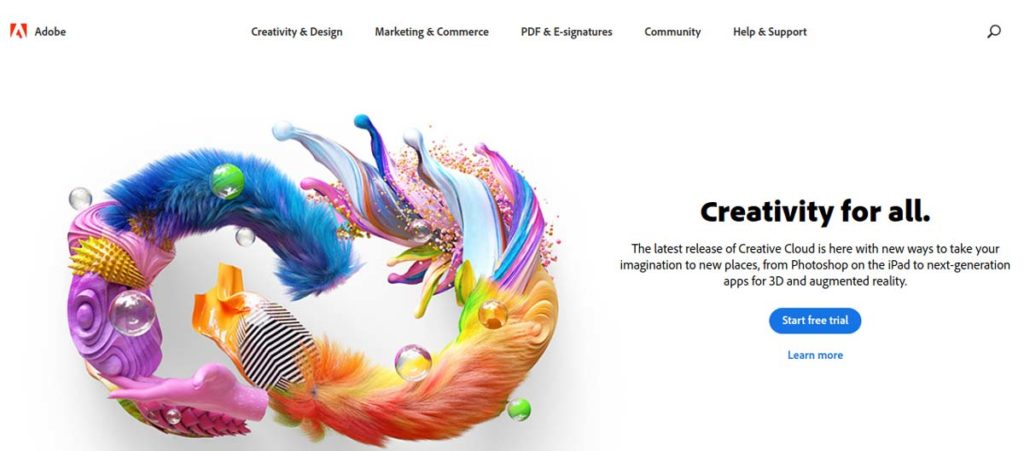 Did you know that over 68% of adults edit their photos before sharing them online?
Photoshop is another valuable tool for web designing, the most vital application of the adobe suite for web designers.
Photoshop is the right choice for any creative self-employed web designer.
The countless gradients and colour options included in this application help you create attractive patterns and prints in your design project.
The most fantastic aspect of using Photoshop is that it allows a designer to create original web pages since they are developing digital artwork using a hand-drawn reference.
Photoshop may not be the best option for a new person to design websites, but it will provide them with insight into web designing.
Compared to other designing tools, Photoshop helps you complete your work quicker, but it requires specific expertise.
Moreover, you can achieve more beautiful results with this tool.
You need to create a design for this application that you want to feature on your website. 
Not many web tools offer this privilege to designers.
4. Google Web Designer
Google Web Designer is a popular tool mainly used in HTML5, JavaScript, and CSS to design an interactive web page.
Thus, you might have already figured out that it is primarily used for creating ads.
Photoshop includes a very easy-to-use GUI to perform these tasks.
It has a timeline window that represents how the 3D features would look on your project.
Its GUI includes basic shapes, 3D animations, covering texts, and other design features.
Photoshop includes a simple UI with a colour panel to the right that offers you multiple options to fine-tune your design.
Moreover, this application has a library to store extra components, including graphics, videos, and other features that designers can use for advertisements.
Expert designers can play between two different views of this tool.
The first is the default design view, and the other is the code view. 
This enables the application to create a more advanced web page than ads. 
But these features are usable only for designers with in-depth knowledge of this application.
There are some glitches here and there that need to be fixed.
Like, you might face difficulty in opening HTML files that have been created with another tool.
Last but not least, this tool allows designers to publish their content automatically and view the current project on their default browser before posting it.
5. Movavi Screen Recorder
You may want to try out Movavi Screen Recorder to collaborate with your team members.
Use it to record live webinars and video tutorials you may want to use for guidance while working on a design project.
Instead, it is used to record live webinars and other video tutorials you may want to use for guidance while working on a design project.
This screen recorder for Mac and Windows offers many features you may need to capture, edit, and publish any content from your screen. 
Some of its key features are:
● Capturing and editing screenshots
● Creating screencasts
● Scheduled recording
● Online sharing instantly
● Numerous export options
● Fast conversion
● Personalised shortcuts
Movavi Screen Recorder is an exceptional tool for freelance designers, remote workers, and small and medium business owners.
The yearly licensed product of Movavi costs $69 with all the premium features.
Designers need to develop the patience to work on iterations because designers spend many hours developing new versions based on the reviewers' comments.
But, we can cut down some of these iterations by documenting the design process in a video with the help of a screen recorder.
A screen recorder is also useful when designers want to discuss their thought processes to clarify communication.
This can help reduce the time spent going back and forth and getting more things done in less time. Vmaker is one screen recorder that designers should sign up for.
Vmaker is a free screen recorder that allows users to record unlimited videos with no watermark. There is a built-in video editor which helps in trimming, resizing, and rotating the video.
In the paid plans, more advanced features like screen annotations, scheduled recording, virtual background, advanced frame and filters, recording quality up to 4K, and more.
It's straightforward to use Vmaker, and anyone can get started without having to refer to a manual. If users get stuck in between, they can reach out to the support team 24 X 7 by emailing them.
Vmaker is compatible with Windows and Mac computers. And users also have the option to use the Chrome extension to make screen recording videos.
Final Thoughts
We have presented you with a list of the top five web tools you can use as a self-employed designer.
It is challenging to choose the best option from this list, as they all have some unique features and specialise in certain web design aspects. 
It would help if you got the best software suited for your requirements.