Top 8 Graphic Design Programs & Best Web Design Software
Graphic designers now have so much software thanks to the advancement of contemporary technology that selecting it may be difficult.
And, as you may be aware, not only inventiveness but also the speed with which a project is developed and the designer's success depend on the program used.
When there are so many options, how do you decide which goods to buy? In this article, you'll find the top graphic design programs to look out for in 2021 (and probably in 2022).
The 8 Best Graphic Design Programs
In any designer's career, choosing the proper software solution for the job may be half the battle.
Some professionals like the classics, some want a cheaper alternative and some even dream of specialised software.
Below, you will find well-known applications and low-cost options for both expert designers and beginners because purchasing pricey software at the start of a profession is not always possible.
An excellent option in terms of value for money and functionality of the product.
Pros of Affinity:
The product is available at a reasonable price ($19.99 – $49.99).
Features that are up to date and offer a variety of possibilities.
Compatible with Mac and Windows.
Cons:
There are no significant drawbacks to this program.
This low-cost tool is designed for seasoned designers.
The software can handle various design jobs, including web design, typography, concept paper, and pattern creation for furniture, ceramics, and wallpaper.
Cloud functionality is another intriguing feature of this device. As a result, this product is suitable for group projects and small businesses.
The product is available for $50 per account.
Both Windows and Mac users can use the application.
So, if you're looking for a workhorse at a reasonable price, give this app a shot.
This software is a timeless classic of graphic design.
Pros:
Cons:
The product has a high price tag. It costs $31.49 for a month and $20.99 a month if you subscribe for a year.
It's unlikely that I'll have to explain how great this product is because every graphic designer has heard of it.
New features are added to this app regularly.
Both Mac and Windows versions of the software are available.
The only disadvantage that I may mention is the price. Previously, you could buy the application independently, but now you must purchase a Creative Cloud bundle. As you might imagine, this isn't cheap, and it's not for everyone.
Another design software veteran is still helpful today.
CorelDraw Graphics Suite Advantages:
It's simple to use and ideal for both new and experienced users.
Up-to-date upgrades, including the most recent versions for Windows and Mac.
Cons:
The program is rather expensive ($198 per year or $499 for the complete version).
Even individuals who aren't familiar with graphic design are likely to be aware of this software and the preceding one. Although this product is a seasoned veteran in this area, users continue to grow.
This tool allows you to deal with vector drawings and allows you to build multi-page layouts.
Designers will like the most recent edition. Another advantage is that a full-featured version for Mac users is now available.
Overall, this software is for experienced users, and even though it is an older product on the market, it has many recent upgrades.
A good alternative for novice designers and those who can't afford expensive software.
Pros:
Access is unrestricted.
It's ideal for novices because it's simple to use and comparable to Adobe Illustrator.
It's compatible with Windows, Linux, and Mac,
Cons:
It can be slow, regardless of the power of your PC.
If you're a newbie who doesn't want to spend money on complex software, this package is for you. It's a vector-based design program. This application appears to be capable of competing with Adobe Illustrator, based on the numerous evaluations. Apart from the technological capabilities, the only noteworthy feature is that it is free software.
With this product, beginners can do things in Adobe Illustrator that may be difficult for them. Text, outlines, forms, markers, gradients, transparency effects, and much more are all accessible as tools.
Another significant benefit is that this application runs on Windows, Mac OS X, and Linux. Even on the most powerful PC, though, this software can be sluggish at times. However, with such a vast toolkit and unrestricted access, you may pretend that you aren't aware of this disadvantage.
It's designed for expert users and comes with a large number of design tools.
Pros:
With frequent discounts, it is possible to get a good deal.
The versatility of the product in terms of graphic design.
Good templates.
Cons:
Only the Windows operating system is supported.
This program is appropriate for individuals who wish to experience typography on their desktops and those who are interested in current graphic design tools.
This program works with both vector and raster graphics. As you might expect, this implies that this software comes with a comprehensive set of visual design capabilities.
Access to millions of historical photos and drawings is another benefit of this platform. Layouts and templates for different design components are also available. These capabilities, however, are only available if you register for a license. The price of such a product is $299. However, reductions are frequently available, so you may wait a little time and obtain the best deal.
For $99.94, you can get a stripped-down version of the product called Xara. Designer of photographs and graphics. This edition also comes with a special deal, and you can get it for less on Steam.
Adobe Photoshop is unquestionably a professional designer's tool because anybody with creative talent who wants to express it through graphic design must be able to do it at a high level.
I am sure that over 90% of designers have used this graphic design tool at some point. There are several video courses available to help you learn this program and become a professional.
Everyone will emphasise the benefits and drawbacks of this software for themselves. Let's look at the overall benefits of Adobe Photoshop:
straightforward interface, many tools for work, for drawing different shapes and outlines;
the capacity to deal with three-dimensional visuals;
you can make surreal objects if you master all of the functions and features.
As many designers use Photoshop, collaborating and sharing files with them will be simple.
Ideal for retouching and photo editing, not just for amateurs but also for professional photos.
Even fantastic software, though, has drawbacks. The primary disadvantages are that the premium version is relatively expensive, you must activate the license regularly and require a reasonably fast machine.
Do you have a poster, billboard, brochure, flyer, or newspaper to create? Then it would help if you familiarise yourself with the Adobe InDesign environment.
After a week of learning this application, you should produce decent layouts if you are already familiar with other Adobe Systems products.
A minor drawback is that this product requires more expert use. Those who work in the printing industry utilise it more frequently.
Regardless, Adobe InDesign will be beneficial not just for designers working in the printing and publication industry.
Designers (and maybe journalists and bloggers) who create web magazines will benefit from the initiative. You can make a stunning cover and fascinating magazine pages with InDesign.
If you want to work in the printing industry, you'll need to know how to use InDesign in addition to Photoshop and Illustrator.
Motion design is a popular design concept that has been around for more than a century. Have you come across it before?
It's about everything that moves on a picture: photo animation, word animation, and individual element animation.
These sort of graphics is frequently used to make movie backgrounds, advertisements, or documentary films.
Because animation is so popular right now, it will be fun and beneficial for any designer to learn Adobe After Effects.
The good news is that skilled designers will be able to edit video sequences, add special effects, animation, and create three-dimensional pictures once they learn the tools of this application.
Disadvantages include the cost and the necessity to install more plugins often.
Top 5 Web Design Software
All of the mentioned above platforms are related to web design work. But you can also add some of the following.
For web designers, Adobe XD is the best software in the Adobe Creative Cloud package.
You may create layouts for a wide range of websites, adaptable pages, and online apps. The following are some of the essential features:
if particular parts are used frequently, you can design your segment blanks.
a simple mechanism for storing changes, similar to version history;
in Photoshop, you can open whatever you want.
using vector graphics;
importing web design projects from other applications;
animation, video, interaction, and more are all available;
collaborating on a project as part of a group.
In terms of price policy, a freelance designer can use it for free, and businesses can purchase a license in various ways.
Developers and designers can use this online service.
It is now simpler to create a website since a designer and a programmer may work on the same project and consider the modifications made to the assignment.
Figma is an internet tool that allows you to design user interfaces.
Features of the program include:
editing mode for many users;
service for cloud storage;
components (build your own commonly used blanks);
with a limited number of projects, there is an accessible mode.
Sketch is another vector graphics program. It's a decent substitute for Adobe Photoshop in general, especially if you build many websites.
Sketch is mainly used to design user interfaces. It includes all of the design tools you'll need, including guides, grids, symbols, vector editing, and libraries.
However, the application only has a Mac version, which is the product's primary drawback. Slow work with huge files, no interoperability with Adobe programs, and only the premium version are drawbacks.
What makes Sketch suitable:
it uses the logic of CSS;
the text is simple to deal with;
dynamic buttons and symbols.
4. Macaw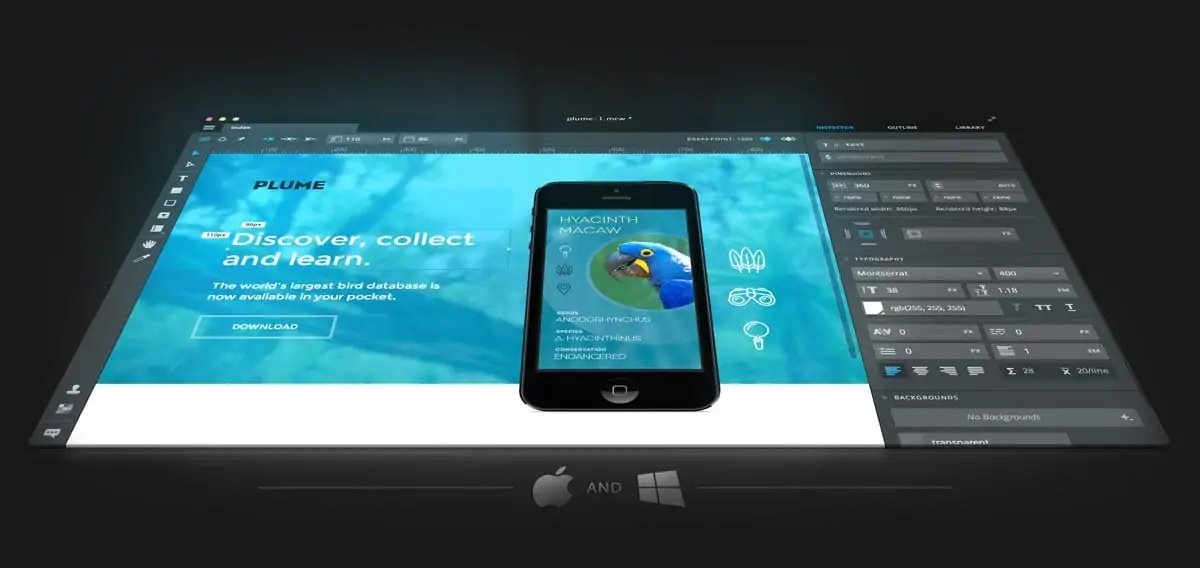 "Stop writing code, sketch it!" says Macaw. The unique feature of this application is that the designer creates the layout of a web page first and then receives a beautiful image and *.html and *.css files that the developer may utilise.
Of course, the designer needs to understand the fundamentals of layout to achieve a decent outcome.
Anyone who understands the fundamentals may construct a landing page, a root page, or a prototype site.
It's incredibly straightforward, and most importantly, it's quick. The code is pretty straightforward. If required, it is simple to correct. Even so, it takes less time than learning to code from scratch.
This service also includes the following features:
the application of components
remote preview (your computer runs as a server);
adaptability;
positioning, interactivity, etc.
5. Checkiant Time Tracker
Graphic designers, web designers, freelance designers, and team workers will love it.
The key to a healthy income and an open connection with a customer or employer is keeping track of time spent on assignments.
The basic time tracker from Checkiant is perfect for keeping track of each workday. Here are some of the application's features:
an interval system displays the amount of time you've spent on a specific job, customer, or project.
Checks are sorted by date, client, and project.
Various reports are created.
Tips for each part of the program, as well as a flexible system of options.
Rates history is saved.
Video conferencing with the team is possible with this connected service.
Any of the software above can help a rookie designer learn new skills. An expert designer can try out new applications that he hasn't worked with previously.
Fortunately, there are now enough platforms for everyone, and everyone will be able to find something they enjoy.
Remember to keep track of your time to know how many hours a day you commit to each project and how much time you spend learning new skills.
So, all you have to do now is choose the best choice for you. Remember that software allows you to express yourself creatively.
If you're starting as a designer and don't have the funds to spend on high-end solutions, it doesn't mean you should abandon your job.
If you're a seasoned designer, pick graphic design programs depending on the features of each package and the requirements of the project you're currently working on.
Author Bio: Rebecca Carter works at UK essay writing services as a content writer. She has a Bachelor's Degree in Journalism. During her study, she developed an enthusiasm for writing articles about the latest trends in the digital world, as her hobby is graphic design and SMM. When she is not writing, Rebecca enjoys being in the mountains and volunteering.