Top 8 Best Illustrator Alternatives (Free & Premium)
Finding the best design software is not always easy, especially when many different products are available on the market. 
From free apps to subscription-based graphic design tools, it can seem like there are an endless amount of vector graphic software products to choose from. 
When most people think about graphic design software, Adobe Illustrator is the product that usually comes to mind first.
But, you may wonder if this well-known product is the best option to suit your requirements, or if there are any suitable alternatives. 
Here are eight of the best Adobe Illustrator alternatives available for you to consider:
What is Adobe Illustrator?
Illustrator is a program created by the software giant – Adobe. Adobe Illustrator is widely used by designers and creatives worldwide and is considered an industry-standard vector graphics software product.
The History of Adobe Illustrator Software
Adobe started creating Illustrator way back in 1985. This first version of Illustrator was designed for use with the Apple Macintosh and sold in 1987. 
Adobe released a version of Illustrator compatible with Windows in 1989, but this received mixed reviews. 
As a result, it was not until 1997 that an updated version of Illustrator was released simultaneously for both Windows and Mac platforms.
Since its initial release in 1987, Adobe Illustrator has undergone many changes. 25 versions of the software have been released over its 34 years. The most recent version, Illustrator CC 2021, was released in October 2020.
Currently, Illustrator is available as part of Adobe's Creative Cloud. The Creative Cloud is a collection of more than creative programs, including Adobe's other well-known programs, Photoshop and InDesign.
Main Features of Adobe Illustrator
One of the reasons Adobe Illustrator is so popular is the wide range of features that it provides. Here are some of the main features that this industry-standard program has to offer:
You can use it on both desktop and iPad
Able to create a wide range of designs from illustrations, and product packaging to business logos and lots more
Compatible to work with other apps on Adobe's Creative Cloud, such as Photoshop, so that you can integrate projects seamlessly
Files are synced to the cloud
Ability to draw freehand
Clarity of designs is retained even when scaling up
Able to collaborate with others in real-time wherever they are.
Access to Adobe Fonts
Why is Illustrator so Popular?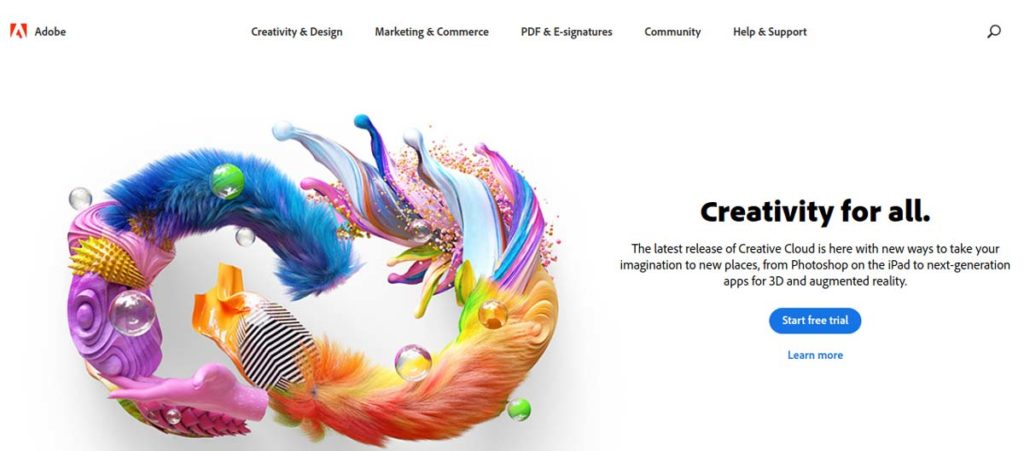 Adobe Illustrator is the industry-standard program for designers, but what makes this well-established software so popular? 
Part of Illustrator's appeal is its compatibility with other programs within the Adobe Creative Cloud. 
This compatibility enables designers to utilise a full range of design tools to achieve the results they are hoping for from their end designs. 
Another reason for Illustrator's popularity is that it can be used wherever you are, thanks to the ability to use it both on the desktop and the iPad. 
Another significant feature Adobe Illustrator offers is a collaboration with other users on each design in real-time without emailing large files back and forth. 
Illustrator's collaborative capabilities also make it far easier to work seamlessly across the miles with team members worldwide.
If you are looking for Illustrator alternatives to consider, then read on to find out more about eight of the best alternative programs for your design needs:
Vectornator is a popular graphic design tool created in 2017 and ranks as one of the top Adobe Illustrator Alternatives. 
As its name suggests, Vectornator is a vector graphic design tool used worldwide by big-name companies and downloaded millions of times.
Vectornator was recently mentioned in the Apple M1 iMac release event because of its usage of Apple's ML Kit for its AI-powered, time-saving features. 
In addition, Vectornator extensively uses multi-touch gestures and innovative UI, with a common code base between iPadOS and macOS, bringing desktop power with you wherever you go. 
Which Platforms is Vectornator Available On?
Vectornator can be used on the Mac, iPad, and iPhone.
Vectornator Pricing
Vectorantor is entirely free to use. You simply need to download it from the App Store or Mac App Store if you plan to use Vectornator on a Mac.
Vectornator Pros and Cons:
Vectorantor Pros:
Intuitive user interface
Compatible with iPhone and iPad so that you can use it on the go
Vectornator is free
UI Design
Lettering
Vectornator Cons:
Vectornator does not yet natively sync with iCloud.
Like Illustrator, Affinity Designer is another vector graphic software tool that was first released in 2014. 
This award-winning program has many benefits and is becoming a popular choice among creatives.
Which Platforms is Affinity Designer Available On?
Affinity Designer is available for Mac, iPad, and Windows.
Affinity Designer Pricing
The price of Affinity Designer varies depending on which platform you plan to use it on. At the time of writing, Affinity Designer was available at the following prices:
macOS – on offer at $24.99 instead of $49.99
Windows – on offer at $24.99 instead of $49.99
iPad – on offer at $9.99 instead of $19.99
Free trials are also available for the macOS and Windows versions of Affinity Designer.
Affinity Designer Pros and Cons
Affinity Designer Pros:
Easily switch between vector and raster
You can customise keyboard shortcuts
Created with input from designers
More affordable than Illustrator
Affinity Designer Cons:
Not easy to switch between Affinity Designer and the rest of the Affinity apps in the suite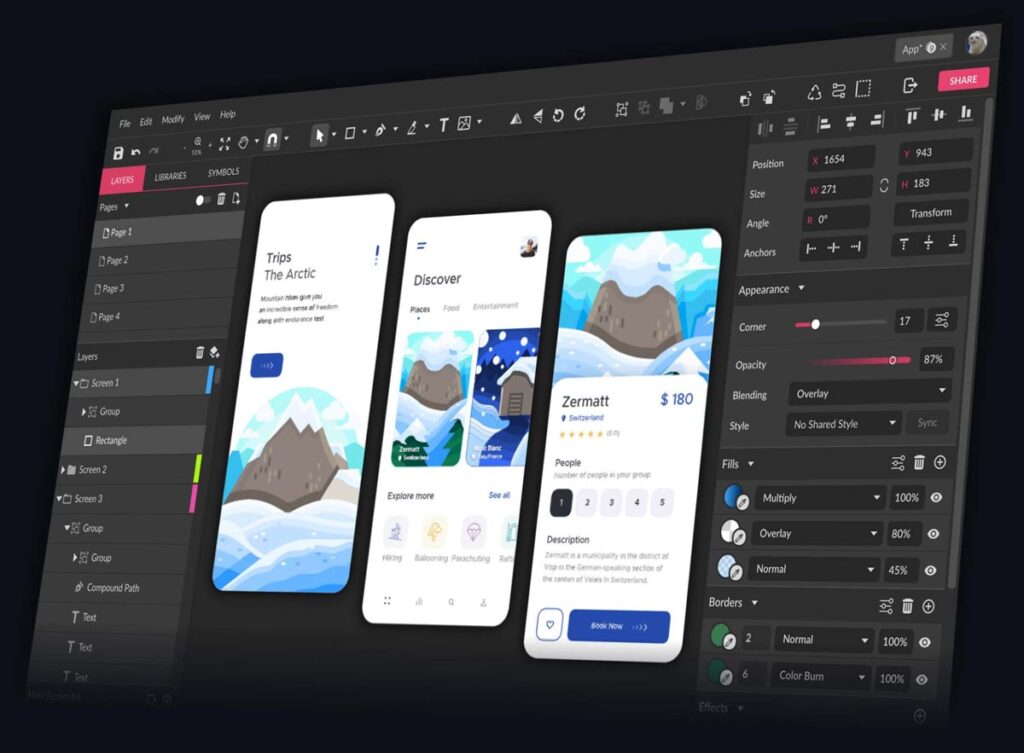 Gravit Designer was first introduced in 2014. This free vector-based graphic design tool is a popular software choice for designers and has many uses. 
Gravit Designer is now available in two versions; Gravit Designer and Gravit Designer Pro.
Which Platforms is Gravit Designer Available On?
Gravit Designer is available to use on a range of platforms. Gravit Designer is compatible with Mac OS, Chrome OS, Linux, and Windows. 
Gravit Designer Pricing
Gravit Designer is the free version of this graphic design software, but Gravit Designer Pro may be a better choice if you want to experience more features. 
At the time of writing, Gravit Designer Pro was on offer at $49.00 per year, instead of the usual price of $99.00
Gravit Designer Pros and Cons
Gravit Designer Pros:
Auto-updates so you will know you are always using the most up-to-date version of Gravit Designer
Autosaving feature available for cloud files, which can be disabled and enabled whenever you like
It can be used in-browser or as a desktop app
Gravit Designer Cons:
The introduction of Gravit Designer Pro meant many features previously available on the free version of Gravit Designer were only available on the paid-for version
Not able to work collaboratively in real-time, which could be an issue if you have teams working remotely in different locations
Unable to work offline with the free version of Gravit Designer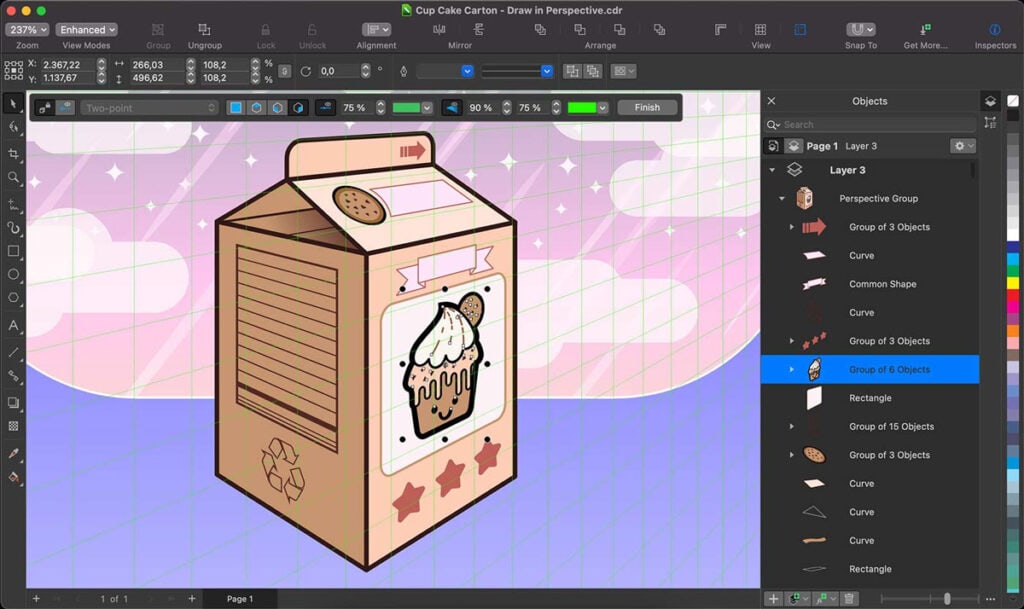 CorelDRAW is part of the CorelDRAW Graphics Suite. CorelDRAW was the first vector-based graphic design program designed for use with Windows. 
CorelDRAW was released in 1989 and has enjoyed over 30 years as a popular design tool. 
To date, 23 versions of the program have been released. The latest version of CorelDRAW was released in March 2021.
Which Platforms is CorelDRAW Available On?
CorelDRAW is available for Windows and Mac OS, and the CorelDRAW.app is now available for designing when on the move. 
The introduction of a Mac OS-compatible software version was first available around 20 years ago, and after a long absence, a Mac version of CorelDRAW is now available.
CorelDRAW Pricing
There are a few different CorelDRAW plans for individuals and organisations.
You can purchase individual plans for $35.00 per month or $421.00 per year. Alternatively, you can choose to make a one-time purchase of CorelDRAW's plan for 
Business plans for medium and large teams can be purchased for $421.00 per year or as a one-time purchase of $1096.00, including CorelSure software maintenance.
CorelDRAW also offers customised plans which are suitable for larger organisations. Customised plans are available as well.
Free trials of the CorelDRAW Graphics Suite 2021 are available to download for Windows and Mac. Free trials last for 15 days.
CorelDRAW Pros and Cons
CorelDRAW Pros:
Different versions of CorelDRAW are available for different types of users, including beginners, enthusiasts, and professional designers
A choice of licensing options is available so you can choose the best option for your needs and budget
Easy to collaborate with other team members in real-time and gain feedback on designs instantly
CorelDRAW Cons:
So many different features that it can take a while to become familiar with all of CorelDRAW's capabilities
Inkscape is a unique vector graphic software tool that was first developed in 2003. The latest version of Inkscape was released in January 2021 
This well-established image tool is a member of the Software Freedom Conservancy and is a non-profit organisation. Members of the Inkscape Project author Inkscape, and the Inkscape community provides user support.
Which Platforms is Inkscape Available On?
Inkscape is compatible with various platforms, including Mac OS X, GNU/Linux, and Windows.
Inkscape Pricing
Inkscape is free to download and free to use.
Inkscape Pros and Cons
Inkscape Pros:
Completely free to use.
Helpful online community of graphic designers
It runs across different platforms, including Linux
Inkscape Cons:
It can be challenging to learn how to use Inkscape
Fewer features than other programs
It may be hard to use for beginners with little experience with other graphic design software programs
Sketch was first introduced in 2010 and is a popular digital design tool. Unlike some of the other Illustrator alternatives listed here, Sketch is used less for print design and illustration purposes and more for UI and UX design for apps and websites.
Which Platforms is Sketch Available On?
Sketch is only available on the Mac OS.
Sketch Pricing
Sketch offers two pricing plans to pick a plan matching your usage requirements. 
The first price plan is suitable for individuals and teams and is available for $9 per editor per month or at an annual cost of $99 per editor.
The second price plan is a business plan and is only available via yearly billing. You will need to contact Sketch direct for price details to establish the best business plan for your needs.
A Mac-Only license for the Mac app is also available for Sketch. The Mac-only license does not include many Sketch functions available on the two main pricing plans and works with local documents only. 
The Mac-Only license is available for individuals and teams for a one-off payment of $99per device.
Sketch Pros and Cons
Sketch Pros:
Can add extra functionality with plug-ins and integrate with third-party apps
Possible to add 'guests' to your workspace to enable access to collaborate on particular projects.
You can sync documents and browse versions of your document history.
Sketch Cons:
Sketch does not offer a free plan; all Sketch plans are paid for
Sketch does not work across platforms and is only compatible with Mac OS
Some users report that the prototyping tool is a little tricky to use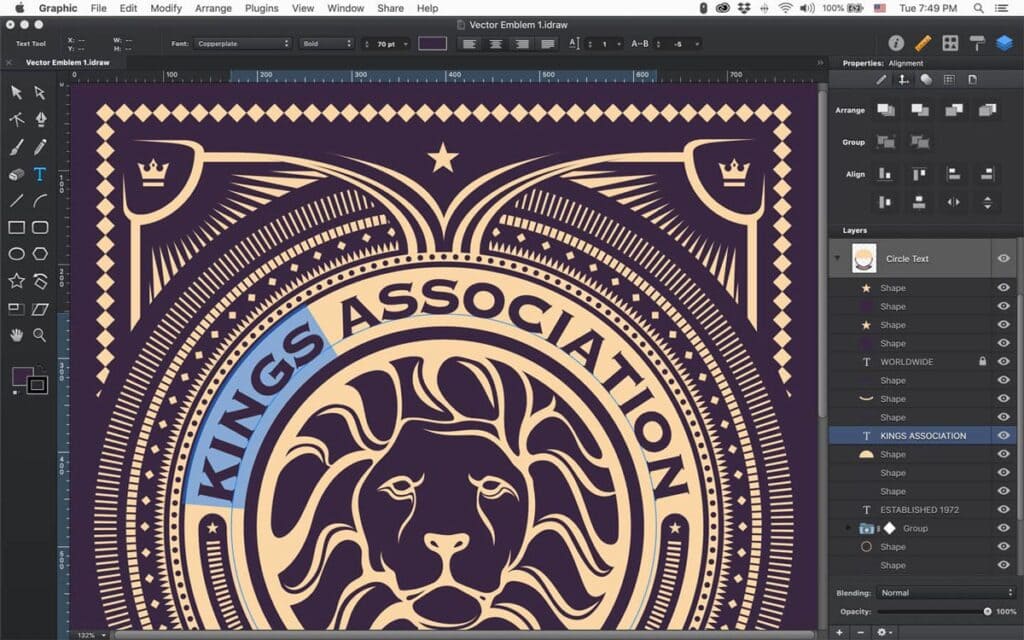 Graphic is a graphic design tool packed full of features and suitable for a wide range of graphic design and illustration tasks, including highly detailed work such as complex illustrations.
Which Platforms is Graphic Available On?
Graphic is explicitly designed for Mac OS X. Graphic is also available for compatible Apple mobile devices with its Graphic iPad and Graphic iPhone versions.
Graphic Pricing
Graphic is available in a choice of price plans, and the cost of these depends on which version of Graphic you require; Mac, iPad, or iPhone. 
Each of the apps is available to download from the App Store.
The Graphic Mac version for Mac OS X is available to download for $29.99
The Graphic iPad version of the software is available to download for $8.99
The Graphic iPhone version of Graphic is available to download from the App Store for $2.99
Graphic Pros and Cons
Graphic Pros:
Graphic Plug-ins are available to download
Using Graphic for iPad on the iPad Pro offers a similar experience to the Mac version
The Graphic iPad version is optimised for use with the iPad Pro and Apple Pencil
Graphic Cons:
Not suitable for cross-platform use as it is designed for Mac OS X and iOS only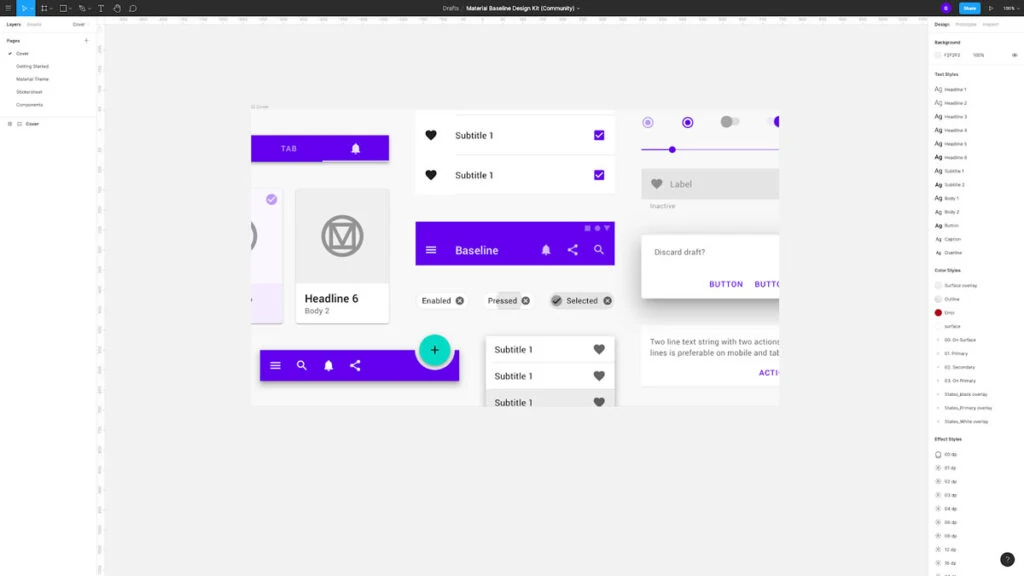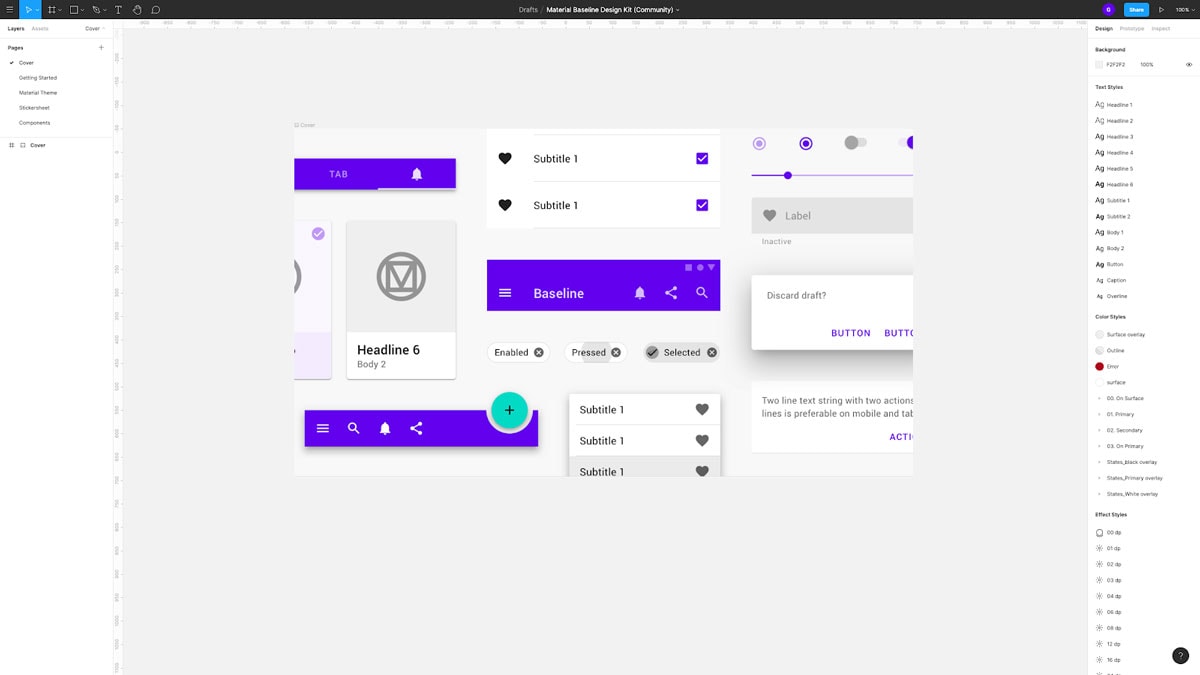 Figma is a vector graphics editing tool and much more. Figma enables users to create designs, prototype them, and collaborate all in one program.
Figma was launched in 2016 and has proliferated in the past five years to become a popular choice of design software.
Which Platforms is Figma available on?
Figma is mainly a web-based tool, so it runs across platforms. You can use Figma with Windows, Mac OS, Linux, and Chrome OS.
Figma Pricing
Figma offers a range of pricing options for different users. It is possible to use a free version of Figma forever. 
The free version of Figma is the Starter plan and is restricted to one team project with unlimited viewers
The Professional plan costs $12 per editor per month when billed annually or $15 if paid monthly. The Professional plan is also available for free for students and educators
The Organization plan is suited to businesses that require more than nine editors. The Organization plan costs $45 per editor per month and is available for annual billing only 
It is also possible to try Figma for yourself before you buy as they offer a free trial
Figma Pros and Cons
Figma Pros:
Allows fully collaborative working between teams in real-time
You can embed advanced prototyping capabilities and comments to prevent them from being lost
The New FigJam feature allows teams to brainstorm together on a virtual whiteboard
Figma Cons:
Some users report it can be hard to get used to working using Figma
More guidance on how to use the program would be beneficial
Bonus: Glorify
Glorify is an easy-to-use yet powerful graphic design tool that allows you to plan, design, launch and analyse all your big ideas in one place. It is a lifesaver if you want to create high-quality images without the need for expensive outsourcing. 
Glorify makes design accessible to all. Entrepreneurs, marketers, agency owners, designers and busy professionals can use this tool to create aesthetic images that convert. 
It is also super valuable for eCommerce enthusiasts who need a simple, quick solution to make their products stand out in a saturated market. With simple tools for beginners and advanced features for designers, Glorify provides a great alternative to other design tools. 
Conclusion
As you can see, some strong contenders are available right now to choose between when trying to find the perfect graphic design software. 
Each of these contenders has its pros and cons to think about and its unique features.
When weighing up which product is right for you, consider several factors to help you decide. You may want to think about the following before making your final choice:
Which platforms do you plan to use the software on?
How many editors will you need to add to your software plan?
Do you need real-time collaboration for your design projects?
What is your budget for vector graphic design software?
Are you happy with the level of user support offered by the software company?
Do you want to use plug-ins?
Will you need a prototyping feature?
Do you need cloud-based storage for your projects?
Will you be working on the go and require mobile compatibility?
Carefully considering the above questions should help you narrow your choices and find the perfect Adobe Illustrator alternative for your projects.
Author Bio: Darya Jandossova Troncoso is a photographer, artist, and writer working on her first novel and managing a digital marketing blog – MarketSplash. She enjoys spending time with her family in her spare time, cooking, creating art, and learning everything there is to know about digital marketing.