Why UX Design Can Make or Break Your App
UX design is now a better-understood skill and one that has proven to make or break an app. 
UX design is how the user responds to the app and how the app responds to them. 
Additionally, the attractiveness of an app overall often has to do with the UX design as users are drawn to apps that are responsive and functional. 
The small details of how an app opens and responds to user inputs are the things that keep users coming back. 
However, the same is not valid for apps that are significantly powerful and tremendously horrific to use. 
If the app is unattractive, then it won't matter how great the tech is. 
No amount of functionality can overcome the vast crater of good taste and UX. 
The user experience is the best determinant of how attractive your app is
You log on to your email. Pleasantly, the app opens with a soft chime. 
Your new emails are filtered, stored away in the proper compartments. The words are crisp on your screen; no dead pixels are distracting fonts. 
You open a new email, type in a few words, and quickly press the send button. Another pleasant chime — et voila — your message has been sent.
This is the best way to describe UX design. 
It is the entire experience you have with a piece of software. 
Was it easy to use? 
Did you encounter frustrating errors? 
Were the colours pleasant? 
Were the buttons easy to press? 
All of these factors determine how attractive your app is. 
Feature-rich software is excellent, but it won't be worth anything if you don't have the UX to build a stable relationship with your customer.
UX design is more important than software capabilities
User experience is the most critical component of your application. 
How could it surpass even the technical quality of your application? 
Easy. Take a tangible example. 
When you're cooking, do you use the elaborate cookware with the best heat conductivity or do you simply pop out a skillet and start cooking?
After a long day at work, you better believe it's the skillet that's making dinner. 
While elaborate cookware has its place, it's not something you'd use every day, despite it being of higher quality. 
Part of the user experience is a presentation; another large part is ease-of-use. Both are crucial for your app's success.
UX designers usually work closely with mobile app designers, thus finding the best candidates for such job roles is significant. 
Any company should consider a specific hiring guide to make the process easier and ensure that only the most experienced candidates are selected.
In-App Purchasing has to be optimised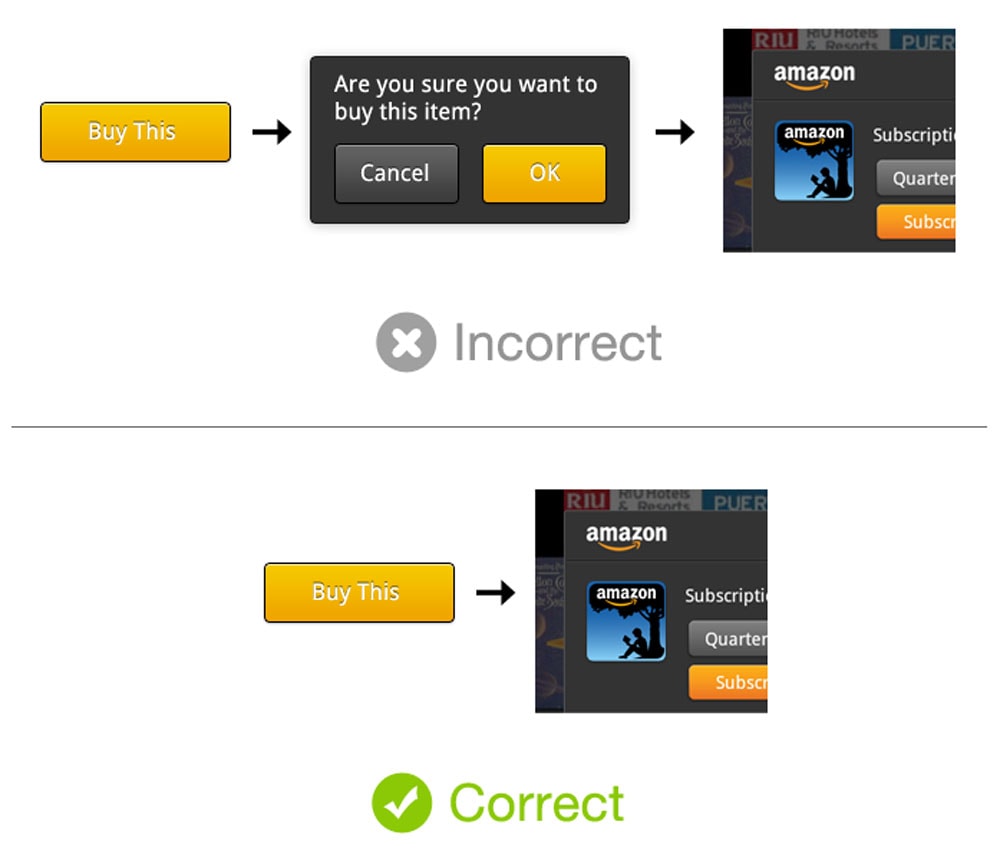 It's a tough app market out there. Most apps are free. 
It's hard to generate revenue from nothing. Or is it? 
Thankfully, there is a way to make something out of nothing. 
Microtransactions, or in-app purchases, generate revenue for most popular mobile apps on the market today.
In-App purchases are like the candy at the front of the supermarket, or the concessions stand in a movie theatre. 
Add-ons like popcorn, candy bars, and soda are substantial revenue generators as the markup on these tiny transactions is quite high.
When you optimise the user experience, you maximise the "impulse" to buy, just like when you're shopping at the grocery store. 
A tabloid doesn't look so appetising if it's buried beneath niche gardening magazines. 
But right before you checkout, next to the mint-flavoured bubblegum — it's an instant purchase. 
The same goes for in-app purchases; they must be designed to get the user to engage and spend to get a quick shopping rush.
UX exceeds far beyond just the superficial. 
No products found.
It also has to do with how the app is programmed to handle transitions, forms, and external links. 
Regardless of the app's functional power, it will not perform well in the app market if it doesn't have great UX. 
Much to the dismay of talented and emboldened developers, cutting back in the functionality of the app in favour of UX has shown to be an intelligent business decision.
Ease of use is one of the essential facets of UX, and apps that are easy to use are often the first to gain money. 
However, great apps with great UX only profit from such an enterprise by having sensible IAP and fair microtransactions.
Microtransactions should be priced based on the market instead of a hypothetical price based on potential value. 
This is to say that apps that prioritise UX are apps that are poised to succeed in a dense market filled with talent and technology. 
The only way to distinguish your app from the rest is to have outstanding UX design that makes even the most veteran app users impressed. 
How to Make Your App Profitable By Following These Easy Steps
Making your apps profitable is about doing your homework on the market and enlisting the help of others. 
App developers that do rigorous research are ahead of their competition by merely studying them. 
This is the most critical step when starting development on a mobile app idea or tool. 
Market research can be done quickly enough by using the app stores and various services that will provide the market research for you. 
After that, making apps profitable becomes about finding the tools that make life more comfortable, and the people that will make a dream come true. 
Apps that utilise the engagement of their users and concentrate on the user experience will always find a loyal fanbase. 
1. Do your market research
Every piece of intel you get about your sector increases the chances of your app, making a profit and becoming a success. 
Each app idea should be tested against the competition to find your business' angle or specific target demo. 
Your team should do at least as much as the user does in finding the right apps.
2. Hire freelancers to help
Freelancers are cost-effective on-demand talent with flexible schedules and contracts. 
For startups, on-demand freelancers are a dream come true.
UX designers are quite expensive to hire outright. 
Many developers require six-figure salaries. 
By contracting freelancers as design and app development consultants, your business can save money while still accessing top global talent.
Sale
3. Concentrate on UX design
UX design has quickly become a hugely respected industry as the results of excellent UX design immediately produce profits for the app team. 
The user experience of the application heavily determines how the app will perform on the market. 
Users who report having positive experiences with an app are far more likely to spread the app details with friends and family than those who use something for purely functional reasons. 
That is not to say that developers should stray from designing their original ideas but rather that each development team should consider the user when designing. 
Users who can navigate easily and do anything with responsiveness will have a good time with an application even if it doesn't suit their needs exactly. 
Concentrating on the user experience for your app will guarantee a level of success and profitability that will only help your team.
4. Engage with users
The only way to know for sure what your users want is to ask. 
Steve Jobs famously said that users know what they want. 
However, Apple consistently sent out customer satisfaction surveys and tested products with test audiences regularly. 
So, in this instance, don't take Steve Job's advice. Study his actions.
Engaging with users can be done in several ways. 
You must keep up to date with your target market, as needs, desires, and technologies constantly change.
Try connecting with users with:
Medium articles
Influencers
Forums
Surveys
5. Use your analytics
Analytics is an app developer's best friend as they can highlight specific areas that need improvement or need streamlining. 
Profitable apps utilise all of the data available to give themselves an advantage over the competition. 
Things like market performance reports and technological assessments will give your team constant insight on how to improve and how to become profitable. 
A business that utilises analytics to its fullest is just waiting to become the next big thing.
App developers must use iterative improvement to stay current with the market and analytics to determine if their community will be enough to grow. 
The most crucial step in all of this is to continuously check the development cycle and see if everyone believes in the same product. 
A cohesive and educated app team with an engaged audience will always produce an app that is successful and life-changing. 
A profitable application is just a quick review and implementation away from becoming a reality. 
How to Generate Income from Your App
Everyone has some passion they could quickly funnel into a commercial vehicle. 
Apps seem like a great vehicle to launch your startup; the market size is in the billions, increasing exponentially every year.
With a significant market comes a great deal of competition. 
As such, it can be challenging to stand out in the crowd. 
We've collected some tips and tricks that can help you generate income from your app, even if it's your first foray into selling software services.
Leverage consultancy services
Consultancy services exist for every level of the app development process. 
As consulting becomes more commonplace, so does the impact that it has on the world. 
Leverage freelance services and matching services to find consultants that can give you invaluable industry tips that will put yours over the top. 
Generating income from your app can't be done if you don't know where you are going, and consultants can give you the direction you need to find just that. 
Whether it is for marketing or for the development itself, leveraging consultancy services will make your product better and your business better overall.
Make installation free
Another integral step in promoting your app as valuable is to make the installation of it free. 
Even for those who coded everything by hand, it is recommended to make the initial interaction-free as a gift. 
The first act of allowing users to access your app and browse it for free will allow you to implement a good IAP system or gain incredible exposure. 
Making installation free automatically tilts the advantage in favour of your app.
Optimise IAP
IAPs are implemented every day that seem obtuse and strange. 
Some are economically tone-deaf, and others are purely outlandish. 
In either case, no one would spend money on something that doesn't return value. 
That is why it is recommended that businesses review their IAP policies to make sure that they are still profitable without being predatory. 
If users know your app for having a good IAP scheme, then that will drive the profitability of said all through the roof. Word of mouth marketing is better than just saying it yourself.
Here's how to optimise IAP effectively:
Make in-app purchases easy to spot
Engage users with push notifications
Make IAPs offer major enhancements or expansions
Price them according to your market
Listen to users
Something that is seemingly lacking from many app communities is the interaction of the app development team or the staff. 
Your app users should always be listened to as they know your app on the user side better than anybody else. 
Listening to your users will help inform your marketing decisions and increase sales.
This doesn't mean that you hold town halls but that you instead actually take the feedback to heart and change something in the app to make it more appealing to your best customers. 
Keeping open communication lines with your customer base and development teams will guarantee that your developers never make another app misstep.
Generating income from your app may seem like a pipe dream, but in reality, it is all too possible with a few simple tips. 
It all boils down to paying attention to your customers and assessing what they need and want from your app. 
Then you should go about analysing the IAP strategy and marketing efforts to create a firm idea of the app's present and future. 
Using consultancy services will give you invaluable information about how to make the smartest next step. 
Making the app initially free and then implementing a common-sense IAP strategy will make customers more inclined to spend money in the app. 
Transparency in communication with your users and marketing teams will help to solidify a concrete future and identity for your app. 
The truth of any product is what it represents in the hands of those who value it the most. 
Tailor your app to fit the needs of your most prized customers and shore up on the marketing to generate as much income as possible from your apps.
How to Make Your Dream App a Reality
Creating the app of your dreams these days is a reasonably accomplishable goal if you know a few things before you start. 
The technological advancements in coding have made it so that anyone with a good idea can feasibly create a great app. 
The first thing every developer should do is market research. 
Developers should never stop doing market research throughout the entirety of the development process. 
Extensive market research will demonstrate precisely the need that your product is going to fill and what audience you should target. 
Essentially, market research gives your app a real-world identity and a core audience to target. 
Research other products on the market that are succeeding and products that are failing to see what pitfalls should be avoided. 
The market research also includes interaction with your audience and gaining insight into your product and development plan. 
Developers often underrate how vital interaction is before the product is released only to have that same product launch to little fanfare. 
You can avoid an entire collapse of your dream app by merely doing your research and getting involved with your core audience.
Sale
Ask yourself these questions
It can be tempting to jump right into an idea for your business, gathering capital, calling investors, and preparing proposals. 
However, you'll need to arm yourself with lots of research to do battle on the open market.
One of the best uses of your time is to conduct market research. You can begin by delving deeper into your idea. 
Ask yourself questions like:
What does my app do?
Who needs this app?
Who is the target user?
For example, you might think that there aren't enough weather apps out there. 
Upon researching, you find that most weather apps have weather news and local weather information. 
You're looking for weather apps that would be useful for young families, so you add safety tips as well. Geolocation tags to find umbrellas and other weather gear when storms are approaching and offers push notifications on multiple devices based on the family's preferences.
Assemble the team that fits your needs
The team you assemble can be as big or as small as you want. 
Fly solo, get a partner, odd hire a handful of freelance app developers to pick up the slack. 
Whatever you choose, it's essential to evaluate your budget as well as your app's needs. 
Do you need to ask for funding? Or can you bootstrap it yourself?
If you're feeling unsure, reach out to possible mentors, accelerators, or app development groups. 
They might be able to help you carve out a space of your own.
Ask your target users for help (beta testing, suggestions, surveys)
Your users aren't just numbers on a screen. 
They are real, live people — what a twist! 
You would be surprised how willing people are to give you their opinion on just about anything. 
Ask users what they want, test your prototypes, and consider their feedback.
Are you not finding any interested parties? 
Sweeten the pot by running raffles, giveaways, or using paid survey services. 
This could help get you the traction you need to get the proverbial ball rolling.
Once brand identity and audience are defined, it's time to assemble your team. 
Getting the right team together is about having a clear idea of the platform and the features of the app. 
Depending on budgetary restraints, you may want to go through the freelance developer pool to find talented developers on flexible contracts. 
It is always recommended that you have at least one other person there to help you avoid any mistakes you may be missing. 
The right team will make sure that your vision stays focused and that your development cycle doesn't slow to a halt. 
Luckily, your target audience can also act as a crucial member of your development team as you can ask them to do beta testing and surveys that will keep your app in check. 
A dream app is only a dream if it comes to fruition, and the right team will make sure that it does with the help of your fans. 
Creating your dream app is now more possible than ever, and with these tips, you will publishing before you know it.
Last update on 2023-05-31 / Affiliate links / Images from Amazon Product Advertising API