How to Successfully Rebrand with a Logo Redesign
Branding is not just advertising or marketing; it's the vision of a brand that needs to be identified with customers and stay with them. 
Branding takes about 5 to 7 impressions, to establish a brand into consumer memories!
But, after successful branding and established vision, suddenly we see brands lose their steam! 
There are several reasons, and one such reason is the "Logo Design". 
When a brand designs a logo, it takes complete care on the conceptual part and makes it part of its identity.
As time lapses, preferences and trends change, so are the choices that customers make. 
Keeping up with the consumer mindset through a "Logo Redesign" to "Rebrand" your brand is quintessential.
What is Rebranding?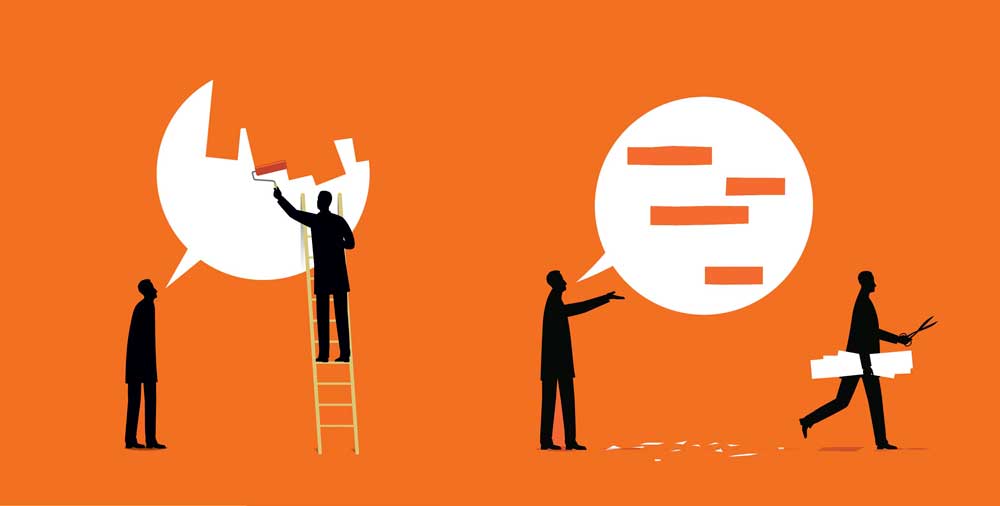 Rebranding is recreating the brand's identity with subtle or significant changes in the brand's name, logo, visuals, and packaging or marketing strategies. 
Rebranding is like knocking back on the consumer's door and saying," Hey, here is something new!"
So, Why do you need to Rebrand?
You need to rebrand to change the following aspects of your identity.
➔ Change the brand perception among consumers.
➔ Brand logo revamps through an active redesign to get a contemporary identity.
➔ Reduce or diminish negative connotations.
➔ Beat the heat of competitions.
➔ Improve social awareness of the brand.
What is Logo Redesigning?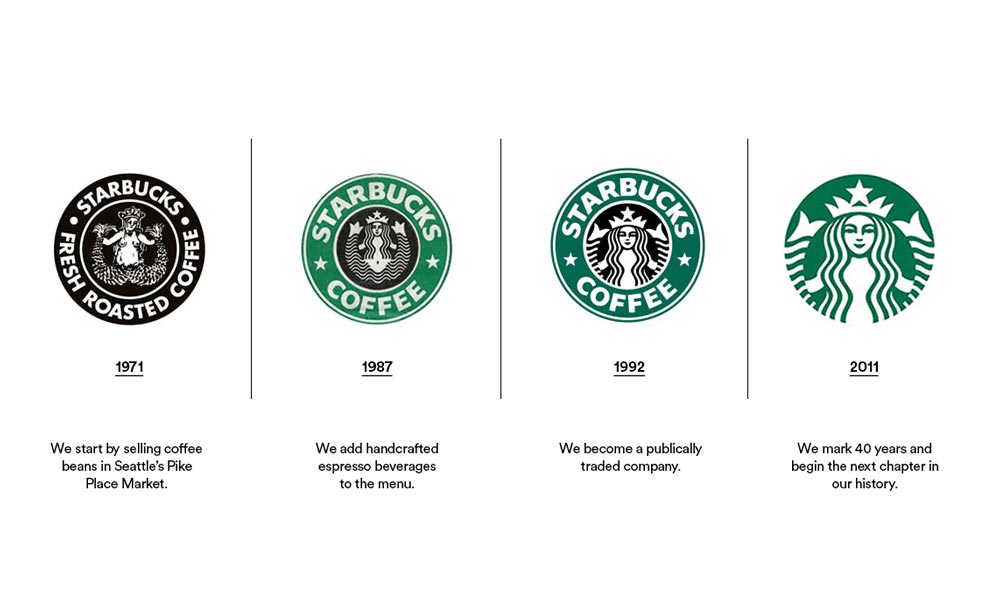 Logo redesigning is revamping the identity of your brand through a tweak in your logo design or entirely new logo design. 
Your logo is like a signboard to your business. 
It makes consumers relate to your vision and values that define who you are as an organisation.
Over time, there are changes in the customer mindset and the same should be reflected in your logo design. 
So, a logo redesign is quintessential to your rebranding strategies.
How to rebrand with a logo redesign?
To rebrand any company through logo redesign needs some marketing strategies and few artistic strokes of design vision to recreate the magic of the brand logo again. 
★ Relevant Rebranding
Relevant rebranding is strategising the relevance of logo design in the current market trends and customer mindset.
This can be achieved through market surveys and analysis of the changes your competitors make during their rebranding campaigns.
Take an example of one of the leading biscuit brands in the world – "Brittania". 
The brand that has now grown into a full-blown bakery and dairy product company, redesigned the brand's logo to acclimatise the modernisation of its brand into the brand's logo.
★ Brand Expression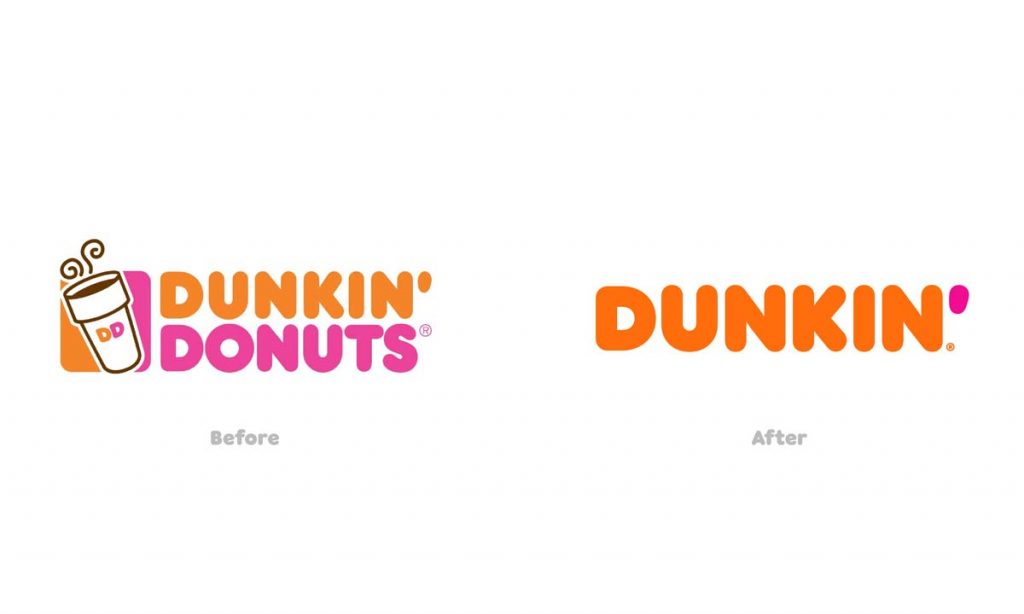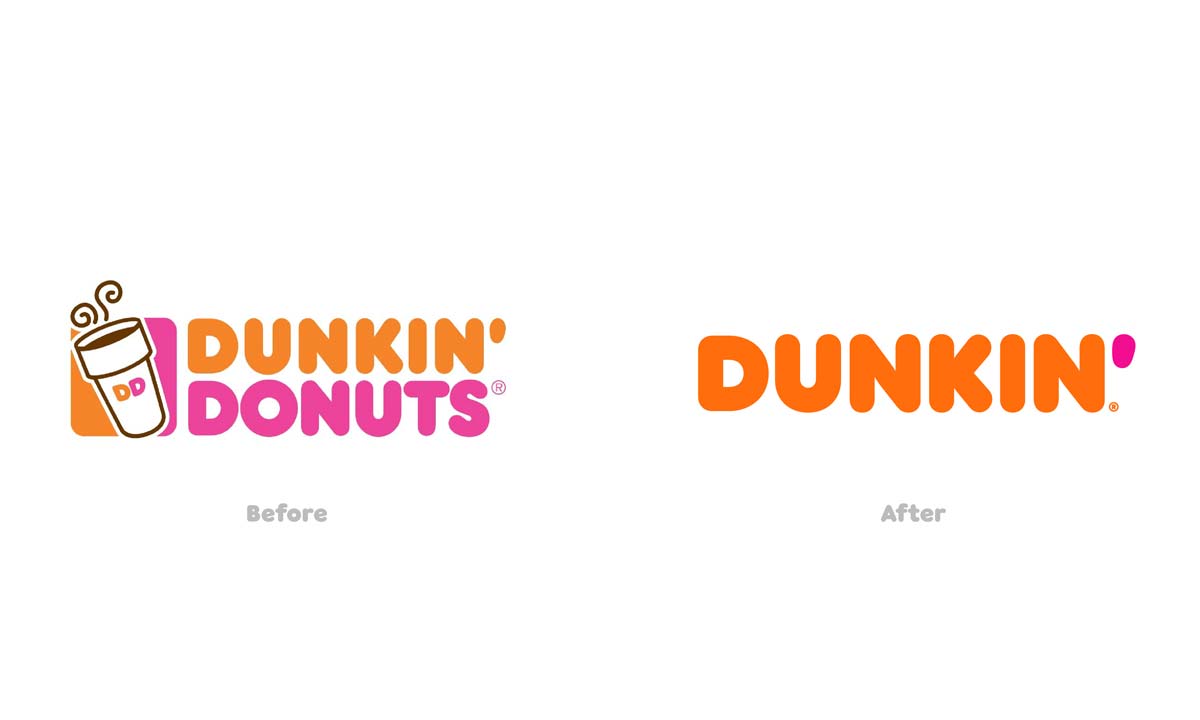 As far as brand expression is considered, it is the reflection of how well the brand expresses its vision through its logo design. 
It happens with many brands, that tend to design their first logo carelessly, and as the brand gets bigger, it needs a logo that expresses the same growth.
Take an example of the Dunkin Donuts that changed their logo design after 12 years to rebrand their doughnuts brand into a brew-serving chain to compete for the likes of Starbucks and others.
★   Simplified Rebranding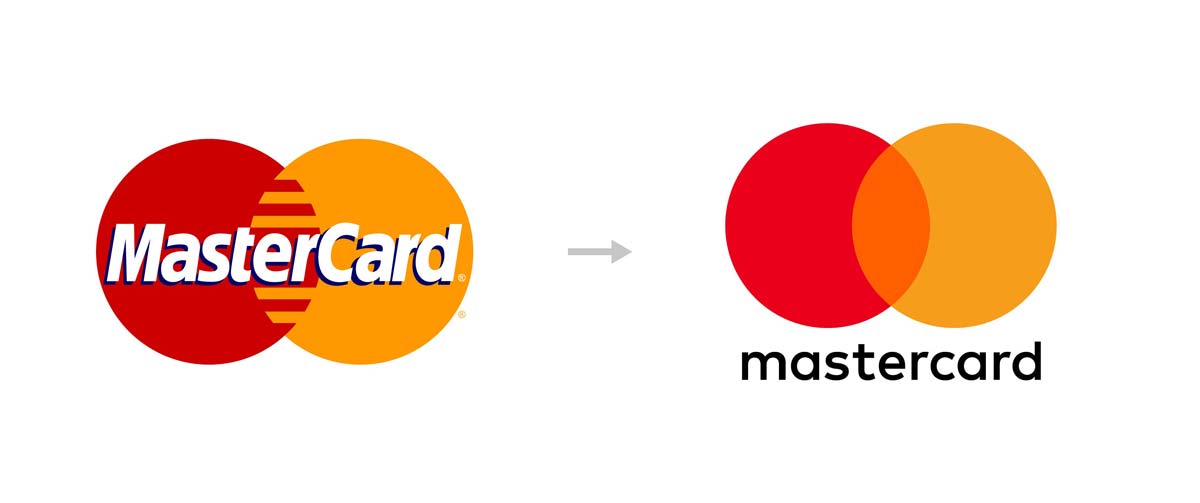 Sometimes brands simplify their logo design for rebranding to create a clear and logical message for their customers. 
It helps businesses redefine their image among customers and change the whole conceptual idea about the company.
Take an example of "Mastercard", the financial brand, changed its logo into a somewhat simplified look with overlapping colour at the centre instead of horizontal stripes and shifted the classic word art from the centre of the logo to beneath the official logo.
★   Un-Branding Design
Un-branding is all about curtailing the promotional flag off the logo design and hiding the promotional part under the plain sight. 
Consumers today have grown conscious of the fact that there needs to be an absolute value to a brand rather than just flashy logos.
And so, brands like "The Ordinary." maximised such concept into a more elaborate manner by using the word like ordinary for an extraordinary brand.
★   Traditional Redesign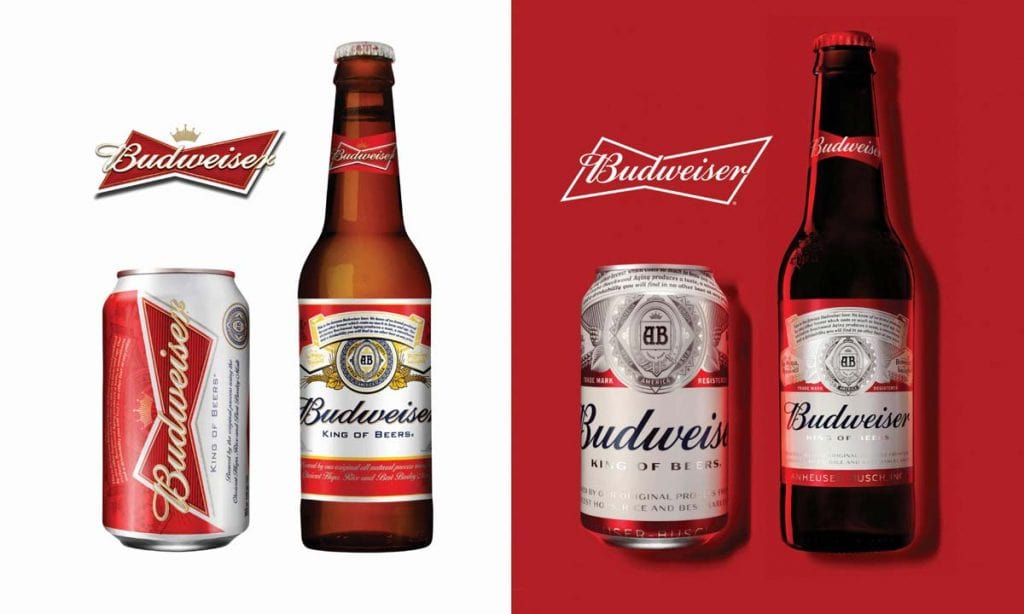 Traditional redesign of the logo relates to the restructuring of your vintage logo design into a new logo with the essence of the vintage, common heritage of the brand.
If we take the example of Budweiser, a leading beer brand in the US. 
The brand changed its logo with a redesign that enhanced the elements of the logo with more of a vintage intention.
What should you know before going for a redesign of your logo to rebrand your business?
➔  Market Research
Brands should have a fair deal of market knowledge about the real trend of logo design and consumer mindset. 
To get a better grasp of the need for logo redesign according to the market need, you need extensive market research.
➔  Real Need for Redesign
As a brand, you should always have the right reason to redesign the logo. 
You can't just experiment with the logo design without a specific strategy, or you will become a part of public and critical scrutiny.
As it happened with the "Zara" brand, they redesigned their logo, and it raised many eyebrows. 
Designers and critics called it a stupid design, and some even reacted as a robot designed it!
➔  Rebranding Platform
Brands can leverage different platforms for rebranding their identity, and they need to optimise the logo design according to the platform. 
This strategy proves to be helpful, especially for e-commerce businesses. 
Small businesses and retail stores are now building online stores through responsive websites for their e-commerce exposure. 
A logo redesign can help them create a striking impression on the online platform. 
➔  Rebranding for Association
Does your logo design provide active customer association? 
If not, then you need a redesign to rebrand your brand for better customer association. 
For any business, customer association brings in the benefits of loyalty and recommendations to new customers.
Getting that customer association becomes a necessity, and a logo redesign based on the customer surveys can help you rebrand. 
Chevron here retained the essence of the old logo but made a modern version through a little redesign to gain better customer association.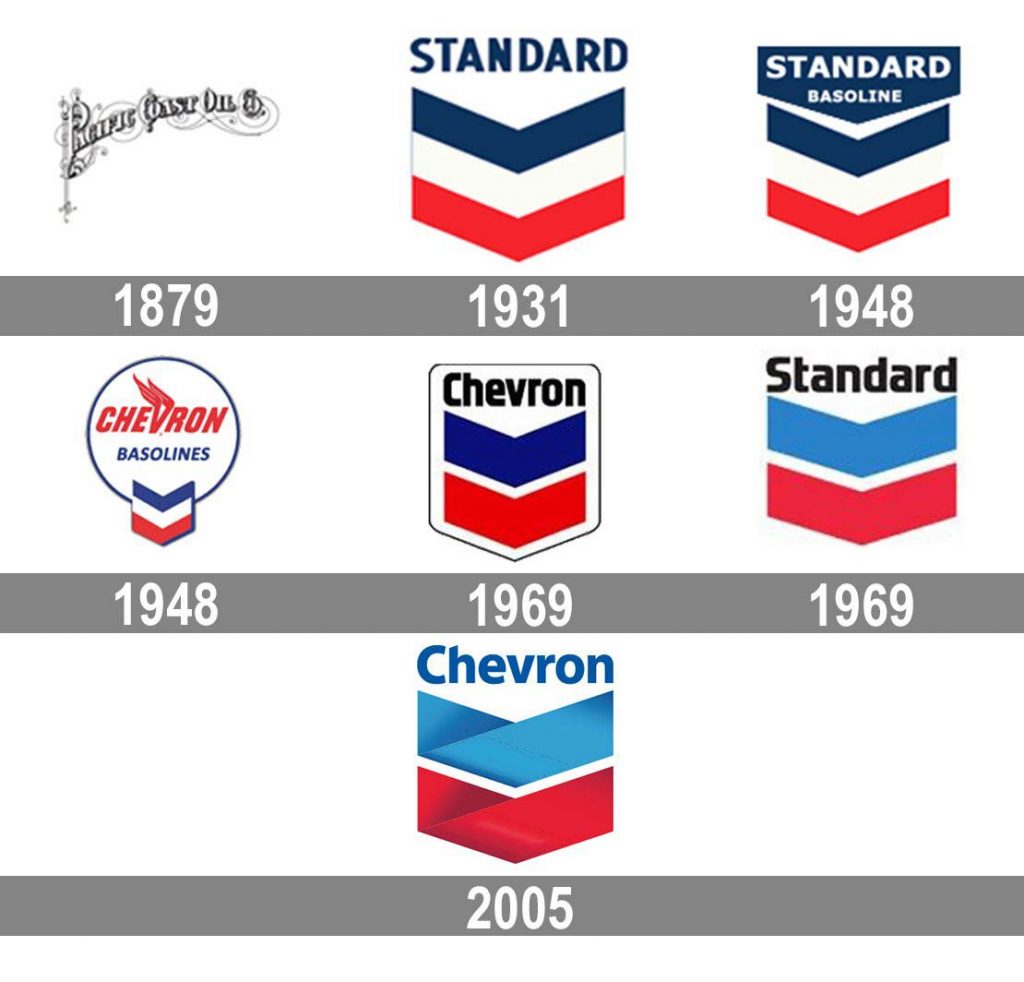 How to go about a Logo Redesign?
A logo redesign can be a little tweak into the old logo or a completely new design to change the dynamics of customer's perception about the brand. 
To start a logo redesign, you should have to go through these phases:
1 – Conceptualisation
Conceptualising the logo redesign needs essential insights into the market trends, competition, and other factors. 
When you conceptualise a design, create a wireframe design and if possible, refer it to peers for better enhancements.
2 – Development
Develop the concept of design into a full-fledged plan through different styles, art, and colours. 
Change in colours, style or WordArt may seem risky, and you should confer to the stakeholders for reviews and suggestions before the final design.
3 – Strategise
Once you come up with a logo redesign, you need to strategise your marketing and advertising campaigns around it. 
You need to understand that some of your old marketing strategies may not work with your latest logo. 
You should also strategise to increase the social awareness of customers regarding the logo design and make adjustments if any required for customer association.
Benefits of a significant logo redesign for rebranding

1. Rebranding needs a fresh approach to the already established brands, and a logo redesign can refresh the brand's image among consumers.
2. A logo redesign can help your brand adapt to the changes in the customer mindset through a revamped styling.
3. Rebranding your image to make your customers aware of the new product range developed by your business can be represented through a logo redesign by the inclusion of symbols or WordArt into the logo.
4. Extension of services to different demographic or addition of new customer base can be represented easily through a logo redesign, which will help you rebrand to further sections of customers.
5. A logo redesign can help change the customer's perception about certain negative aspects of the brand and help you rebrand positive feedback about your brand.
6. A logo redesign can help you rebrand your achievements or acquisition of another brand.
7. You can rebrand the brands that have seen a change in the leadership or even merger to a higher brand to leverage the same for greater exposure among customers through a great logo redesign.
8. Rebranding through a logo redesign can help marketing strategies to place the brand into a better position in the market.
9. A logo redesign can help you fight your competitors effectively and raise yourself as a brand among market leaders.
10. Rebranding with a logo redesign can help you achieve higher revenues and better business opportunities.
Signing Off
If branding your business the first time around looked difficult, then wait! 
Rebranding can be a touch more difficult than the former. 
But, with an effective logo redesign, rebranding becomes more natural and helps you grow as a brand.
When your brand starts losing its customer's reach, identity and customer base, it's time for rebranding.
Although a logo redesign is just one strategy from several you can use for rebranding, it is still by far the most fruitful and result-oriented strategy for businesses in today's modern world!