Top 10 Best Free Graphic Design Courses Online
Are you planning to start a career in graphic design but aren't sure which course to choose?
If so, then this article is for you.
Choosing the right course for yourself can be challenging, with many courses teaching people how to become graphic designers. Don't worry.
In this blog post, you'll discover the top 10 best free online graphic design courses to help you build your skills or jumpstart your graphic design career.
What is Graphic Design?
Graphic design is a field that encompasses creating different kinds of designs, including 3D animation, motion graphics, digital art, and many others, using specialised software like Adobe Photoshop, Adobe InDesign, Adobe Illustrator, and many more.
Graphic designers use these specialised software programs to create visual designs to communicate ideas and solve real-world problems.
To become a graphic designer, you can join a school or enrol in an online course and learn at your own pace.
Note that online courses are great; however, employers may be worried that a person doesn't have the required experience and has only completed an online course. UK Careers Booster can help to revamp or write a great resume for you to help you stand out from the crowd and demonstrate your abilities as a graphic designer.
Ready to learn the best online graphic design courses?
Let's get rolling.
1 – Visual and Graphic Design from Alison
Alison offers Visual and Graphic Design, a free online course for graphic designers who want to understand the processes and ideologies that drive graphic and visual design. The course is free, but you must pay for your certificate after completing it.
The course teaches the basics of visual and graphic design and demonstrates their processes.
The course covers basic design principles such as composition, balance, contrast, hierarchy, and crucial design elements like shapes, lines, forms, and textures to create unique designs.
This will help you get a real-world picture of what graphic designers do.
The best thing about this course is that it's broken down into easy-to-follow lessons that are jam-packed with helpful information to get you started on your graphic design career.
The lessons are also categorised into short modules to get you started with graphic design. Plus, the modules contain plenty of visuals and guidance to make the course more engaging.
Moreover, the course contains exciting and engaging content and many unique tips to help you optimise your view of the graphic design world.
This course is free to enrol, but you must score 80% or higher on every assessment you take to graduate.
2 – Graphic Design Basics by Canva
Canva is a leading software company in the graphic design industry.
Graphic Design Basics is also one of the best online graphic design courses. Graphic Design Basics is administered via the Design School on Canva by experts.
The course has so far enrolled over 206,051 students. It is jam-packed with helpful information to help you get a solid grasp of graphic design.
The course contains twelve short lessons that cover the basics of graphics as well as tips and practical applications to help you practice what you learn.
The best thing about this course is that it gives you a taste of valuable design knowledge, such as crafting mood boards, defining your intended message, etc.
What's more?
Each class teaches you the real meaning of becoming a graphic designer; the lessons are easy to follow.
When you enrol for this course, you will learn the following:
How to communicate your intended message with your designs.
Under the real meaning of design.
Learn how to think like a designer.
Get trained by expert designers and business leaders.
I must mention that there is no certificate for this course.
3 – Graphic Design Course Online by Shaw Academy
Formerly delivered via Shaw Academy, Graphic Design Course Online is offered by Upskillist Group Ltd.
The course is not entirely free, but you can try it for four weeks and start paying from week 5.
Many graphic designers commended the course for its engaging learning experiences. Besides, you will constantly interact with real teachers and professionals throughout the course.
The course is designed to broaden your knowledge in image editing, animation, 3D rendering, custom layout, and other design elements.
This course is recognised globally and has over 2.2 million graduates.
It teaches you the principles and basics of design. You will learn how to use Photoshop, Illustrator, and other design tools. You will get guidance on how to start an online portfolio when building your own graphic design business.
The course is 16 weeks long and comprises 32 lessons and assessments to test your understanding.
This course gives you valuable insights into Adobe Photoshop and Illustrator, skills to design your portfolio, etc.
You will also learn the principles, various design elements, typography, etc.
4 – Professional Logo Design in Adobe Illustrator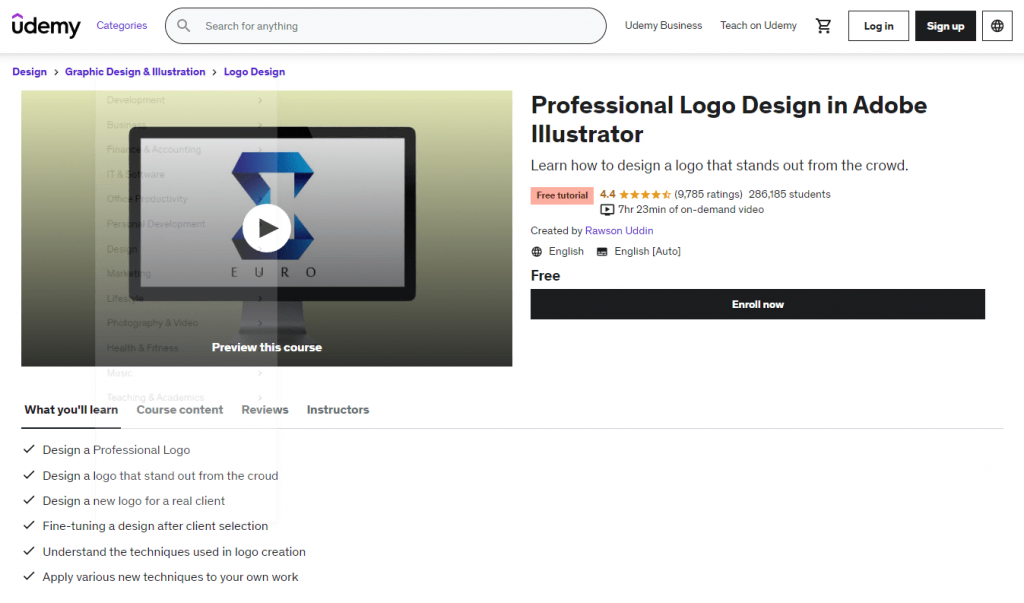 75% of customers recognise a brand by its logo.
Do you want to learn how to create logos that stand out from the crowd? If so, then this can be an excellent course for you.
Professional Logo Design In Adobe Illustrator is a free graphic design course created by Rawson Uddin and is administered via Udemy.
The course has already enrolled over 200k students and teaches you how different logos are designed and the techniques used in their creation. You will also learn how to fine-tune logos you have already created.
Rawson Uddin offers students lifetime access to the course that contains on-demand video courses. You will also be awarded a certificate of completion at the end of the course. To enrol in this course, you need some basic knowledge of Adobe Illustrator.
During the course, you will learn the following:
How to pick a suitable typeface.
How to use simple shapes in a design.
How to design with negative space.
How to choose colours for the logo.
How to add other effects to your logo design.
What's even great about this course is that you can download files that you can practice with to test your skills during the course.
5 – Adobe Illustrator for Beginners
Understanding the fundamentals and building a solid foundation can help you grow your career in the graphic design space.
Using popular software like Adobe Illustrator, you can create excellent graphics that stand out from the crowd. And this course can help you get started as a beginner graphic designer.
Adobe Illustrator for Beginners is created by Daniel Walter Scott and is available in video and transcript formats.
If you want to learn graphic designing basics, then enrol in this course. The course is 100% free; even if you don't have any graphic design software, it can help you gain some design and illustration knowledge.
During the course, you will learn the basics, like installing and setting up Adobe illustrator, effects, shapes, logos, and other tools. What's more?
The course is divided into modules; you can skip to a particular video or return to the previous one.
When you complete this course successfully, you will be able to:
Create patterns, logos, illustrations, and other elements.
Export your work for both print and web.
There are plenty of assessments throughout the course to test your understanding of each module.
6 – Graphic Design Specialisation
Graphic Design Specialisation is another incredible online graphic design course offered free by the California Institute of the Arts(CalArts) via Coursera.
This extensive course will teach you how to create a compelling design, apply design principles when working on a comprehensive branding project, etc.
Currently, the course has already enrolled over 294k students.
The graphic design specialisation course will teach you the fundamental knowledge to become a professional designer, learn visual communication, and incorporate graphic design into other sectors, such as motion graphics, interface design, and more.
Some of the skills you will gain by taking this course include the following:
Visual communication.
Graphic design.
Colour theory.
Adobe Illustrator.
Design theory.
And more.
7 – Graphic Design By David Underwood
Graphic Design is another fantastic course for graphic designers offered by David for free via Coursera. He delivers this course as part of effective communication through writing, design, and presentation.
During the course, you will learn how to generate excellent reports; PowerPoint presentations resume using techniques he has refined for many years through constant practice.
The course will help you gain presentation, graphic design, graphics, and typography skills.
8 – Introduction to Typography
Taught by Anther Kiley via Coursera, Introduction to Typography is a graphic design course suitable for aspiring graphic designers with knowledge and access to Adobe InDesign.
Anther Kiley teaches you how to get the most out of software features and tools in this course.
The course provides in-depth knowledge about different areas of typography and is divided into four weekly lesson plans.
During this course, you will study names and determine the characteristics of letterforms.
After completing the course, you can design a full-scale typographic poster, conduct peer-reviewed typesetting, etc.
You will gain valuable skills like Adobe Illustrator, Adobe InDesign, creativity, graphics, and more.
9 – Applying Design Principles
Applying Design Principles is a suitable course for beginners and designers looking to polish their skills. Thus practical course taught by Alison will help you learn the theory, principles, and practices applied to graphic design.
Alison will teach you how to effectively use images to communicate a specific message to a specific audience.
The instructor explores some designs in recent history to help you master basics like balance, composition, and contrast, as well as how to apply them to print and digital designs.
Note that the course is 100% free, but if you want a certificate of completion to add to your resume or online portfolio, you must purchase Aliso's subscription.
10 – Editorial Design: How to Make a Magazine
With this course, you can learn how to design magazines and every aspect they entail.
Generally, this course focuses on editorial design. Thus, this course can be a great choice if you're interested in magazine design and printing.
It's a beginner-friendly course that introduces you to the essential elements of creating a magazine. In this course, you will learn ideas for magazine design, like planning, organising, formatting, and publications.
The course also touches on various typography, illustrations, and photography processes.
By the end of this course, you will be able to tell stories through layout, colour, and typography. Lars will also teach you different options for designing a magazine as well.
It's worth noting that enrolling in this course requires no prior knowledge of layout or editorial design.
How to Teach Yourself Graphic Design?
If you want to become a graphic designer, you don't necessarily need to go to a physical class to learn.
Follow these tips to teach yourself graphic design.
Master the Principles of Graphic Design
The first step to learning graphic design is understanding the basic principles that affect each project you create in your future career. Mastering these principles can help you get a solid foundation for your graphic design career.
Some of the basic principles to master include:
Color, composition, texture, and imagery.
Shape, rhythm, and spacing.
Working with type.
Explore Graphic Design History
Read as much as you can about graphic design history to ensure you understand how graphic design came to be.
Understand The Process Of Solving A Visual Problem
Graphic designers have one primary role: To solve problems using visuals. To become a self-taught graphic designer, you need to understand the process of solving problems with visual designs.
Once you understand how to solve visual problems, you're one step ahead to teaching yourself graphic design.
Generally, the graphic design process involves many steps, such as:
Visualising and conceptualising problem-solving.
Designing.
Real-world graphic design application.
Learn From Expert Graphic Designers
Saul Bass, Milton Glaser, and Alan Fletcher are some of the renowned graphic designers of the 20th century. Alongside learning graphic design history, you can also learn from expert graphic designers with whom you share common ideologies.
Find graphic design tutorials on YouTube and follow along to see how experts develop their designs.
Please look at some of their accomplished projects to inspire your creativity.
Learning from people who already understand graphic design's ins and outs can help shape your career. Of importance is not to copy exactly how they do their designs.
Use their projects for inspirational purposes.
Start Growing Your Expertise
Part of teaching yourself graphic design is to start using the available tools to develop your proficiency.
For instance, you can use a pencil to draft theoretical solutions fast, as you would when working with a graphic design program.
You can also take advantage of the best free graphic design courses online. Get familiar with how to work with graphic design programs like Adobe Illustrator, Photoshop, Canva, and many others.
Create Your Graphic Design Portfolio
Whether you want to teach yourself graphic design and seek a full-time job or work on a freelance basis, you have to create your online portfolio to demonstrate some of your best projects and work samples.
Remember that to get hired for graphic design projects, you need an active online portfolio and demonstrate your experience and ability to communicate your graphic design knowledge.
A website or blog can be a great resource here.
You can create a website and add a blog section to constantly create blog posts about the knowledge you get while growing your graphic design career.
You can use your portfolio for marketing graphic design services since it showcases your skills to apply the knowledge you learned to real-world problems.
A graphic design portfolio is a powerful marketing tool for your services. It proves your capacity to apply your skills virtually. It can also help determine whether you will get hired during interviews.
Join Online Professional Graphic Design Groups and Communities
The internet is awash with groups and communities of all kinds. As someone looking to become a professional graphic designer, you should find these groups and get involved in their discussions.
Head over to Facebook and join Graphic design groups, find relevant groups on Reddit or join professional communities like the American Institute of Graphic Arts (AIGA). You can also attend conferences and network with professionals as much as you can.
Understand That Graphic Design Doesn't Exist in Isolation
Graphic design is applicable in different disciplines. For instance, learning art and illustration can help you develop your skills in creating graphics. Studying marketing can help you master how to promote your services to potential clients.
You will become an expert in graphic design when you master a wide range of related disciplines.
Determine How to Study Graphic Design
All said and done, you must evaluate how to study graphic design. You can enrol in an online school or find the best premium course covering graphic design.
The good thing about learning graphic design is that there are tons of online courses and schools you can enrol in and learn from your home. All you need is a computer and a good internet connection.
Start Looking for Freelance Graphic Design Projects
Apart from getting employed as a full-time graphic designer, you can become a freelance graphic designer.
The global freelance market economy is projected to reach $455 billion by 2023. Freelancing contributes over $1.4 trillion to the US economy.
That means there are more opportunities for graphic designers than you can imagine. Perfect your portfolio and start building your marketing and negotiation skills.
You can also apply for jobs on freelancing platforms like Upwork, Fiverr, or graphic design platforms.
How To Choose the Best Free Graphic Design Courses Online
Understanding the different graphic design courses there is out there is one thing and determining the best one for you is another.
With so many courses out there, you can easily get overwhelmed.
However, you don't have to. Here are practical tips for choosing an excellent course for graphic design:
Consider the Reputation of the Course Creator/Provider
Many graphic design providers/creators are out there, but their reputation sets them apart.
First, you must check whether the provider is legitimate, tried, and tested. This is especially important for premium courses. The last mistake you want to make is to spend money on a mediocre graphic design course.
Check whether the provider has a history of good performance. You can look at the number of students enrolled or who graduated from the course.
Check Feedback and Reviews
What are the students who completed the course saying about the provider? Ensure you read through as much feedback and reviews as possible to see whether they are reputable and trustworthy.
The good news is that most providers have a section for testimonials from happy students. If you see too many negative reviews, that course isn't worth investing in.
Check the Method of Delivery of the Course
Do you like learning by reading text or watching videos?
Usually, course creators deliver their courses through video and transcripts; as a rule, you should choose a course delivered in text and video.
Check the Requirements of the Course
Most of the graphic design courses don't have any prerequisites for joining. However, some will require you to have specific knowledge/skills before joining so that you can grasp concepts fast.
But this will depend on what type of design you want to master. For instance, some courses will require knowledge of Adobe InDesign before starting. Check the prerequisite before choosing a course.
Start Your Career Today!
Now that you know the ten best free graphic design courses online, what's next?
The availability of the internet has made it easier to become a graphic designer at your own pace and leisure without paying a penny. Read over these courses and choose one that best suits your needs.
Learning graphic design takes time, effort, and self-discipline, primarily if you teach yourself, like in any other field. Commit yourself to learning graphic design and get doing it.
Good luck!