Top 20 Corporate Gift Ideas For Employees & Clients
Corporate gifting has evolved beyond the traditional fruit basket or branded pen. Now, more than ever, businesses seek innovative ways to express gratitude, foster relationships, and make lasting impressions.
Welcome to 2023, where corporate gifting is not just an afterthought but a strategic move to engage and keep employees and clients. If done right, you can ensure that more than 21% of your employees will keep and enjoy the gifts they've received.
We've curated a list of the top 20 unique corporate gift ideas for employees and clients that resonate with the modern professional. So, let's dive in and explore these fantastic options that will make you the talk of the office!
1 – Branded Mugs
Promotional branded mugs are more than just vessels for your morning coffee; they're a powerful marketing tool with multiple purposes. They act as a constant visual reminder of your brand, turning every sip into a subtle advertisement. Whether it's your logo or a memorable design, the branding on the mug keeps your company top-of-mind.
They also foster goodwill. For employees, a branded mug can instil a sense of belonging and pride in the workplace as a daily reminder of their valued contributions to the team. For customers, it's a functional gift that adds value to their daily routine, keeping your brand top-of-mind every time they enjoy their morning coffee or tea.
These mugs are often shared, reused, and displayed, extending their reach beyond the initial recipient. They're a cost-effective, long-lasting, and impactful way to advertise your business while building rapport with your audience.
2 – Essential Burt's Bees Kit
The Essential Burt's Bees Kit is a statement of corporate mindfulness. In a fast-paced work environment, self-care often takes a backseat. This kit is a gentle reminder for your employees and clients to take a moment for themselves, making it an ideal gift for any work occasion.
The kit includes various products for diverse skincare needs, from a deep cleansing cream purifying skin to a nourishing lip balm that hydrates and protects. This kit's versatility makes it an ideal corporate gift for those with varied preferences.
The kit's portability adds another layer of convenience for the modern, on-the-go professional. The compact sizes of the products make the kit travel-friendly. Whether heading out for business trips or to freshen up at the office, they'll have their skincare essentials within arm's reach.
3 – Bean Box Coffee Sampler
Here's a gift all the coffee enthusiasts in the office can enjoy. The Bean Box Coffee Sampler is more than just a collection of coffee blends; it's an experience. This gift serves as a delightful pause. It's a way to say, "Take a break; you've earned it".
Each kit includes four expertly curated coffees. A sophisticated touch elevates this gift from a simple collection of coffees to a personalised coffee journey. The quality and freshness align perfectly with the high standards of a corporate culture that values excellence. Recipients are guaranteed to enjoy each cup at its peak flavour.
Each sampler comes with detailed tasting notes and brewing tips, transforming the simple act of drinking coffee into an enlightening journey. This feature makes the gift perfect for those intellectually curious or looking to expand their coffee knowledge.
4 – Infinity Orb Levitating Bluetooth Speaker
The Infinity Orb Levitating Bluetooth Speaker is a statement piece for any home or office. This speaker symbolises forward-thinking and creativity in a corporate world where innovation and technology are highly valued.
The design of this speaker is incredible. The speaker levitates a half-inch above its magnetic base, instantly becoming a conversation starter. It's a piece of interactive art that turns heads and sparks curiosity.
It also offers high-quality sound. With a 3W speaker and a frequency range of 100Hz to 18kHz, it delivers crisp, clear audio, perfect for everything from conference calls to presentations or even just enjoying some quality tunes during a break.
Even with continuously changing LED lights, it has a long battery life. With over 8 hours of continuous play, this speaker is an ideal gift for tech-savvy clients and innovative teams. Plus, its durable battery ensures that the ambience and music won't stop, even during extended meetings or social gatherings.
5 – Beer Brewing Kit
The Siphonless 1 Gallon Craft Beer Making Kit is a brewing kit and an experience. This kit is perfect for employees or clients passionate about craft beer and a DIY spirit. It's an ideal gift for team-building events, client appreciation, or even a unique holiday gift.
This kit takes the complexity out of the beer-making process. The siphonless Little Big Mouth Bubbler fermenter is a game-changer. It reduces the number of tools needed and makes it incredibly user-friendly.
The kit is a complete package, offering everything from a detailed step-by-step instruction packet to bottle cappers and caps. But it doesn't stop there; it also includes personalisable beer bottle labels, adding a touch of individuality to each brew.
6 – Red Box Movie Night Care Package
The Red Box Movie Night Care Package is an ideal gift of appreciation. It's perfect for employees who need a break, clients who appreciate the finer things, or teams that could use a movie night for bonding.
The package shines in its variety. It offers a diverse range of snacks, from classic popcorn to an assortment of candies like Skittles and M&M's. This package ensures that there's something to tickle everyone's taste buds, making it a universally appealing gift.
This package takes the hassle of planning a movie night by providing everything you need in one box. It's not just an assortment of snacks but includes a Redbox rental code. After an intense week of work, the recipient can flip through a vast catalogue to find the perfect movie to wind down.
7 – Summer Crate of Snacks
The Summer Crate of Snacks from Harry and David is a curated experience that perfectly captures the essence of summer. Whether for team-building events or client appreciation, this crate fits the bill.
The crate offers a premium quality of both sweet and savoury items. From hearty sausages and salamis to excellent white cheddar cheese and a delightful mix of nuts, it ensures something for everyone.
Adding to its appeal is the crate's presentation. The snacks come beautifully arranged in a multi-use Paulownia wood crate with rustic rope handles, elevating the gift to a new level. This attention to detail in the presentation makes the box a statement piece.
8 – Lizush Appreciation Gift Set
The Cosmetic Bag Bath and Body Gift Set is a curated self-care experience. This gift is a thoughtful reminder to indulge in some pampering. It's perfect for employees who need a moment of relaxation, clients who appreciate quality, or teams that could benefit from a wellness boost.
You can also add a personal touch. The set offers the option to include a personal note, adding a layer of intimacy that makes the gift memorable and meaningful. This personalisation elevates the present from a simple set of items to a caring gesture.
With fast shipping options, sending this luxurious gift set directly to the recipient has never been more convenient. This ease adds to its suitability as a corporate gift, especially when time is of the essence.
9 – The Original Magic Bullet Blender
The Original Magic Bullet Blender is a flexible, all-in-one machine that simplifies food preparation. This blender is a gift that promotes a healthy lifestyle. It's perfect for busy professionals who want to prepare quick, nutritious meals and snacks without the fuss.
The Original Magic Bullet Blender offers versatility like no other. It serves as a food processor, mixer, and blender, eliminating the need for multiple kitchen gadgets. With a speed of 10,000 RPM, this blender can prepare ingredients in seconds, making it an ideal gift for busy professionals who are always on the go.
The blender scores high on ease of use. It's incredibly user-friendly, with no complicated navigation buttons and a sleek and compact design. This ease of use makes it a practical and convenient choice for corporate gifting, especially for those who may not be kitchen-savvy.
10 – Whiskey Infusion Case
The Whiskey Infusion Case is a premium whiskey infusion cocktail kit that elevates the at-home bar experience. This case promotes relaxation and enjoyment for all mixologist employees and clients. It's an invitation to explore the art of mixology, making it a memorable and engaging corporate offering.
The kit offers a curated selection of infusion ingredients, allowing users to craft unique whiskey flavours. This level of personalisation makes the gift practical and deeply personal while adding a touch of sophistication.
Packaged in a briefcase-inspired box, the Whiskey Infusion Case exudes sophistication and style, making it a gift that employees will proudly display. With a detailed recipe book and a straining cloth, the infusion process is straightforward and enjoyable, making it accessible even for those new to whiskey.
11 – Therabody Wave Duo™ Vibrating Roller Massage Ball
The Portable Smart Vibrating Roller is a comprehensive solution for physical well-being. This gift is a grand gesture that goes beyond the usual corporate swag. With an accompanying app, it's incredibly user-friendly, ensuring that the employee can make the most out of this thoughtful gift.
The roller is ergonomically contoured to the back, spine, and neck, making it a versatile tool that targets areas needing relief. With five powerful vibration frequencies and multiple modes, users can tailor the experience to their needs, making the gift highly personalised.
The duo design makes it perfect for sensitive areas and hard-to-reach spots, adding another layer of utility to the gift. It's ideal for employees and clients who are fitness enthusiasts or could benefit from stress relief.
12 – Anker Soundcore Life Q20 Hybrid Active Noise Canceling Headphones
With Hi-Res Audio and BassUp Technology, these Anker Soundcore headphones deliver an unparalleled auditory experience. Whether it's the crisp highs or the deep bass, the sound quality exceeds expectations, making it a treat for music lovers and audiophiles.
The Hybrid Active Noise Canceling feature effectively blocks distractions like office chatter, allowing the user to concentrate better. It's a productivity booster and a stress reducer rolled into one.
The memory foam ear cups and adjustable headband ensure all-day comfort. Plus, the built-in microphone allows for hands-free calls, adding a layer of convenience to a busy workday.
With up to 40 hours of playtime in wireless ANC mode, these headphones are perfect for long-haul flights or extended work sessions. The headphones are easy to pair with multiple devices, and they intuitively place all the buttons. The user experience is smooth, right from unboxing to daily use.
13 – BESTINNKITS Coffee Mug Warmer
The BESTINNKITS Coffee Mug Warmer is a desk companion that enhances the workday. If time is of the essence in the office, this mug warmer is a convenient and practical gift. It's perfect for employees or clients who enjoy hot beverages throughout their busy day.
There's a lot to love about this gadget. The built-in gravity induction switch eliminates the need for manual operation. Just place your mug on it, and it automatically turns on. It's a set-it-and-forget-it convenience that busy professionals will appreciate.
It's also compatible with many mug styles and sizes, making it versatile. The waterproof design ensures the mug warmer is easy to clean and safe. The smooth glass layer on top adds a touch of elegance while making cleaning a breeze.
To add to this gift, it comes packaged in a sleek design that's excellent for corporate gifting, elevating it from a simple utility item to a premium, thoughtful gesture that reflects well on your company's brand.
14 – Just Breathe Eucalyptus Spa Gift Set
The Just Breathe Eucalyptus Spa Gift Set is a complete self-care experience. This gift set is a sanctuary of relaxation. It's a caring gift for employees or clients who deserve a break and fresh air.
This set is a holistic experience that lets the recipient grow their eucalyptus plant. Plant the seeds in the bamboo pot, and let the self-watering system do its magic. It's a gift that keeps giving, offering immediate and long-term benefits.
The kit lets you immerse yourself in the calming, airway-opening scent of eucalyptus with the kit's botanical bath salts. The natural jute body scrubber adds an earthy touch to your spa experience, making exfoliation luxurious. It's like bringing the spa right into your home.
15 – Succulent Sampler Gift Box
This box is a perfect gift for green-thumb employees and clients. Elevate your gifting game with the Succulent Sampler Gift Box, a curated collection of nature's most resilient and beautiful plants. All boxes feature a hand-picked assortment of nine Sempervivum species or cultivars, all labelled for easy identification. These succulents offer a classic rosette shape and a dynamic mix of colours. Still, they're also incredibly low-maintenance, making them perfect for busy professionals.
These hardy plants are frost-resistant and drought-tolerant, ideal for year-round outdoor growing. Whether your employees or clients are gardening pros or novices, the detailed care guide makes the experience hassle-free. Plus, the well-established roots mean these plants are ready to thrive right out of the box.
16 – Sunbeam Heated Blanket
Winter is on its way, and what better way to show your employees and clients you care than by giving them the ultimate in cosy comfort? Introducing the Sunbeam Royal Ultra Heated Twin Size Blanket. Made with luxurious royal ultra material, this heated blanket wraps you in a cocoon of warmth, making it the ideal companion for those chilly nights.
Your employees and clients can customise their comfort level with an easy-to-use detachable controller featuring 12 heat settings. The 12-hour auto-shut-off feature adds an extra layer of safety, giving them peace of mind as they drift off to sleep. It's available in various elegant colours; this stylish blanket will complement any home decor.
But the perks don't stop there. The Sunbeam Heated Blanket is also machine washable, making maintenance a breeze. Just remove the controller and toss it in the washer and dryer. Plus, it has a five-year warranty, ensuring this gift keeps giving.
17 – ODISTAR Desktop Vacuum Cleaner
In a fast-paced work environment, a clean and organised desk is more than a luxury; it's necessary for productivity. The ODISTAR Desktop Vacuum Cleaner is an exceptional corporate gift for employees and clients.
This super-mini vacuum cleaner keeps workspaces neat, effortlessly sucking up dust and debris from desks and keyboards. Compact and portable, this little gadget can be carried anywhere, making it a perfect gift for office and remote work setups.
It has a built-in brush at the bottom, designed to tackle stubborn stains that other cleaners might miss. So, if you want to give something practical yet innovative, the ODISTAR Desktop Vacuum Cleaner is your answer.
18 – Wild Child Flight Wine Pack
Are you looking for a corporate gift that's as unique and sophisticated as your employees and clients? Look no further than the Wild Child Flight Wine Pack. This curated collection of eight small-batch wines caters to various palates.
Wild Child Wines is committed to quality. Each bottle in the collection is carefully selected to ensure it meets the highest standards, allowing your gift recipients to indulge in a truly premium wine experience. It's the perfect opportunity to explore the wild and wonderful world of wine.
The Wild Child Flight Wine Pack is a journey of flavours and experiences, making it the perfect corporate gift for those who appreciate the finer things in life. Let your employees and clients savour the art of luxury.
19 – Baked By Melissa Cupcakes
Want to elevate your corporate gifting game? Say hello to Baked by Melissa Cupcakes, the ultimate in edible elegance. These aren't just cupcakes; they're bite-sized bursts of flavour catering to every palate and dietary need. Whether your team or clients are vegan, gluten-free, or nut-allergic, there's a delicious option waiting to be devoured.
But the customisation doesn't stop at the cupcakes. Make your mark with branded ribbons and sleeves that wrap around the premium gift box. It's your brand, your message, your way. This level of personalisation transforms each box into a unique statement piece, amplifying the thoughtfulness behind the gift.
Each box is a visual feast, too, adorned in eye-catching Tie-Dye. So, if you want to make a lasting impression, Baked by Melissa Cupcakes are more than a gift; they're a gourmet experience that says "you're valued" in the most delicious way possible.
20 – Sugarwish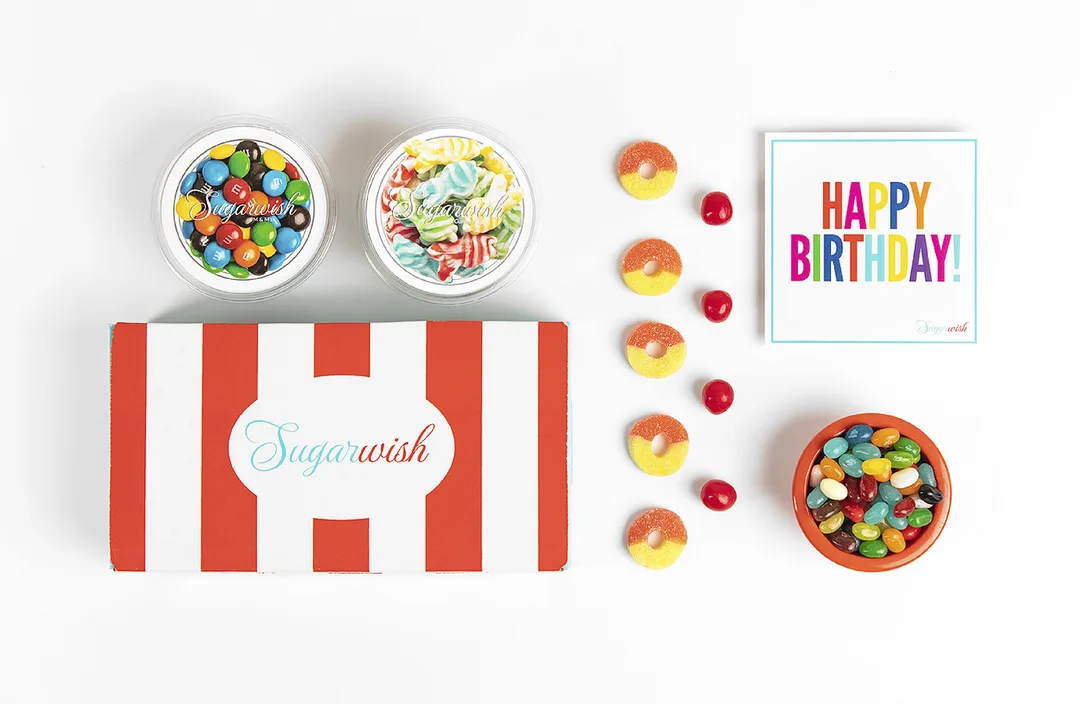 Sugarwish is a unique and personalised way to show your employees and clients appreciation. Unlike traditional gifts, Sugarwish lets recipients choose their favourites from various options, ensuring they get what they crave.
Here's how it works: You select the gift size and what to send, be it candy, cookies, snacks, coffee, or tea. The recipient then picks from dozens of options. Sugarwish packages their choices in a signature awning box, delivering it straight to their door.
But it's not just about the sweets; it's about personalised branding, too. With a free corporate account, you can add custom branding to make your Sugarwish gifts stand out. From advanced order management to volume discounts, Sugarwish offers a comprehensive gifting solution perfect for any business looking to make a lasting impression.
Wrapping up the Corporate Gift Ideas
Finding the perfect corporate gifts for employees, clients, and business partners can seem daunting. With so many options, it's easy to get overwhelmed. However, selecting thoughtful gifts that align with your brand and culture is worth the effort.
The corporate gifts you choose represent your company and demonstrate how much you value your relationships. While there's no one-size-fits-all approach, focusing on practical, high-quality items shows you care about providing an exceptional experience. Things that invoke your brand through customisation also make meaningful impressions.
The ultimate goal is choosing gifts that nurture relationships, spark joy, and convey appreciation. With this list of top corporate gift ideas, you will find inspiring options for every budget and recipient. Thoughtful gifts can go a long way in making people feel valued and deepening professional connections. The possibilities are endless if you use creativity, personalisation, and purpose to guide your corporate gift-giving.
Last update on 2023-09-22 / Affiliate links / Images from Amazon Product Advertising API