An office is the most crucial thing for an individual's level of work ethic and productivity. In fact, a freelance designers level of productivity could come down to the practicality of their home office design.
There is a broad range of DIY home office ideas which freelance designers, as well as anyone who works from home, should take into consideration to build the most appropriate working environment.
When someone discusses a home office layout, they tend to immediately think of the office furniture which will be placed inside the room itself.
However, the office layout is the arrangement of the furniture in the room, combined with the available space on the floor actually to place the furniture.
This will purely be to create the most efficient office for a freelancer or anyone working from home, to remotely increase their level of productivity and work effort.
In this article, I will predominantly inform you about the large range of home office ideas that freelancers, or anyone working from home, should consider as a way of choosing and designing the most appropriate office layout.
Home office ideas for freelance designers
In particular, anyone who works from home is less likely to have a need for a complex office layout, since in most cases they don't have a lot of personnel, and so the office equipment needed is usually not a lot.
When choosing the best office layout, freelancers have to consider the cost and the efficiency of their home office design.
At the end of the day, freelancers will have a more fixed budget on the amount they can afford to spend on a home office on a budget, as compared to large companies who can afford to provide furniture for their many employees.
For this reason, freelancers should look to buy the best for their money.
There are two types of office layouts that are commonly known.
One type of office layout is the open office layout, and the other is the closed office layout.
What is a closed office layout?
A closed office layout is a closed door type of office, which can allow the worker to have some levels of restriction when working. The closed office layout is the most appropriate when discussing home office ideas for freelance designers or anyone working from home.
This is because it allows individuals to separate their home from their home office, making this form of layout ideal when it comes to home offices!
What is an open office layout?
An open office layout is completely the opposite to a closed office layout. Open office layouts make use of large and open spaces, instead of using small private offices. This type of layout is ideal for companies which have many employees since it can be cost effective.
When a freelancer works from home and is considering designing a home office, they can be sure that it's easy to convert pretty much any part or any room of their house into an office.
The basic requirements that one needs to create a home office are an office chair, a cabinet or a shelf, and a desk, which one can buy for not a lot of money. In fact, a freelancer with not a lot of money could consider buying second-hand office furniture.
Second-hand office furniture can often look as good as new, and with a touch of one's personal, it can make it feel like new.
One thing that is particularly common to do is to transfer the home basement into a home office. Because let's face it, what else is one's basement being used for?
A basement office provides a freelancer with a closed office layout design, which is out of the way from the rest of the home.
Using the basement for an office ensures that one doesn't need to transfer the living room or spare room into an office. As a result, the living room or spare room can be kept to it's usual self.
For one who wishes to spend little money on a home office, an old dining table and a set of shelves can be combined to make a two-person workstation, for near to nothing.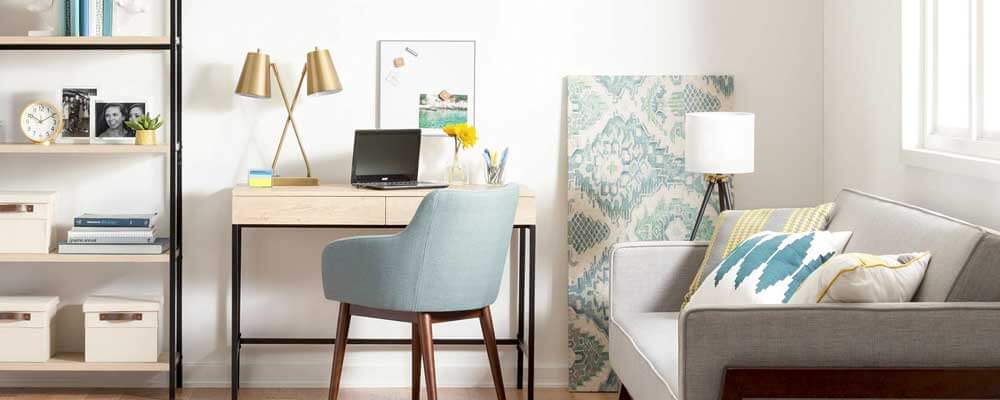 Turning a small part of the bedroom is also a common way of creating a home-based office layout for a freelancer. But it often depends on how small or large your bedroom is.
If one's bedroom doesn't have much available floor spacing, then a bedroom office wouldn't be the greatest idea because of the bedroom furniture, as well as the office furniture, needs to fit in the small space.
With that being said, a relatively small desk can take centre stage, while the bedroom closet can be turned into a reading nook, so not much furniture is needed to create a reasonable home office.
For decoration purposes, stunning wallpapers and a tufted leather loveseat can be added to provide an atmosphere to the home office. Storing file boxes high on the shelves also frees up a lot of floor space and makes the room look even bigger.
Pictures and other simple decoratives such as plants and lamps can ensure to give the freelancers home office that final touch to making it complete.
For homes where the rooms have fairly big closets, it is always possible to carve out space for an ample workstation.
Even the smallest bit of house space can be turned into a great home office idea. With a few well-placed wood shelves and a sleek chair, a functional office can be created. Keeping everything in the office neatly organised makes the room look even bigger than it is.
It is also more practical having a tidy and organised work space because it increases an individual's level of productivity. For this type of office, one can add draperies as a way of keeping all business matters entirely out of view when work time is over.
The idea which would be considered the most idealistic is using the less used room in the house as a home office. For example, a guest room can be turned into a multipurpose room making it a guest room and office combination. Guests will only occasionally be staying in the guest room, so rather than giving the room no purpose when guests aren't staying around, instead make it a home office!
Great idea's for a home office are custom shelving, as well as custom desks, which can provide plenty of space to spread out while working.
A less used room also provides a conducive environment for working, since there are no interruptions from other home matters while working.
Furthermore, freelancers or anyone who works from home can operate from small office spaces, since they're more than likely only working alone. With this in mind, the small space which they need will allow them to design the office to their advantage, as a way of making the room intimate and comfortable for themselves or anyone who works with or alongside them.
It's usually not necessary to use a design firm to create an office for a freelancer or a small business, hence making it cost effective.
Designing an office is something that a freelancer can do alone, keeping the price down. A home office idea for a freelancer or small business only needs a simple network plan, since few employees are involved.
As already mentioned, there are some instances where a freelancer can create an office out of old dining room tables or shelves which they already owned.
Next, all is left to do is just decorate and personalise the home office, as well as pick any accessories for it, such as plants.
When freelancers are looking to create a home office, they should consider a simple, closed office layout, particularly since it enables one to efficiently handle their clients that come into the home office to discuss work matters.
The layout should allow just enough space to hold at least two clients in the office at the same time. This means that the workstation should have more than one chair for the clients to sit on.
The arrangement of the office equipment is also important since it highly determines one's impression about the business.
Conclusion
In conclusion, it's clear that home-based offices are simple to make for freelancers.
Closed office layouts are the most suitable when it comes to small businesses working from home or freelancers themselves working from home.
It is also seen that in choosing an ideal office layout, one has to consider the cost effectiveness and the space available.
This is regarding the price and size of office furniture. Freelancers are less likely to have a lot of money and space when it comes to designing an office, as compared to large businesses, and this is something that needs to be carefully considered to choose the best office design.
Above all, it is often just nice for freelancers to feel proud and happy with the space that they work in, and by putting a personalised stamp on the home office can make work fun, keeping one motivated and creative.