5 Ways Video Marketing Can Generate Great Leads
83% of video marketers say that video helped them with lead generation, while 80% say that video marketing helped increase sales.
Video marketing isn't a novel concept; however, with the growing popularity and demand for video content, tech-savvy businesses are brainstorming new ways of adding this medium to their digital and email marketing strategies.
With the ever-decreasing users' attention spans, a captivating video does a far better job of keeping them riveted than lengthy blocks of text. Not to mention, videos are powerful storytelling tools, and humans find it easier to retain information encapsulated in fascinating narrations.
72% of consumers prefer to learn more about a product or a service from a video, while 84% were only persuaded to buy a product or service by watching a marketing video.
This shows that video is one of the most powerful tools in the marketing world, and if you are not using it for lead generation yet, you are missing out on a huge opportunity to increase traffic.
This article will reveal the top 5 ways to use video marketing in your lead generation strategy and ensure your videos are getting enough views and conversions!
Use Gated videos
If you hop on the video marketing craze, why not lock the best part of your video content behind a gate?
Users wishing to view your videos can do so in exchange for providing certain contact information, such as their names, email addresses, etc., or some other demographic information such as the company they work for, job title, or income range, depending on what you need to know about your audience.
If your video provides value to a prospect, he would love to gain access to it by subscribing to your newsletter. Seeing that around 80% of B2B marketing assets are gated, you can see the usefulness of this lead generation technique.
Like a velvet rope in front of the hottest new club in town, gating your videos instantly makes people believe that they contain premium content.
Gated videos are popular because they provide your best, most in-depth content to users right away, and secondly, they help you build your email list organically. This helps you engage with your prospects and convert them into customers.
However, for this lead-generation technique to work, you must ensure your video provides value to your audience. For instance, educational videos from industry experts work well as gated content.
If your brand is viewed as the voice of authority in a specific niche, creating an online video course will help you reel in prospects willing to trade personal information for your content!
Behind-the-scenes videos also play on the curiosity of prospects wishing to engage with your brand. Making behind-the-scenes videos of your product being manufactured, a tour of your facility, or a glimpse into your company culture and gating it makes for an irresistible lead magnet.
You could even ask people to sign up for a video series, where you can trigger a series of emails to be delivered to your audience over time.
Another idea for a successful gated video is to find out the pain point of your end-user and help them find a solution.
Since most frequently searched prompts on search engines are how-to questions, make sure you produce videos covering issues faced by your prospects and show them how your product/service can be the ideal solution. For instance, Adobe has a popular design course on Udemy that requires you to use Photoshop, an Adobe product.
Use Video Marketing on Your Landing Page
Landing pages are critical from a marketing point of view. It's where you send paid traffic and try to persuade your prospects to convert.
Your landing page is usually a prospect's first interaction with your brand and your chance to leave a lasting impression.
Landing pages are designed to be clutter-free by default so as not to distract a visitor from performing the intended action.
Since videos can communicate much info, they are rapidly becoming the number one method for marketing online in a short amount of time. Here's an infographic to put things in perspective: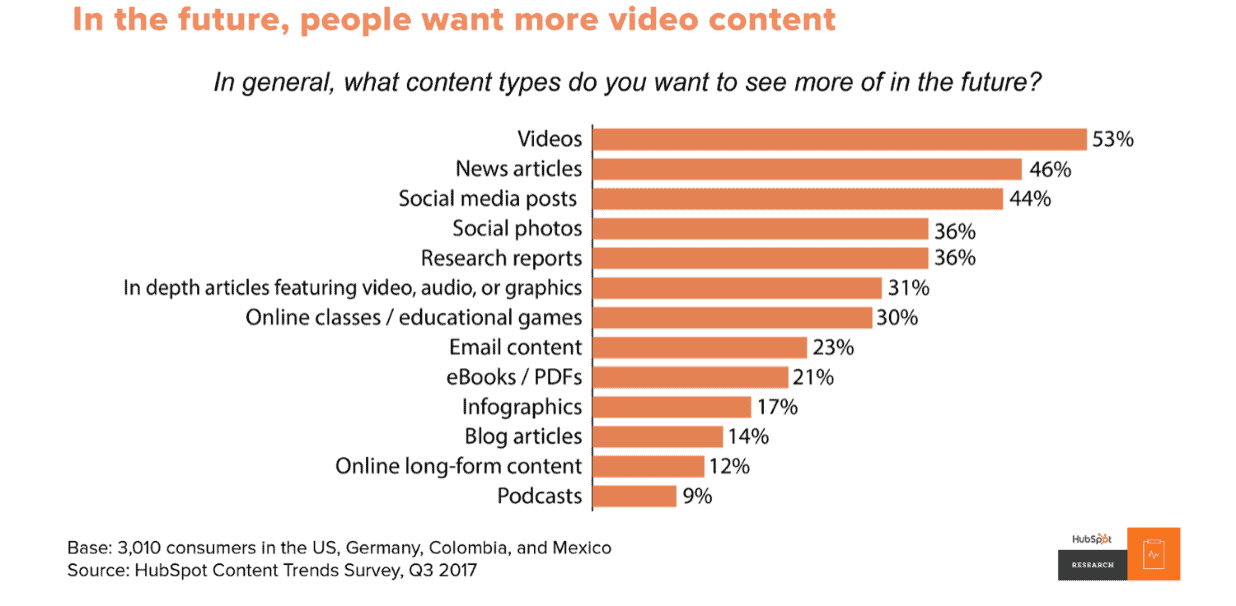 A landing page video gives the complete package of showing and telling since videos are more impactful and preferred than written text.
This is why embedding a single video on your landing page helps you increase conversions by 80%. However, if you are backed with a managed WordPress host optimised for videos, you may remain carefree while uploading the videos on your page.
A powerful brand video helps visitors learn more about your brand and products and cements your marketing message. The more they understand your offer or product, the more likely they will connect with your brand and perform your desired actions.
Using customer testimonial videos, explainer videos, or product demo videos to complement your content can make you come across as a reliable and credible brand and give the prospect a reason to trust you.
Look at this landing page, replacing the hero image with an explainer video that eliminates the need for lengthy paragraphs of explanatory copy. This way, users get a glimpse into the service without being lulled to sleep.
To make your landing page videos engaging and more conversion-oriented, here are a few tips to get started:
Keep your videos succinct and between 2-3 minutes; enough to put your message across without boring the viewer.
Include an eye-catching thumbnail to ensure a visitor will be tempted to hit play.
Use the first 5 seconds of your video to capture the interest of your audience before they bounce off.
Include a built-in form next to the video so your users know what steps to take next.
Make sure your video clearly shows the product in action, highlighting how it looks, reacts, behaves and works.
Make sure to add interactive elements throughout the video to break the monotony and keep viewers hooked.
Avoid autoplay. If you must, play a silent full-screen video in the background which isn't intrusive.
Instead of promoting salesy content or actors, focus on showing real people using your products/services and capturing their reactions. This helps you add the valuable element of social proof.
Communicate genuine value and touch on your unique value propositions to show what sets you apart.
Make sure your video content is aligned with your CTA. For instance, if the CTA asks people to order a product, you should centre your video to demonstrate its use and effectiveness to viewers.
Use no more than one video per landing page. More than that, you will end up overwhelming your end-user.
Include a Video in Your Marketing Campaign
For people thinking "email is dead", email marketing remains the best strategy for building and nurturing strong connections with customers. This lead generation tool yields $42 for every $1 spent on average, making it the highest ROI marketing channel out there.
However, consumers find their inbox flooded with hundreds of salesy emails in a day, so getting your emails opened can be tricky. This is where an engaging video can up your game by reanimating your relationship with your customer.
Research shows that emails with video embedding see four times the click-through rate than those without it. Adding the word "video" in your email subject line can lead to a 6% increase in your open rates. Did you know:
Video boosts open rates by 19%.
Video boosts click-through rates by 65%.
Video reduces unsubscribes by 26%.
The reason videos make such a difference to your email campaigns is because your customers are always looking for more efficient ways to consume content. 72% of them would prefer to learn about a new product or service through video instead of text.
The videos you include in your emails can promote your brand, show a product in action, announce an upcoming event, provide tutorials or educational content, feature testimonials from actual clients, show how your brand helped a client solve a pain point, display company culture or your team at work, or even send holiday greetings to customers.
Since customers often try to predict what is inside a marketing email before opening it, include the word "video" in the subject line to increase your open rate.
Instead of embedding the video inside the email, you include the video's thumbnail and a call-to-action (CTA) button to drive people to the video location, just like when you upload to Spotify. 
Add The Right CTA To your Video
Your video can engage customers, keep them hooked, compel them to use your product/service, or help them trust you, but the call-to-action inspires them to take the next step.
Especially if you are playing your video on YouTube and Vimeo, the user will automatically jump to the suggested videos that show up on the sidebar or after the video ends.
These video suggestions are often compelling enough to make users move on and forget about all you have just shown them. A splendid video without a clear, obvious action is like catching a fish without bait and a hook.
You need to strike right when the iron is hot; meaning encouraging them to perform the desired action; be it subscribing to your channel, placing an order for your product, visiting your website, following your social media handles, downloading your eBook, and so on.
A clear CTA such as "sign up now", "Join the club", "enrol today", or "order now" can inspire them to take action.
One of the most popular ways to include CTAs in your videos is to place them right in. You can include a screen, often at the end or during the video, that tells the viewer what steps they should take next.
You can also use the annotations or "pop-ups" that appear on YouTube videos from time to time, prompting users to take action.
Keep in mind that CTAs are not only restricted to end-cards or buttons. Throughout the video, you can subtly ask the viewer to take some desired action, like "don't forget to hit subscribe", "check out my profile and book a trial lesson", or "If you want to lose weight, don't forget to avail the on-going deal on our gym membership".
See how you can make your CTAs specific to what the user needs instead of using run-of-the-mill phrases like "subscribe now", "Book now", or "join today".
For instance, the explainer video by Healthcare Recruiting below explains their services fun and lively manner.
Since the company specialises in hiring professionals related to the healthcare industry, the video sheds light on the struggles of unprofessional recruiting within the healthcare field and how stressful it can be. As the video ends, they ask the viewers to fill out a form to learn more about how their service works.
Here are some tips for creating a solid video call-to-action that your audience won't be able to ignore:
First, if your video is created with a goal in mind, your CTA should reflect it. For instance, if you create a crowdfunding video to promote your product on Kickstarter, your CTA can ask viewers to contribute funds on the platform. Since the ultimate goal of a crowdfunding campaign is to collect funds, your CTA should align perfectly with that objective.
Since almost 62% of people watch videos on mobile devices, make sure your CTA is mobile friendly and doesn't lead the viewers on a wild goose chase, filling complicated forms or entailing multiple steps. Your CTA should ideally prompt a mobile user to share the video, hit subscribe, or leave a comment.
Try to include your CTA at various points to increase the chances of the viewer following your call-to-action. For instance, you can add a link in the video description, add a button to the end-screen, and verbally reinforce the action you want users to take.
Since most people do not watch a video until the end, include a CTA at the beginning or during the first half of the video.
Make sure your CTA is conspicuous, unambiguous, and noticeably clickable. Instead of small, dark text over a busy background, go for contrast or add an arrow or a pointer to direct the user to your CTA.
Use highly actionable verbs to inspire a user to take action.
Social media is touted as one of the most popular platforms for getting leads. Over 3.78 billion users turn to social media platforms whenever they need some information or are looking for a particular product, making it a great place to create awareness for your brand and generate convertible leads.
Now imagine combining the incredible reach of social media platforms with the power of video to increase your conversion rate.
Instead of using images and text to reel in users, posting value-added and engaging videos can significantly impact on n your bottom line. After all, most social media users spend hours on their feed, enjoying videos from different brands – from how to's, tutorials, educational content, memes, funny clips, etc.
The goal of your social media videos should be to help your viewers understand how your brand can help them in some ways and encourage them to learn more about you. To maximise the reach of your videos, you can even invest in paid advertising to make sure your videos reach the entire width of your target audience.
To make the most of your social media videos, adapt your video content to suit each platform and the audience that frequents those platforms. For instance, tutorials and reviews and other long-form content work well on YouTube, whereas quick how-to and 5-minute hacks are popular are Facebook.
On the other hand, LinkedIn is all about professional-looking, formal marketing videos. This is why producing videos based on where they are to be used critically to the success of your lead generation initiatives.
Here are some video types that work best on social media:
Interview/Q&A: Informative interviews or Q&As work best for piquing the curiosity of your viewers and answering their burning questions.
You can call in a satisfied customer or a team member and ask them questions posted by your followers. Similarly, you should collaborate with thought leaders and get their two cents on significant industry developments.
Look at how GoPro interviewed three customers to promote its drone, GoPro Karma, and flaunt its unprecedented functionality:
https://www.facebook.com/watch/?v=10155298058921919
How to's: People learn more about your product or service when they see it in action. If you are running out of ideas, think of a frequent or typical customer or client question and turn it into an engaging video. For instance, look at how HubSpot created a short video on how to convince your boss to let you work from home:
https://www.facebook.com/watch/?v=10155419284239394
Behind-the-scenes: People love to become a part of the brands they love, so give them a sneak peek into your production facility, show them how their favourite products are made, or show your team hard at work or what a day in your life looks like.
In the video below, Five Guys takes us behind the curtains to see how their famous burgers are made:
https://www.facebook.com/watch/?v=10154433070366727
De Gournay is a brand that sells hand-painted wallpaper and fabric. The hypnotic video below shows one of their wallpapers being painted.
https://www.facebook.com/degournayinc/videos/2144077982480717/
Video Testimonials: Social proof helps instil trust in your customers. This is because prospects are more likely to take the words of other customers than belief in your brand videos.
Have your happy customers record videos that show their positive experience with your brand, and post them to your social media channels.
Announcements/product reveals: A short, informal video message that emphasises the product's unique features works great for a product reveal. A fun video is a perfect way to build excitement for a new product or expansion!
Look at Ben & Jerry's simple looping video to promote a new flavour of ice cream.
Similarly, Everlane announced their new Uniform collection for men with a stellar video highlighting how their uniforms can tolerate a full year of heavy wear and washing without shrinking, tearing up or losing colour.
https://www.facebook.com/Everlane/videos/372327353656934/
User-generated videos: Instead of sharing original brand-created videos every time, ask your loyal customers to do some hard work for you. Remember that since tons of people are already creating high-quality content using your product/service, why not feature them on your feed?
For instance, Huda Kattan encourages her followers to create innovative makeup looks using her products and then shares them on Instagram.
Product Demos: Seeing how social media videos can influence people's purchase decisions, why not demonstrate your product features and uses precisely to entice buyers?
See how Le Creuset demonstrates one of their latest cast iron rice pots in their Instagram video. In the video, Justin Chappelle, the Culinary Director of Food and Wine, shows why the pot is perfect for cooking rice.
Challenge videos: Posting challenges help you generate the most user-generated content, especially on TikTok. Participants love hopping on the latest bandwagon, recording themselves taking a popular challenge and then posting the content.
Dances, pranks, practical jokes, and tricks go viral quickly, primarily when they use trending hashtags or hit tracks.
For instance, Chipotle started the #LidFlip challenge, where participants had to record themselves attempting to flip the lid onto the bowl without using their hands.
Similarly, Fortnite launched a campaign where followers had to create and share dances using the #EmoteRoyaleContest, that can be transformed into official emotes on Fortnite game characters.