Video Production: Reinvent Your Social Media Marketing Strategy
There are over 420 billion users on social media today.
An incredible number, speaking volumes of the importance of social media marketing for brands looking to increase engagement and convert leads into sales.
Video production is progressively popular and rapidly growing as a must-have tool for brands looking to reinvent and reimagine their social media marketing strategy.
But don't worry! We understand that the thought of incorporating yet another marketing responsibility might seem overwhelming at first – especially when we talk about video creation.
To help simplify the process, we have created some industry tips to help ease your business into video marketing and adjust to the new demands of the market.
Here's how.
Repurposing Content into Social Media Videos
It's clear. Your brand needs to invest in social media marketing content.
But the notion of having to constantly come up with new ideas for your social media content is daunting.
It takes time and resources to keep your creative edge and drive engagement.
But don't get overwhelmed yet! There's a way to hack your social media strategy – by repurposing old content into videos!
We like to think there isn't anything better than the new, fresh content we create, but as the saying goes – "Everything new is well-forgotten old".
The concept of repurposing leverages your original content and focuses on creating an alternative version that is altered or transformed into a new medium.
It provides the same information but in a different format, distinguishing it from its original state.
What experience shows is that remixes deliver value. They reintroduce people to valuable content they've forgotten. They also introduce it to a new generation who didn't know or learned the original existed.
Remixing content is part of our culture and sometimes a more successful creative approach. Creativity as a whole, as Kirby Ferguson argues, is a remix.
So why not leverage the content you've already created to reinvent your social media marketing strategy?
Recycling content is a great way to help your marketing with work-load, re-educate existing customers and win new ones.
Video, in particular, keeps growing in popularity – 54% of social media users want to see more videos in their social feeds.
A thought shared by businesses investing in social media marketing. 94% of marketers say they plan to continue using video content to boost engagement.
So, to make the process easier to start, you can use the content you already have and turn it into videos to share on social media.
Instagram, Facebook, TikTok
The three platforms serve different demographics. Before you start creating and uploading your content, make sure you research where your audience gathers so you know where to reach them.
Facebook has over 2.7 billion users. 26% of its audience is between 25 and 34 years old, with 44% being female and 56% male. They usually spend about 38 minutes on the platform per day.
On the other hand, Instagram has 1 billion users, of which 33% are aged 25-34. The platform is more prevalent among women – 57% compared to men – 43%. Instagram's users spend roughly 29 minutes online.
TikTok gets 100 million active users monthly and has the largest share of users aged 18 to 24. The platform's users are 59% female and 41% male, spending 45+ minutes online.
TikTok is a video social platform, so the content you create there should be relevant to its demographic and your target audience.
TikTok users tend to like fun, genuine and straightforward videos, like challenges and "before and after", so try creating similar videos when you repurpose content.
Another great place to repurpose existing content – Facebook Lives. This social media feature drives good traffic and engagement.
Product showcases, tutorials, and behind the scene videos attract reasonable amounts of traffic – so include them in your Facebook video marketing strategy.
Instagram gives you not one but five video format options to share content – posts, stores, IGTV, lives, and reels. You can use each of them in different ways.
For example, take an infographic you've already created and separate it into several parts to upload as an IGTV post.
By serving information in smaller, more visually appealing chunks, you'll be able to create anticipation for the information to come and engage your audience for a more extended period.
Video stories are ideal for teasers and lively motion video re-posts of old tweets and other written content.
Instagram Lives will work great for Q&A sessions and will show your willingness to participate in authentic conversations with your audience with no chance of editing the content.
On the other hand, Reels will fit nicely into posts that combine old content like tips and tricks with a trendy dance or a song.
Instagram has even tapped into the repurposing idea by adding a remix feature that helps you create a video response to an existing video.
Reels not only open new collaboration opportunities but give an option to respond to some of your old video content.
YouTube
Youtube is a social channel better suited for long-form video content. Users usually spent time on YouTube to learn something, be entertained, and relax.
Take advantage of this powerful social media platform to repurpose blog content.
You can turn a lengthy blog post that, if we're honest, people probably just skimmed over into an entertaining YouTube video with valuable ideas that people will stay tuned for.
YouTube is also ideal for creating training videos that your subscribers find interesting and helpful.
Pinterest
Pinterest is heavy on image content but supports video content that you should benefit from as well.
Many creators and business owners re-share their Tik-Tok videos on Pinterest to drive more traffic and engagement across all their social media profiles.
You can repurpose written content by creating video slides of guides and "how-to" content and share it on Pinterest.
The platform is an excellent help for demonstrating how a product works or show creative ways to use it.
Reinventing Social Media Marketing with Video Content
We know – video production does sound intimidating. However, creating video content doesn't have to be as complicated or time-consuming.
As shown by the examples above, the most popular social media channels rely on mostly user-generated content that is fresh, simple and requires minimal skills.
To start creating video content for your social media, all you need is a phone with a decent camera and an idea.
You don't need special videography skills nor expensive camera or lighting equipment.
You don't even need to come up with original ideas – you make use of the current trends. For example, create your versions of a dance or a music challenge that connects in some way with your brand.
Here are a few more examples of video content to consider:
1 – Instructional Videos
Instructional videos will do miracles for your brand and product. They'll highlight the benefits of your service and provide engaging content users can learn from.
Keep viewers engaged by creating social media videos that are up to 30 seconds long. If the instruction takes longer, break your content into two or more parts. This way, you'll keep the users coming back for more.
To help you in the editing process, use any freely available software like Headliner, Wave Video, and Chipchamp Create. They come with easy-to-follow steps and tips for creating video content for the different social media platforms.
Headliner:
Wave.Vista: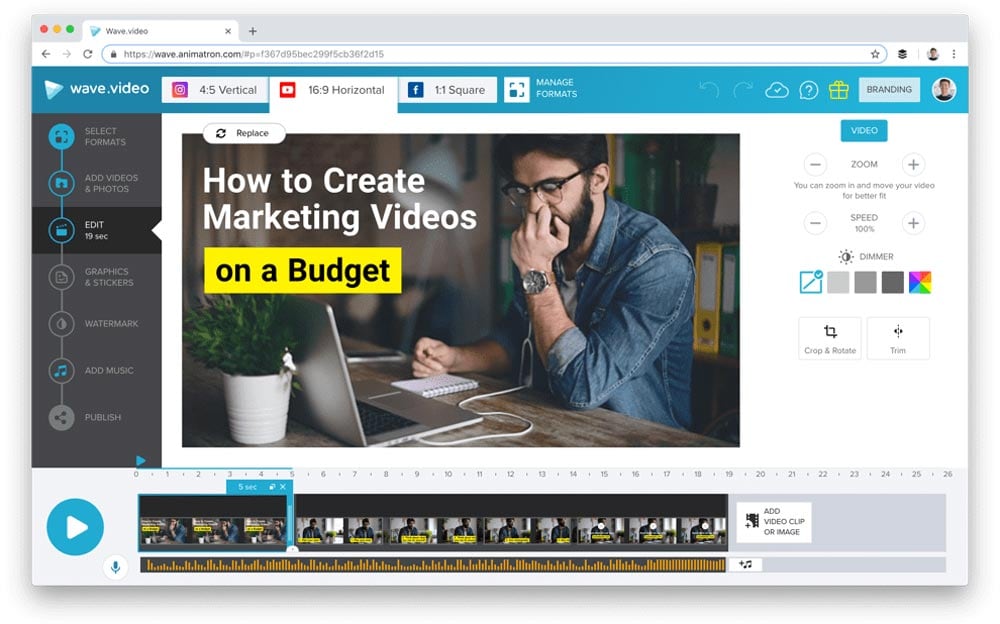 Clipchamp Create:
2 – User-Generated Video Content
Nothing beats a simple review from a happy customer. A testimonial in a video format is even better.
Video content of this kind will up your credibility and win the trust of potential customers.
Word-of-mouth is still the most convincing way to reach people and make them trust you. Who, if not their peers, would be honest about a product or a service?
Your brand and online reputation can reap significant benefits from investing in videos with testimonials, success stories, and reviews.
Encouraging people to create and submit videos and honestly share their thoughts about your products can drive strong engagement and be part of your overall marketing strategy.
3 – Informative YouTube Videos
YouTube reaches about 2 billion people each month. Users enjoy it so much that they spend a whopping 24 minutes on it daily.
The size of the social platform presents a unique opportunity to grow your audience and educate people about your products.
YouTube videos help tell your story and bring viewers closer to understanding who you are and how you solve their problems.
The platform is there to help you nurture audience growth. Create a curated channel with informative and helpful content to entice new audiences and keep current customers interested and happy.
To create quality YouTube videos, you'll need more than great content. In the beginning, when you haven't yet established your presence on the platform, you can consider paid promotions – such as YouTube ads – to reach more people.
With an average view rate of 31.9% – the investment is worth some attention and can put your brand in front of new people, boosting awareness and engagement.
When you start creating YouTube videos, test different lengths to establish what works for your target audience.
4 – Social Media Videos for Customer Service
Like instructional videos, you can create short videos on social media explaining how customers can solve issues they've encountered while using your product.
This format of sharing information is highly beneficial for several reasons:
It ensures the issues are resolved;
It spreads the information to more people;
It shows you care enough to create an easy to access solution;
It takes some weight off your support team's shoulders;
Your customer service video will generate even more value if your real support team answers the questions on camera.
Introducing your audience to the people who solve their issues, humanises your brand and builds trust.
5 – Video Production for Brand Storytelling
Video is the fastest way to tell your story. Audiences are captivated by a hero's journey and get emotionally involved with brands that manage to deliver a good story.
Show people your business history – the start, intentions, values, troubles, and hurdles.
Be specific in showing customers why your brand exists, what problems it solves, and where the business is headed.
You can use videos to share a specific value that your target audience also believes in.
Are you supporting social justice causes? Do you take steps towards more sustainable production and service practices? What is the culture you nurture in your company?
The more people learn about your brand through video on social media, the more likely they are to trust and prefer your brand to competitors.
Tips for Creating Videos
There are a few tips to keep in mind when you produce your social media videos:
Live Videos are fans' favourite. Try creating at least one live video to test if it works for your audience as well;
Experiment with different lengths of your videos, especially for YouTube;
Audio is crucial. No one likes to watch videos with lousy sound quality. Use a microphone to ensure your audio is decent and that background noises wouldn't be too distracting for viewers;
Lighting is also essential. Think of the mood you're trying to create and set your surroundings accordingly. For a more natural, simple, and budget video production, take advantage of the daily sunlight.
Depending on which social platform you're creating the video for, match orientation. Horizontal is for YouTube; vertical works better for Facebook, Instagram, TikTok, and Pinterest.
Include a clear call to action. What do you want your audience to do at the end of your video? Visit a knowledge page? Share or comment? Let them know with a clear call to action.
Summary
Video is the future of social media. Social media platforms favouring video content will rule the scene because users enjoy and spend the most time watching and scrolling through video content.
Information that is simple, fun, and easy to understand is preferred.
Always remember, social media videos are created with entertainment in mind. Content that grabs the attention immediately will have the most impact on target audiences.
Video production has the immense potential to redefine any brand's marketing strategy. Taking it from merely average to unbelievably entertaining and impactful.
To stay ahead in the race, invest in video production and reinvent your social media marketing.
Author Bio: Terry Tateossian, Founding Partner of Socialfix Media, is a fourth-generation entrepreneur recognised as an Inc. 5000 America's Fastest-Growing Private Companies, Forbes' Top Women in Business, Fastest Growing Women Presidents by WPO and 40 Under 40 Business Leaders by NJBIZ. Terry has been featured for outstanding leadership and career accomplishments in numerous industry publications as an engineer, a thought-leader in technology, and an innovator in marketing. But her favourite and the toughest earned title is being "Mom" to her two children.