Top 10 WordPress Themes to Pick for your Small Business
In today's digital world, any business' website is the primary source of sales and marketing.
It is as crucial for small businesses as it is for big companies to have a visually appealing and helpful website with which their customers can interact.  
Website is the selling bread & butter for any online mall business.
While starting to build your website, deciding on a theme is essential. 
WordPress themes help you change, update, and customise the design and layout of your website on the front end.
Depending on what your business requires, you can use WordPress themes to decide and dictate how or where your content will be displayed on the website.
More comfortable to build (and cheaper) than its custom web design counterpart, WordPress themes are more than just colour and layout and can significantly improve your content engagement.
Add to this; that hosting your website or blog on WordPress is easy.

But how do you get started? WordPress themes are prodigious, to begin with, and analysing them as per your business needs could be a hectic exercise.
To help you cut short the queue, here are five critical factors to keep in mind while picking a theme.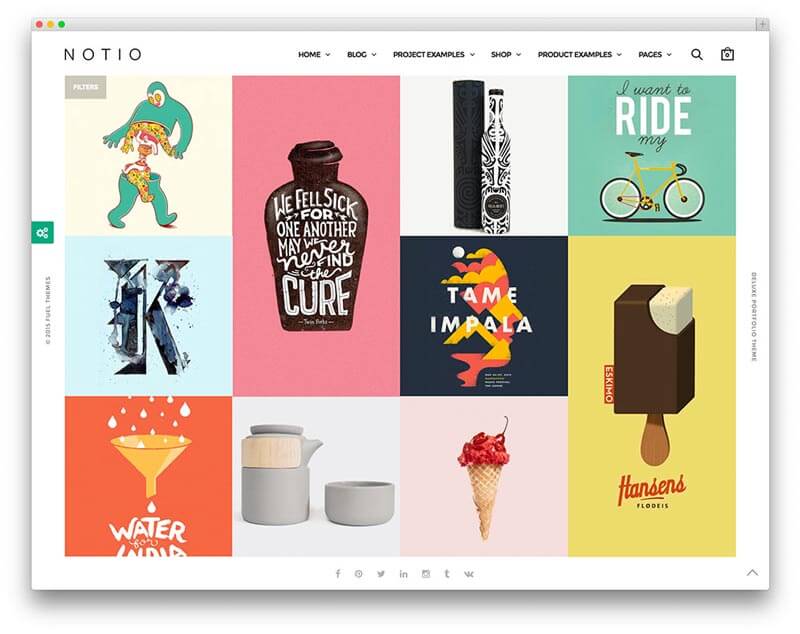 Factors to consider while choosing a WordPress theme 
Category of Business: It is crucial to choose a theme that aligns with your business and the contents of your website. Is it a website for a high-end boutique with lots of video content? Or is an online content portfolio with lots of images and text for your brand consultation start-up? Choose a theme that you can build based on your business requirements.
Basic Features: Ideally, whatever theme you choose should have some essential features for a smoother user experience. Your WordPress theme should be easy to navigate, responsive with a clean interface, SEO-friendly, and compatible with most common browsers. Read the fine print and try the demo version to ensure that these must-haves are established.
Customisation: Not all WordPress themes have the customisation flexibility you are looking for, but with the right one, you can create different layouts without being an expert in coding. Check the customisation policy and license terms for the theme because you want to maximise your customisation options – from changing the size of the buttons to editing your source code.
Integrations & Plugins: A WordPress site's functionality can be vastly expanded with the help of plugins. They allow you to add features to your websites like contact forms, SEO (Yoast SEO Plugin), video gallery, and more without writing code. Having a chat section on your website adds another spice. You can also integrate the chatbot with zero programming skills. WordPress chatbot integration can provide a 24/7 human-like virtual assistant for resolving customer queries instantly. Depending on what features you want on your site, your WordPress theme should support the plugins and integrations for those. Remember, too many plugins slow down your WordPress, so be mindful of what features you add.
Pro Tip: Looking to connect WordPress to your other apps? Automate.io lets you connect WordPress to Salesforce, Zoho CRM and 100+ other apps to automate your work & sync data.
Price: There are a lot of free WordPress themes that will give your website all the essential features it needs. However, if you want more theme options, advanced features, integration, technical support, etc., you can upgrade to WordPress Premium, depending on your budget. You get a free domain name, 24/7 email and live chat support, fully customisable premium themes, and the ability to monetise your site with these upgrades.
Top 10 WordPress Themes 
Divi is one of the most popular WordPress themes available and is a powerful, multi-purpose flagship theme by Elegant Themes.
What makes Divi an excellent theme for small businesses is its unlimited design possibilities, with over 800 pre-made designs and a front-end, drag-and-drop page builder.
You can design your page in real time to customise your pages using visual controls. 
Top features: Custom CSS control, responsive editing, inline text editing, effects, and layout library.
Price: Starting at USD $89
Ideal for: Brand consultation and design agencies/freelancers, SaaS companies, restaurants/cafes, personal branding 
Use Case: Apricum, a transaction advisory and strategy consulting firm, has built its website using Divi.
The website features a proper corporate look using contrasting colours to highlight important information in a measured fashion. 
Corporate is a professionally designed, fully responsive WordPress theme by MyThemeShop that helps you showcase your experience, portfolio, team members, and services, among other things.
Most sections are already built out; all you need to do is fill them out with your data – and the website is good to go!

Top features: This theme is optimised for AdSense, SEO, speed, and a lower bounce rate.
Price: Starting at USD $45
Ideal for: Creative agencies, SaaS companies, freelancers, consultancies 
Full responsive setup with Corporate
Entrepreneur by The motivation helps automate the process of appointments, payments, and scheduling and is tailor-made for small business owners and entrepreneurs.
It is easy to build, customisable, and offers multiple demos.

Top features: You can build powerful forms, track submissions, promote and manage services, and drag and drop your site elements on the Live Page Builder. 
Price: Starting at USD $59
Ideal for: Clinics, personal trainers, physicians, life/career coaches, contractors 
Drag and drop like never before with Entrepreneur

X by THEMCO is one of the most affordable options for small business owners.
With a customisable workspace, role manager options, dynamic content, inline editing, and custom fonts, the theme offers a powerful front-end editor with a fluid responsive design.
The package of four design stacks for different businesses helps customise the site for its intended use with minimal effort. 
Top features: The latest version includes Flexbox functionality, Elements API, and a new layout tab.
Price: Starting at USD $29

Ideal for: Restaurants, tech companies, salons, gyms, NGOs 
Setup your shop with ease using X-THE-THEME

Use Case: Check Lumos Digital to see X-The Theme in action. 
Intact by Key-Design comes with 12 fully-featured, pre-made designs for different business purposes, from homepages and inner pages to blog and portfolio pages.
It offers a fully responsive design built with Bootstrap 3, powerful and easy customisation options, and high-speed optimised code for the best performance.

Top features: The unique thing about Intact is that it comes with premium plugins like Revolution Slider, saving users up to $141!
Price: Starting at USD $59
Ideal for: Creative agencies, start-ups, SaaS companies, e-commerce sites, event landing pages 
Need a professional layout? Use Intact for high-customisation
With 30 stylish and clean pre-made design demos that can be deployed directly to WordPress, Bodega by Select-Themes is the ideal theme for contemporary small businesses.
It also offers a drag-and-drop page builder tool with customisation options to personalise your website design and functionality.  
Top features: Flagship features include the WooCommerce plugin, animations, page transitions, multi-language support, header styles, and frames.
Price: Starting at USD $69
Ideal for: Boutiques, fashion houses, e-commerce sites, musicians/bands, restaurants/cafes, start-ups, freelancers
Stylish and classy themes- Bodega
Use Case: Crolldenekce uses the Bodega theme to highlight its essential products. 
Business by MyThemeShop is a corporate-style theme that powers a clean, professional design ideal for businesses.
It is fully responsive and made to garner customer engagement, support and e-commerce setup and customise website features for the website owner.
Users can start by choosing from various layouts and then personalising them according to their needs.

Top features include SEO optimisation, unlimited colour schemes, and WooCommerce plugin support.
Price: Starting at USD $35
Ideal for: E-commerce sites, SaaS companies, blogs, creative agencies 
Fully responsive layout with so much more!
This theme by ThemeNectar lets you mix and match from over 330 professionally designed templates.
Salient is a powerful, customisable theme that supports front-end editing, with over 65 elements and 1000+ configuration options that let you build a complex website.
It is also fully responsive and multi-purpose, including styles, slider and carousel options, animations, and custom integration with WooCommerce.

Top features: Along with its excellent design, it boasts a 97% speed, contributing to its incredible performance.
Price: Starting at USD $60
Ideal for: Restaurants/cafes, e-commerce sites, creative agencies, freelancers, service-based companies 
More features, less clutter. Build a scalable design with Salient.

Use Case: Visual Working uses the Salient WordPress theme's Nectar Slider to display multiple video images along with various embedded videos from Vimeo. 
Flat is a trendy, modern design that is colourful yet sleek. A theme like Flat focuses on interaction and engagement with bright colours, two-dimensional designs, and transitional effects to draw attention where needed.

Top features: The theme is easy to use with a drag-and-drop Themify builder, custom post types, animations, sliders, and other effects.
Price: Starting at USD $59
Ideal for: Creative agencies, freelancers, service-based companies, food stores 
Customise your website look and feel with Flat!

Themify's most powerful and flexible WordPress theme, Ultra, is responsive, customisable, and easy to use. It comes with 29 pre-made design "skins" for different types of businesses, 12 builder addons valued at $100, over 60 pre-designed layouts, and WooCommerce integration.

Top features: It includes intelligent layout options, section scrolling, a built-in mega menu, animated background colours, and image filters. 
Price: Starting at USD $59
Ideal for: Restaurants/cafes, fashion houses, e-commerce sites, event landing pages, musicians/bands, SaaS companies, personal trainers, creative agencies, and freelancers.
One theme, unlimited options with Ultra!
To wrap up: While there are many more brilliant themes that you can pick and choose from, these top ten WordPress themes include a loaded pack with end-to-end UI/UX capabilities, easy drag-and-drop options, animations, and slick design elements.
These themes were hand-picked by considering their responsiveness, SEO capabilities, and plugin integrations.

Please let us know if you have more suggestions on contemporary WordPress Themes or if you picked any of them and how you like them. 
Happy designing, folks!
Author Bio: Archita helps B2B SaaS businesses with marketing (with a focus on content) and is currently doing so for Automate.io. She is happiest while helping founders unleash the power of content marketing and telling stories about her weekend artistic cafe visits!