Business Events: The Power of Bespoke Branding
Being active on the event scene can be crucial for businesses.
Suppose you are an SME just starting or an established corporate chain. In that case, there's no room for complacency regarding your marketing strategy – and exhibiting at small business events is an excellent way to keep a finger on the pulse of the industry.
From networking opportunities to getting your brand out into the public sphere, the more events you attend, the more exposure you'll gain for your business.
Keeping your name in the public eye is the key to success, and in today's post, we are breaking down ways you can hone in on your branding strategy to ensure your message is heard – both at business events and beyond.
Why do business events matter?
In the competitive business world- particularly design – staying one step ahead of the competition is no easy feat.
Finding unique and refreshing ways to promote your brand can be pivotal in growing your client pool.
Many benefits come with exhibiting at business events, including:
Brand exposure
Global business events offer guaranteed brand exposure – even if you do not necessarily leave with an armful of leads.
From your social media updates to the design of your banner stands, the more you put your brand into the world, the more likely it is to be recognised.
You cannot buy this familiarity – it comes from regular networking and getting your brand in the public eye.
Mass audience reach
Whether a small, niche event or a more extensive industry expo, business events mean one thing: people.
While social media is great for drumming up interest, hands-on interaction allows businesses to create more memorable authentic relationships than a one-off tweet or Facebook 'like.'
Networking opportunities
With many people exhibiting and attending business events, you are guaranteed to cross paths with other industry professionals and other businesses you might otherwise overlook.
Use these opportunities to go beyond your comfort zone – as you never know where the next lead might come from.
Face-to-face engagement
Unlike outreach via emails or phone calls, business events offer a unique chance to meet with – and speak to – some prospects face-to-face.
This traditional form of marketing is often overlooked in a world dominated by technology and social media.
You can show prospects how much you value consumer-brand relationships by getting back to basics.
Building your brand strategy
As a designer, it can be easy to concentrate on the aesthetic design of your brand – but cohesive, bespoke branding is about more than just a logo design.
It runs throughout any successful business, starting long before an industry event.
Being active on social media sites like Facebook, Twitter, and Instagram will create a strong online presence and encourages fluidity across all channels.
●  Facebook is the world's most used social media platform, and as of the first quarter of 2016, it had 1.65 billion monthly users. The site is the perfect place to promote your business event. From creating bespoke event invitations and keeping track of potential attendees to starting a discussion about a specific topic and uploading teaser photos of the venue, Facebook has many uses for businesses wanting to boost their reach before, during and after an event.
● Twitter is an excellent channel for businesses looking to widen their horizons. Keeping your Twitter account updated can open up multiple doors for businesses- especially regarding events- whether it is live-tweeting during an event, jumping on local networking hours or incorporating relevant industry hashtags into your posts.
●  Instagram has over 400 million monthly active users and has quickly evolved from a popular social app to a successful networking platform. Instagram allows users – and businesses – from video snippets to collages to track their lives visually. This is an excellent way for exhibitors to spread the word about their corporate events and allows them to update attendees as well as reach those who were unable to make their event
●  Snapchat is perhaps the most unlikely social media channel to be employed by businesses – but it is becoming increasingly popular. Snapchat allows businesses to provide live, real-time content to their audience. Because videos and images expire, you can consistently offer just enough to leave your followers wanting more. This can be followed up with a Snapchat of your other social media details – where users can explore your services further
A company that is famed for its social media activity is Pizza Hut.
The restaurant chain uses its UK and US accounts to tweet funny anecdotes and special offers to its followers.
With almost 40 thousand followers, Pizza Hut knows that a timely tweet can encourage hungry fans to place an order – highlighting the importance of knowing your audience.
Social media channels are the perfect place for brand exposure – giving your followers unique access to relevant content, event dates and promotions.
Research has found that content coupled with appropriate visuals leads to 94% more views than content without relevant images – so don't underestimate the importance of adding images to your posts.
Once attendees arrive at an event, you can post live updates to your accounts – using timely tweets or targeted promotions to direct foot traffic to your stand and boost interest in your brand.
By encouraging your 'followers' to retweet photos from an expo, check in at an event or jump on relevant hashtags, you can create a social media community tailored to a particular event – raising your brand's profile.
This is something coffee giants Starbucks do very well – with 11.2 million followers to their name, they are no strangers to the social media spotlight.
Their 'tweet-a-coffee' campaign was a huge success, allowing users to buy their friends a Starbucks treat on them and then tweet about it – encouraging thousands of users to get involved.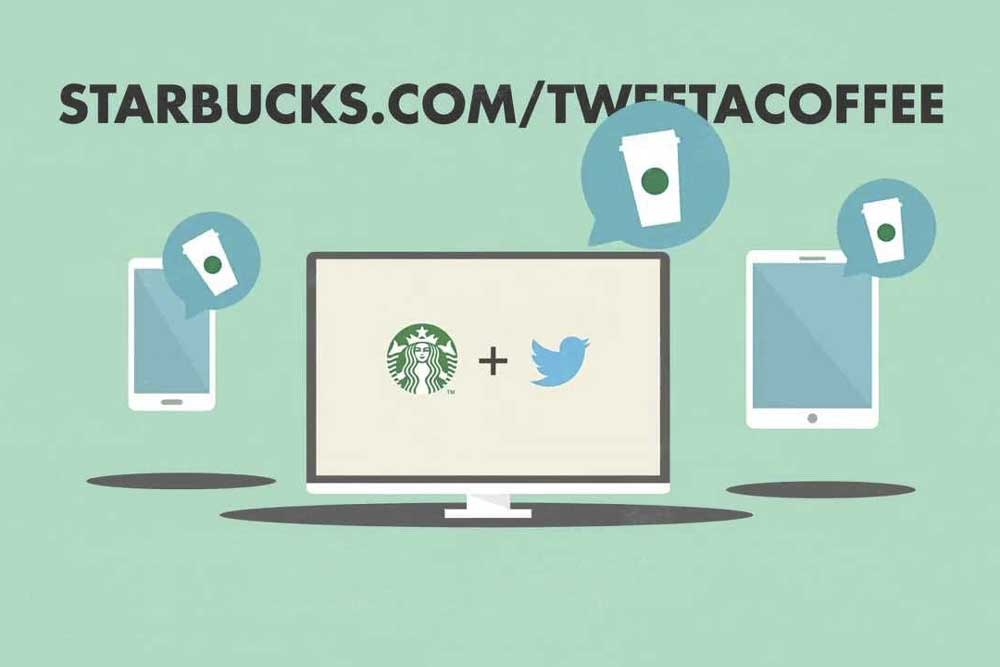 The bigger picture
As mentioned above, standing out at an event is more than what you do on the day. Check out these event marketing stats if you need more evidence.
To successfully execute a holistic brand strategy, you need to be creative with opportunities for exposure – and this is something Coca-Cola has mastered over the years.
Despite its main products being fizzy drinks, the brand is synonymous with Christmas, personalised cans and bottles and the World Cup.
The brand's pop-up corporate events – including the 'Share a coke' campaign – have enjoyed huge success.
Accompanied by iconic red trucks, Coca-Cola is instantly recognisable wherever it goes – building brand awareness even when moving.
From its personalised products to the famous seasonal truck alerting us that the 'holidays are coming', Coca-Cola has its branding strategy mastered.
Most companies can only aspire to reach Coca-Cola's level of success, but there are ways to boost your branding – no matter your business size.
Bespoke promotional vehicles and business card design can aid your marketing strategy ahead of an event. At the same time, custom-branded dump bins and eye-catching display banners will encourage foot traffic to your stand once attendees arrive.
Whether offering sample products or promising a retweet, find ways to engage with attendees and use this to grow your contacts list.
Investing time in your brand strategy before, during and after an event'll improve your chances of seeing more attendees on the day and increase long-term interest in your brand – as you become established as a reliable and credible business.
Don't forget the follow-up
Events can lead to business success on many levels, but where most companies fail is the final hurdle: the follow-up.
Creating and nurturing a recognisable and successful brand is an ongoing process and doesn't stop once an event is over.
Whether you are leaving an event with an armful of leads or just a handful of interested prospects, the real measure of success comes from what you do next – and a timely follow-up can be the difference between an impressive list of prospects and turning them into paying clients.
Although the below infographic is related to following up on a job, the facts and figures are valuable to take note of.
Plan your follow-up strategy into your event plan to prepare for chasing any leads.
This should involve setting aside time to contact people you met at an event, deciding on the best team members for the job and choosing your approach.
While some businesses prefer to reach out via social media, others believe there's more value in a traditional phone call or email.
This might depend entirely on the person you are contacting, but as long as you have a plan, you can remove the risk of any interested attendees slipping through the net.
With business events offering multiple opportunities to boost revenue, harnessing a robust and cohesive brand strategy is the key to success.
From the initial planning stages to the event and the follow-up, keeping your brand's identity at the forefront of your marketing will help propel you towards an exciting and profitable future.