9 Creative Ways to Feature Company Logos at Events
Company logos are more than just letters, symbols, colours, and shapes – they are graphic representations of brands.
Brand loyalty is worth ten times more than single purchases, and one of the best ways to get a loyal following is by getting people to know and love your company's logo.
Since 50% of consumers will more likely support a brand with a logo that they recognise, you need a loyal following.
Although making your logo popular can take time, you can use several strategies to speed things up.
Featuring your company logo at events is a brilliant and less 'salesy' way to do this.
Once you're done reading this article, you'll be inspired to think of your own unique ideas to feature your company logo at the next event you're planning.
Creative Display Ideas for Company Logos at Events
Although company events will always have branding elements such as banners and flyers, they should also have their logos all over the place.
When people think about corporate and company events, they are more likely to remember clever placement than the traditional way company logos get shown off.
You need to bombard people with your logo visually, but in subtle ways, so they don't even realise it.
Creative placements will get this 'brainwashing' done nicely and without any evil scheming.
When you look at the following examples, keep your own company in mind and imagine how you could implement them at your company events.
This article won't be discussing the well-known ways to show off logos, such as using a photo booth, digital caricaturist, or digital graffiti.
Instead, we're looking at ideas that are fresher and can be used on social media.
Many of these ideas will result in amazing photos taken and shared on Instagram and Facebook by your guests.
1 – Ice and Sand Sculptures
Ice sculptures have long been a big thing at corporate events. There's something enthralling about the way it glitters and the beauty that sculptors can come up with.
But the value of a well-branded sand sculpture isn't always appreciated.
Use one of these natural forms of art to put your company logo at the centre of the event without making everyone feel like you're shoving it down their throats.
A beautifully sculptured sand or ice logo will be the talking point during and long after the event.
It also makes for exciting selfies to share on social media, which will give you free exposure.
Mont Blanc used an abstract-formed ice sculpture that had all the right vibes. Source: icesculpture.co.uk
It is recommended that you use the process of creating the sculpture to draw guests to it.
If you're going with an ice sculpture, people will enjoy seeing a talented sculptor transform a block of ice into something beautiful that incorporates your company logo.
Sand sculptures may sound messy, but professional sculptors know how to create something that will last all day without turning the place into a beach.
Consider having half of the sculpture done before the event starts.
Invite your guests to share the 'during' and 'after' photos on social media, and use them in creative ways as part of your marketing strategy.
That way, you can tease people into seeing what it will look like while they're amazed at how the sand stays in place.
HGTV Magazine blew onlookers away with this gorgeous sand sculpture. Source: bizbash.com
2 – Coffee Artists
Everyone loves coffee art – it's hard not to appreciate the skill that goes into whipping up visual treats in a cup.
Coffee art has somewhat of a cult following with previously new branding opportunities.
If you can tap into that potential, your company might have a cult following of its own.
Featuring company logos in a drink is a relatively new idea, and it's a perfect one.
Corporate events tend to go on for more than just a few hours, and people will get hungry and thirsty.
Dazzle your guests with delicious branded art that shows off your company logo for a long-lasting impression.
This cup of art was made for Citrus Photography and featured its logo while looking tasty. Source: latteartlove.com
The coffee can be served throughout the event, or you can choose to have it presented at a specific time.
You won't have to look too far to find artists that will be able to do the job right; it's quite a popular career choice.
Featuring your logo this way will also be effective at getting you social media exposure.
Coffee art makes for popular posts, and your guests will love sharing photos of the coffee with their followers.
3 – iPad Magicians
Here's a fresh idea that will certainly have people talking about your company long after the event: iPad magicians.
Magicians are another form of entertainment that is often found at corporate and private events. But iPad magicians are new, use technology in creative ways, and they're fascinating too.
You can use this modern twist on sleight-of-hand tricks to spellbind your audience and make sure they remember your logo.
Digital magicians have many tricks up their sleeves and ideas on putting logos in the centre of the event in exciting ways.
They can pull inanimate objects from iPhones (as their job description suggests), and your logo can be one of the objects.
There aren't many limits to what kind these magicians can do – they can incorporate brand messages, products, statistics, and more.
Of course, they can build a whole show around doing so and are sure to entertain your guests to no end.
These displays are also full of humour, which is a great way to make sure your audience has positive emotions towards your logo and brand.
iPad Magicians can wow crowds as much as traditional illusionists. Source: youtube.com
4 – Floor Graphics
Forget about walls – floor graphics are the ultimate form of creative placement of logos.
You can place small or giant versions of your logo in different areas on a floor to attract the attention of your guests.
Your custom-made decals can be put wherever you think they'll be most effective. If you want to guide guests towards a specific idea, you can do that. Just be sure to add your logo somewhere in the guiding graphic.
You can also use a giant decal of your logo and make sure guests of the event see it from a higher vantage point.
Another way to use floor graphics and your logo together is to place it in areas where you know people will spend much time.
Instead of using decals, you can use lighting to feature your logo. Bright, neon colours will stand out more, but be sure that it works well with your logo design and theme colours.
If you can use the environment as an element as well, do so! Your creativity is the only limit to how you can use floor graphics to feature your company logo.
Usually, events are full of space that offers branding opportunities. Find fun and creative ways to use them, and you'll have a successful event and display your company logo.
It's not difficult to guess what company was hosting this event… Source: levelevents.co
5 – Cocktail Hour
One of the most anticipated parts of any event is usually the one with something more substantial than coffee on offer.
You won't struggle to find that corporate events are full of people eagerly waiting for something strong to sip on.
Cocktail hour, therefore, is the best time to feature your logo without making it seem obtrusive or like a sales gimmick.
There are many fun ideas on how you can work in your logo at the bar. One idea is to have custom napkins or coasters for guests to use.
You can also have cocktail stirrers or glasses with your logo on them. Maybe even let your guests take a glass home.
Signature cocktails named after your company with the colour of your logo is another superb idea that will please guests and show off your branding.
You can even hire bartenders who can share information about your logo as they mix up funky drinks.
For example, they can regale people with explanations of why your logo uses specific colours or images.
Consider having a mural display in the shape of your company logo on the wall behind the bar that holds bottles of fancy drinks.
Light it up with the colours of your logo as well, for that 'something extra.' This will add a touch of decadence to the bar area if done right.
A drinks menu with your logo at the top is another way to feature it without making it too obvious. If you use quality graphic design software, you should come up with something awe-inspiring.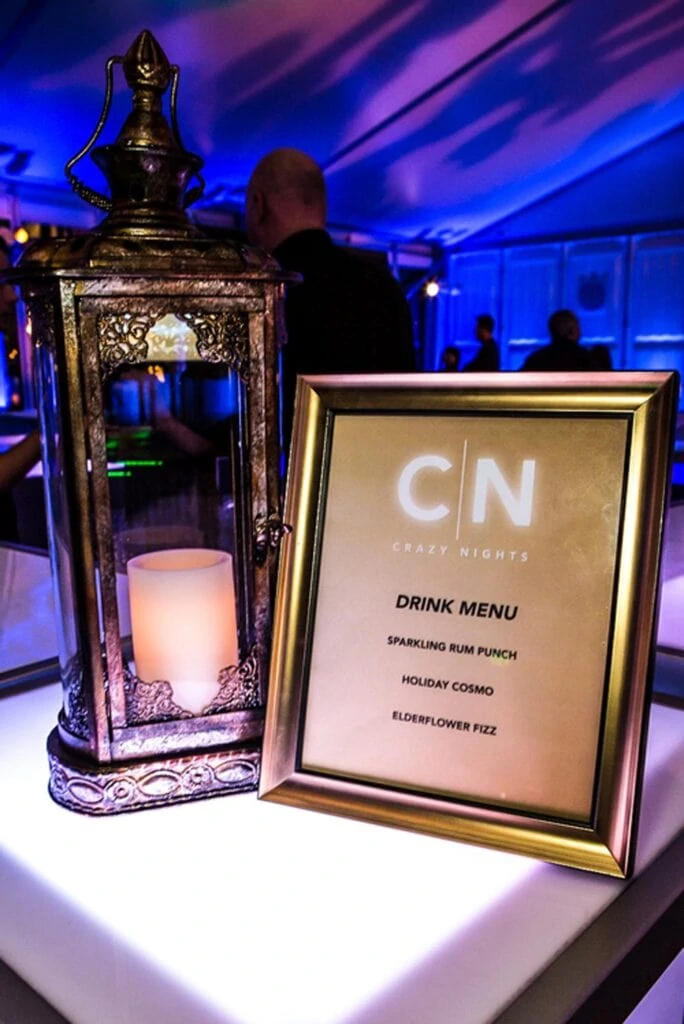 You can create a classy, simplistic drinks menu featuring your log the way Innocean did for a holiday party. Source: levelevents.com
6 – Wax Seals
You should be sending out physical invitations to your event – it gives the affair a personal touch.
People like to keep invitations that are attractive and well-designed, so if you make sure your logo is quite prominent, it will be seen and appreciated often.
A brilliant way to make your invitation stand out is to use a wax seal on it. They look impressive and aren't seen every day, so your guests will probably value the invitations more.
Use wax seals on lovely paper invitations if you are hosting a formal event so the guests can know what to expect. If the event isn't as formal, keep things light with a custom-designed wax seal that is colourful and eye-catching.
Use your brand colours and logo on the seal (which can be made of plastic rather than wax, if you want).
You're not limited to using the seal on an envelope – using them on the packaging is another possibility.
If you're sending outboxed invitations, for example, the wax seals with your branding can be placed on the packaging instead.
Wax seals are great for adding a bit of sophistication to event invitations. Source: athoughtfuleye.com
8 – Event-Themed Business Cards
Although the business world has dramatically shifted towards being more digital, business cards haven't been replaced just yet.
They still play an essential part in creating lasting relationships while helping make a good impression of your brand.
It's a good idea to develop a business card design with your logo to be theme-specific for an event.
Use the event to decide on an exciting look and feel for your cards that you can hand out on the big day.
If the event is formal, go with a business card that has the same vibe. For example, use fancier paper to print the cards on than you usually would.
If it's a more casual event, you can go all out and design a business card that is funky and catches the eye.
Put your logo front and centre when coming up with the design – it's the purpose of the cards, after all.
Consider working with a professional designer to make sure your business cards have all the correct elements.
Business cards are perfect for sharing information without talking too much. Source: freepik.com
9 – Event Merchandise and Swag
It's an excellent idea to hand out free goodie bags at corporate events – everyone from beauty brands to lingerie designers do it.
It's such a regular part of corporate events that it's almost mandatory, so don't let your guests down.
You can have your company logo on many different things if you offer your guests merchandise and swag.
Have your branding on T-shirts, keychains, bottle openers, sweet treats, hats, and more. The list of items that can host your logo is long, and it all depends on what your event theme is.
Use merchandise that will play in well with the event, as well as your brand's logo and colours.
You can also put your logo on the goodie bags themselves, by using a custom canvas tote bag, as well as the thank you cards you place inside.
The sales funnel doesn't come to mind when you think about merchandise and swag at an event.
But it's an innovative way to build interest in your products and get customers further along the funnel.
Who says optimising your content funnel strategy has to be stiff and boring?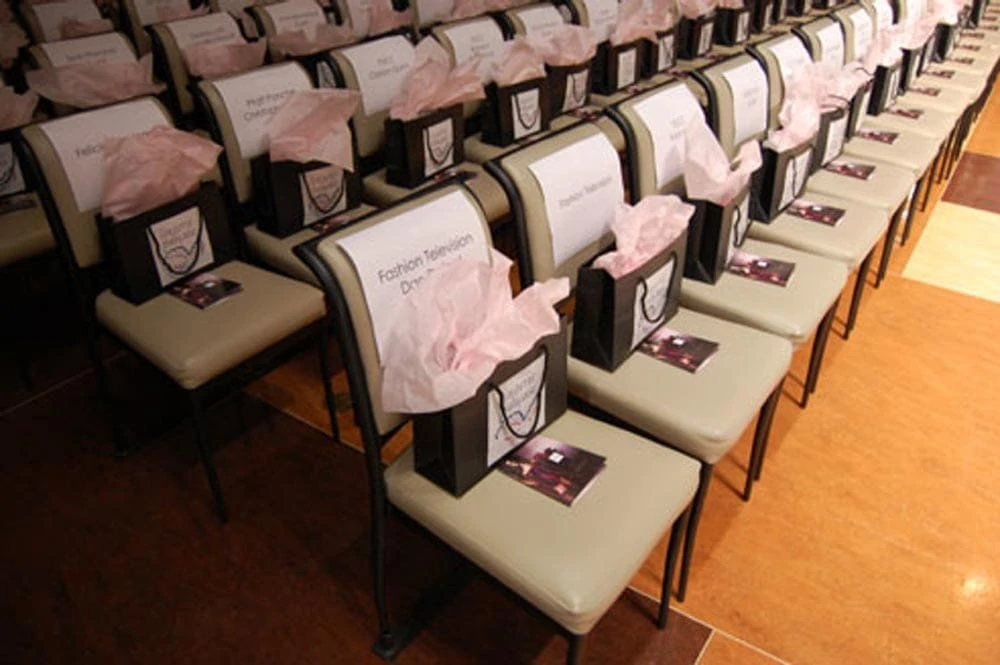 Merchandise and swag offer ample opportunity to feature your company's logo. Source: bizbash.com
Feature Your Logo Like A Marketing Whizz
You love your logo – it was created to encompass everything your brand is and hopes to be.
Now it's time to give your target market the chance to love it just as much.
You don't have to be an expert to pull off great marketing when featuring your logo at events.
Just be willing to learn, adapt, and think creatively.
Learn from how company logos at events were creatively incorporated in the examples discussed here, and start brainstorming.
Your next company event might blow everyone away and lock your logo in their minds and hearts.
Author Bio: Zoe is a content marketing strategist for SaaS brands like FollowUpBoss, Mention.com and more. Bylines: Ecwid, ProProfs, Score, etc. On the personal front, Zoe is a pho enthusiast and loves travelling worldwide as a digital nomad.