What is a Brand Ambassador, and What Do They Do?
With so many options available to consumers, companies must find creative ways to stand out from the competition and make a lasting impression. One strategy that has gained popularity in recent years is the use of brand ambassadors. But who exactly is a brand ambassador, and what do they do?
In this blog post, we'll explore the world of brand ambassadors by looking at what they are, their benefits, and how businesses can use them to strengthen their brand and engage with their target audience. Whether you're a business owner or just curious about the marketing world, this post is for you. So let's dive in and explore the fascinating world of brand ambassadors!
What is a Brand Ambassador?
A brand ambassador is a person who acts as a representative and advertiser for a company, embodying its values and promoting its products or services through its words and actions. Brand ambassadors are experts at talking about the brand both online and offline, and they can be company employees or external people who have a solid connection to the brand.
A brand ambassador is an extension of a company's marketing team and is critical in building brand awareness and credibility. They are often seen as trusted sources of information about a company's products or services and can have a massive impact on increasing sales and customer loyalty.
Some companies hire external brand ambassadors, such as social media influencers or celebrities, while others use their employees as brand ambassadors. In this case, employees are trained and encouraged to represent the company in a positive light and share their experiences with the brand in their networks.
One of the main benefits of brand ambassadors is that they add a more personal touch to a company's marketing efforts. They can help humanise a brand and make it more likeable to customers. In addition, brand ambassadors can help companies reach niche target groups that are more difficult to get with traditional advertising methods.
Another advantage of brand ambassadors is that they can provide valuable feedback to companies. As people who are passionate about the brand, they can provide insights into what customers want and how the company can improve its products or services. You can use this feedback to make strategic decisions and enhance the customer experience.
While there are no set qualifications to become a brand ambassador, individuals must have a solid connection to the brand and effectively communicate the brand's values and offerings. The company can provide training and support to ensure ambassadors have the knowledge and skills to represent the brand effectively.
In summary, a brand ambassador is valuable to any company looking to raise its profile and credibility. Whether employees or external individuals, brand ambassadors play a critical role in promoting the company's products or services, providing valuable feedback and helping to humanise the brand.
Who can Become a Brand Ambassador?
A team of dedicated brand ambassadors can make all the difference when building a successful brand. But who strictly can act as a brand ambassador? Every employee has the potential to be a strong advocate for your brand. While certain functions such as sales, marketing and management are more suited to the ambassador role, employees from all departments can achieve meaningful results.
Salespeople, for example, can use their expertise to shorten the sales cycle, create new opportunities and increase revenue and lead pipeline. On the other hand, human resources staff can help improve recruitment and retention efforts, build a more substantial talent pool and strengthen your employer's brand. And marketing staff can generate leads, increase brand awareness, and drive social media outreach and web traffic.
Product and technical staff can also play an important role as ambassadors, using their thought leadership and technical expertise to raise awareness of your products and services. In short, any employee who regularly communicates with people outside your organisation has the potential to be a strong brand ambassador.
Sales, marketing and management staff may have a more comprehensive professional network and be better placed on improving the bottom line. Still, the truth is that every employee can make a difference. By investing in training and support and encouraging all employees to champion your brand, you can build a strong ambassador culture that will help differentiate your brand and achieve long-term success. Whether you are a start-up or an established business, you should fully utilise the potential of your employees to strengthen your brand and drive growth.
How they Drive Results
A strong brand ambassador programme can make all the difference in today's fast-paced and competitive business world. Brand ambassadors are responsible for driving results through their communications, whether through public channels such as social media or private channels such as email, messaging and phone calls.
But as with any initiative, success requires a plan. An organised programme can make managing and measuring your ambassadors' efforts more manageable. A good customer relationship management (CRM) platform comes in here.
A CRM platform like Salesforce provides a helpful complement to managing a brand ambassador programme. Just as it's almost impossible to manage a sales team without a CRM platform effectively, it isn't easy to work a brand ambassador programme without a plan, tools and someone to lead and manage the programme. A well-designed programme can help you set clear goals, measure the impact of your ambassadors' efforts and stay on track to achieve your goals.
By giving your ambassadors the tools and resources they need to succeed, you can help them achieve better results and build stronger relationships with your target audience. From training and support to clear guidelines and goals, an organised brand ambassador programme can significantly help any business to build a strong brand and achieve long-term success. So if you haven't already, invest in a brand ambassador programme today and watch your business soar to new heights.
What a Brand Ambassador can do for you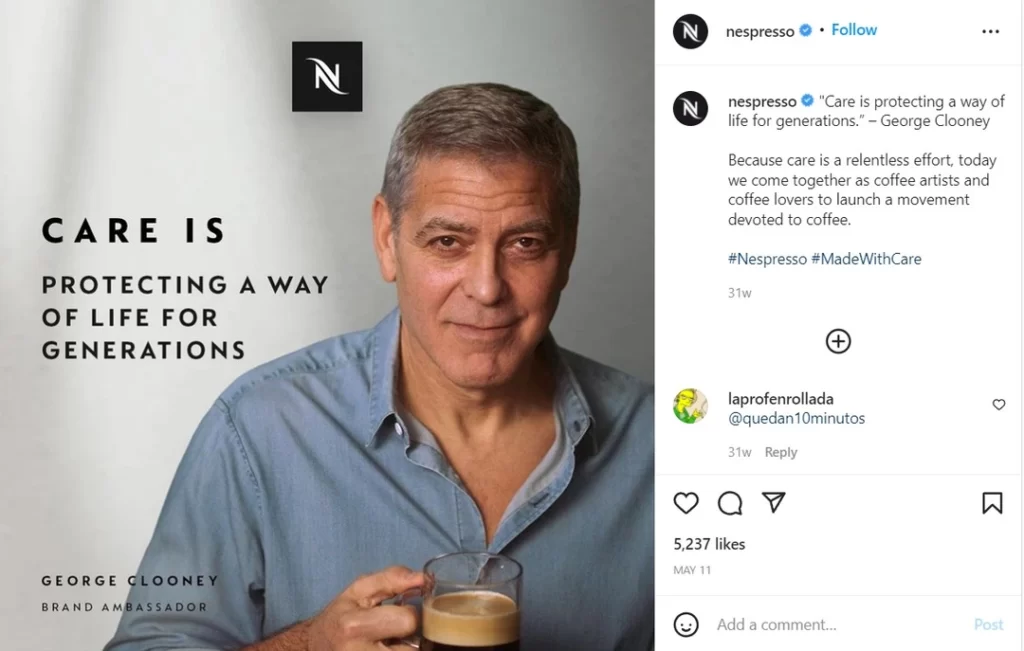 They Put a Face to the Brand Name
Unlike professional models, brand ambassadors are real people passionate about the products or services they represent. They embody the brand's values and mission and strive to build genuine consumer relationships. This personal touch makes brands more likeable, human and tangible.
Moreover, brand ambassadors reach target groups very effectively. They are often local and have established connections within the community, making them trusted sources of information. They deeply understand their target audience's needs, preferences and issues, enabling them to create highly targeted and relevant content.
By working with brand ambassadors, companies can build a two-way conversation with their customers, which leads to brand loyalty and trust. Ambassadors bridge the brand and the community, providing valuable feedback, insights and suggestions. They can also help brands reach new audiences by leveraging their networks and social media platforms.
They Help on Social Media
These people are often well-known personalities who are in the public eye and have a loyal following on social media. This makes them the perfect candidates for promoting a brand's products or services, as they have already built trust with their audience.
Ambassadors, while often referred to as influencers, differ in that they have a deeper connection to the brand they represent. They are often passionate about the products and truly believe in the company's mission, which makes their advertising more authentic.
Ambassadors can also help drive traffic to a company's website. With their already established online presence, they can easily direct their followers to the company's website, driving more traffic and potentially more sales. In addition, brand ambassadors can help recruit passive candidates. By promoting the company's employer brand, they can reach a wider audience and demonstrate the benefits of working for the organisation.
They are Problem Solvers
Bad reviews can damage a company's reputation. However, a brand ambassador can help mitigate the impact of negative feedback. A brand ambassador strongly bonds with the company and is committed to its mission and values. They are vested in the brand's success and are more likely to respond to negative reviews with constructive criticism or a positive spin.
By monitoring social media and reviewing portals, brand ambassadors can respond to negative comments promptly and professionally. They can also offer solutions or provide feedback to the company's customer service team. This can help turn a negative experience into a positive one, ultimately leading to a satisfied customer.
They show Honesty
They believe in the brand and its values and promote it for financial compensation and the satisfaction of being associated with a company they love. They are often loyal customers who have had positive experiences with the brand and want to share them with others.
When a brand ambassador shares their love for a company, it can powerfully affect potential customers. The brand ambassador's recommendation can help build trust and credibility for the brand, especially if its followers see that the promotion is authentic and not just a paid advertisement. This is especially true in the age of social media, where word-of-mouth from trusted individuals can reach a larger audience than ever before.
In addition, brand ambassadors can provide valuable feedback to a company. They often engage deeply with the brand, and their insights can help improve products and services. They can also act as a bridge between the company and its customers, helping to build strong relationships and foster loyalty.
5 Examples of Brands that Succeed with Ambassadors
1 – Lululemon
Lululemon, the famous sportswear brand, has built a loyal following through its unique brand ambassador programme. These ambassadors are carefully selected from the local community around each shop and considered trusted sources of information. They are crucial in spreading the Lululemon message and positively influencing the local community.
One of the most effective ways the Lululemon Ambassadors connect with the community is by hosting free yoga classes in the shops. This not only helps to integrate the shops into the fabric of the community but also provides an opportunity for the ambassadors to build relationships and connect with potential customers. In addition to the yoga classes, the ambassadors organise other community activities such as running meets and wellness workshops, strengthening the bond between Lululemon and the local community.
The ambassadors also act as a bridge between the community and the employees of Lululemon shops, whom the company calls "trainers". Regular contact between the ambassadors and the trainers helps inform the community about new products, promotions and events while providing Lululemon with valuable feedback on local trends and preferences.
One of the most innovative aspects of Lululemon's ambassador programme is the emphasis on transparency and communication. Ambassadors are encouraged to share their successes and challenges with the community, which helps build trust and authenticity. This approach strengthens the relationship between Lululemon and its customers and provides valuable insights that they can use to improve the customer experience.
Perhaps the most significant benefit of Lululemon's ambassador programme is its ability to "think globally yet act locally". By selecting ambassadors from the local community, Lululemon can create a personal and authentic experience for customers in each shop. This has helped Lululemon establish itself as a trusted brand in communities worldwide, with shops serving as hubs for activities that engage customers and drive sales.
In summary, the Lululemon Brand Ambassador Programme is a shining example of how companies can build strong relationships with customers and communities by engaging with them meaningfully. Lululemon has created a unique brand identity that resonates with customers and promotes long-term success by emphasising transparency, communication, and local engagement.
2 – Microsoft Xbox
Xbox, a leading brand in the gaming industry, has a well-designed and executed ambassador programme perfectly aligned with the company's mission to empower people and organisations to achieve more. This programme comprises passionate Xbox owners and users who answer questions for other users, creating a vibrant and supportive gaming community that sets Xbox apart from its competitors.
Xbox's ambassador programme is an excellent example of how to gamify an initiative successfully. The programme engages users by appealing to their love of gaming and encouraging them to take 'ambassador actions'. This makes them better ambassadors and unlocks more levels, which increases their status within the programme.
Xbox's ambassador programme is not just about gaming, however. It also serves as a valuable feedback mechanism for the company, as ambassadors can provide insights into users' experiences with Xbox products and services. They can use this information to improve the customer experience, which is critical in today's competitive marketplace.
In addition, Xbox's ambassador programme encourages collaboration and community building. Ambassadors are motivated to work together to achieve common goals, such as organising gaming events, sharing tips and tricks, and promoting Xbox on social media. This fosters a sense of belonging and ownership among ambassadors who feel a stake in Xbox's success.
Overall, Xbox's ambassador programme is a fantastic example of harnessing its customers' passion for building a supportive, engaged community that can drive business success.
3 – Gymshark
The rise of social media has brought about a new generation of marketing, and Gymshark is a perfect example of a brand that has used this new platform to its full advantage. The fitness apparel brand has built its success on its brand ambassador programme, which has been instrumental in helping Gymshark build a substantial and engaged following.
Gymshark's journey began with a partnership with fitness video influencers, which helped the company establish itself in the market. The influencers helped spread the brand's message, and as Gymshark grew, the company decided to take its ambassador programme to the next level. The company began to focus on building long-term relationships with ambassadors who were passionate about fitness and shared the brand's values. This approach proved highly successful, and Gymshark's brand ambassadors became integral to the company's marketing strategy.
One of the main reasons for the success of the Gymshark ambassador programme is that the company took the time to build authentic relationships with its ambassadors. This has allowed the brand to build a community of fitness enthusiasts passionate about Gymshark's products and message. Furthermore, Gymshark partnered with influencers and signed several professional athletes as long-term ambassadors. These athletes promote the brand and work with Gymshark to design their lines.
Gymshark's ambassador programme has been so successful that it has become one of the best in the industry. By building long-term relationships with dedicated individuals, Gymshark has created a community of brand ambassadors who help spread the brand's message and products. This has helped Gymshark build a solid and loyal fan base and solidified its position as one of the leading fitness apparel brands today.
4 – Red Bull
Red Bull's brand ambassador programme is one of the longest-running and most successful. The programme has more than 4,000 college-age brand ambassadors known as Student Marketeers. They engage with the brand and its products by giving wings to fellow students, athletes and anyone who needs an energy boost.
One of the reasons why this programme works so well is that it not only mobilises Red Bull's target audience of students but also provides brand ambassadors with a highly selective and professional opportunity. This can help them kick-start their careers as brand ambassadors.
The student marketers are assigned to promote Red Bull on their campus or in their region through guerrilla marketing techniques and online sharing. They work with Red Bull sponsored athletes, engage with the public at the brand's iconic events and look for strategic ways to spread the word about Red Bull. They are also invited to work with various influencers to 'bring their ideas to life', which helps them build their brands and professional networks.
Through this programme, Red Bull has created a community of passionate and engaged brand ambassadors who embody the brand's core values and mission. By harnessing the energy and enthusiasm of the Student marketers, Red Bull has created widespread awareness and excitement about its products and brand. The programme has also helped to build lasting relationships with customers and create a loyal and dedicated fan base that has contributed to the brand's continued success.
5 – Sephora
Sephora Squad, a brand ambassador programme launched by Sephora in 2019, has quickly become one of the best examples of such programmes. Sephora Squad only recruits influencers with a small following, unlike many other brand ambassador programmes. Still, it focuses on "beauty lovers, trailblazers and influencers" who share the brand's values of diversity, acceptance and beauty. This creates a diverse group of individuals passionate about the brand and its values and can create authentic content that resonates with their followers.
The Sephora Squad is a year-long programme that enables a long-term relationship between the brand and its ambassadors, turning them into true brand ambassadors, not just influencers. Squad members can try new and sought-after Sephora products before anyone else, network with other members and industry leaders and connect and collaborate with the Sephora team and founders. They will also receive collegial and professional coaching to help them develop their skills and grow as content creators.
The original content created by Sephora Squad often becomes the basis of Sephora campaigns and adds even more authenticity to the brand's marketing efforts. The Squad comprises a unique and inspiring group of storytellers with many followers, viewpoints and interests. This allows Sephora to reach a broad audience and connect with consumers they might not have gained through traditional marketing efforts.
Overall, the Sephora Squad has been an excellent success for the brand, allowing it to connect with consumers authentically and meaningfully. Sephora has created a programme that embodies the brand's values by focusing on diversity, authenticity and long-term relationships with ambassadors.
Conclusion
In summary, brand ambassadors are essential in building brand awareness, credibility and customer loyalty. They are more than just influencers; they are dedicated advocates who embody the brand's values and mission and develop authentic connections with their communities.
Effective brand ambassador programmes require clear goals, a solid plan, and the right tools and resources to manage and measure success. By building meaningful relationships with their ambassadors and empowering them to create and share authentic content, brands can harness the power of their most loyal customers to drive engagement and growth. Whether through social media, events or face-to-face interactions, brand ambassadors are a valuable asset for any brand looking to make a lasting impression in today's competitive marketplace.