The 100 Best Design Blogs to Follow
Design is everywhere. From the clothes we wear to the websites we visit, design shapes our world. Good design grabs attention, communicates clearly, and delights the senses. Bad design does the opposite.
I scoured the internet to find the 100 best design blogs today. These sites feature fresh perspectives, practical advice, and eye candy galore. Whether you're a professional designer looking to stay on top of industry trends or simply design-curious, you'll find inspiration here.
Let's dive in!
Branding Blogs
Branding is more than just a logo. It's the total of how a company presents itself to the world. Branding blogs explore how organisations, big and small, craft cohesive identities.
1 – Brand New
Veteran branding insider Armin Vit runs this long-running blog dedicated to brand identity design. Updated daily, Brand New showcases new logo and packaging designs with insightful commentary. It's a must-read for branding nerds.
2 – The Branding Journal
This online magazine offers well-researched articles and interviews exploring brand strategy and design. Recent posts covered topics like social media branding, visual identities, and designing for startups.
3 – Inkbot Design
We launched our blog to showcase tutorials and provide analysis. Posts balance praise for success with constructive criticism. It's a great place to admire (and learn from) innovative branding.
4 – Brandfolder
While ostensibly promoting its brand management software, the Brandfolder blog contains many helpful branding strategies. Brand spotlights, designer interviews, and guest columns make it a worthwhile read.
5 – The Branding of You
Personal branding guru Tom Peters lends his veteran perspective to this long-running blog. He offers big-picture principles, actionable tips, and inspiring case studies about crafting your brand.
Web Design Blogs
The web keeps evolving. These sites highlight the latest and greatest in digital design.
6 – Smashing Magazine
Smashing Magazine is the authoritative voice in web design. Their blog teaches designers and developers how to craft beautiful, user-friendly sites. Technical explainers, ebooks, and conferences too.
7 – A List Apart
Launched in 1998, A List Apart explores web design "for people who make websites." Thoughtful long-form articles cover topics like responsive design, web fonts, CSS, UX, and more.
8 – Web Designer Depot
This blog offers web design news, tutorials, and resources galore. The clean, image-rich layout makes it a pleasure to read. And it's updated frequently, so you'll always have content.
9 – Caos
Founded by designer Antonio Carusone, Caos profiles beautiful web designs alongside technical breakdowns of how they work. Aimed at designers, it's chock full of visual inspiration and coding know-how.
10 – Web Design Ledger
Web Design Ledger features posts exploring design, UX, CSS, and more. A Trending Design section highlights innovative designs—lots of fresh inspiration for your next project.
11 – 1stWebDesigner
This blog/magazine offers tutorials, inspiration, and professional advice for web designers. The clean, modular homepage makes it easy to find content tailored to your needs.
12 – Designmodo
With a tech-forward perspective, Designmodo covers web design trends, coding tips, UX principles, and more. Includes free resources like UI kits, ebooks, and online courses.
13 – Web Designer News
Part news site, part discussion forum, Web Designer News highlights the most exciting happenings across the web design landscape. Community members vote for top stories on the homepage.
14 – SitePoint
Boasting over 15,000 tutorials, SitePoint is a top destination to improve your web dev skills. Their blog explores JavaScript, design, UX, WordPress, and more.
15 – CSS-Tricks
Led by web design veteran Chris Coyier, CSS-Tricks unpacks the nuances of modern web design. Must-read posts cover CSS, JavaScript, grids, frameworks, and nerdy design topics.
Typography Blogs
These sites inspire designers who appreciate the fine details of working with type.
16 – I Love Typography
ILoveTypography founder John Boardley offers an expert look at typography history, trends, and techniques. Well-researched posts and high-quality images make this a top-font blog.
17 – Typewolf
Jeremiah Shoaf launched Typewolf to share his passion for typography in web design. The blog reviews new font releases, while the Type Library helps you pick fonts for your next project.
18 – Fonts in Use
Fonts in Use highlights typography designs submitted by users. Clever and artistic examples offer visual inspiration. You can even submit your designs.
19 – Typefaces 101
This new blog explores typography design principles through beautiful visual examples. Topics range from kerning and ligatures to variable fonts and web typography. Perfect for new designers.
20 – The Typography Blog
Terrance Weinzierl of Monotype writes posts exploring all facets of typography—letterforms, history, design techniques, and more. His expert perspective makes this blog a treasure trove of type knowledge.
Graphic Design Blogs
For visual designers working across mediums, these blogs showcase innovation and creativity in graphic design.
21 – It's Nice That
It's Nice That keeps an ear to the ground of the wider creative industry, reporting on emerging talent and new projects across graphic design, photography, illustration and more. Their annual graduate showcases discover rising design stars.
22 – Adobe Create Magazine
With behind-the-scenes creator stories and practical tutorials, Adobe's digital magazine works to "empower the creative community." Visual project galleries inspire, while how-to articles help you hone your craft.
23 – Graphic Design USA
This site extends the legacy of Graphic Design USA's print magazine to the digital realm. The blog features interviews with design innovators and creative prompts to spark your imagination.
24 – Dexigner
Dexigner offers a daily dose of graphic design inspiration. A global bent exposes designers to aesthetics and techniques from across the world. The annual awards highlight top projects.
25 – Visme
This handy resource helps non-designers create visual content with templates, online tools, and DIY design tutorials. The blog explores data viz, presentations, infographics, and more.
26 – Creative Bloq
Part design magazine, part tutorial hub, Creative Bloq helps creatives of all stripes hone their skills—valuable tips for digital art, graphic design, 3D modelling, and more.
27 – Digital Arts
Digital Arts lives at the intersection of design and tech. The blog covers VFX, animation, graphic design, and emerging tech like VR and AR through news, tutorials, and inspiring project highlights.
28 – Computer Arts
With a whole toolbox of design tips and tricks, Computer Arts keeps designers up to speed on the latest creative tech and trends. Includes informative how-to articles and interviews with pros.
29 – HOW Design
The online presence of HOW Design magazine. This veteran graphic design blog serves creators across all mediums with interviews, essays, and advice to nurture your career.
30 – Creative Market Blog
Alongside highlights of creative assets for sale, the Creative Market blog offers tutorials for graphic, web, and UX design. Plus inspiration, free goods, and more.
Packaging Design Blogs
These sites provide peeks into the creative process of designing stand-out product packaging.
31 – The Dieline
One of the premier hubs for packaging design online. The blog highlights new packaging along with interviews and essays exploring materials, printing, sustainability, and trends.
32 – Lovely Package
As its name suggests, Lovely Package celebrates innovative and beautiful packaging designs. Well-photographed posts let the designs speak for themselves.
33 – Package Design
Run by marketing firm Webb deVlam; this blog curates the most interesting new product packaging with insights into materials, printer specs, and design techniques.
34 – Packaging of the World
With hundreds of posts, Packaging of the World showcases designs from all over. Helpful tags make it easy to find inspiration for your specific needs.
35 – Package Inspiration
A clean, contemporary site to get your daily fix of new package designs. Filter by package type or industry to feed your creativity.
Design Inspiration Blogs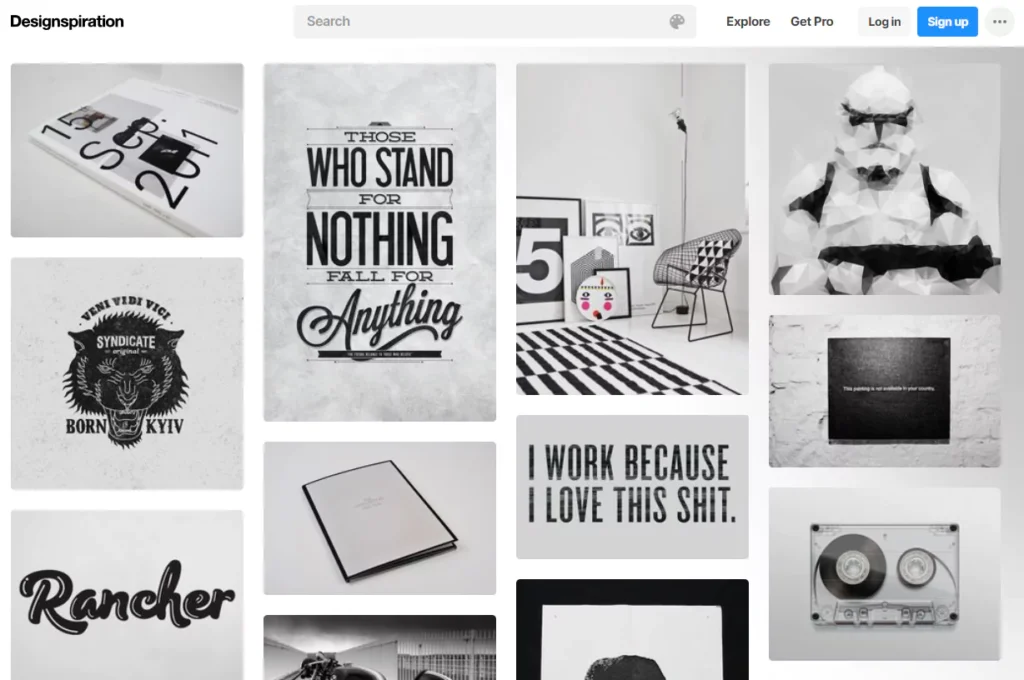 When you need visual inspiration, these blogs deliver eye candy in spades.
36 – Designspiration
This mood board-style site lets you save and collect images that spark your creativity. Tailor your feed by searching tags relevant to your style and interests.
37 – Niice
Similar to Designspiration, Niice allows you to gather and organise inspiring designs. It has a handy Chrome extension and a neat interface.
38 – From Up North
With a Scandinavian vibe, From Up North features beautiful examples of graphic, industrial, and architectural design. A precise minimalist aesthetic ties it all together.
39 – Fubiz
Fubiz offers daily posts highlighting exceptional creative work across design, illustration, photography, art, and more. Indeed, it is something for everyone.
40 – Behance
One of the largest online portfolios for creatives. Designers can showcase work while visitors browse by profession or interest. The active community engages through comments and appreciation.
41 – Pinterest
Organise images from across the web into themed boards for easy browsing and sharing. Tailor your feed with boards dedicated to graphic design, web design, typography, and more.
42 – Abduzeedo
Showcasing the best of photography, graphic design, typography, and more, Abduzeedo has one goal: to inspire clean layouts and top-notch visuals.
43 – Design Clever
This curated gallery features clever and innovative designs across multiple disciplines, such as product design, graphics, interiors, and branding—sparks outside-the-box thinking.
44 – Muselist
Community members upload images into categories like minimalist design, patterns, architecture, lettering, etc. Great for discovering new styles.
45 – Design You Trust
Covering everything from environmental design and street art to graphic design and photography, this blog never fails to delight the eyes—a truly unique vision.
46 – The Design blog
Founded in 2018 by designer Jane Smith, The Design Blog offers an insightful insider's perspective on graphic design. With her experience creating brands and campaigns for clients big and small, Smith spotlights the techniques and mindsets that bring great ideas to life.
Interior Design Blogs
For inspiration on styling interior spaces, these blogs showcase drool-worthy rooms with tips to make your home just as Insta-worthy.
47 – Apartment Therapy
With a focus on small spaces, Apartment Therapy offers real-world DIYs, before-and-after makeovers, and intelligent shopping guides. Quirky, colourful, and always inspiring.
48 – Design*Sponge
Launched in 2004, Design*Sponge delivers a curated daily dose of interior inspiration. With a vintage bent and focus on real homes, it feels attainable, not aspirational.
49 – The Design Files
An Australian site devoted to showcasing local designers and creatives. A meticulous editorial eye and artful photography spotlight interior spaces and products.
50 – Remodelista
Less about dramatic makeovers, Remodelista spotlights simple, stylish home upgrades anyone can tackle. Their comprehensive product directories connect you to furnishings and décor that spark joy.
51 – Decorilla
The blog arm of online interior design service Decorilla features insider tips from professional designers on everything from space planning to choosing finishings.
52 – HomeDSGN
A meticulously curated feed of ultra-modern interiors and cutting-edge products. Lustworthy homes from across the globe.
53 – An Indian Summer
With her Calcutta home as a backdrop, writer Michelle da Silva Pereira shares styling insights and vivid imagery spotlighting the colours and textures of India.
54 – The Design Files Home
An offshoot of The Design Files focused on interiors. Peep beautifully designed live-work spaces from top Australian creatives.
55 – Amber Interiors
UK-based Amber Interiors provides a peek into founder Anouska Lancaster's stylish global projects—a glamorous, timeless aesthetic with masterful attention to detail.
56 – Design*Droits-Humains
Interior designer Jean-Marc Palisse infuses classical French elegance into modern spaces. His blog (in French and English) outlines his thoughtful process.
Home Design Blogs
When designing or remodelling a home, these sites can help guide big-picture decisions with expert insights and advice.
57 – Architectural Digest
The legendary print magazine comes alive online with stories spotlighting gorgeous high-end homes and fascinating profiles of designers, architects, and artists.
58 – Dwell
Dwell magazine's blog highlights modern residential architecture and design through news, profiles, photo tours, and more. It's a bible for discovering emerging talent.
59 – Design Milk
With an eye for contemporary aesthetics, Design Milk features innovative spaces, products, and ideas for modern living—a diverse, global perspective.
60 – Decoist
A fresh take on interior design, architecture, and decorating focused on contemporary, eclectic spaces. Practical tips and buying guides, too.
61 – Freshome
Delivering daily doses of home design and renovation inspiration, Freshome covers modern architecture, interior design, and clever products.
62 – Making it Lovely
DIY projects, before-and-after makeovers, and home tours by design blogger Nicole Balch. Realistic advice from someone living (and renovating) it herself.
63 – Yellow Brick Home
Chicago designer Alyssa Kapito offers renovation advice, creative DIYs, and bold interior inspiration. Her historic home renovations highlight respect for architectural details.
64 – The Spruce Home Design
Part of the Spruce network, this blog offers practical home design advice – from choosing paint colours to hiring an architect and everything in between.
65 – Homedit
Homedit trawls the web for the most noteworthy home designs – and collects them in one place—a good balance of eye candy and actionable advice.
66 – Houzz
Millions of photos showcase beautiful rooms and products for remodelling and decorating. User profiles help you find and connect with home pros near you.
Industrial Design Blogs
For product designers and innovators, these sites highlight bright, functional creations and the process behind them.
67 – Core77
The flagship site of the industrial design community. Explores product design through project highlights, industry news, events, and professional guidance from thirty-year design veteran Core77.
68 – Yanko Design
A leader in spotlighting cutting-edge industrial design innovations. Product concepts push boundaries while retaining functionality. Prepare to encounter the future.
69 – Mocoloco
Industrial designer Ray Hu highlights innovative products alongside musings about design principles—clever products prompted by insightful observations about everyday life.
70 – TechCrunch
While not solely focused on industrial design, TechCrunch often profiles products pushing the boundaries of consumer tech – think AI, IoT, and robots—an excellent place to track tech trends.
71 – Fast Company Design
The design vertical of Fast Company magazine covers innovation across all fields of design – spaces, products, user experiences, and more. The world's most innovative companies are represented.
72 – Product Design Hub
A great starter resource for new product designers. The blog covers design processes with tutorials, inspirational roundups, and interviews with pros.
73 – 3D CAD World
A window into the future of manufacturing. This blog explores technologies like 3D printing, additive manufacturing, virtual reality, and robotics through news, videos, and tutorials.
74 – Yeeku Solutions
Yeeku provides services and insights across manufacturing, IoT, and product development. Their blog covers 3D printing applications, design principles, manufacturing processes, and more.
75 – Make: DIY Projects, How-Tos, Electronics, Crafts and Ideas for Makers
From Maker Faire founder Make: this site has empowered DIYers and tinkerers since 2005. Build the future with electronics how-tos, 3D printing guides, CNC tutorials, and innovative techniques.
76 – Return Design
UK product design veterans Return offers an insider's view across new product development – from design sprints to prototyping and beyond.
Furniture Design Blogs
For innovators crafting the furnishings of tomorrow, these sites showcase forward-thinking functionality and style.
77 – Design Milk Furniture
The furniture and lighting side of Design Milk. New releases and enduring designs from global brands to indie makers. Materials, shapes, and styles push boundaries.
78 – Yellowtrace
Based in Australia, Yellowtrace scours the globe for the most noteworthy designs across furniture, lighting, and accessories. A curated taste of tomorrow, today.
79 – Apartment Therapy Design Classics
Dive deep into iconic furnishings with this series exploring the origins, history, and evolution of pieces that revolutionised interior design.
80 – Chair Blog
A singular focus on innovative chair designs – thrift classics, new releases, and one-of-a-kind wonders. Function and style from the ground up.
81 – Design Addict
This multi-lingual blog delivers a daily dose of furniture eye candy. Sourced globally, selected meticulously. It also covers lighting, accessories, and more.
82 – Wilhelm Furniture
The team behind Toronto's Wilhelm Furniture applies their insightful perspective on quality, materials, and craftsmanship in posts spotlighting notable designs from today and yesteryear.
Architecture Blogs
For a wide lens on spaces big and small, these architecture blogs should be on your radar.
83 – ArchDaily
One of the top architecture sites on the web, ArchDaily highlights innovative projects and perspectives from around the world. Comprehensive events calendar, too.
84 – Dezeen
Finger-on-the-pulse Dezeen covers groundbreaking architecture and design work with beautiful photography and thoughtful reporting. Daily updates.
85 – Architizer
Part magazine, part social network, Architizer publishes compelling projects while connecting architects and builders with jobs, products, and continuing ed.
86 – Designboom
With its headquarters in Milan, Designboom provides an insider's view on developments in architecture, art, and design from Europe and beyond.
87 – Archinect
Community members discuss news, theory, and practice across all things architecture. Active forum conversations supplement featured articles.
88 – Arch20
They are showcasing architectural achievements, big and small, across the globe. The focus stays on forward-thinking designs, improving how people live and work.
89 – The Plan
A thoughtful take on architecture from the Italian perspective. Posts explore innovators along with new materials and methods.
90 – Failed Architecture
With a critical eye, Failed Architecture examines how architecture and planning fail communities—a thoughtful look at improving social equity through design.
91 – Design Curial
This UK-based site offers stories, listings, and jobs tailored to the architecture and design community. Robust event calendar.
Landscape Architecture
These sites approach the design of outdoor environments like gardens, parks, and public spaces.
92 – The Dirt
From the American Society of Landscape Architects, The Dirt covers projects, people, and resources across landscape design, planning, and management.
93 – World Landscape Architecture
This blog and magazine explores natural designs across the globe through projects, news, materials, and events—thoughtful green perspective.
94 – Gardenista
Equal parts inspiration and practical advice, Gardenista empowers DIY landscaping and gardening. Complete with planting guides, a lively forum, and a nursery directory.
95 – Garden Design
The authority on stylish outdoor design, Garden Design showcases the work of top landscape architects and designers. Photo-rich tours transport you.
96 – A Sense of Place
Led by Mumbai-based designer Jana Manuel, this blog explores landscape design and architecture through the lens of India's rich textures and history.
Design Publications
These established design magazines have transitioned to digital-first successfully. Their blogs carry forward a legacy of high-calibre stories and ideas.
97 – PRINT
The blog presence of the 80-year-old American graphic design magazine continues to push creativity forward through news, interviews, and intelligent commentary.
98 – Communication Arts
With in-depth profiles, thoughtful features, and bold imagery, Communication Arts sets the bar for design, advertising, and visual storytelling online.
99 – HOW Magazine
Alongside practical business advice for agency creatives, the HOW blog delivers design inspiration and know-how from leading voices.
100 – ID Magazine
ID focuses on the pulse of product, interior, architecture, and graphic design worldwide. Their digital offerings bring it all to light.
And that's our 100! From veterans like Print Magazine to upstarts like Failed Architecture, each site offers its take on design's ever-evolving role in society and business. Bookmark a few favourites to stay tapped into communities that push boundaries and uplift good design.
Now, over to you – which blogs keep your creativity flowing? Please share your favourite sites I may have overlooked in the comments below!
Frequently Asked Questions
What makes a good design blog?
A good design blog features inspiring visuals, thoughtful perspectives, practical takeaways, and a clear point of view. Posts should dig deeper into design principles, processes, and context rather than just showcase pretty pictures. The best blogs balance visual appeal with intellectual engagement.
How do I start a design blog?
Starting a design blog takes research, planning, and commitment. Begin by clearly defining your blog's niche and target audience. Choose a memorable domain name and an aesthetically pleasing platform like WordPress. Use high-quality visuals to showcase your writing. Market your blog through social media, guest posts, and SEO optimisation. Most importantly, create valuable, engaging content consistently.
What are the most popular design blogs?
Some of today's most popular design blogs based on readership are Design Milk, Dezeen, Smashing Magazine, A List Apart, and Core77. Well-established blogs that have built deep audiences over 5+ years through consistently excellent content tend to fare the best.
How often should you post on a design blog?
Most successful design blogs aim to be published one to two times per week at minimum. This gives readers enough new content without overwhelming them. Daily posts can work for high-volume blogs with the resources to maintain that pace. In the end, content quality trumps quantity.
Why are design blogs essential?
Design blogs support the continual learning that great designers require. They introduce new techniques and perspectives to expand your skills. They connect you with fellow designers to exchange ideas and feedback. And they chronicle the contributions of design thinkers who came before us. By honouring design's rich history, while pushing it forward, blogs nurture the next generation of creatives.