Top 12 Social Media Branding Tips
With thousands of new businesses being registered every day across the world, standing out from the crowd is essential, especially if you run a startup or small business. 
With that being said, social media's emergence as a reliable marketing platform has given companies extra space to brand themselves and improve their digital presence. 
Social media is cheap and accessible and highly effective if a company presents itself properly. 
Read on for some of the most workable social media branding tips and how to implement them to the advantage of your business.
1 – Make yourself identifiable
Your social media presence only matters if users can identify your profile and tell it apart from phonies and competitors. 
This is why you need to ensure your profiles reflect the identity of your brand.
To start, set your brand logo as your profile photo in each of the platforms where you have an account. 
If you don't have a logo yet, one of the many low-cost logo makers on the market can help you create one. 
Most of these makers are simple to use even for someone who has no prior design skills, so don't worry about hiring a professional designer.
Next, create a brief but inclusive description of your business and insert links to your official website. 
Ensure there are no spelling errors or confusing statements in your description, as this can hurt your credibility.
2 – Find the right platform
A couple of years ago, Myspace and MSN were the only major social networking platforms. 
Today, there are over 100 social media sites, with the average user having an account on at least five of them. 
Since you can't market your brand on every platform, you need to identify the ones with the most relevance to your brand and focus on them. 
The current top sites include Facebook, Twitter, Instagram, LinkedIn, Snapchat, and TikTok. 
Conduct a survey to know where most of your customers and prospects are before making your choice.
3 – Use templates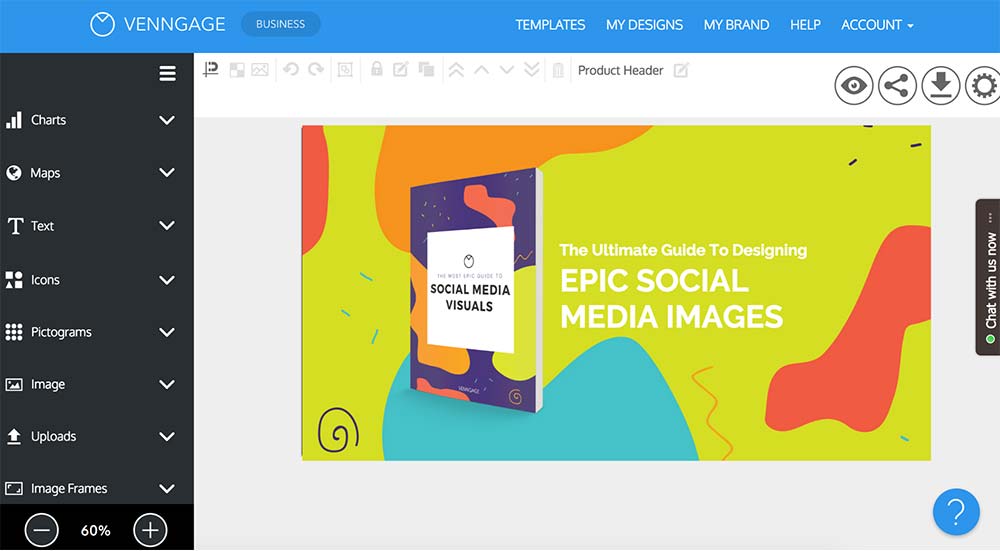 You may have noticed that most top brands post videos, pictures, and infographics with consistent backgrounds. 
This makes their posts identifiable and shows that they take their time to create content for their users. 
No matter your business's size or model, adopting this practice will almost certainly add to your credibility as users will view you in the same fashion they consider established brands. 
It will also prevent plagiarism and ensure whoever shares your content without your consent also promotes your business, even if inadvertently.
Some visitors might discover you on more than one platform, and profile dissimilarities might paint a misleading picture of your brand. 
Ensure your profile picture and description are identical across all platforms. 
However, different platforms have different typical posting frequencies – aim for consistency in the rate at which you post on each platform, keeping in mind that this will vary from platform to platform. 
Note that it is okay to post the same textual or visual content across different platforms. 
You don't want to become too active on one platform at the expense of another.
Regarding consistency, using the same voice or tone in all your posts and handles is crucial. 
Factor in your target audience and company culture if you don't have a tone yet or don't know if what you're contemplating is right. 
For instance, if you target teenagers and young adults, you would want to keep your posts as casual as possible. 
They should identify with your brand and feel as though it's their peer addressing them. 
By communicating in a consistent tone, you give users context for how they can engage with you. 
While you might vary your tone depending on some posts' content—adding gravity or levity as needed—the core of your brand's personality should still be consistent across the majority of your posts and interactions. 
6 – Be conversational
No one comes on social media to engage brands and to inquire about products and services. That only happens as a side effect. 
Social media is for interacting with friends and family, sharing pictures and videos, and catching up with the trends. 
To be effective, your profile and posts need to ooze this aura. 
You can use the corporate tone in later stages of the encounter, but here you should be willing to be colloquial.
If it's a conversation with a prospect in the comment section or via private messages, try to understand how they talk so you can respond aptly. 
This way, they will be more comfortable and confident talking to you and even feel compelled to make the encounter fruitful. 
In posts, use a conversational tone, but make sure not to drift too much toward the casual end of the spectrum. 
Everybody should be able to understand your posts and feel targeted by your content.
7 – Flow with the trends
The fact that hashtags were among Twitter's stepping stones into the mainstream market shows just how much people care about trends and emerging stories. 
Many social media users are on the platforms to keep themselves up to date with new and exciting things worldwide. 
Your brand can benefit massively by incorporating these hot subjects into your posts. 
For instance, Twitter lets users click on a specific hashtag and view all recent posts that contain it. 
Including relevant hashtags in your content improves your visibility and increases your chances of grabbing users' attention who have never heard about you.
On other platforms such as Facebook and Instagram, meme templates, albeit pretty informal, may prove highly useful in conveying brand messages if used correctly.
8 – Post relevant content
In your quest to keep up with the trends and stay a step ahead of your competitors, you might struggle to remain relevant. 
This will hurt your business as you are likely to attract individuals who are not even remotely interested in your product or service. 
The ROI of your social media marketing strategy will fall as a result, and so will your lead conversion rate. 
No matter the number of posts you have to publish every day, refrain from making them all about entertainment. 
If you have to create a meme or use a hashtag, the result should entertain the viewer and promote your business. 
This way, you will filter out random users and remain with people who find sense in your content.
9 – Create a posting schedule
Given the number of brands eyeing the same audience as you on social networking platforms, being forgotten is easy if you don't post regularly. 
Prospects want to see your content frequently show up in their newsfeed to continue following you. 
If you post once a week or every five days, most of your targets — particularly those with numerous friends and follow multiple pages — may never see your content. Those who see it might assume you are never active and deem you unreliable.
Facebook and other major platforms base their post recommendations on past user behaviour do little to help. 
Your rival that posts more often will enjoy more recommendations and appear in more people's newsfeed at your expense.
10 – Use influencers
As the name suggests, influencers command huge followings on social media and influence their followers' behaviour. 
This includes how they dress, what they eat, the music they listen to, and what they buy. 
If an influencer accepts to be your brand ambassador, their suggestion may prompt some of their loyal followers to give it a go too.
All you need to do is find an influencer whose fan base answers your target audience's description. 
For instance, if you run a fashion brand, the most suitable influencer will be renowned for their fashion enthusiasm and similarly sartorially inclined followers. 
Some influencers will accept a gift to review or endorse your product, but the more popular ones will ask to be paid in cash. 
Make sure to set budget frames before embarking on an influencer search.
11 – Be authentic and unique
Plagiarism is against ethical content creation and marketing guidelines. 
While most social media sites do not have strict rules and penalties to discourage content theft, there are still ways you can hurt your brand by stealing other people's works. 
For one, some users might unfollow you and view the content on the page you are copying it from instead. 
There is also a chance your reputation will take a nosedive as users will view you as a knockoff.
12 – Invest in paid ads
The ever-evolving Facebook algorithm can complicate the process of connecting organically with fans. 
However, by using its micro-targeting features, you can reach the exact audience you are targeting. 
That is fantastic for your conversion rates, return on investment, and budget. 
The downside is that these are premium features that you must pay for. 
Ensure you know your target audience and the various Facebook ad types before diving into paid ad social media marketing.
Endnote
To make your brand stand out on social media, you have to be memorable for all the right reasons. 
Engaging content, genuine interactions with followers, and strong brand identity are just a few aspects you need to consider to be noticed by your audience. 
These tips should help you boost your social media presence and streamline your branding strategy. 
If you are starting from scratch, consider talking to an expert for a more informed opinion on social media branding.