PoC vs Prototype vs MVP: What's The Difference & How To Choose
People tend to confuse these two approaches. Of course, minimum viable product and proof of concept are by no means the same.
Additionally, not everybody is aware of such a thing as a prototype. Avoiding misunderstanding might become vital to your entire project.
For that matter, we prepared a PoC vs MVP breakdown. We will also discuss distinction points between prototype and MVP as a bonus. Read on to find out what approach you should choose and when.
Proof of Concept
The proof of concept (POC) aims to provide an overview of the project's feasibility. It is performed internally and verifies such vital aspects as tech stack, integration, scalability, and rentability.
Essentially, it shows how achievable the product goals are. Being applicable across many industries, PoC helps calculate the product's profitability.
If the concept fails to prove that returns outweigh the losses, stakeholders will likely decide not to invest.
Also, generating a PoC helps you identify bottlenecks. So, you can double the value of your idea by addressing those risk factors beforehand.
Benefits of POC
Let's outline the reasons why proof of concept is a good-sounding idea:
A project that has a PoC seems more promising to initial investors.
PoC helps you avoid risk factors, thereby saving you time.
It helps you select the most appropriate tech stack.
When to go for a proof of concept:
When you need to pitch out your project before investors.
To know what technologies suit your product best and where to find specialists
When you need insightful data about investments into your product development.
Thus, PoC can be considered a deciding factor before developing your product. And to demonstrate how the things described in the POC will work, you can use a prototype.
Prototype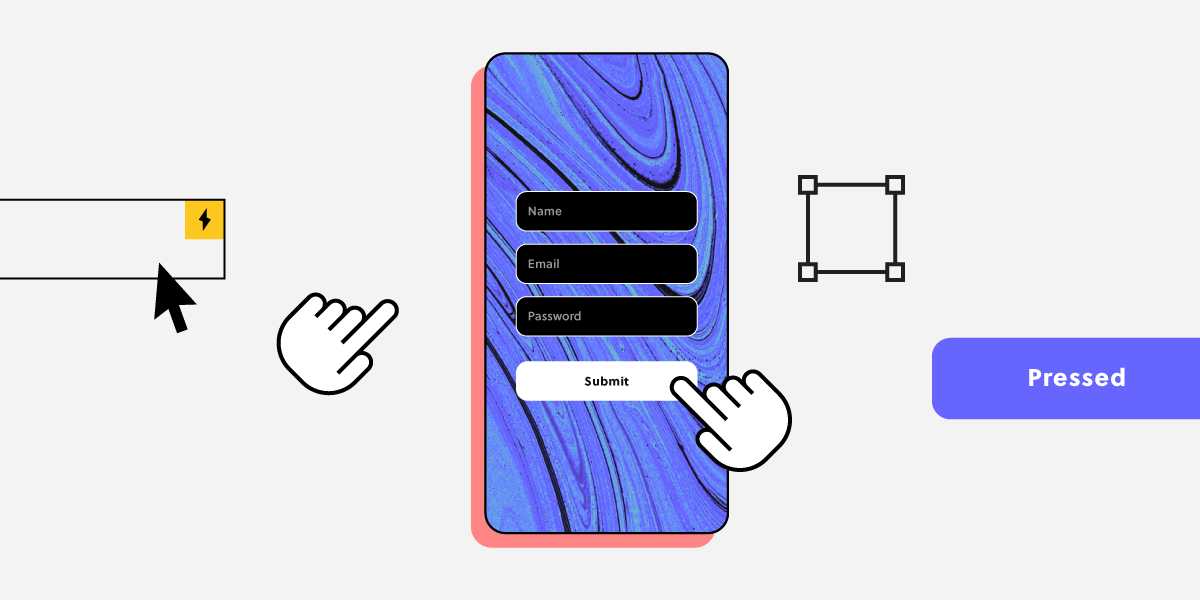 Let's assume your PoC is fine. However, don't put your startup to sleep. A prototype is the halfway point between PoC and MVP. So there is one detail to discuss before moving on.
Once you get a product idea, you need to visualise it before further development. Here comes prototyping — one of the cheapest and time-saving methods to do so.
A prototype enables you to see how your product will look like. Thus, you can pitch it before your potential investors. On top of that, the prototype showcase is easier to understand than the technical specification.
Last but not least, creating a prototype helps you keep the user's interaction scheme simple.
Benefits from creating a prototype
Let's briefly discuss the key takeaways of why you should use prototyping.
So having a prototype allows you to:
See the website (or an app) in action. Meaning, you make sure that everyone, including investors, understands your product idea correctly.
Evaluate the upcoming design from the user's standpoint.
Get to know whether you need to change the user's interaction algorithm.
Identify inconsistencies beforehand to avoid the cost climb on your project.
A prototype covers the leading UX/UI elements for the software you need: the structure, feature set, and user flow.
When to use a prototype?
When you expect the first look reaction to your product idea.
When you need to explain the product's functioning with UX/UI elements.
When you plan to pitch your idea before the potential investors.
Dropbox is one rich example of saving money before the product rollout. Drew Houston decided to check the broader acceptance of cloud-based storage. So, he uploaded a short video explaining the idea.
It quickly attracted 75000 viewers who wanted to run the app instantly. Nowadays, Dropbox is worth around $9 billion.
MVP
Unlike the PoC, an MVP aims at hands-on usage.
A minimum viable product (MVP) is the product's iteration covering the core feature set. It brings enough value to attract early adopters, ignoring extra features no one might be interested in.
So, what is the difference between a minimum viable product and a proof of concept?
Whether people use these terms in the same context, they refer to entirely different project stages. PoC aims to prove the product's feasibility.
So, a prototype is built upon PoC once the feasibility has been successfully confirmed. Meanwhile, creating an MVP involves a functional solution that will bring you valuable feedback.
MVP is not about beautiful design and shiny and clicky buttons. It is about letting the end-users interact with your product and helping you understand whether it works as you planned or not.
Even having both a pitched-out concept and a good-looking prototype, it still takes time to check whether your project is worth investment. You can build an MVP that helps prevent you from wasting time and money at this stage.
As a result, you get a workable product, which easily can be scaled in the future. It is almost a fully-fledged one, ready to be released on the market.
Thus, an MVP is the way for checking if you meet users' needs and pains and solve them quickly. It is heavily dependent on the customers' feedback.
In contrast to the prototype, MVP requires deep tech development. It would help if you considered the basic application criteria as you offer it to your end-users.
Here's a picture by WebMobTech illustrating how this approach works:
This is a perfect showcase for pointing out an MVP place in the project's chain.
First, you create a prototype. Then you roll out your MVP to the market, get initial feedback, and iterate with function. And only then do you deliver the final product.
Benefits from building an MVP
Now, let's briefly address the pros of creating a minimum viable product.
So, having an MVP allows you to:
Optimise expenses. Since an MVP building covers only must-have features, developers take less time to accomplish the tasks.
Save efforts and costs needed for delivering the solution. You test your MVP iteration(s) and collect feedback from the early adopters.
You learn what solution is the best product-market fit. Meanwhile, there's no need for a fully-fledged product. An MVP contains only the essential elements.
MVPs suggest the core value for the customers. Running a minimum viable product shows how good your solution is for solving particular problems.
After checking the assumption, you decide whether you continue developing features or your product works correctly.
When to use MVP?
When you want to make money out of the early version of your product.
When you want to iterate with your product and reach the best market fit.
When you want to introduce an error-free website (or an app) to the end-users.
Summing up
Based on the facts provided in this article, it becomes clear why we should separate MVP, proof of concept, and prototype from each other.
You go for proof of concept when pitching your idea before potential investors. Ultimately PoC aims to verify how feasible your project is.
Having a prototype helps you visualise your product's goals and the user flow.
On the flip side, an MVP is used for users' interaction with the product. So, having a working feature set, an MVP is meant to market's early rollout.
On top of that, it leaves much room for further improvement and scalability.
Each concept is vital for building a product that solves customers' problems. Importantly, they give your enterprise more chances to scale up in the future.