5 Steps on Planning Your Website Redesign Strategy
A website redesign involves updating or changing the format, structure, content and navigation of your site to enhance traffic, visitor experience and sales conversion. 
The vast majority of consumers (80%) say their experience on a website is as essential as the product or service being sold. 
Whether your site only needs a few tweaks or it's time for a complete overhaul, the following are five steps to help you plan your website redesign strategy and maximise success.
An unattractive site deserves a website redesign strategy. No matter what your company size or industry is, though, it's crucial that you take a strategic approach to your website redesign.

CrazyEgg
1 — Define Your Vision
A common reason to decide to redesign a website is that it no longer matches your business. 
If visitors don't immediately understand the purpose of your site, the competition is only a click away.
Let's say a customer searches for 'gifts for wife.' If he is interested in buying pearls online, he probably won't click on sites showing flowers or food. 
Shoppers looking to buy jewellery might also be in the market for bouquets and babka. Still, if you as the seller are looking for a high rate of conversion, it'd better be crystal clear the moment a potential customer lands on your page what type of product or service you are offering. 
By defining your website's offerings as accurately as possible, you will attract the kind of traffic you're looking for. 
Keep in mind that many web designers don't consider this step because they are neither marketers nor SEO specialists.

Hubspot
2 — Audit Your Current Site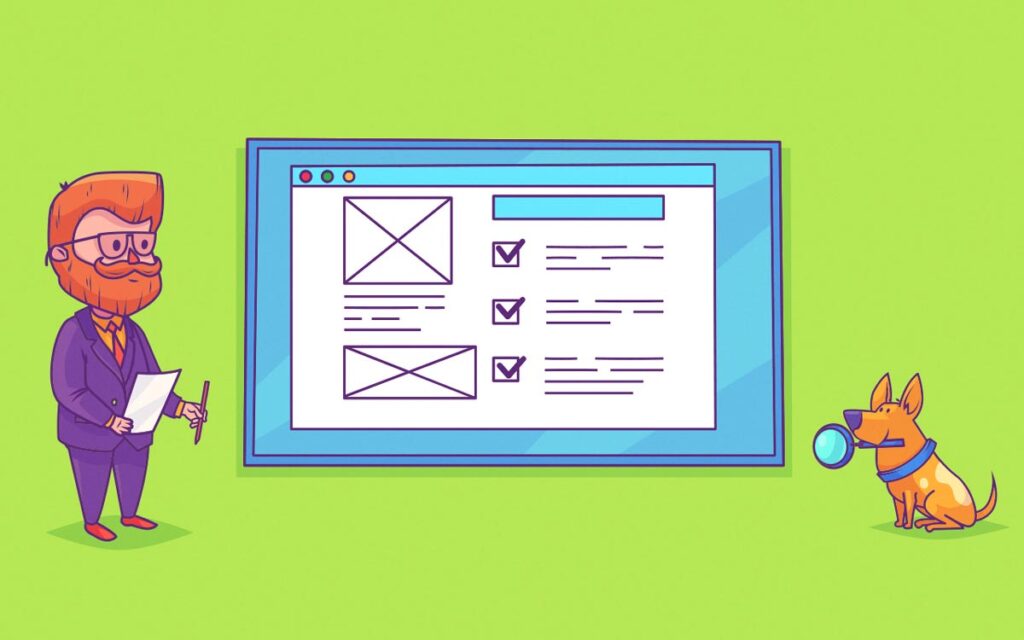 Due to technological advances and changes in design trends, website designs only last an average of eighteen to thirty months. 
But just because your website is a few years old, it doesn't automatically mean you need a complete rebrand. 
Once you conduct your competitive analysis, put together a list of action items highlighting some areas for improvement and how you can set yourself apart from your competitors.

Hubspot
That said, to keep your website fresh and competitive, it's essential to review the entire site with a critical eye at regular intervals. 
Figuring out what you love and don't love about it, what your most popular content is, and what new features or tools you want or need will provide the basis for your redesign.
3 — Inventory Your Top Performers
Sale
There's probably plenty that is working on your website. 
It's crucial to know your site's top performers. 
One truck driving academy increased its conversion rate by more than 160 per cent by replacing a stock photo on its homepage with one of its actual students, and by altering the CTA slightly.

CrazyEgg
This includes the current number of visits and unique visitors, the time they spend on the site, the bounce rate, the pages that receive the most traffic, how many new leads are being generated and, of course, total sales. 
Tools like Google Analytics and HubSpot Marketing Analytics can help you track these if you don't already.
4 — Determine Your Ideal Visitor
Your website isn't really about you.
It's about your customer, and they'll only stick around if you provide content that is useful to them. 
By clearly defining what type of customer persona you're marketing to, you can design your site to suit that visitor. 
If you're the model customer for your business, even better. Shop around and see what the competition is up to. 
Don't drive yourself mad with this, but paying a visit to your competitors is a useful exercise to help you understand what they have to offer that you don't and vice versa. 
HubSpot offers a free website grading tool that evaluates your website's strengths and weaknesses — and you can also run the competition through the tool to see how they're performing.
5 — Create Measurable Goals
What does a successful redesign mean to you? 
A certain number of unique visitors? 
Time spent on the site? 
Or is it all about sales and the bottom line? 
You won't know if your redesign has worked unless you have a way to track your progress and are clear about the targets you're looking to hit. 
If you aren't already using a tool like Google Analytics or HubSpot Marketing Analytics, get one now.
Adobe
Master Class: Web Site Redesigns
DiNucci, Darcy (Author)
English (Publication Language)
206 Pages - 12/15/2001 (Publication Date) - Pearson Education (Publisher)
Do you need a website redesign strategy?
Choosing the right content management software (CMS) is crucial whether you're a newbie or a master designer. 
CMS helps smooth the process of the website redesign strategy and allows you to create a beautiful, functional website you'll be proud to display to the world. 
To ensure minimum frustration and maximum success, select a CMS that matches your needs and falls within your budget. 
There are literally hundreds to choose from, so you will undoubtedly find one that is right for you.
Your website redesign strategy doesn't have to be a chore, and with these tips, you're well ahead in the game.
Last update on 2023-02-01 / Affiliate links / Images from Amazon Product Advertising API