6 Easy Ways Surveys Can Benefit Your Brand
Surveys and quizzes have always been around, but they've been gaining popularity in the marketing world over the last decade. 
Nowadays, it seems that almost every company has integrated some survey into their website, email marketing campaigns, or social media platforms. 
What's the reason behind this trend? 
It's all about their power as branding and marketing tools. 
After all, most companies don't do anything if they don't think they'll get any tangible benefit out of it.
If you're considering developing a survey to use yourself, consider the following six benefits that surveys offer the companies that use them. 
You'll discover what all the fuss is about in no time. 
1 – Get To Know Your Customers
When it comes to marketing and business success, really knowing your customer base is vital. 
This knowledge enables companies to provide products and services that customers genuinely love and enjoy using. 
If what you're selling doesn't align with what your customers want to buy, you're in trouble.
Getting to know your customers' genuine needs and wants isn't always straightforward. 
Demographics, algorithms, and raw data collected from online activity can only tell you so much. 
Additionally, most people won't start baring their souls to random companies without reason.
That's where marketing surveys come in. 
Marketing surveys provide a direct line of communication between you and your customer base. 
When done right, they help you collect relevant information about your customers while still being practical and even fun to fill out. 
That's what we call a win-win situation.
Many different kinds of surveys can help you get to know your customers. 
Many companies opt for quick, engaging surveys that help people with their shopping choices, while others send out more traditional jobs to be done (JTBD) surveys or market research surveys.
British activewear brand Sweaty Betty provides a great example of the former. 
Their sleek leggings quiz collects information about customer needs and preferences while simultaneously helping them determine the right product for their needs.
2 – Build Customer Relationships
Surveys don't only provide insights about your customers' preferences; they also help you build a rapport with them and keep them coming back in the future. 
Excellent long-term customer relationships are integral to any business's success. 
A 2021 report found that 86% of buyers will pay more for a better customer experience. 
Now that's significant. 
One way to enrich your customer relationships through surveys is by developing customer relationships or customer feedback surveys. 
These surveys can include questions related to:
Of course, customer relationship surveys are sent out to existing customers, not new leads. 
Because of this, they often pop up in inboxes or browsers after a purchase is made or when someone has been a customer for a specific period.
If you respond to your customers' survey feedback and engage with them genuinely, it'll do wonders for your brand. 
You'll empower your existing customer base by showing them that your company values their feedback. 
Then, you'll show them that you really care by putting it into action. 
This communication loop will ensure that you're providing products or services that connect with your customers and meet (and exceed!) their needs.
3 – Strengthen Your Branding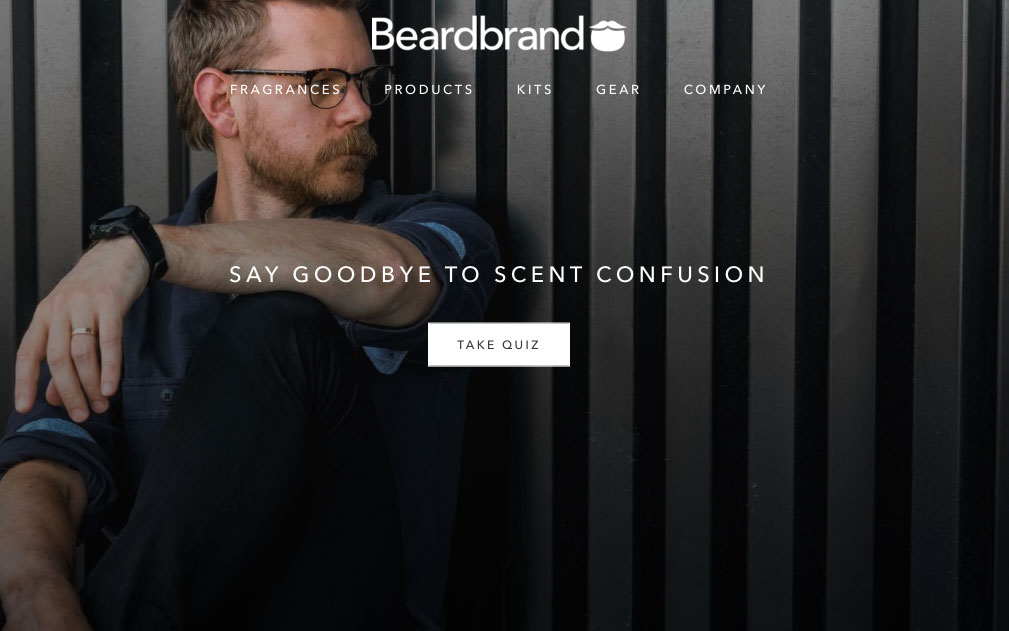 More than helping you get to know your customers, marketing surveys also allow customers to get to know you, your company and your brand. 
Nowadays, companies have so many different presences online: websites, social media pages, apps, emails, and more. 
As a result, their customer bases have a wide variety of ways to engage with them and expect to know what sets them apart on a deeper level.
Surveys are a great tool to strengthen your branding and shape the narrative of who you are. 
First, you can design your survey to solidify your company's visual branding. 
That means thinking about graphics, logos, fonts, colours, conversational tone, and media. 
You can also strengthen your branding by sharing essential information and integrating what your company offers into your marketing survey. 
For example, the men's grooming company Bearbrand has a quiz embedded into their website's homepage. 
It helps people determine what scents would be best suited for them while giving them the option to subscribe to their newsletter at the end. 
However, it also communicates information about their company and establishes them as an authority about men's grooming products and how they relate to men's lifestyles.
4 – Receive Testimonials 
This point is overlooked far too often when it comes to marketing surveys. 
Because they open up a direct communication line with your customers, surveys allow you to collect honest, authentic testimonials.
Testimonials are important because they help you measure customer satisfaction, but they can do so much more for that. 
For instance, positive testimonials allow happy customers to communicate their satisfaction to other customers, making them excellent marketing tools. 
Even better, BigCommerce recently found that 88% of consumers trust online reviews as much as personal recommendations.
There are many different ways that testimonials can be integrated into your marketing efforts. 
For instance, they're right at home:
In blogs 
As graphics and social media posts
Expanded upon in case studies and use cases
On website homepages or other landing pages
On landing pages
In email communications
On dedicated testimonial pages
There are so many excellent testimonial marketing examples out there. 
Still, we love how the online money transfer service Transferwise uses powerful testimonials and customer stories in their marketing efforts on their website and social media pages.
5 – Entertain & Engage With Your Audience 
Marketing surveys don't only have to be about collecting information. 
You can also use them to entertain and engage with your customers. 
This helps your brand in multiple different ways. 
First, it presents your company as dynamic and fun, rather than being all about sales and promotions. 
A 2021 report by SproutSocial found that 45% of respondents unfollowed social media accounts because they posted too many advertisements and promotions. 
To avoid this, it's ideal for your online presence to have a healthy mix of content.
Second, if you produce a survey that's genuinely entertaining and easily shareable, lots of people will fill it out. 
Surveys make for great content because people love talking about themselves at the end of the day. 
If you create something that allows them to do so while having fun, you can guarantee that its reach will be far and wide. 
This will contribute to your brand awareness, and reputation and even land you new leads.
Some of our favourite examples of engaging marketing surveys include the online consignment platform ThredUp's How Dirty Is Your Closet? Quiz and AirBnb's Trip Matcher quiz.
6 – Attract New Customers
Last but not least, we've spent much time talking about using surveys and quizzes to connect with your customers… but what about new customers? 
Well, many marketers love using the power of quizzes for lead generation. 
The easiest way to use a quiz to generate leads is by integrating an opt-in form somewhere within it. 
That means that your leads usually have the option of providing their email addresses at the end of your quiz or are presented with another call-to-action.
As far as opt-in tools go, quizzes produce some pretty impressive results. 
LeadQuizzes found that quizzes produce a 33.6% lead capture rate, leagues ahead of other opt-in tools like pop-ups. 
If you want to use a survey to generate leads for your business, keep the following tips in mind when you're putting it together:
Keep it short and sweet: People have limited time and attention spans. Make sure your questions are short and to the point. Your quiz also shouldn't take more than a few minutes to complete.
Give it a snappy title: Make sure your quiz catches people's attention without coming off as clickbait. 
Pictures are worth a thousand words: To make your questions extra engaging, go beyond the text. Integrate photos, GIFs, and videos into your questions as much as you can.
Discover what surveys can do for your brand
As you can see, marketing surveys present brands in various industries with attractive, tangible benefits. 
We love how flexible they are – you can truly customise them into just about anything you want, depending on your specific needs. 
Whether you're looking to prioritise lead generation, want to level up your brand awareness or want to enrich the relationship or reputation you have with your current customer base, using a survey could be an excellent solution for you.
Online survey platforms like Typeform and Survicate make it easy to get started on your very own marketing surveys, so don't wait to join the companies' league by using them to their advantage.