5 Ways Small Businesses Can Improve Customer Satisfaction
We all strive to keep up with the changes in the business world. The customers are the main reason for a business's success, and they are also the reason why most businesses fail.
If the current customer service standards are not up to the mark, small businesses need to understand how to improve customer satisfaction. This will allow the business to thrive and grow in the longer run.
To make sure your product can remain competitive, you need to work hard on keeping in touch with customer needs. The harder the work, the less time there is for innovative thinking.
According to statistics, companies spend five times more to acquire new customers than keep their existing ones.
Let us start by understanding customer satisfaction and then the steps you can take to improve it and effective follow-up.
What Is Customer Satisfaction?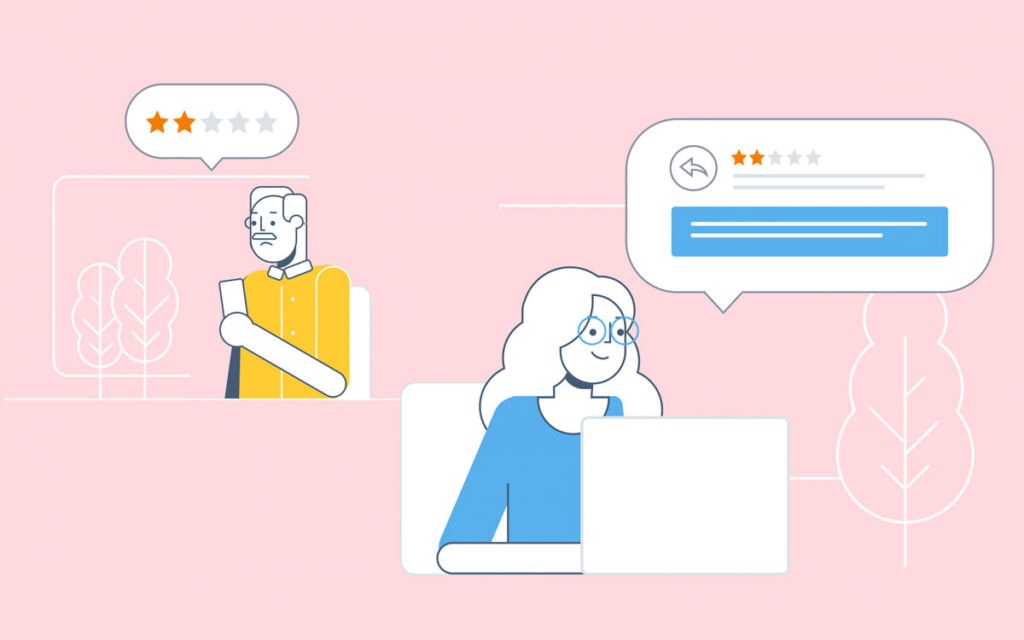 Customer satisfaction is a metric that determines how products or services meet the needs of a customer.
It's vital for the success of a small business, especially when an entrepreneur wants to build upon their client base by getting involved in thorough market research surveys and conducting interviews with customers face-to-face as they shop.
So your customers feel appreciated and can provide you with ideas about what you should or shouldn't be working on next.
High-quality customer service is vital if you want to snag potential customers. If they are not happy, they will tell their friends how your products or services were not satisfactory and will most likely recommend them elsewhere.
So as a small business owner, it's essential to ensure that client satisfaction comes first!
Customer satisfaction can make or break your business. It holds more importance than ever in today's time.
Why Is Customer Satisfaction Important?
1 – A Loyal Customer Is A Treasure That Would Keep Your Business Going
According to research from the Harvard Business School, company profits can increase by more than 25% when only a 5% increase in customer retention.
The result of this is that if you collect even a small amount of loyal customers, they can easily match your entire acquisition cost and then some.
"When customers share their story, they're not just sharing pain points. They're teaching you how to make your product, service, and business better. Your customer service organisation should be designed to communicate those issues effectively."
– Kristin Smaby
Just look at how many financial services businesses happily invest in their existing customer base – like banks or mobile networks, for example!
They know how expensive it can be to exercise their ongoing loyalty schemes, but the rewards are even more significant than they would have expected!
2 – Losing A Customer Can Harm Your Business Heavily
This is nothing new – all it takes for a client to switch their loyalty from one brand to another is one bad experience.
Whether they're experiencing considerable delays fixing an issue, being transferred in circles between departments or even simply having a problem go unresolved.
While big corporations might not take long to recover from this as it happens multiple times every day, most small businesses don't have that kind of leeway when building up a reputation and client base.
Like any other, these businesses need to keep the customer service promise and deliver speedy and efficient service on social media just as much as they would through more traditional channels – because anything else can be highly damaging.
3 – Great Customer Experience Makes Great Brands
It's vital that your customers are happy, but it's more important that they are fulfilled.
If you make your clients feel like their needs have already been met somehow, they are more likely to stick with you and share content about your product or service across social media than randomly recommend your company.
When customer experience is excellent, the customers are more likely to interact with your content, leaving you some constructive and laudable comments.
Later on, you can use these as the foundations for case studies and success stories that every small business wants to exist as an example of a company that gives excellent customer satisfaction, which all companies strive to be.
Key ways to improve customer satisfaction
It's vital to know what consumers want and like because they are the ones that buy your product or service.
They are the reason for your business being in existence, so it only makes sense to do everything within your power to make a satisfied customer.
Not all small businesses have customer service departments – but there are ways you can deal with things to improve people's satisfaction with their products/services.
1 – Listen To Customer Needs & Feedback
Consumers want to feel valued, and their interests heard. As a business owner, you need to allow your customers to have the platform to get their voices heard.
This may not always be easy, but offer it with an open mind and make sure you respond in ways that ensure your customers feel as though they are being listened to.
This interaction will help develop a strong affinity for your brand marketing and encourage honest feedback from your customers.
Sometimes the best way to get feedback from your customers is typically just asking! Don't let feeling awkward about doing so hold you back.
Again, don't make things complicated to begin with.
Ask people about their experience with specific aspects of your business or product if they have time to respond or provide additional context within social media posts that you share on various digital platforms.
You can get some even more targeted customer insights by surveying further down the customer funnel if needed using products such as Google Forms.
2 – Value Response Time
The time you, as a company, take to respond to the queries of your customer is one of the most critical factors that determine customer satisfaction.
If you don't value the response time, it can negatively impact your relationship with your customers.
A study by Forrester shows that 73% of the customers claim that the most important thing a company should have in their customer service is valuing their customers' time.
The same study shows that when the customers don't get their answers quickly, 53% tend to give up on the purchase.
Now that we know how important response time is, it is crucial to add some features to your customer service to streamline the processes and reduce the response time.
One such feature is call forwarding, which automatically forwards the call to an external calling device like personal mobile phones or another agent's landline phone when a particular agent is either out of reach or unavailable.
Instead of sending customers to the main menu again, call forwarding lets them stay where they are and quickly connects them to the appropriate agents.
The primary benefit is that the customers don't have to deal with the dial tone or unanswered calls. Using this feature, you improve the overall efficiency of the process by providing your customers with an enhanced experience and support.
3 – Connect With The Customer Personally
60% of businesses lose a customer because the brands are deemed 'indifferent'.
Satisfied customers will not be enough to boom your business in the long term, and you need to focus on developing a fan base who are loyal to your brand and do positive word-of-mouth marketing for your brand, which can help to spread the good reputation through people talking about their experiences with your product/service.
Beyond business, a successful relationship with customers can be just as valuable. You could send them personalised emails to inquire about their well-being and to congratulate them on their birthdays.
It's worth remembering to thank them for any reply or feedback they've provided! It is also essential to connect with your customers personally from time to time.
This will allow them to get the most out of your product!
4 – Communication Transparency
Keep everything as clear as a crystal when dealing with your customers.
And this can be seen by the way you handle them, which in turn positively impacts their minds and helps small businesses get that all-important word-of-mouth endorsement.
Don't expect everything to work out perfectly with the first design – this is not realistic. Getting feedback from customers right off the bat and making changes based on it is an invaluable tool for gaining user trust.
In this day and age, it's essential to communicate with one another as frequently as possible so that everyone remains informed and on the same page.
While starting, small businesses can rely on the latest communication tool and consider scheduling at least a few hours every week to sit down with various members of their respective teams to better streamline their workflow processes and get to know each other better!
5 – Turning Relevant Data Into Action
The significance of collecting customer feedback is compelling only when that data from the feedback is being used proactively.
To turn your survey results into actions, you can build a team or deploy a Customer Feedback Tool. This helps you collect on-the-spot customer satisfaction & experience data so that you can begin to understand where your products or services are falling short of the mark and how you can improve them.
Your team members can work together to help you better understand customers issues and pain points.
They can then use their findings to follow up with possible disgruntled or unhappy customers to see how you can improve the experience you already have spent so long perfecting.
This helps you reduce customer service costs and entertain your existing base further so that they become even happier and more loyal ones!
How To Follow Up Effectively?
1 – Determine The Best Way To Follow Up
When you are in a sales discussion with a prospect, make it a point to discuss the best time and mode of follow up straight after your initial sales discussions.
The most important thing is that you show concern for the prospect's time, so they know how much you need their business and how much you value their time.
2 – Determine The Plan Of Action
To meet quantifiable goals, you need to have clear action plans. This helps you stay on course and create your meetings' agenda.
Remember, action items should be time-sensitive and give both you and the client some indication of what both parties can expect from the meeting in an allotted time frame.
Decisions made at these meetings often become a part of someone's reality in the future, so it's vital to create something meaningful for them with measurable results.
3 – Build Confidence Through Freebies
Following up doesn't always mean selling. In fact, for the first few meetings, you should focus on resolving the client's problems by offering advice on how you can resolve their concerns effectively.
Forget your product and offer a solution that will impact their business immediately! Send over links to research articles or other free valuable resources which they'll be able to use right away.
Conclusion
Improving customer satisfaction helps you avert churn and retain customers.
When you care about your customers' experience, they will always respond positively to your brand. Thus, it is crucial to gauge the customer experience.
It allows you to develop a customer-centric attitude that will help you tailor your small business processes and make informed decisions based on the data you've collected.
You need to make sure that you give your audience the best possible care before, during and after you're communicating with them!
A great way to get yourself into the right frame of mind is by making a list of things that are already working well and using those ideas to improve what you're doing already.
Seeing something which needs improvement? Don't worry about that – go with your gut instinct and speak up.
It's better to be aggressive than too complacent in this situation.