I came across a great presentation today created by Metropolis Creative entitled Is your Website up to Speed? and thought it worth sharing here. Michael Flint, the founder of Metropolis Creative talks about the process of designing websites, in a more comprehensive way than just the technical side of the site, which the title may suggest. Thinking about the Brand before sitting down to coding and wireframing is essential and an often overlooked part of the process, as designers presumably want to dive right into the work itself before asking the right questions.
These questions as Michael points out, are things like "what is your
Unique Value Proposition
?" – simply asking your clients what they feel to be their unique selling point is a great way to focus on the strengths of their brand and strategy. Asking the clients to define their goals, helps direct CTA's (calls to action) which in turn will make the final website convert visitors to leads more effectively, assuming that's the purpose of the website. His final question in the list, noted specifically as a question you should ask
after
defining the brand's identity, is the first reference to discerning the client's visual direction – often something considered very early on.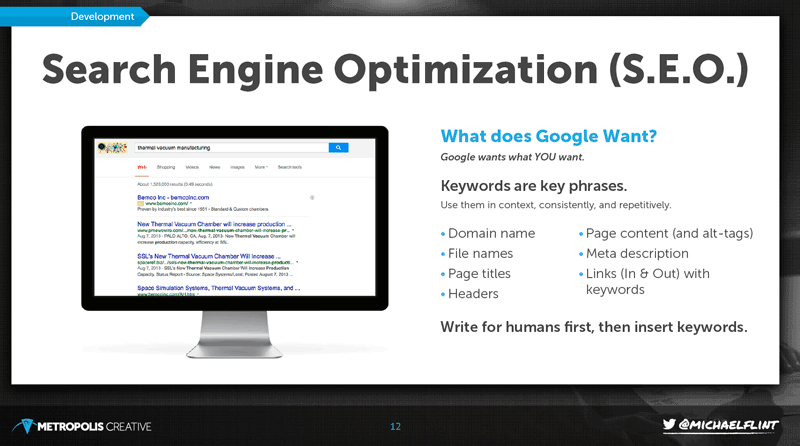 The presentation does cover the basics of design and development well (at a summary level) but what I find interesting is the value given to both social media and search engine optimisation. Both of these go hand in hand in 2015. Google is really putting a focus on social media, the thinking being that if a site or page is buzzing with shares, then it's valuable to visitors and will be bumped up in the rankings. Of course, there's more to it than that, but they're definitely giving it some weight alongside the 'usual' ranking factors of links, authority and on-page optimisation.
The only thing I would like to see in addition to the presentation PDF would be an accompanying video of the actual talk – presumably that was an exclusive, as it was part of Welsh Consulting's Business seminar series.
if you are looking for a professional graphic designer, click here to get a quote now!
---
Takeaway:   You can download the PDF version of the presentation here: http://cl.ly/3R2P0V2b3P34  – © Michael Flint.