How Attractive Branding Yields Higher Revenue
Whether in your personal, professional, or business life, knowing and developing attractive branding can make you tremendously more successful in accomplishing any goal.
But when it comes to business, designing an attractive brand identity can directly help you yield higher revenue – that's the reason why so many brands are taking the time and effort to revamp their brands.
Before going into how a reliable brand yields higher revenue, let's get to the bottom of exactly what it means to design attractive branding.
We Already Know: Attractive Branding is Important
We aren't the first to tell you, and we won't be the last: taking control of your brand is vital.
The fact is that everything your business does and everything you create for your business, whether you're aware of it or not, is your brand.
Social media, digital content, colours, imagery, logo design – all of these affect how the public will view your business and any products or services you offer.
In today's market, these are the essential things to pay attention to.
So what is it that some brands have that others don't?
Aside from taking control of all of these factors, the strongest brands consistently employ all of these tools in tandem to encompass an entire lifestyle and make people fall in love with the idea of that way of life.
Inventing Your Brand Concept
Let's step back for a second.
Before you can begin creating your brand, you have to know your audience.
Knowing who your ideal buyer is, both as a consumer and as a person, will be vital to your branding strategy.
To help with this, many marketing and branding professionals come up with what is called a "buyer persona," which allows them to identify their target's lifestyle, interests, habits, and attitudes. 
Some questions they ask are:
What do our potential customers think, feel, and want? What do they prioritise?
Is our potential customer the type of person who would instead save money and make a significant investment on a token item?
Is our customer the kind of person who enjoys treating themselves to things regularly by eating out and shopping?
What is the current vision our potential clients have of their life?
What is the vision our potential customers want to achieve?
The answers to these questions will depend on the products or services your brand offers.
There are many different types of consumers out there.
To start building attractive branding, you have to identify the people who will benefit from what you're offering, and create a design strategy that caters to these needs and attitudes.
Once you've figured out your audience's needs and opinions, be sure to incorporate the following.
Offer Solutions
One part of making your attractive branding is providing a solution to your potential customers' problems.
People want solutions to their problems and enhancement of the quality of their lives.
If you can position your product or service like either of these, you're on the path to building your attractive brand.
When it comes to design, this means taking into account the colours you're using, the motion of the imagery, and the user experience as a whole.
Especially if you are doing freelance work, it is vital to recognise the reasons your customers might seek out your services in the first place, and create a brand that conveys a solution to their problems in a welcoming and refreshing way.
Human Approach
When designing your brand, keep in mind that people want to buy from other people – make sure your brand paints a picture that resonates and feels human.
Keeping this in mind will prevent you from becoming stagnant–people are fluid. Their needs, behaviours and wants change regularly.
As a brand, it's essential to be in tune with more than your consumers' needs.
It would help if you likened with their thought processes and their influences to predict how their needs and wants will change over time.
In other words, your brand should not reflect your product. Both your brand and product should reflect your customers.
Paint a Lifestyle
People don't just buy products randomly; they buy into a lifestyle.
If using or wearing certain products makes them feel a certain way, like they're living the ideal lifestyle that the brand created, they are likely to make initial and continued purchases.
To create that way of life, you're going to need a plan.
Take into account the "brand persona" you've developed, and establish a mission, vision, and values you want your brand to stand for.
When compiling this, you'll want to make sure you're doing so in tandem with your audience's needs and desires. 
Then, it would be best if you designed your brand accordingly.
Once you have your branding concept in place, you'll know:
Whom you want to attract
What their wants, desires, and needs are
What kind of lifestyle your brand can offer to entice them
How you will go about positioning your brand to your customers
Your branding concept will be used in everything from your website, social media, and any other portfolio or ads you might set up.
People make your brand's subconscious assumptions or opinions at one look, so to make your branding attractive, you have to make every potential glance count.
Converting it to revenue
Through consistent messaging, and a strategic, smart strategy, you will have no problem attracting a strong following and converting that following into revenue.
Once your brand is a marketable product, you can then use it to increase your profitability.
In the digital marketing world, the Internet is your stage, as well as your cash register.
Get on Social Media
Where do people connect most with other people today?
Interestingly enough, online. It goes the same for business.
Social media is not only ideal for sharing your latest works of art, but also for connecting with new potential customers.
Like Instagram and Pinterest, visual social mediums are perfect for designers to showcase their work and put it right in front of the people who will purchase their services.
Becoming active with your brand on social media can help you gain exponentially more business because people only follow what and who they want to follow on social media, and they want to support things that they like!
If your brand appropriately attracts the right people, you will get them as followers and have the chance to stay in constant contact with them.
Capitalise on Your Following
If you can get people to engage with your brand online, either through social media or paid digital advertising, you can also get them to make purchases online.
The simplest way to increase your revenue is to make your products or services immediately available, make people want to interact with your brand, and include all of this with a strong call-to-action that encourages a purchase.
Any digital ads or social media campaigns should lead to either an e-commerce platform, where people can become customers right then and there, or should gather an email so that you can stay in contact, and update them with any sales or news.
Now, you've either (a.) Made a sale, or (b.) Made contact. 
Both are good!
If you're gathering email addresses, make sure your emails are branded so that they are recognisable.
Marketing emails can be another great way to gain new business, especially if you offer discounts with urgency, such as a one-day "Buy One Get One Free" sale.
Cashing In On Brand Loyalty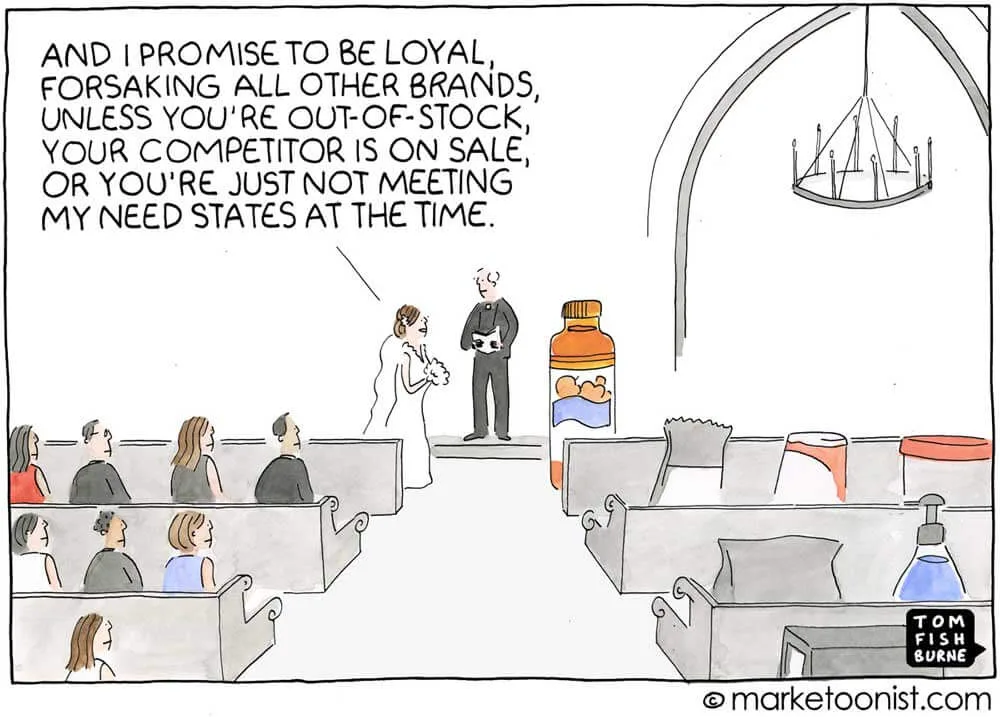 In the long-term, attractive branding increases your revenue by opening up the opportunity to cash in on brand loyalty.
Once you've gotten your audience to make their first purchase or give your their information, your chances of keeping them as customers are significantly heightened.
And the fact that they went into the purchase with a positive outlook of your product or service because of your branding design will most likely encourage them to leave more satisfied, and become returning customers.
Assuming your customers are satisfied and your attractive branding builds a following, your brand becomes its commodity.
Please note brands like Mercedes Benz or BMW, who can sell their products at a high price simply because wearing the brand makes people feel they have rich, luxurious taste.
People will even buy apparel with the BMW logo – that's brand loyalty at its finest, and serves as proof that when your brand sells the right image to the right consumers, people vie to become a part of it.
They will proudly wear your name because they know (or believe) it says something about who they are.
Establishing your brand with your consumer base opens up all different kinds of opportunities.
After you've established your brand's appeal and have an 'in' with your customer base, there are endless ways you can expand your brand's offerings, and increase your brand's profitability.
Overall, designing attractive branding leads to more significant revenue for your business in many ways, both directly and indirectly.
Besides allowing you to encourage your customers to make direct, immediate purchases online, it also gives you the chance to profit on brand loyalty to expand your product offerings to a loyal consumer base.