10 Typography Rules Every Designer Should Know
Do you know what confuses designers?
Choosing the right font!
You get multiple options, and all of them look good.
How do you know which one looks the best?
Which one is appropriate for your design?
From crazy ones to the old style, you never fall short of options.
Choosing the right font is a journey where you need to drill down options and select a font that looks best in design.
The history of typefaces dates back to the 15th and 16th centuries when humanist writers and scholars rejected the gothic scripts and favoured a more classical handwriting mode.
Many favourite fonts like the Garamond, Bembo, and Jensen are named after printers who worked in that era to make the design better with typefaces.
From then to now, typography plays an integral role in graphic design.
This is why designers can never get over learning typefaces.
Also, it is a smart move to know how typography was perceived in history and how far we have come today.
When you enter the world of typography, start with the basics.
Read the history.
Learn the real origins of the necessary fonts you use every day and the families to which they belong.
If you are a freelance graphic designer or aspire to be one in the future, here are ten typography rules you cannot miss out on:

1 – Ask yourself some fundamental questions
Before starting with the design, it is essential to study the brand identity.
Try to conceptualise the mindset of your targeted audience and make it rule to ask yourself some primary questions:
1. Does the content strategy match with the typography?
2. Does it convey the right message?
3. How will users perceive your design as a whole?
Typography is a union of art and science.
You need to get the basics right to move forward with the typefaces.
2 – What does your typeface communicate?
Typefaces are not merely a random play of words that can be adjusted according to someone's personal choice.
Every type of font comes with a history of its origin and a directive.
Fonts are supposed to convey a message and choosing aimlessly rarely helps.
If you want to choose the right font, it is essential to focus on the connection with your audience.
Something that is not connecting is of no benefit.
Typefaces play a massive role in audience engagement and building trust.
Focus on your audience, learn about their interest and make the right decision.
Here's an example:
A bright coloured, fun font is not the best choice for a literary textbook.
Playful or whimsical fonts are more appropriate for birthday invitations or baby showers.
3 – Learn the art of mixing typefaces
Mixing typefaces is an art that every designer should be aware of.
A clever combination of fonts goes a long way in enhancing the quality of your design.
It is like making a salad.
With a proper mix and match, create combinations that go well following size, texture, and colour.
Give each font a role to play.
Create contrast and get over the mushy transitions that look disoriented and out of place.
You can mix big fonts in a lighter shade with small and darker fonts to give the text a contrastive touch.
4 – Learn about Kerning
A kerning job might look boring to a layperson, but it is essential for designers.
Kerning in design terms is the way to set up spaces between two letters.
Characters in the past were not designed by keeping the spacing in mind.
This is why alphabets that form angles in the outward direction (W, Y, T, and V) look a bit awkward as compared to other alphabets.
As a designer, it is crucial for you to understand the importance and need of kerning and use it to your advantage.
Fill out those extra spaces between the letters and let your text sit more closely together.
For digital fonts, designers follow the kerning table that explains spaces between the letters and gives you an optimum solution while working on the page layout.
Want to check the quality of a font?
A well-designed font needs little or no kerning.
5 – Setting the right alignment
One of the most crucial concepts of typography is alignment.
As a beginner, many designers choose a centre alignment.
However, centre alignment and justified text make the copy hard to read.
Left Alignment
Thanks to Microsoft Word, we all are familiar with the concept of left alignment.
It is also called flushed left.
This is the best kind of alignment because the text starting from the left is easily readable.
Right Alignment
Another type of conventional alignment is when the text is aligned towards the right side.
This practice is commonly used in the case of resumes and CVs.
It covers an exciting space of the page making the text easy on the eyes.
You can also use the right alignment to write paragraphs.
Justified
Using 'Justified' can be a designer's biggest mistake.
If used carelessly, setting the text as justified can lead to substantial spaces in between the letters or words, disrupting the user experience and content engagement.
6 – Your text should be readable
The primary need for typography rules is to make the font readable.
Never fall into the pit of beautiful fonts and choose something that makes reading difficult.
Something that looks good as a set but breaks the flow while reading can be a reason for your decreased sales.
Especially when you write in paragraphs.
You might have chosen the right font for your heading to draw user attention but choosing the same font in a paragraph is not always the smartest choice.
Here's how Qwigley looks in paragraphs:
Also, avoid small fonts with bright images and large fonts with small or dull photos.
Your text should match the graphics and vice-versa.
7 – The Typography rules of proper grammar
Your grammar can make or break the flow of your typography.
Since there are so many contents and typography rules, messing up with the grammar in your design piece can be a big mistake.
Take care of the ampersands, hyphens and spaces after punctuation and choose fonts that complement your design.
There are specific hidden rules in grammar that needs to be addressed before choosing the design font.
Construct a design specific content structure that pays attention to the sentence and highlights the message you want to convey to your targeted audience.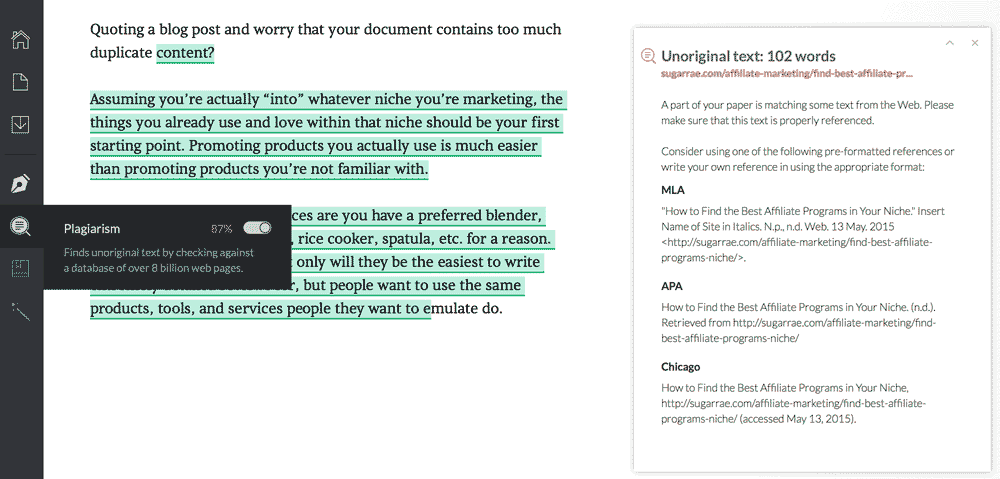 8 – Typography comes with inspiration
The design is a mere play of inspiration.
Having inspiration for your work helps you in bringing the best in design.
All this creative inspiration cannot be found online.
As a designer, one can get design inspiration from their surroundings.
Look at fonts you see on billboards and advertisements.
Look for graphics around you.
Pay attention to all the detailing that makes the piece attractive.
Do you think the typography is compelling enough?
What impact it had on you as a reader?
Figuring out the best typefaces in design and working on details to determine what makes them engaging makes way for discoveries.
9 – Don't stretch or distort fonts
Once you have found the perfect font that compliments your design and content, do not stretch it to make it wider or taller than it already is. Not even just a little bit.
Often designers decide to stretch fonts to fill in blank spaces.
Each font is created with a meticulous technique followed by proper attention to every letter case (keeping in mind its shape, size and texture).
Make it as standard typography rules never to modify fonts to adjust to your screen size.
If you think that the font you have chosen doesn't fit the design correctly and should be slightly taller or wider, go for tall or wide fonts.
There is an endless number of options available on the web of all different varieties.
10 – The typography rules of white space
Last but not least of the typography rules, designers should have an understanding of the white space.
It is not always necessary to fill in white space in the design.
On the other hand, it can be used as an advantage of your own and give your content a clean space to breathe.
White space is an excellent content promoter and helps you convey the intended message.
Combined with the right font, white space looks exceptionally sophisticated making the design feel outstanding and effortless.
White space helps you put the focus on what you think is essential.
This is how Fakeson has laid the entire spotlight on the guitar by placing it in the centre.
The white space all around the guitar lays sole focus on the product.
Also, they placed the content just below to utilise the white space correctly.
Conclusion
Still, think it is just a wordplay? Well, surely not!
Typography is an art, and these typography rules are a must learn for every designer.
Start typo-proofing your design and see the improvement yourself.