Charity Branding Tips – A Logo Design Guide For Nonprofits
Consider this scenario.
A guy comes to your door asking for donations towards a disaster rescue fund.
He has a metal box with the name of the cause written across it with a white marker.
Of course, you know of the cause, but it still makes you sceptical.
How about if you came across an organisation for a charity helping out the same cause?
It has a lovely banner with relevant images, a logo on top and a message urging you to support.
People are more likely to trust the latter because it appears more professional and gives a sense of reliability that help will reach the affected victims.
Now both groups might be equally genuine, but there is something the second one is doing right to come across as authentic – branding.
For non-profit organisations, charity branding is important because it helps in familiarising their image among the public.
This leads to increased trust and a boost in donor acquisition.
One positive way of making your non-profit familiar is by having a distinctive logo design.
Before you hire a designer for your nonprofit, bear in mind that branding for a nonprofit does not follow the same principles as branding for business.
Moreover, many nonprofits cannot spare the funds to hire a professional designer.
If the decision finally comes down to designing your logo in-house, there are certain guidelines you can follow to ensure that it strikes the right balance between representing your cause and being memorable.
These six tips (while not the only ones) are vital in understanding charity branding for a nonprofit organisation.
1 – Reflect on your purpose
Your logo design should identify the cause you stand for.
To do that, define in two or three words what the organisation's primary goal is.
It will help in specifying what symbol, image or words best represent your values.
Maybe the logo carries a symbolic reflection of your mission or perhaps a tagline to state your vision.
The logo of Goodwill is an excellent example of a symbolic reflection of the organisation's mission.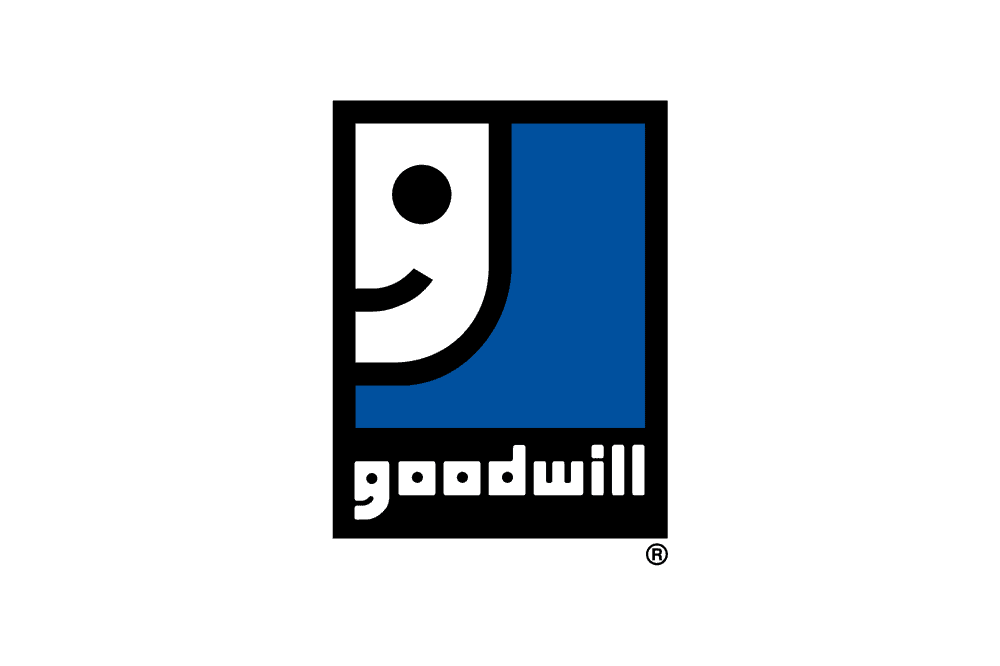 The smiling face doubles as the lower case 'G' in the name of the organisation.
Another good example is the logo of Mind, a charity providing support for mental health patients in England and Wales.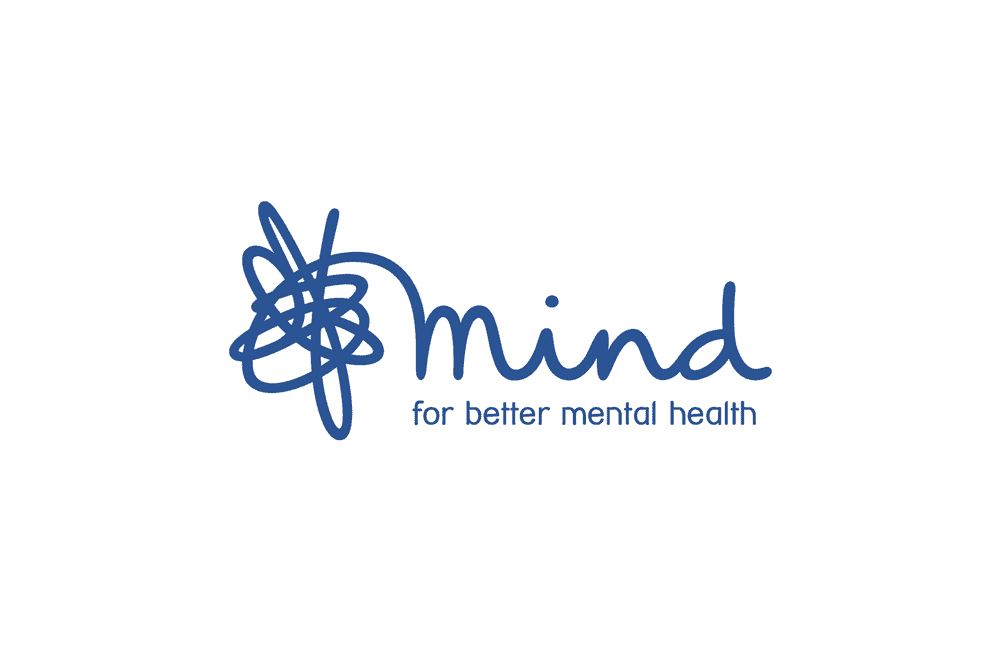 The symbolism created through the entangled lines which go on to spell out 'mind' in a handwritten font reflects the organisation works on bringing mental health under control.
The tagline "For better mental health" makes their purpose so clear, the logo is enough to know what the organisation does.
2 – Smart choice of colour palette
Most design guides will mention the use of colour psychology to capture people's attention.
In fact, it is true the use of colours matter, so you need to be aware of the subconscious effects colours have on the human mind.
However, for a nonprofit, keeping printing costs low is equally important.
A colourful logo which loses its emotion in black-and-white print is a wrong choice for this reason.
The logo should carry its depth and personality across all media – whether you print it on t-shirts, banners, on mass-distributed black-and-white flyers or paint it by hand.
The logo of the American Red Cross is a good example of smart use of colour.
The red cross makes for a simple design that can be applied to various types of media and is instantly recognisable.
Charity: water is another non-profit organisation which has a distinctive logo with a primary colour palette.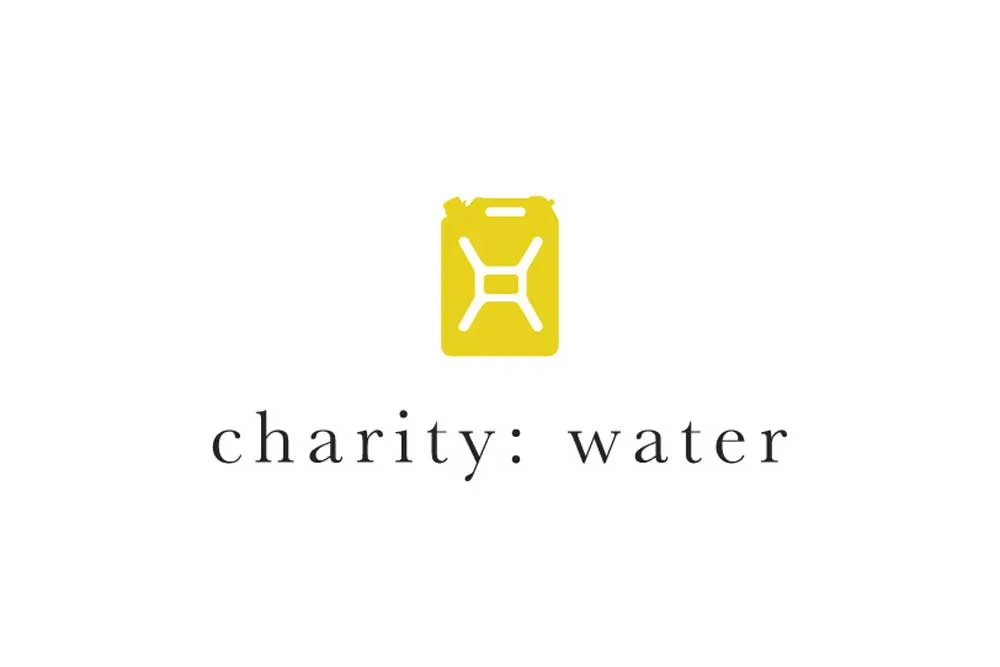 The jerrycan is representative of the organisation's brand and also reflects the work they do – provide clean drinking water to people in developing countries.
The bright yellow colour catches the viewer's attention and is an attractive design because of its simplicity.
3 – Have a balance of elements
Whether you use illustration or typography or both for your nonprofit's logo, don't forget to have a balance between these items.
That is done through the use of space within the logo.
A logo with too much going on would be overwhelming for the viewer and would also not be memorable enough.
The use of white or space in design is called negative space.
Negative space provides a balance and guides the eye to take in all the details.
This is important for a logo to be familiar.
Check out the logos of The Malala Fund and LiveStrong as examples of proper use of negative space.
4 – Aim for a timeless design
Designers often follow trends to appear fresh.
For a business, it might be viable to go for the latest trend because they can afford to rebrand when their design feels outdated in the future.
However, as I mentioned before, a nonprofit has to keep expenses to a minimum.
So go for a design that is timeless.
What is timeless design?
Timelessness in design is achieved by picking classic colours, adhering to geometry and hierarchy of elements.
This results in a design that is easy to comprehend and doesn't go out-of-date quickly.
One of the most easily recognisable non-profit logos in the world is the logo of the World Wide Fund for Nature (previously World Wildlife Fund).
It is worth noting that the logo has been in use since 1966.
The black and white panda logo with its creative use of negative space is a perfect example of simple and timeless design.
5 – Make it memorable
A good logo design has to be easy to recall.
That is how you can be sure that people will recognise your nonprofit upon encountering the logo a second time.
A simple logo will stick in their minds and lead to a familiar brand image over time.
So check if someone seeing the logo for the first time can redraw it from memory.
If not, then your design is too complex to be recognisable.
Even a simple design can stand the test of time and be prominent in representing your nonprofit branding.
The logo for Amnesty International is an excellent example of great design.
As an organisation working for the preservation of International human rights, the candle wrapped by barbed wire symbolises their work toward free human expression under dominance.
Another good example of a memorable logo is the 'one' used by The One campaign.
A clean design with a black and white colour palette, the logo is instantly recognisable and works in any medium, consolidating their brand upon a single encounter.
6 – Create a distinct personality
Brand personality is a combination of the consistent human traits adopted by a brand in their messages to be easily distinguishable by the audience.
This is something that ties in with the first step.
The two or three words you used to define your prime goal are an inherent part of your nonprofit's personality.
That personality has to align with the colour palette and typography you choose in your logo and messages.
Some nonprofits like Conservation International and Feeding America do it well.
A smart tip here: Try to eliminate the use of any elements or images that are too cliched in your particular field.
Examples would be the use of "holding hands" in an aid-based charity or trees, leaves, etc. in an environmental-related cause.
These are so overused that even if they are symbolically close to their core directive, they do not stand out in the viewer's eye.
These are the elements you have to pay attention to when you are in the process of creating a logo for your nonprofit organisation.
Let's go through them once more:
1 – Reflect on your organisation's purpose
2 – Be smart in the choice of a colour palette
3 – Have a balance of visual elements including typography, negative space, etc.
4 – Aim for a timeless design
5 – Make it memorable by being simple to recreate yet distinctive from others
6 – Create a personality that fits your design and choice of typeface
Resources for Charity Branding
There is a broad range of tools (both free and paid) available that can get you started on designing a logo for your charity.
In case your sketching skills are somewhat on point, the easiest way is to draft it on paper first.
If not, you could still get a logo designed by a professional designer at minimal costs.
Look for student designers online who would like to add some credible work to their portfolio.
A graphic design student might be willing to create your logo for free or for a slight fee.
If you spend time in researching, you could even find someone who's designing skill in on par with professional industry designers.
Alternatively, some design agencies offer lower rates for nonprofits and charities.
Take a look at logos used by other non-profit organisations, check what elements make them distinctive, identify how the logos symbolically portray their cause and the colours and fonts they use.
Your logo has to maintain itself within the domain and have something that makes people identify it at a glance.
That is the only way you can create a non-profit or charity branding that is seen as trustworthy and memorable.