Five White Hat SEO Techniques Creatives Need to Know
The creative world is competitive. 
If you're a designer, artist or freelancer, you probably know that it's not enough just to be amazing at what you do. 
You need people to know who you are. If people don't know about you, they can't hire you. 
That's where SEO, or search engine optimisation, comes in. Most creative professionals are not SEO experts. 
Fortunately, you don't need to be. In this article, I'll teach you some starter white hat SEO tips to help your business get the attention it deserves. 
What is White Hat SEO?
In a nutshell, white hat SEO techniques are those that play by the rules. 
Black hat SEO refers to unethical strategies or those that break search-engine guidelines, such as keyword stuffing, cloaking and paying for backlinks. 
Many site owners are tempted by black hat SEO because it promises fast results. 
While you might see an uptick in your traffic more quickly due to these underhanded strategies, if you get caught, you risk being hit with a penalty. 
Your site's ranking could be severely damaged. 
In the worst-case scenario, it could be delisted entirely. 
Google is by far the most significant player among search engines, taking an estimated 94% market share of English search as of 2019. 
You can read its full SEO regulations here. 
The basic rules are simple. I recommend familiarising yourself with them if you want to avoid penalties. 
Read on to learn some of the most effective white hat SEO techniques.
Guest-post to build backlinks
Backlinks are links from other websites to your site, and they're vital to your SEO efforts. 
Why? Because the more trustworthy and authoritative sites point to you, the more search engines will regard you as an authority in your industry. 
One of the best ways to increase your organic traffic is to write guest posts for other websites in your sector. 
The idea of guest posting is simple: you provide high-quality content for another blog or website, and in return, you get a mention. 
To find relevant guest post opportunities, identify some of the top sites in your niche. 
You can use Ahrefs' free backlink checker to see a portion of the links to any site – here's an example: 
The premium version of Ahrefs provides more comprehensive results. 
For example, I can use the tool to review all of the referring domains to a site like 99 Designs.
Ahrefs uses a system called Domain Rating to rank the sites. 
The Domain Rating is a number from 0 to 100 that indicates the power of a site. 
I recommend targeting any website with a DR of 50 or higher.
With the premium version of Ahrefs, you can export a list of referring domains. 
This provides me with an instant list of thousands of potentially relevant sites with a DR 50+ to target for guest post outreach.
The premium version of Ahrefs starts at $97 a month. 
However, a week trial, which is all you need to grab a backlink profile, costs just $7.
Once you have a list of relevant sites, you can find out if they accept guest posts. 
Reach out to the editor or site owner, explain who you are and your area of expertise, and ask if they're open to guest posts. 
Some will say no or won't respond – don't be discouraged! Many more will say yes.
Guest posting is a slow-burn strategy, not a quick win, but it's worth the investment. 
Why? Because it works. An extensive profile of high-quality backlinks will do more for your search engine results page (SERP) rankings than almost anything else. 
Optimise your site load speed
Did you know that page load speed is a Google ranking factor? 
This alone makes it a vital consideration for your SEO. Fast load speed also reduces bounce rate and keeps visitors on your site for longer, which are both good news for your SERP rankings. 
Even a few milliseconds can mean the difference between keeping and losing a prospective customer. 
There are several simple ways to optimise your site load speed:
Choose the right hosting service and server
"Server response time" (also known as Time To First Byte or TTFB) is how long it takes for a server to respond to a user request such as a mouse click. 
Making sure you choose the right hosting service provider, and the server will save you server response time headaches in the future! 
Take the time to research your different options. 
You should pay attention to metrics, including uptime scores (99.95% is the minimum you should expect, and premium hosting solutions should offer 99.99%) and server location. 
If your focus is mainly on local SEO, choose a local server. 
We'll delve further into local SEO in a minute.
The price will be a factor, especially for small business owners, freelancers and independent creatives. 
But don't be tempted by the cheapest hosting you can find – you get what you pay for. 
For more information, here is a comprehensive guide on how to reduce server response times.
Optimise your images
Excessively large image files are one of the biggest culprits in slowing download speed. 
I suggest using a plugin on your CMS to automatically optimise the size of your pictures as you upload them. 
If you use WordPress, the Smush or Kraken.io plugins are good choices. 
It's also essential to make sure your image is in the right format.
While we're on the subject of images: don't forget to add alt text to each image. 
An alt tag is a short snippet of text (up to 125 characters) describing the contents and purpose of the image. 
They help Google, and other search engines determine what the image is about.
Use browser caching
Browser caching stores site information (JavaScript files, images, etc.) for future use. 
The benefit of caching is that when a user returns to your site after their first visit, they don't need to wait for the entire page to reload. 
To utilise browser caching in this way, you need to change your site's Expires Header. 
The Expires Header simply tells the site how long to store information in the cache. 
Doing this just involves inserting a short section of code. 
How long you make your expiry times will depend on the nature of your site. 
You can set different expiry times for different types of files, which makes sense to do if you have some files which are updated more frequently than others.
Here's a detailed guide on changing your Expires Headers.
Monitoring your site load speed
GT Metrix is a fantastic tool that gives you detailed reports on your site's load speed and factors that are slowing it down. 
Under the PageSpeed tab, you can see a range of factors which impact site speed, ordered from most to least important. 
Each element receives a score out of 100 so you can see how your site is performing at a glance: 
If you want to get even more detailed, the Waterfall chart gives you a request-by-request visualisation of your load speeds. 
Using the Waterfall chart allows you to see which elements are causing problems quickly, so you know exactly what to optimise: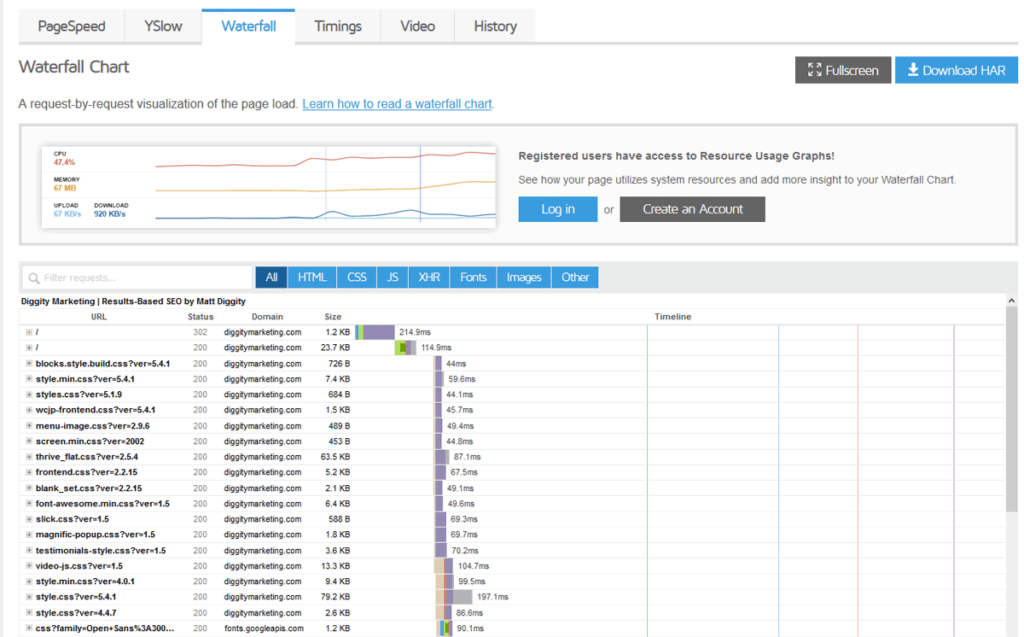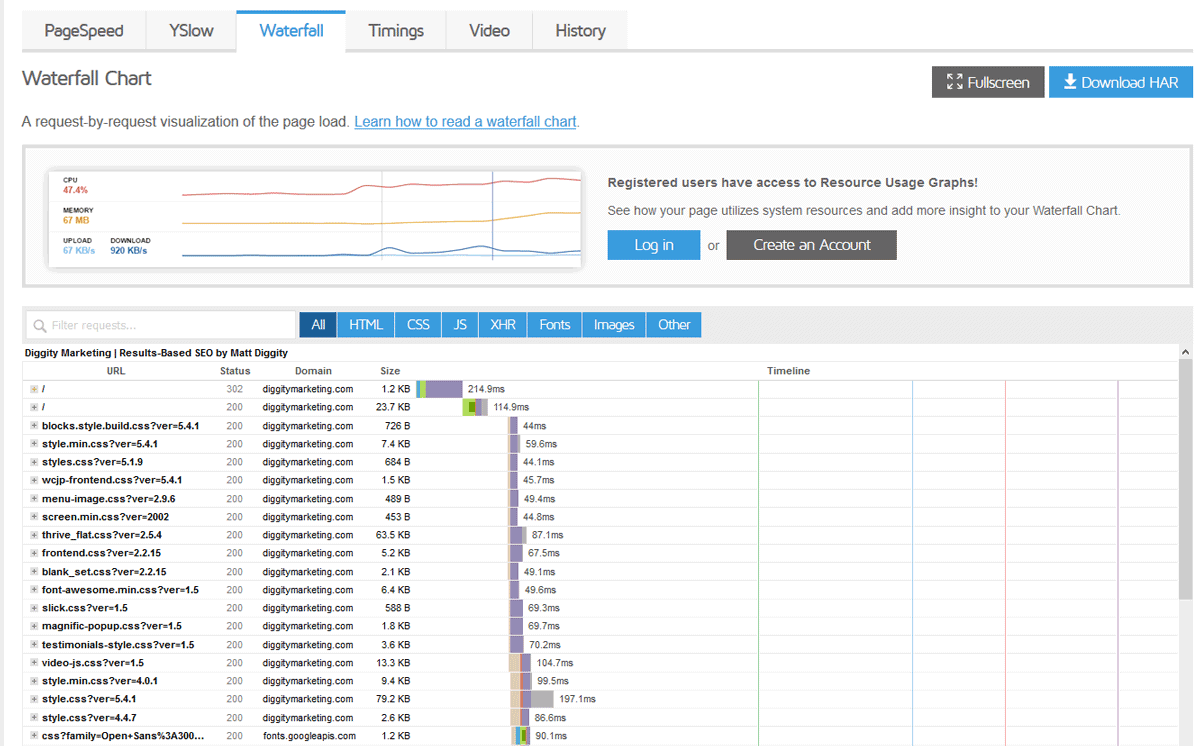 This is a bit more advanced, but if you're willing to learn by trial and error, you will figure out how to optimise your site speed by making specific changes based on an analysis of the waterfall.
The basic version of GT Metrix is free, or you can get a paid subscription with additional features starting from $14.95 per month. 
The free version should be sufficient for most small business owners and freelancers. 
Write amazing content
If you want search engines to rank your site, you need to offer valuable content. This means creating content that aligns with user intent. 
When creating an article, start by picking appropriate keywords. 
You can use tools like Keywords Everywhere to find search volumes.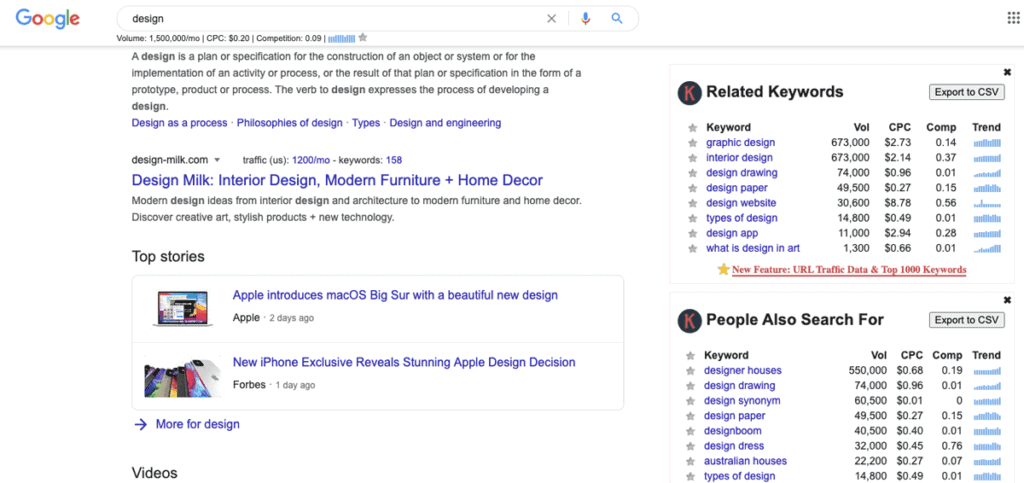 Once you've picked terms that you think are relevant, you want to make sure the content you produce is high quality.
Focus on what they want to know. 
Identify their problems, and how can you help. 
Whether you're writing about social media marketing or designing an amazing logo, the key is to offer actionable tips and real solutions to problems. 
You should also review the content that is already ranking for the search term because your job is to make content that is as good if not better than what's ranking.
There are SEO tools you can use to help you create great content. 
For example, you can use a Google Chrome extension tool like Detailed can reveal things like article length and headings.
Here are some of the benefits of high-quality content for SEO:
People will stick around to read it. This reduces your bounce rate (the number of people who leave your site after viewing just one page,) which is good for your SERP ranking. 
People who enjoy your content are more likely to sign up for your e-newsletter or mailing list, giving you another way to get them into your sales funnel. 
Great content helps to establish you as a source of trustworthy information and authority in your niche. 
You can write the content yourself, or hire a copywriter to do it for you. 
Incorporate your keywords mindfully, but not excessively. 
If you attempt to keyword-stuff, your copy will end up looking something like this: 
Poor-quality or automatically generated content, or content that reads like a sales pitch with no additional value, will never rank for long. 
You might even incur a Google penalty, which can do severe and lasting damage. And never be tempted to steal content from other creators.
Leverage your local connection 
If you're a small business owner or freelancer, you might have a connection to your town, city, or state. 
Leverage this connection as much as possible. 
People like to support local businesses and will often look for providers in their local area. 
Therefore, it's well worth focusing your efforts on local SEO.
The fact is that there are millions of designers, artists, and freelance creatives worldwide. 
Your chances of ranking at the top of a SERP for a generic search term like "graphic designer" are phenomenally small. 
Your chances of ranking increase significantly if you focus on a specific geographical location. 
When you choose which keywords you want to rank for, focus on those with a local connection (e.g., "graphic designer Brooklyn.") 
Then make sure you use your geographical keywords in your content. 
Next, claim and develop your Google My Business listing, if you haven't already. 
Ensure all your information, such as your address, phone number, and opening hours, are up to date and accurate. 
You can also build up local citations through online directories, and try to get published on local authority sites, like a local newspaper.
The ultimate goal of local SEO is to get into the "snack pack" – the list of three business search results which gives additional information such as opening hours, phone number, and Google reviews score if applicable (we'll talk about reviews in a minute!) 
Getting into the snack pack isn't easy, though, even for experienced SEO consultants. 
So don't be disheartened if it doesn't happen or doesn't happen quickly. Everything you do to boost your local SEO will still pay off. 
Use structured data
Structured data is also sometimes known as schema markup. 
It's code in a specific format that allows search engines to crawl, understand, and organise your content more efficiently. 
In other words, it gives search engines more information to work with, so they can display your content to relevant users more effectively. 
It can also help your results to stand out, drawing more clicks through to your page. 
For example, you might use structured data to show an image alongside your content on SERPs or make those rating stars appear. 
Schema markups can also be used to indicate a wide range of elements, including events, reviews, and opening hours, among many others. 
Here's a familiar example. Have you ever done a Google search for a recipe and noticed that many of the top results have images attached? 
That's as a result of structured data: 
You might be panicking at this point if you don't have a coding background. 
Don't worry – you don't need to go and get a Computer Science degree to be able to do this! For small business owners and freelancers, you can handle your site's structured data via a plugin. 
If you're using WordPress, try the WP SEO Structured Data Schema or Schema App Structured Data plugins. 
Once installed, the plugin will add its recommended schema markup automatically. 
It's worth taking some time to understand the basics of structured data, though, so you can make any necessary manual changes.
If you're not using WordPress, you can also add structured data via Google's useful Structured Data Markup Helper. 
This tool walks you through the entire process of adding structured data without any coding knowledge needed. 
Once you've finished marking up the relevant elements, use the Structured Data Testing Tool to check what your page will look like with the new markup added. 
When you're satisfied, you can insert the resulting HTML into your site's source code via your CMS. 
The Detailed Chrome extension is a free tool and a great way to check the schema for whichever page you're on.
You can't afford to ignore white hat SEO
If you want your business to be successful, having a robust SEO strategy is vital. 
Investing in SEO will bring in new leads, build brand recognition, and help you stand out from the competition. 
SEO is complicated and multi-faceted. 
If you want to take your efforts to the next level, you can always hire a professional to help you. 
But to begin with, follow the tips in this article to boost your search rankings while ensuring you stay on the right side of the rules. 
Author Bio: Matt Diggity is a search engine optimisation expert focused on affiliate marketing, client ranking, lead generation, and SEO services. He is the founder and CEO of Diggity Marketing, The Search Initiative, Authority Builders, LeadSpring LLC, and host of the Chiang Mai SEO Conference.