10 Amazing Personal Branding Examples for Design Inspiration
When people think of the word 'brand,' they're often reminded of companies like Nike or Ikea.
However, there's more to branding than just that.
Thanks to the internet and social media, individuals can represent personal brands.
Even you are a walking, talking brand—you just may not realise it yet.
Think about it.
When you pitch yourself to new employers during job interviews, introduce yourself to new acquaintances, or even try to make an impression on a first date that's great enough to land you a second one, you put your best foot forward and try to stand out from everyone else.
Your character and your preferences all come into play when you sell yourself in a way that's unique and true to who you are as a person.
Personal branding has gained significance due to the use of the Internet, as social media and online identities affect the physical world. Employers are increasingly using social media tools to vet applicants before offering them interviews. One can control how they are viewed by their peers, and in the case of celebrities or athletes, can build a personal brand by utilising what they present to their public using various social media outlets. (en.wikipedia.org)
This is the first step to personal branding.
The rest of the steps, however, require more work.
Beyond being unique, you also have to be consistent in the way you present yourself to the world.
It's crafting your look, tone, language, and making sure all those come through on your social media or public platforms.
It's letting who you are as a person shines through your work so that when people hear your name, they know exactly what or who to expect.
It's a lot to take in, but luckily, we've compiled some personal branding examples for you to read on and learn from: 10 individuals to inspire you to start your own branding journey.
The personal branding examples and amazing entrepreneurs listed in this post have all been in the 'game' for many years, so if you are just starting out, please don't feel overwhelmed about their great website designs and strong personal brands. They all have incredible personal brands and businesses, and at least I had to mention them here in case some of you would wonder why I didn't include them among the other personal branding examples in this post.
1 – Oprah Winfrey
Oprah is the Queen of All Media for a reason—you don't even have to hear her last name to know who she is!
She's worked her way to becoming a household name from being on air for 25 years as the host of her own talk show, to later creating her own publication and network.
However, what makes Oprah's success so impressive isn't just her longevity: it's that she built a brand by finding a story, and learned how to capitalise on her life by using her pains, wins, and wisdom to keep inspiring others to find theirs.
She's always managed to come across as respectable and revered, and her personal branding shows precisely that.
The colours of her site are dominantly gold and black, with hints of purple: the first being a nod to her influence in the business, and the latter two alluding to her platform of empowering fellow African-American women (fun fact: she starred in The Color Purple and was then nominated for an Academy Award).
2 – Ashley Graham
In the saturated industry of modelling, Ashley Graham stands out.
Not only is she a successful plus-size model, but she's also managed to use her clout to push for body positivity in an industry that has been criticised for celebrating more slender types.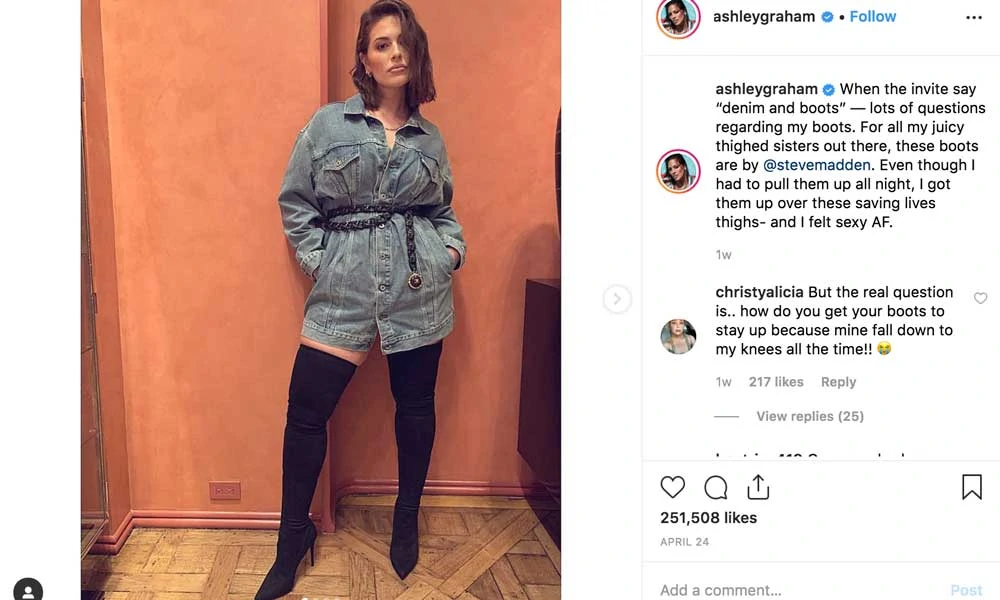 Her Instagram game is designed to celebrate #BeautyBeyondSize.
The images on her account are well-curated to present a good mix of her looking incredibly great, to show everyone that having a fuller figure isn't a limit to looking and feeling amazing, and of her being unabashedly goofy, to remind people that she's human, too.
All these help push her personal brand of being aspirational and relatable, as a model on the pages of various magazines, and a role model to women in real life.
3 – Rachel Ray
The TV has shot many chefs into popularity, but Rachel Ray is one of the few to stand out because of the intersection of her recipes and her personality.
She keeps it real but also keeps it fun. She's a ray of sunshine that's just the right amount of sass.
Her recipes reflect who she is and what she stands for as a brand.
Her dishes are both hearty and flavourful, but also simple enough to follow and create by just about anyone.
The same can be said for the design and layout of her website, which is uncluttered and straightforward yet well-designed to make things light on the eyes while keeping her recipes on the forefront.
Thanks to her successful self-branding, she has even been able to break into a new market recently, combining her two greatest passions: food and pets.
4 – Gwyneth Paltrow
Before the title even existed, Gwyneth Paltrow was, and still is in the most real sense of the term, a lifestyle influencer.
She puts a premium on overall natural health, organic living, and overall wellness—everything her brand, GOOP, stands for as well.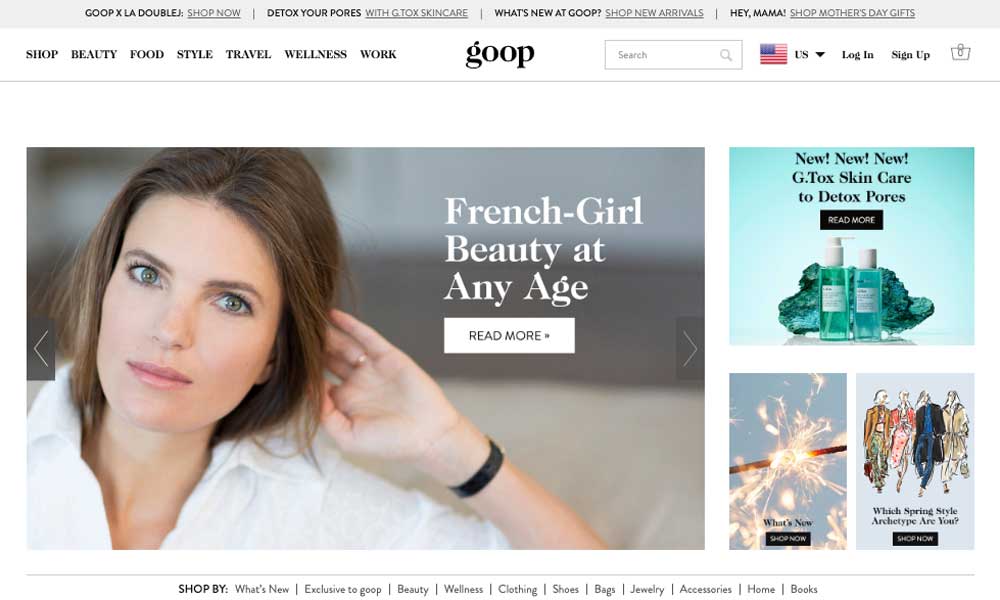 The lead-in text to her site and Instagram page reads "a modern lifestyle brand," which is precisely the vibe you'll get once you start clicking through.
Her logo, which is consistent across all platforms, is simple enough to be modern but timeless.
The layout and fonts of her site are crisp and clean with light feminine touches, almost resembling those from the pages of modern beauty and fashion magazines.
The featured images are mostly bright and naturally lit—right on the mark for a brand that stands for everything natural and organic.
5 – Neil Patel
When it comes to marketing, one of the most popular personal branding examples is Neil Patel.
While his peers stick to teaching through their blogs, Neil has actually found a way to visualise his lessons, making learning quick, easy, and purposeful for the average reader.
He has founded and co-founded several software and services that help other companies market their brands and products online, and today is the CMO and Co-Founder of his own digital agency.
What's interesting about his background is that it gives you a peek into why his blog was designed the way it is: more than know-how, his passion for marketing and solution-finding fuels his need to help and educate his readers with the use of videos, podcasts, and infographics.
6 – Mark Manson
Mark Manson is a man of many hats.
He's a self-help author, blogger, and entrepreneur, or as his blog's byline reads: Author. Thinker. Life Enthusiast.
His landing page is striking because it's written in a way that's candid, irreverent, and most important of all, honest—perhaps a preview into who he is as a writer, and what his readers can expect from the rest of the articles available on his website.
What makes Mark an interesting personal branding examples is that as a writer, his draw has to do more with words than design.
A few clicks around his site should be a great example of how, when appropriately used, tone and language can build your brand and make it refreshingly unique.
By being consistent with his brand image, Mark's regular readers could probably recognise his writing even if he didn't introduce himself.
7 – Lewis Howes
Lewis Howes is a business coach who has a couple of New York Times bestselling titles under his belt.
He first made his mark on LinkedIn by hosting events in different cities across America and has evolved his brand since then.
These days, you can catch him hosting his podcast, The School of Greatness.
In every episode, you'll hear passion-filled, inspirational stories aimed at helping other people achieve greatness in their careers and their everyday lives—something that translates to the design of his site.
On every page of his site, you'll find various inspirational touches that are right on brand when it comes to the "living the dream and working hard for it" lifestyle he espouses.
8 – Marie Forleo
Marie Forleo calls herself a "multi-passionate entrepreneur" who dabbles in a little bit of everything, from writing to philanthropy.
What's striking, though, is that she also calls herself an unshakable optimist, a term that's ownable to her personality and visible in how she brands herself.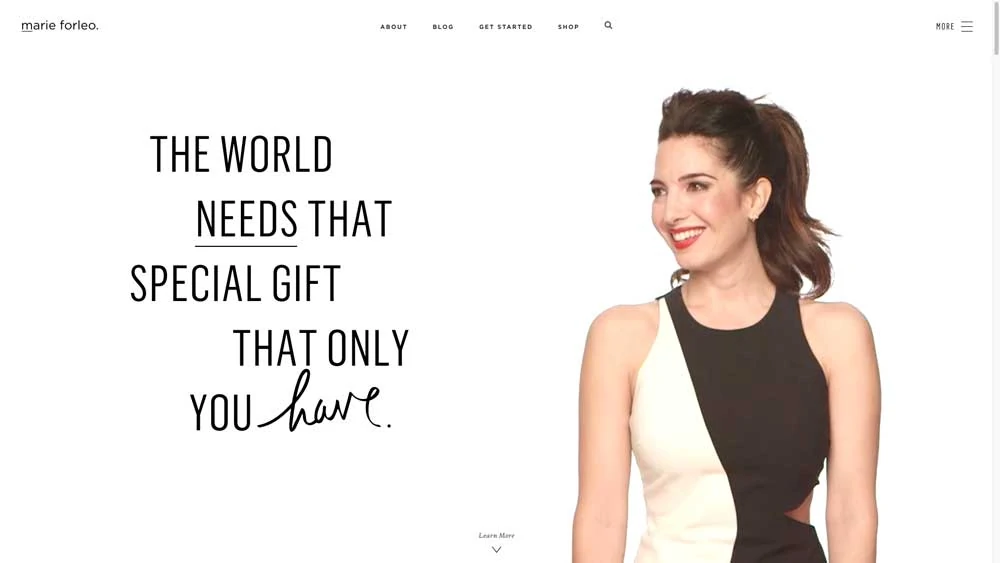 Her site shows off 100% authenticity in design and dishes out 100% real talk in content.
From colour to copy, her personal branding examples are inspirational, light-hearted, and upbeat, using images and stories of real people to help her connect with her audience.
9 – Nadine Ijewere
Nadine Ijewere started out as a medicine student in her home town in London.
When she needed to take a break from the mental stress of anatomy and science, she turned to photography—and this turned out to be such a fantastic decision.
This 26-year young woman now shoots for Vogue and has been named one of the best emerging African photographers.
Both her brand and aesthetic are bright, colourful, striking, and young, all of which come across with every photograph she has on her site and her Instagram account.
She keeps her platforms stark white and clean, so her images take front and centre, while the layout of her site, despite the simplicity, is still very much modern and fresh.
10 – Geraldine DeRuiter
The Everywhereist is an amalgamation of dark, funny, and intelligent, and it's all because of its owner, Geraldine DeRuiter.
One branding tip is to promote your personality—which her blog does well.
What started as a means to share her experiences as tag-along wife to an always moving and travelling husband, grew to become her readers go-to for sharp, witty, humorous semi-random exciting stories that are neither here nor there.
Of course, beyond the writing are all these cute little visual cues, from the logo of her site to the icons of her pages, that show her blog visitors that her brand is one that's smart but doesn't take itself too seriously.
Conclusion
When it comes to figuring out how to establish your personal brand, reading all about it really is just one part; most of the learning happens when you get your hands dirty, make some mistakes, and adjust along the way.
Personal branding involves identifying your 'mission statement', understanding your core strengths, unique style, passions, skills and interests, and continually working to deliver your message (that align best with your brand) to your audience. – Martech
As helpful as it is to learn from other people's personal branding examples, you have to start writing your own, too.
Getting your brand running isn't something that happens overnight, but with the right mindset, nothing's stopping you from starting today.
Hopefully these top 10 personal branding examples will show you how to grow your brand successfully!
Author Bio: Natasha Ponomaroff is the Senior Marketing Director of Instasize – a content creating tool kit for anyone editing photos and online content on mobile. A weekly contributor on the site's blog, Natasha tracks social media trends and updates the millions of "creatives" who are currently using Instasize to curate awesome online content. When she isn't writing up the latest trend, Natasha is overseeing a team of 10 over at the Instasize HQ – ensuring that the personal branding examples on the apps various social platforms is ready to go.