Start Blogging Successfully: How to Write Blog Posts
Blogging is one of the essential parts of a marketing strategy. Whether you want to promote your company or your personal brand, a blog is a great way to make a name for yourself. 
If done right, it can bring much traffic to your site, boost your sales, and become the go-to source for your subscribers.
But how to create a blog that will perform well? What should you do to increase its chances of ranking higher in Google search results? How can you make people turn to your website instead of the competition? 
This article guides you through all-important questions: how to start a blog, how to create better content, how to make money blogging, and what to do in case you have no experience.
How to Start a Blog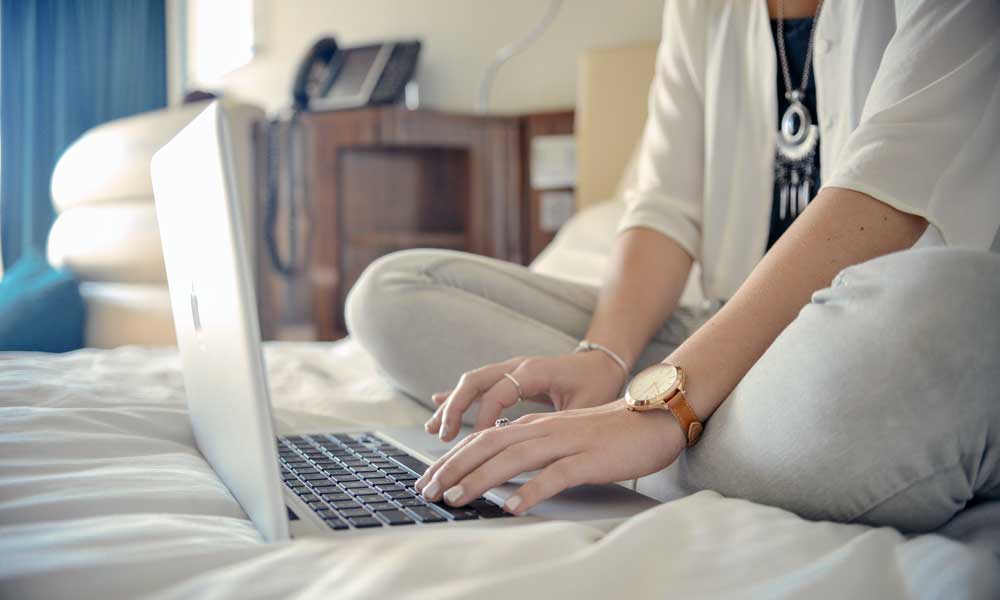 1 – Find Your Topic
The first step is to find a niche, a topic that interests you enough to investigate and research it more fully. 
Researching means finding out how other people talk about the subject and looking for blogs, forums and other content outside your industry that speaks to your target audience. 
This will give you a better understanding of your potential customers' questions about your industry and give you a better chance to answer these questions. 
The easiest way is to use Google Trends to research and narrow down a niche topic. But don't forget you should feel enthusiastic about the subject of your writing.
2 – Come Up with a Domain Name
Once you have found a niche topic, the next step is to choose the correct domain name and web hosting for your blog. 
If you are unfamiliar with this, consider hiring a web developer with experience building websites to handle all your needs. 
There are many options for getting your blogging platform online, including free hosting services like Blogger, WordPress or Joomla. 
Remember, your domain name and the website design are crucial in SEO and attracting visitors. You need to make sure your domain name relates to your blog's topic and is clear to people.
3 – Research the Competition
You should then find other sites and blogs in your niche that are related to your topic. 
You will see how high (or low) the bar is raised and give you some ideas regarding your blog. Please do not copy other blogs in any way, whether it's design, style, or tone. 
Look at their work and find ways to create even better content.
4 – Create Amazing Content
After doing competition research, it is time to make great blog posts and place them on your site. 
Some marketers outsource this task to freelance writers; some prefer to hire an on-staff copywriter. 
Of course, you can become a blogger if your writing skills are exceptional.
These are the necessary steps you need to take to set up a blog. However, you'll need to dig deeper if you want it to be successful.
Blog Writing Tips
1 – Provide Valuable Content
Each of your blog posts should bring meaningful and valuable information. Make sure it's relevant, accurate, and original. 
If you're covering a topic that has been around for a while, try to show a new side to it and your perspective; find recent cases and examples.
Poorly-written posts will bring less value, as people tend to close articles with an illogical structure and are filled with grammatical errors and typos. 
Ensure you proofread your texts using a spell checker like Grammarly or a professional editor's service. 
If you outsource your blog posts, ensure your authors are experienced enough to avoid linguistic mishaps.
2 – Enrich Your Blog Posts
When reading web texts, our attention span is much lower than in books. 
Mostly, we scan the text, trying to single out the information we need. 
Long posts with gigantic paragraphs tire people out, so you need to separate your texts into shorter parts and include subheadings. 
You can create high-value content by adding images and internal and external links. 
If your images are relevant to your blog's topic, you will increase the time readers spend viewing your page. 
Images your audience finds visually appealing will stick in their minds and remind them of something important.
3 – Create a Content Calendar
A well-thought plan helps you be organised when it comes to posting. 
It also makes people want to return to your blog, as they know when the next publication is coming. 
Don't overcrowd your blog posts, or else people will lose interest, and it won't matter how valuable or helpful your information and content are. 
However, don't limit yourself to posting once a month. This can also make your audience find a more consistent source of information.
4 – Think about SEO
Even if your blog is star-quality, it will make no difference if no one can find it. 
Optimising your texts with keywords will let Google know that your content answers users' queries. 
And when users find your blog by inserting specific keywords, your content is relevant. 
You can use free tools like Google Trends or paid services like Ahrefs to research specific keywords to draw in your target audience. 
Keyword research isn't always an exact science, but it can be a great way to narrow down the list of potential topics and words people use to discuss them. 
It is instrumental in starting SEO and finding ideas for new blog posts, articles, or forum posts.
5 – Promote Your Blog
In addition to SEO, there are other ways to attract new visitors to your site. 
It's good to have accounts on popular social networks like Facebook, Instagram and Twitter. 
You can promote your blog, tease your public with upcoming posts, and reuse old posts if the topic is still relevant. 
Another way to get exposure is to become a guest author on a more popular blog. Make sure it has a similar target audience as your site. 
There is a great chance they will find your articles interesting and visit your blog to check you out.
6 – Monetise Your Blog
There are many different ways to monetise your blog. You can provide guest posting opportunities, sell ad spaces or advertise products in your posts. However, be very careful with the last one. 
Promoting all third-party products in a row doesn't make you look good. 
Collaborate with companies you trust and whose services you use daily. 
Whatever your preference is, you want to choose the strategy that allows you to make the most money with the least amount of work. 
As long as you choose the appropriate monetisation method, making money with your blogging efforts should be straightforward.
7 – Engage Your Audience
When the audience loves your content, they tend to share and like your posts and leave comments. 
All of that shows Google your blog follows its E-A-T guidelines. 
That is Expertise, Authority, and Trust. 
If people come back for more and quote you elsewhere, you've earned their trust, gained authority in your industry, and have a certain level of expertise. 
You can encourage interaction between your readers and yourself. 
Ask questions in your text, remind them to share links to your post if they liked it, and, most importantly, answer their questions in the comment section.
Now that you know the general tips about creating a blog, it's time to narrow it down. 
Here's a step-by-step guide on writing your very first blog post.
How to Write a Good Blog Post
1 – Narrow Down the Topic
When you know your blog's general theme, you must consider individual posts' topics. 
Yet again, Google Trends will help you identify questions to raise in your posts and find interesting insights about your niche. 
Quora, Hubspot and Buzzsumo are among other idea-generating tools. If the topic is too broad, consider splitting it into separate follow-up posts. 
2 – Write an Outline for Your Post
An outline is a skeleton of your future article. 
Think of how many parts it will have and what each paragraph will be about. Make notes as your ideas appear, and then organise them. 
Ideally, your outline should contain an introduction, several main sections and a conclusion. 
You can change it later, but you should have a basic idea of what you're about to say.
3 – Do Your Research
Don't ever post unproven information. 
Check your facts and research several sources before you write your text. 
Ensure the statistics you use are accurate and credit the sources appropriately.
4 – Write the Text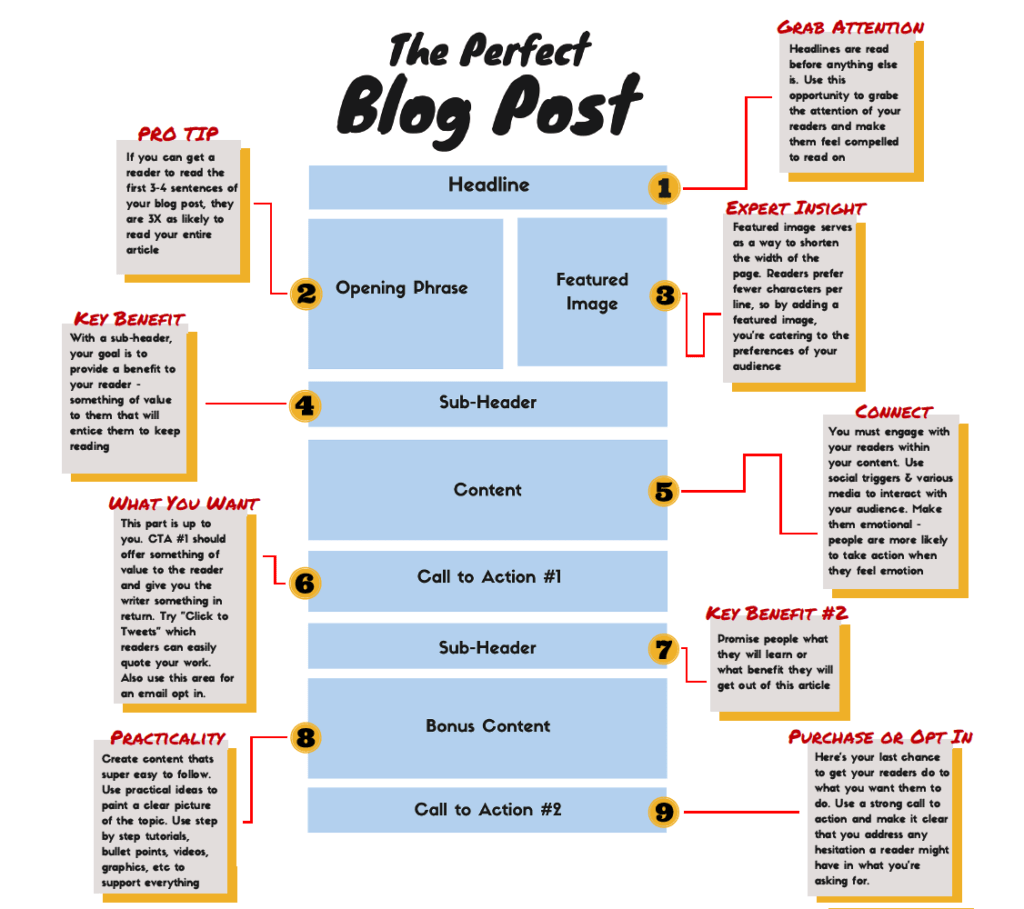 Then comes the most time-consuming part. 
Take your outline and write, adding "meat" to the "bones." 
It's advisable to start the main body paragraphs and then return to the introduction. 
This works better than you being stuck at the beginning and losing precious time mulling over the first sentence. 
When you have an almost-ready text, it's easier to write the introductory paragraph. 
The introduction aims to get your readers interested enough to continue reading the entire post. 
If it lacks appeal in this area, chances are your readers will not go any further. 
5 – Make Use of Subheadings
A blog post that contains a series of subheadings instead of a single introductory paragraph, may be received better. 
You can also use descriptive subheading fonts that express what you want your readers to know in just a few words.
6 – Optimise the Text with Keywords
The next step is making your blog post noticeable to search engines and potential readers. 
Research each topic individually, create lists of keywords, and use them in your text. 
Ideally, you will naturally use these words if your article's content corresponds to its topic. 
But additional research may help you find some phrases you may have missed.
7 – Write the Headline
The headline is the first thing your audience sees. And it's a "make it or break it" moment when a person decides whether to read your post. 
Make sure your headline is catchy, exact and informative. Avoid clickbait and vague titles that can mislead your readers.
8 – Find Appropriate Visuals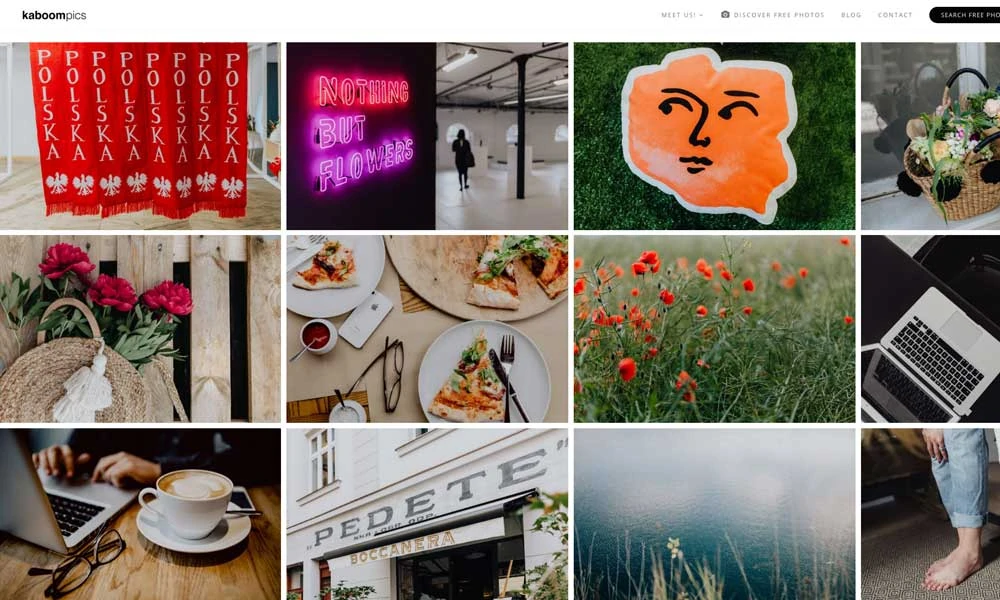 If you want your blog posts to be noticed and valued, you should post images that complement your overall content. 
Instead of adding an image solely to show off or promote your brand, consider using images that would add value to your readers. 
Images that show or illustrate the function or exciting aspects of your product or service can help your readers decide on your business. 
Another helpful thing is using videos that can illustrate your point. You can embed one from YouTube or upload it to your site. 
However, some blogging platforms limit the size of uploaded videos. If you don't want any software installed, try an online video compressor to make the clip fit the restrictions.
9 – Proofread the Text
When your text is ready, you may think it's perfect. But don't get fooled by a sense of accomplishment – there is more to do. 
Re-read your text several times to find mistakes, typos and incoherent sentences. 
You can give it to someone else to read or even have it edited by a professional proofreading service.
10 – Double-Check the Layout
Now, you are ready to publish your article. Whether you work with a custom CMS or use a popular blogging platform, make sure the page looks just like you want:
All images open correctly, 
The text is formatted to fit the template, 
the links are not broken. 
Final Thoughts
After setting up your blogging site, you will find that it can be a fun and exciting place to share your thoughts and ideas with the world. 
You may even make a few sales as people find your content through search engines. 
Of course, finding a profitable strategy for making money with your website is essential to not burn through your blog profits, trying to find another approach that works. 
The best way to do this is to find a proven marketing system that can guide you to earn an income from home while enjoying your passion at the same time. 
Once you have learned how to start a blog and set it up correctly, you will find no limit to how much you can achieve.