7 Benefits of Custom Presentation Folders for Your Business
Gone are the days when presentation folders were the talk of the town, and businesses relied solely on them to share their vital business information. With the advent of digital platforms, companies today have various options to showcase their services and products, rendering traditional marketing methods outdated, or so one might think. However, ignoring the benefits of custom presentation folders is not a wise decision.
While visiting the company's LinkedIn, website, or social media platform may provide ample information, completely disregarding the importance of printed material might not be a wise decision. Accessing digital platforms may not be feasible in client interactions, attending meetings or conferences, and networking events. Moreover, studies have shown that many people remember information better when holding a physical copy. This is where traditional methods of sharing information come in handy.
According to a recent study, 56% of consumers reported that print marketing was the most trustworthy type of marketing among other mediums. This signifies the importance of printed materials in the success of a business. Custom presentation folders help showcase your brand identity, professionalism, and organisation, which is incredibly important in a competitive business environment.
Presentation folders remain a staple tool for businesses to share vital business information. They offer a complete package to present essential business information professionally and organisationally. Furthermore, they offer endless customisation opportunities, allowing you to add your brand logo, motto, and other necessary details to create a lasting impression on your potential clients.
Moreover, personalised presentation folders make for an excellent promotional giveaway or gift item that people tend to hold on to for extended periods, indirectly improving brand recognition. These folders aren't just for sharing brochures, business cards, flyers, or other promotional materials. You can also use them to showcase contracts, proposals or for product presentations, ultimately creating a professional and well-organised approach to communication.
What are custom presentation folders?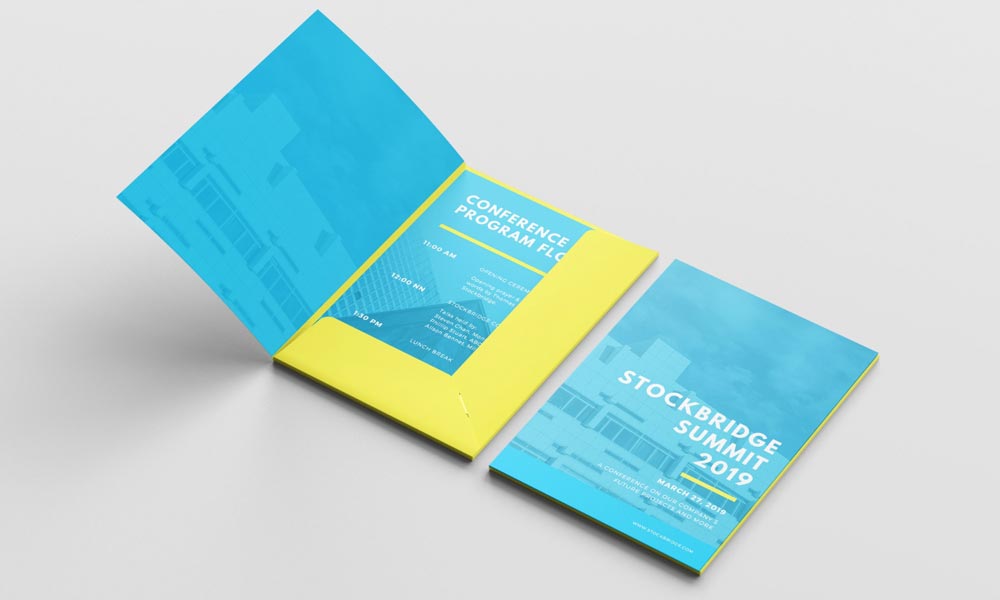 Regarding holding crucial business documents and papers, presentation folders, also known as pocket folders, are the go-to choice for businesses worldwide. These folders offer a practical solution to hold essential pieces while giving a professional and organised look. However, adding a touch of customisation to these folders can make a difference.
Custom presentation folders are an excellent way to showcase your company's brand identity, mission, and vision to potential clients. Adding die-cut shapes, logos, or text can create personalised folders that showcase your professionalism and organisation, ultimately reflecting positively on your company.
According to a recent survey, 86% of professional marketers confirmed that customised presentation folders significantly increased brand recognition. This demonstrates the importance of customisation in today's competitive business environment and how it can contribute to a company's overall success.
However, it's not just customisation that matters. Even the content inside these folders needs to be engaging and well-designed. By keeping the material inside the presentation folders engaging and high-quality, you can further enhance the impact these folders have on potential clients.
Handing out a personalised presentation folder expresses a unique thought and a clear message to your potential client. It conveys your investment in your brand and your company's overall success, ultimately creating a lasting impression on the recipient.
Moreover, custom presentation folders aren't just limited to holding brochures or business cards. They can also carry contracts, proposals or serve as a platform for product presentations. Investing in customised presentation folders creates a professional and organised approach to communication, reflecting your company's values and principles.
With that, here are the seven benefits of custom presentation folders for your business:
1. Boost the power of your presentation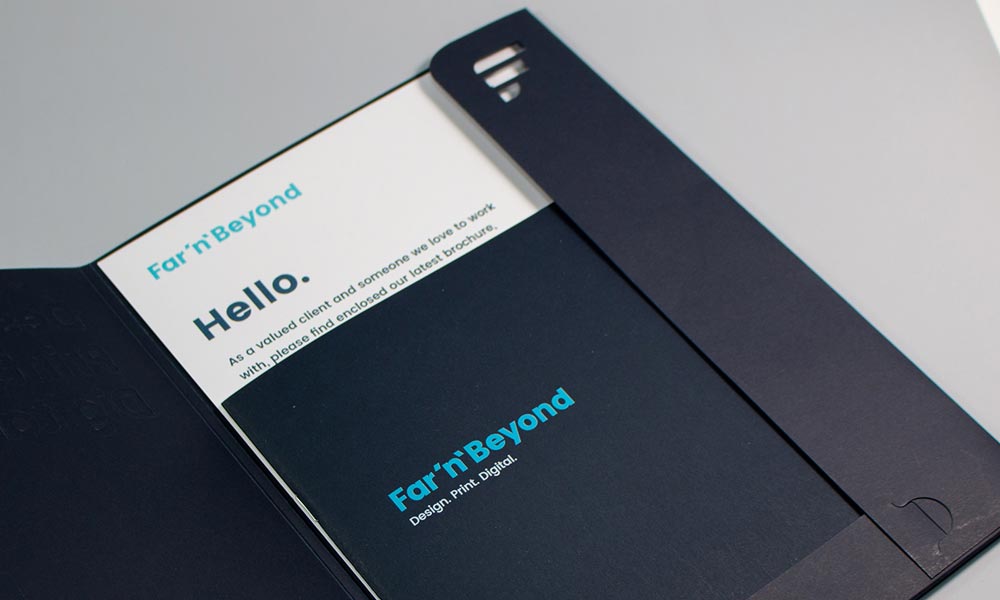 The undeniable essence of a presentation folder lies in providing your audience with a tangible and interactive experience during your display. They tend to enhance your audience's interaction and elevate their understanding of the information presented, assuring better retention of information and improving overall performance.
Custom presentation folders are an excellent way to organise information, making it more focused and understandable. Without these folders, your audience might easily agitate, walk away, or lose interest in your presentation. However, providing them with a folder in their hands works as a guide through your presentation, keeping them attentive, and exploring the information at their own pace, ultimately improving their interaction and participation. Furthermore, after the presentation, your custom folders are a lasting reminder of your partnership or a future point of contact.
Incorporating custom presentation folders into your display adds another layer of professionalism and instils confidence in your company's ability to meet and exceed expectations. Your audience will acknowledge the effort to create the folders, demonstrating your company's commitment to providing the best service, product, or solution. This will earn your audience's trust and confidence, resulting in better client relationships and increased revenue.
Custom presentation folders are a fantastic way to grab your audience's attention while still providing them with vital information. You can leverage various artistic styles and designs to customise your folder and catch the audience's interest. Whether through a specific font, your company's logo, or unique colours, customised folders offer the audience an instant focal point throughout your presentation, guiding their attention and allowing them to easily navigate your presentation.
2. Market your company
In today's digital age, businesses must focus on modern and innovative marketing techniques to effectively market their services and products. Custom presentation folders are one such technique that has recently gained popularity as they allow you to sell your services or products digitally.
Sending custom presentation folders via email is an excellent way to increase efficacy during mail campaigns. The tangible aspect of the folder is preserved, and the audience can still interact with the materials in the same way, albeit electronically. By including the presentation folder, you offer your recipient an interactive experience, drawing their attention toward relevant information and providing an exciting experience. This leads to better recall rates for your brand, resulting in successful mail campaigns and better engagement with your target audience.
Furthermore, including a flash drive or CD pocket holder in your custom presentation folder gives your audience an immersive multimedia experience. These holders offer your target audience access to promotional videos, PowerPoint presentations, or information about your services or products, giving them a versatile and informative approach. They can utilise this information and see the most effective use of your product or service, resulting in a positive relationship between your brand and the customer.
3. Save promotional costs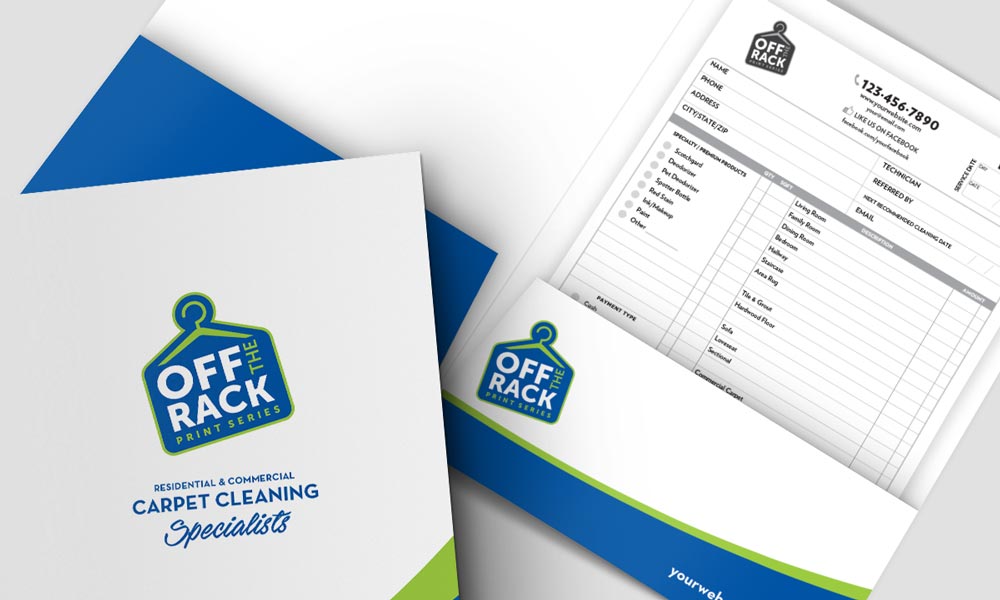 Marketing is an essential aspect of any successful business strategy. However, allocating a significant budget to this facet can take time, especially when aiming to reach a broad audience. Thus, it is crucial to think outside the box and consider every individual who attends the company's conferences, events, or open days as potential customers. This way of thinking can lead to some creative promotional solutions that won't break the bank, and one such solution is custom presentation folders.
At every event you attend, don't miss out on the opportunity to showcase your brand using a custom presentation folder. It provides an excellent opportunity to build a lasting impression of your business, even if you are not leading any meetings. You can include relevant information and materials about your products, services or solutions, highlighting your key strengths and differentiators. Plus, if you encourage your employees to carry these custom presentation folders, you'll have even more chances to influence potential customers during networking conferences or similar events.
Custom presentation folders may accomplish much more than just presenting your brand to prospective customers at events; they may also serve as a fantastic promotional product that does wonders for your business. Quora points out that these folders are one of the most effective promotional products many companies use to market their business without incurring high costs. While the only increased price you will face is for design and printing, the potential ROI you can achieve compared to the expenses involved is immense.
Besides being a perfect promotional tool, custom presentation folders boost your company's identity and make your business look professional and organised. The folder represents your brand; if appropriately designed and executed, it leaves a lasting impression on your target audience. Enhancing your image speaks volumes about your commitment to quality, attention to detail, and passion for excellence – all of which make your business stand out.
4. Boost sales
As businesses grow, so does their need to market their products or services effectively. One of the primary goals of marketing and branding your business is to boost sales; custom presentation folders can be instrumental in achieving this goal. However, using them correctly is crucial. You need to ensure that the information in the folder is precise and relevant since this content will impact traffic to your business. Moreover, the materials should prompt potential customers or clients to contact you for further information, making it a powerful marketing tool to lead potential clients down the sales funnel.
Custom presentation folders can also serve as catalogues to provide helpful constant reminders of your company's products. This is crucial as it keeps your business in mind with prospective clients, increasing the likelihood that they will purchase. According to a study by HubSpot, 90% of consumers in the US considered custom promotional products a helpful tool, and 70% enthusiastically used them or gave them to others, thereby expanding your business's reach.
Custom presentation folders help ensure existing and potential customers get the right impression of your company during meetings, events or conferences. Your well-branded folders may present you as an organised, well-established, and professional business, which leaves a lasting positive impression on attendees. This can lead to better recall rates and increased sales, making custom presentation folders more efficient than other marketing tools, such as flyers or brochures.
Effective branding results in higher sales, which, in turn, leads to higher profits. Ensuring that your marketing and promotional products, such as custom presentation folders, reflect your brand correctly is thus essential. It is a small investment that will yield significant returns in the long run. To sum it up, custom presentation folders are a powerful and cost-effective promotional tool that can boost your business's visibility, increasing sales and profits.
5. Help organise your office
In any business, the organisation is critical – not just limited to external events like conferences or exhibitions. The same degree of organisation is equally relevant during internal meetings. Many companies advocate for a paperless office to achieve this, but you cannot eliminate printed materials altogether. Sometimes your employees require keeping a few essential documents, mainly after an executive meeting, and this is where presentation folders come in handy.
You can use presentation folders and other printing services to help you and your employees maintain orderly desks, leading to a more efficient work environment. With everything neatly packed in one file, retrieving any files or documents needed becomes easy. In the long run, this will lead to time-saving benefits, as your staff won't have to go through piles of paperwork, making them more productive.
On top of that, your company's folders can be a powerful tool to create a lasting impression of your business, even when serving clients. With client-related information sorted in a neat and presentable company folder, clients will immediately notice your business's attention to detail and organisation prowess.
As an efficient storage solution, presentation folders enable more accessible storage and management of critical documents in your company's storage units. This leads to a tidier and more organised storage unit, making accessing the required documents more manageable for your employees.
Having company folders displayed prominently helps remind your employees of your company's mission and vision. They physically represent the core values and aspirations that drive the business. Seeing them frequently serves as a reminder of what the company stands for and what makes it unique from its competitors.
Regarding marketing, sharing additional information about your services or products with your customers is essential. One advantage of custom presentation folders is that they allow you to do that. And if you're launching new products, presentation folders are an excellent way to introduce them to the market.
Compared to online adverts or banners, presentation folders are more spacious, allowing you to be creative. As a result, you can go the extra mile for individual clients by creating a special presentation folder, complete with a branded gift. This added touch can make a lasting impression on your clients and elevate your brand's image.
Furthermore, pocket space in your folders is an excellent spot to insert your business card. Your business card is one of the best ways to impart information about your business and leave clients with something tangible. Putting it in your presentation folder makes your cards more interactive and accessible to your clients.
When you distribute your presentation folders during events or meetings, they will end up in many people's hands, including potential clients. This is a golden opportunity to incorporate as much information as possible about your business, services, or products. The presentation folders are an excellent channel to convey essential details that might have been lost in less tangible marketing campaigns.
Remember, for some people, your folder might be the first place they get your business information, so ensure it's as comprehensive as possible. Add your company's slogan, mission statement and background story. All this information neatly presented in one folder elevates your brand and makes it stand out.
7. Stay efficient
One secret to running a successful business is having efficient and organised systems. Custom presentation folders are a critical tool that can revolutionise how you run your business. You can use them in every department, from finance, human resource, and marketing to accounting, to efficiently organise, store, and retrieve information.
Moreover, inter-company communications can become more effective with presentation folders. By using folders to convey information about the goals and mission of the company, you encourage your staff to read from the same page. This makes it easier for everyone to work towards the same objective, leading to smoother operations and increased productivity.
Presentation folders also play a vital role in implementing new practices and policies. After any significant changes in the company, it's essential to ensure that all employees receive the updated procedures. By using presentation folders as a reference, you can guarantee that each employee gets the necessary information. This results in a smoother transition, with minimal confusion or misunderstandings.
These folders can also store all the necessary information regarding clients and customers in one place. The immediate benefit is that you're always ready to serve their needs, even in unexpected situations. Imagine your staff can access all the relevant information without searching multiple files. It saves time, avoids confusion, and drastically improves service delivery.
In a smooth-running business, there are fewer conflicts, and employee relationships are more favourable. This, in turn, affects how the company interacts with clients, leading to better relationships and increased customer satisfaction. We all know that clients or customers are the lifeblood of any business. When you satisfy their needs by providing excellent service, it's a sure recipe for long-term success.
Tips to benefiting from custom presentation folders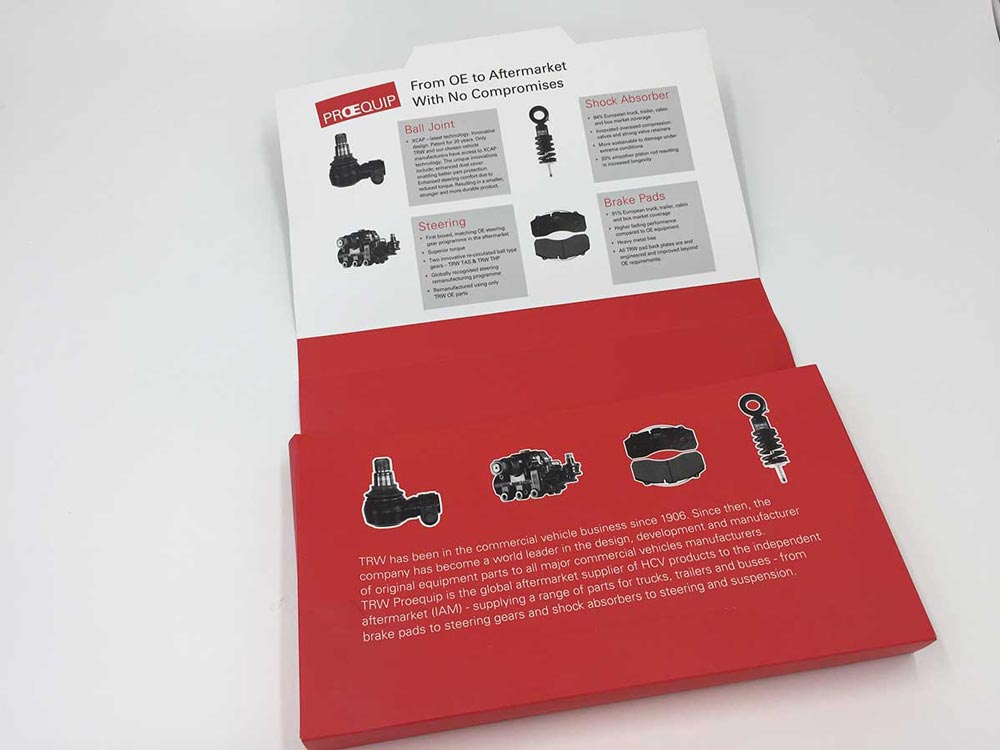 Just like completing a crossword puzzle, using presentation folder tips can help you uncover the correct answer to your business needs. Incorporating presentation folders into your business operations can enhance inter-departmental communication, store and relay critical information to employees, and satisfy your clients or customers. However, to truly harness the power of presentation folders, you need to consider the following tips:
First, you must design your presentation folders according to your business needs. Fortunately, many styles and types of folders are available on the market. Some folders have basic designs, while others offer extra interior pockets or slits for your business cards. Finding a folder that meets your requirements and adds to your brand is critical.
This brings us to the next tip: brand your presentation folders. If you plan to use the folders as advertising tools during events, ensuring your branding is front and centre is crucial. A well-branded folder can catch the attention of potential clients and leave a lasting impression.
Size matters and this is especially true when it comes to presentation folders. The design of your folder must be more substantial than the document it will contain. Therefore, ensure your folder is larger than the A4 page when it organises A4 documents. This ensures your documents are protected and presentable while stored in the folder.
Lastly, and perhaps most importantly, your company's contact details must be visible in your presentation folder. Your business contact details should be displayed alongside your company branding, ensuring clients know how to contact you. With a well-designed, branded presentation folder highlighting your contact details, clients are more likely to connect with your business.
Conclusion
When it comes to custom presentation folders, there's no doubt that they play a vital role in your business operations. They provide a clever and organised way of presenting speeches and keeping documents, and they can also be creatively used to advertise your business.
Incorporating brand elements such as logos, taglines, and company colours into your folder design guarantees that your business is represented in every presentation. Furthermore, well-designed folders testify to your attention to detail and professionalism, which customers appreciate.
With abundant available designs, getting lost in the sea of options is easy. However, choosing a design that aligns with your business's tone, industry, and visual identity is crucial to making the right impression. Some designs may be too flashy or plain, so finding the sweet spot is essential to creating a folder that speaks volumes about your business.
To ensure you get the most out of your folder investment, approaching reputable companies that provide advice on folder design and customisation is wise. With their wealth of experience, they can guide you on the best design practices, the appropriate paper stock, and how to use the folder's real estate for maximum impact.
In conclusion, it's clear that custom presentation folders are more than just a tool for storage and speeches; they are an opportunity to market your business creatively. They give customers a lasting impression of your brand, so choosing a design that accurately represents your business identity is essential. Collaborating with a reputable company ensures that your presentation folders are optimised for your business needs, effectively maximising your business's return on investment.