How to Get More Clients for Your Creative Business
Whether you are designing websites or creating brand graphics for high-value customers, it's essential to attract new business to your creative agency. 
It seems easy on the surface; you need to spend a great deal of time, effort and resources to make your business stand out. 
It takes more than just telling people you can create excellent illustrations that benefit their brands. 
Given the number of companies selling the same services as you do, increasing your client base could be an uphill battle, unless you're using the right tools and methods. 
Don't let your creative skills go to waste. 
Use this guide and learn how to get more clients who can generate the most value from your creative business.
How to get more clients in 4 steps
1 – Establish your target audience and industry
Before you get around to building a strategy for acquiring more clients, you will need to identify the kind of audience your graphic design services will appeal. 
For this, it helps to determine whom your ideal clients are by picking a niche. 
Are you knowledgeable about a specific industry? 
Perhaps you already established a broad network of business owners within that industry? 
Either way, having a familiarity with a particular niche is an excellent start in identifying your core audience. 
If you have a background in the housing industry and maintain a network of agents and brokers, you can focus on branding yourself as a creative agency for the real estate sector. 
From this, you will be able to set up your core audience and focus your time and resources in attracting customers from your niche.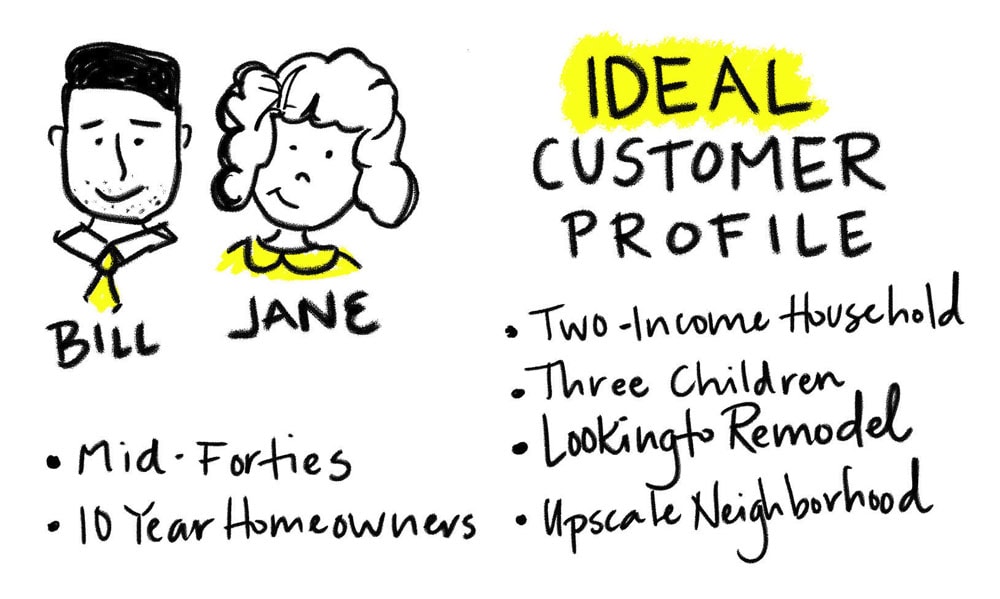 2 – Set up an ideal client profile
Coming up with an effective strategy that will help your business generate more clients doesn't stop with identifying a target audience or industry. 
It would be best if you still narrowed down your targeting so you can attract high-value leads. 
An ideal client profile gives you a list of attributes you need to look for in a high-value prospect. 
When it comes to setting up this profile, you will need to identify and understand prevailing trends in the creative services market. 
Investing in market research is integral, as you want to focus your efforts and resources in developing promotional messages that resonate with the needs of your target audience. 
For this, it helps if you can create an empathy map. 
An empathy map is divided into four quadrants that describe what customers say and do and how they think and feel about a particular problem. 
Being able to sit down with your marketing team to find out more about these elements gives you a thorough understanding of audience needs that often go under the radar. 
3 – Create a keyword list
With an ideal client profile in hand, you can now come up with the means to reach out to your target audience, and the best way to do this is through a digital marketing campaign that uses a list of keywords and phrases to target.
Optimising your creative services brand for better online visibility allows you to engage potential clients who are looking for the solutions they need. 
They use a variety of keywords to find businesses like yourself that can help them with their creative needs. 
On your part, your goal is to secure a higher position in the search engine results page, which is considered an SEO "sweet spot", since people tend to click the top results they see. 
For this, it's essential to use the right keywords that will nudge your brand higher in the SERPs.
You can use a search engine and enter the services you are offering for your ideal clients. 
If your creative business specialises in video production for residential cleaning companies, you can type the phrase "video marketing residential cleaning." 
From here, you can check out the automated suggestions to look for variations of the same keyphrase, such as "video production residential cleaning" and "promotional videos for cleaning companies.
The more keywords and phrases you focus on, the better your brand performs in the search engines. 
So, as you conduct keyword research, make sure to use tools such as the Google Keyword Planner, UberSuggest, and Soovle to find top search queries used by your audience.
4 – Set up a process for attracting and converting
With all these elements — from your ideal client profile to your keyword list — you can now create a campaign that translates these insights into actionable results. 
In this sense, you will need to structure your process for attracting, nurturing and converting clients for your creative business.
You will need to set up a sales and marketing funnel. With this, you can determine the right type of content that fits the goals of a particular stage in a customer's journey. 
So, when it comes to growing your client base, you will need to use content that's designed to grab the attention of your target audience. 
At the attraction stage, you can use blog posts, social media content, and videos which you can share through a variety of channels. 
You have to make sure that the content you publish engages specific need. 
For instance, if you focus more on attracting small businesses that need help with branding, you can publish an infographic showing the essential elements of a professional logo.
The general rule here is to provide valuable information that establishes your credibility as a creative agency and, at the same time, reels in the right customers. 
Attracting the right customers isn't the end-all and be-all of your promotional efforts. 
You also need to provide them with a constant stream of content that reinforces their need to avail your services. 
You can look along the lines of downloadable e-books, webinar invitations, and exclusive offers which can push prospects into signing a service contract with you.
Building a successful business in the creative industry is all about having the right skills. 
Then again, how will these skills help your agency grow in a highly competitive field? 
It would be best if you still put extra effort into promoting your brand. whilst learning how to get more clients!