10 Tips for Choosing a PowerPoint Presentation Template
The choice of a template might seem simple only during your studies when it was not the result that mattered but the fact that you completed the task. When choosing a slide design for more critical purposes (creating a personal portfolio, demonstrating a product or service, presenting a new startup or company), choosing the right bundle is challenging.
MasterBundles specialists know much about design features because they constantly come across various art objects on the marketplace, including stylish and high-quality Powerpoint presentation templates. In the article, the team will tell you why it is so important to pay attention to the choice of slide design and what can be difficult, as well as show you ten simple tips!
Importance Of Choosing The PPT Template
Have you ever wondered why some professionals constantly think: "Why is my presentation not performing as intended? Why don't customers' numbers increase, sponsors don't knock on doors, and partners don't run to sign cooperation agreements?". There can be many reasons, and one of them lies in the design of the presentation because the first thing people pay attention to is appearance.
And here are the simple things that are essential when picking an appropriate presentation template:
good compatibility with the colour palette;
pleasant contrast between background & text or other elements;
competent reflection of data that may be of interest to the client;
style, readability of the font, as well as its size;
the use of catchy and understandable slogans and theses;
visual hierarchy — a structured and logically understandable arrangement of elements on slides;
correctly selected illustrations (photo and video materials) and their placement on slides.
As you can see, a lot depends on the design of the presentation template. Because taking the first set that comes across and then spending hours modifying it is a waste of time when you can take a ready-made, high-quality template made by a professional.
Why Selecting Can Be Hard?
Okay, if you can choose a professional designer's presentation template, what's the problem? Is there any difficulty? Yes, because thousands of free or premium products on the market today are hard to sort through.
The most common unpleasant issues when choosing a template include the following:
Quantity over quality. Some designers decide to focus on the bundle size, so they design, for instance, ten slides with very little change in the arrangement of elements and then change the palette five times. Thus, the output is a rather sizeable attractive set of 50 slides. However, after the purchase, the client discovered that he had just received a bunch of similar designs in different colours, which was not very convenient.
Lack of customisation. It is important that the template is multifunctional, reusable, and can also be tailored to the specifics of your industry. Otherwise, you use it once and look for another, more flexible, versatile bundle.
Clogging of slides with a mass of elements. Variety is excellent, but not when a dozen objects are on one slide, and the audience's attention will be as scattered as possible. As you understand, there will be no point in presenting information on this slide. It is crucial to choose templates that are pretty simple but attractive simultaneously. Finding a bundle with many slides and a little white space on each one is ideal, allowing the listener to relax and gradually absorb the data.
Too different indents. Harmony should be in everything, including the arrangement of text, pictures, and any other objects. That's why it's essential to avoid templates where this rule is ignored, text blocks are placed randomly, and padding between elements is also different.
The template is not adjusted to the widescreen. For example, introductory 4:3 presentations are rendered incorrectly on large screens, and the audience is forced to see black bars around the edges, which is not aesthetically pleasing. Ensure the template is suitable for 16:9 format and will display perfectly on wide screens.
The inability to use the template for commercial purposes. Sometimes you spend too much time looking for a design, and when you find and start making an online purchase, you realise that it is only available for personal use — and that's it; you have to go back to looking for a great bundle to present the company's products or services.
We have only described the most common difficulties when choosing a suitable template. And to structure the information a bit and tell the audience what to pay attention to; first of all, then the team will focus on the ten main tips for choosing a bundle.
10 Tips On Finding The Best Presentation Template
So, the ten main parameters that will help the customer choose an excellent template for a specific purpose are waiting for readers. Most are related to design features, and some aim to choose a presentation depending on the topic's context or the audience's preferences. In any case, remember all the recommendations to use them later!
Base your choice on your audience
Whether the upcoming presentation is for a small group of listeners or a huge one, we can foresee some points in advance to tailor the performance to the listener. And one of these moments is just the choice of a suitable template for a specific purpose. For example:
If you are preparing a presentation for the internal audience of the company (for example, a demonstration of the effectiveness of work or the results of a marketing campaign), then it is crucial to choose minimalistic templates with many infographic elements;
If you are preparing a presentation to display visual materials (for example, a photo of a new collection of clothes or a review of a new product), then choose simple templates with plenty of space for photos;
If you have to show the audience quite a lot of textual or statistical information, then you need to pay attention to templates with the ideal organisation of blocks – this will allow you to achieve the most significant perception of data;
If you are making a presentation for an upcoming event, you can choose brighter and more catchy templates that will not confuse the listener, and so on.
Think about how you would like clients to react to the presentation. Study your target audience, tastes, and preferences to choose the perfect template and achieve the desired result.
Pick something flexible and customisable
Excessive integrity and the inability to make changes are problems regarding a presentation template. Finding the most flexible bundle that would allow you to customise slides for your brand, company, or personal requirements is essential. The concept of "flexibility" of a template can include:
ability to change colour palettes;
presence of customisable graphics, diagrams, and charts;
ability to move and replace blocks of information;
ability to change the typography;
ability to add third-party elements.
If you see a lovely template at a decent price (up to $15), check if its author has provided the possibility of customisation. Secondly, ensure the bundle is made with vector shapes, as they are easily customisable.
Pay attention to simplicity
Simplicity is always preferable to luxury, and that's a fact! Crazy templates with incredible animations, built-in gifs, or dizzying effects are no longer in demand because the abundance of various elements is informational "garbage" that complicates the perception of target data. In addition, some clients are also annoyed by the abundance of elements because they cannot focus on what the presentation is trying to convey.
By the way, the same can be attributed to the sound accompaniment – you do not need to add voice acting literally to every slide. Thus, the best solution is to choose a simple template. You can always add elements rather than purchasing something with dozens of layers and objects on one page.
This principle will allow the audience to focus on the person leading the presentation and its content.
Check the type of slides in the bundle
Remember we discussed that some authors don't like to do much work, so they duplicate multiple slides in different colour schemes to make a big bundle? So, our task is to find the perfect set with the maximum variety of designs. Ideally, the template will contain such pages:
Title slide with title and credits.
Slide with content/goals depending on the purpose of your presentation.
Slides with an emphasis on video material or images.
Slides with an emphasis on textual information.
Slides as a mix of text blocks and illustrations.
Infographic slides with diagrams, charts, graphs, etc.
Final slides for listing resources/links.
Slides for CTA messages (large titles for slogans are welcome).
Thanks, and farewell slide.
Of course, not all categories are mandatory, and the mix of designs can vary. The presented variety must be enough for your purposes — so be sure to check the composition of the template before buying it.
Consider the location of the presentation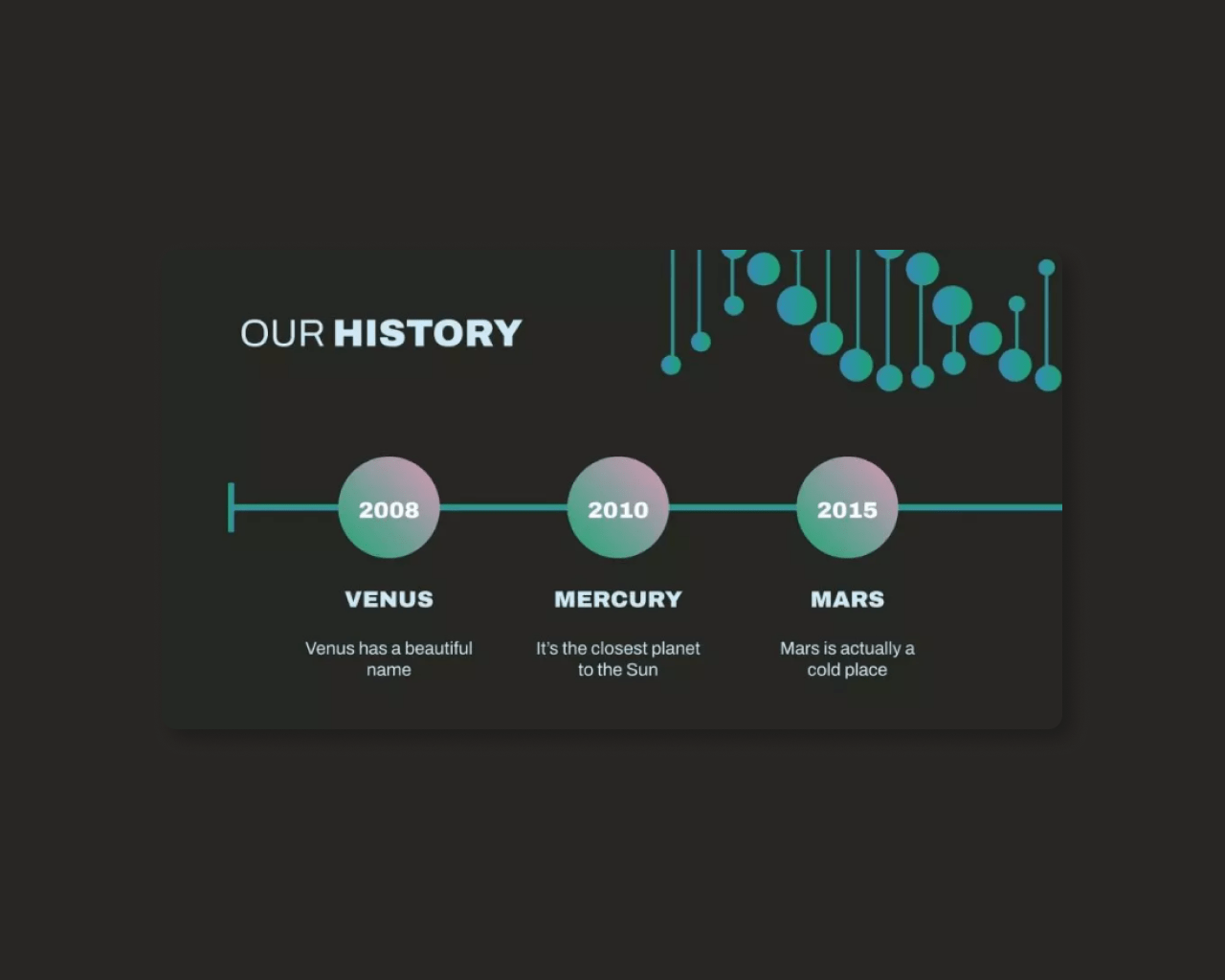 Another essential point is the template choice depending on where and how the presentation will be held. For example, if it is intended to be sent to potential customers by mail and they will most likely watch it from their home PC or smartphone, then there is no point in bothering with contrast.
It is entirely different when you make a presentation in real life. Visit the location in advance, find out how big the room is, how bright the lighting is, and whether you can darken the room to display colours as accurately as possible. Basic rules:
use a dark background and light letters for dark places;
use a light background and dark lettering for light places.
Thus, it is crucial to adapt the presentation to the location. And if you know you'll be performing in different venues, consider having a template that allows you to switch between day and night themes to be on top in any situation.
Does the template match the theme of the presentation?
So, when choosing a template, you need to know precisely, "What do I want to say in this presentation?". And the bundle must fully comply with this message.
Template styles vary significantly from strict, simple, and straightforward to fun, fresh and catchy. And for example, if you are selling a product or service, the presentation should gently complement the product's visual and not draw attention to your bright design.
But if the audience is informal, you prepare a presentation with children's goods. There is no point in looking at minimalist templates — they will simply not be attractive.
Here are some recommendations on how to find a template that complements your presentation theme:
Choose a template initially made for your theme — this can be quickly done thanks to filters on most marketplaces, like MasterBundles.
Before purchasing a template, carefully study the sample slides and try to present your content on these pages. Does it fit the theme?
Also, experts advise looking at "fake" content on slides. Congratulations- it could be a great option if it's something similar to what you will put in your presentation.
So clearly analyse the topic of the speech and choose a template that would be a perfect match.
Remember brand design aesthetics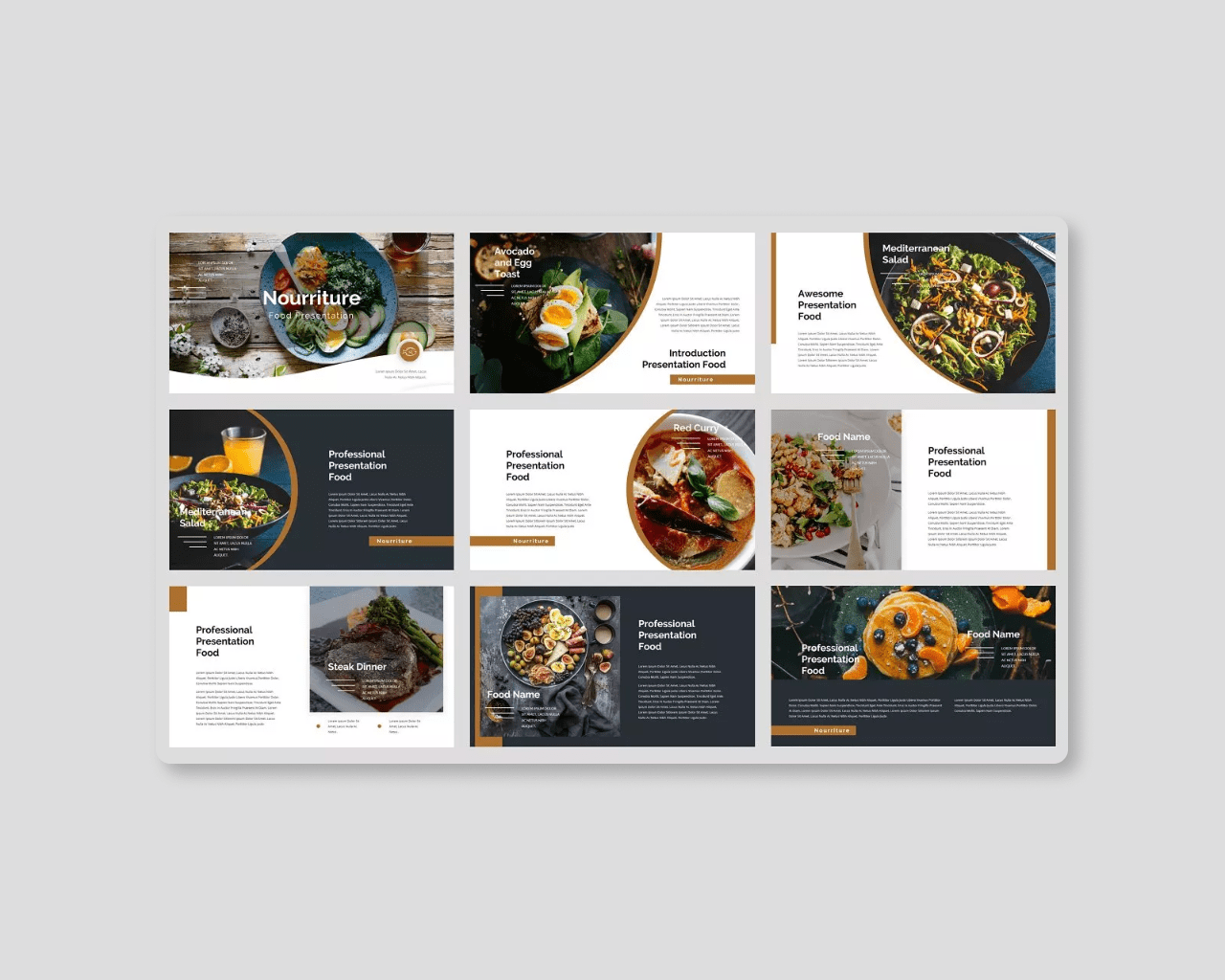 This tip is most relevant for those presenting for a particular brand. The company aesthetic must fit perfectly with the chosen template. For example, if your organisation has a modern, bright logo with gradient colours, you might not want to choose a soft template with pastel colours and ornate line elements.
Here are a few more tips from the experts:
Suppose the logo of an organisation is too fancy or contains specific colours instead of looking for a presentation with a similar style or colour scheme. In that case, you can find the most straightforward possible bundle and modify it slightly. For example, the logo is acid orange — find a minimalistic template and add just a couple of graphic objects in the same bright colour.
To achieve the whole match, you can look for a template that is similar in design to the website of a company or organisation.
Look for font bundles that match the style of your brand.
Such recommendations will allow you to achieve the perfect visual match — the company's branding and template design will become one, complementing each other.
Explore the infographic elements in the template.
It isn't easy to imagine a high-quality and classy template for a PowerPoint presentation without infographics. However, before buying a bundle, it is always worth checking that it contains the objects you need, for example:
round-shaped charts that are usually needed to display percentage data;
vertical charts that are usually needed to display quantity changes over time;
horizontal bar charts, ideal for comparing different values ​​(for instance, sales figures in different regions);
line charts to display current trends.
In addition to graphs and charts, there are many more interesting smart objects, so take the time to study the template and find out what elements the author included in the set. By the way, thanks to the filters on the platforms, you can find presentations that almost entirely consist of infographic items, which is very important for business presentations.
Remember the visual hierarchy.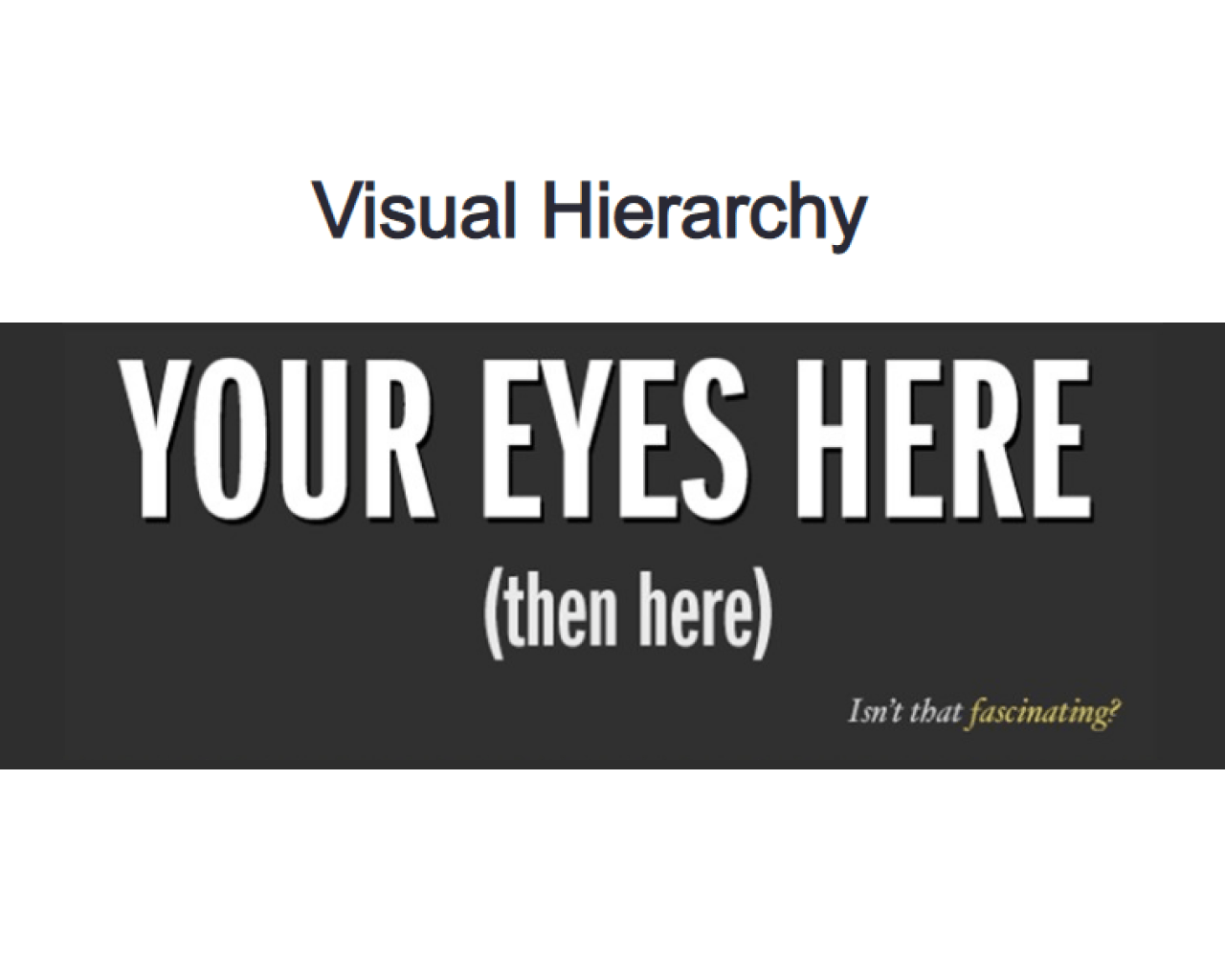 The visual hierarchy orients the viewer and keeps their gaze from getting lost. It distinguishes between the main and the secondary and shows how objects are meaning-related. Thus, you must look for a template that applies visual hierarchy rules.
How do you know if a hierarchy is well designed in a set? Here are some basics:
A striking example of a correct visual hierarchy is the relationship between the heading and the text or bullet point list. Size and location are used together to indicate decreasing importance from top to bottom. On the other hand, when the bullets are more prominent than the title, the logical order is broken. It will be challenging for the audience to understand it.
Changing the size and emphasis of elements changes the visual story. It is important to remember that after your presentation, the audience should leave with a clear understanding of the message received. And if the main idea is not explicitly highlighted in the template, the audience can interpret the information differently.
The proximity of the elements on the slide helps to understand the message's meaning. When there is more than one element or person on a slide, their position relative to each other creates additional value. Randomly placed elements (these slides are the most common in my practice) can give an impression different from what was intended.
And if, after studying the template, you are satisfied with the features of the visual hierarchy, then great — you can download this set of slides and start working!
Explore current trends
And perhaps the most important tip is that if you constantly have to work with presentations, you should not constantly follow established rules or risk becoming an ambassador for old and boring designs. Keep an eye on the latest trends in PowerPoint templates to get the best presentation of your content.
Of course, choosing trending slides can change the look of a familiar presentation, but it's a great natural way to grab your audience's attention. A striking example of an attractive modern trend is presentations WITHOUT text. It seems weird, right?
On the one hand, yes, but on the other hand, this is just a unique opportunity to stop loading the audience with text blocks, offering informative images/videos, capacious graphic diagrams, and vocal accompaniment from the speaker.
Where To Find Templates?
We've discussed choosing a presentation template and what principles to use, but we haven't mentioned where to find the best options. At the moment, there are a vast number of websites and specialised platforms that focus on collecting and presenting various art objects to clients:
illustrations;
and, of course, presentation templates.
The convenience of such marketplaces as MasterBundles is that the client can quickly filter the desired options and choose a narrow category due to the structured content. For example, "business presentation templates", "wedding bundles", etc.
However, do not forget to check the platform's format for your slides. As a rule, large portals work with PowerPoint, Keynote, and Google Slides. And, of course, make sure you can purchase items for commercial use if you're purchasing a template for your company.
Conclusion
Let's summarise! Presentation design is fundamental because the audience always pays attention to the design first. That's why choosing slide decor can be tricky. Before making a final decision, always check the quality of the template, its content, colour scheme, suitability for corporate branding, and the presence of the necessary elements.
It is equally important to ensure that the selected template follows the visual hierarchy rules, has the correct format, and is easily customisable. This makes it flexible and multi-purpose!
Good luck with your choice!