5 Top Tips for Creating Business Card Designs
Creating a fantastic business card is not for the faint of heart.
It takes a lot of determination and skill to ensure your design is the perfect match for your brand—and to be honest, many business owners still miss the mark.
It is not that they are trying to make boring business card designs that do not work.
It is just that they do not know the secret ingredients to a successful business card.
What secret ingredients, you ask?
Here are five top tips for creating business card designs that are a success with your clients.
1 – Colour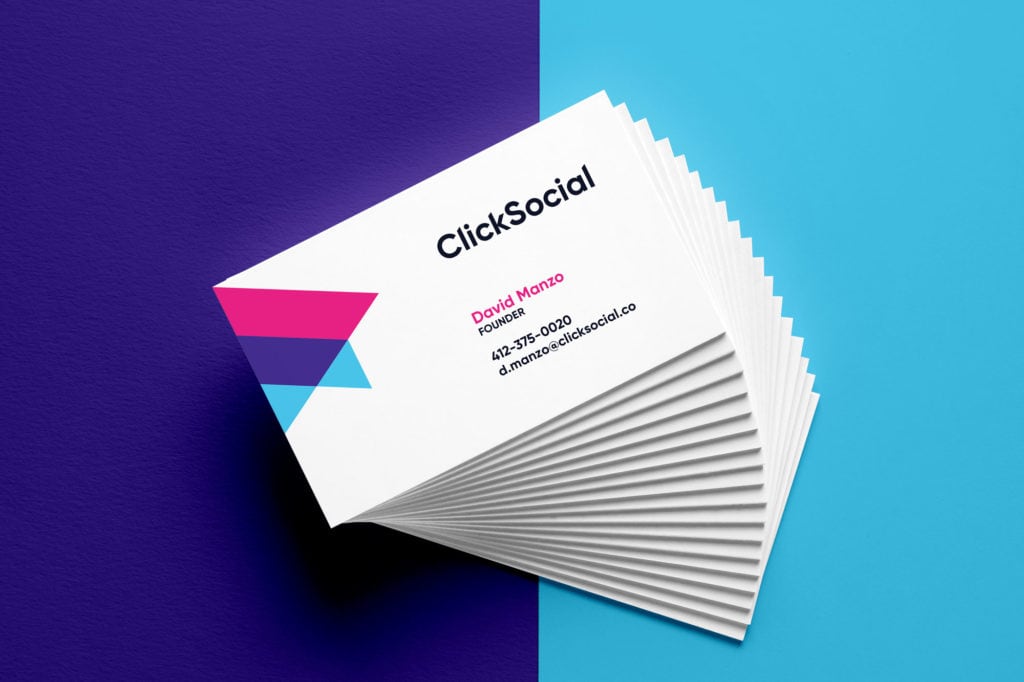 Colour is one of the most significant assets when creating business card designs that stand out.
Brightly coloured cards are ten times more successful than plain, white ones.
Why is colour so effective?
First of all, the colour makes your card pop.
It catches people's attention from a distance, like white space does not.
Moreover, colour is a fabulous marketing tool.
Colours each have a set of cultural and emotional associations that help showcase a brand's personality.
Warm colours create a sense of energy, whereas cool colours are softer and more soothing.
Dark colours are a bit more ominous and tend to appeal to men, who typically prefer shades (colours with black added).
Colours with white added, also known as tints, are considered more feminine and are preferred by women.
These overarching associations will help you get a sound basis for your colour palette. You might need a cool shade or a warm tint, for instance.
Then, it is time to pick individual colours, and you will soon find that each one has its own unique set of interpretations that will give your card meaning.
Want a bright yellow card?
That tells people you are cheerful and enthusiastic.
Baby pink?
That is calm and feminine.
Purple?
You have got a taste for the finer things in life.
It goes on—there's a meaning for every colour.
There are even shades that work best for specific industries, so be sure to pick the one that speaks to your brand's identity the most.
Now is a good time to mention one crucial detail: if you already have brand colours, you should include them on your business card.
This will help you make sure your clients receive a consistent brand message.
2 – Texture
If you think the texture is unimportant to business cards, think again.
It is a leading cause of conversions.
Some people will respond to a purely visual design, but a textured card engages multiple senses.
That helps more potential clients create positive memories of your brand and makes them more likely to contact you in the future.
In addition to a wealth of tips on creating business card designs, this graphic reveals three primary ways to give your card texture.

One is to change up the paper stock when creating your business card designs.
Instead of a traditional stock—which tends to be a smooth white paper that's relatively flimsy—take the time to find something more unique.
A thick stock or a crisp finish makes your card look more creative.
It also sends the message that you are willing to invest in your marketing and your clients.
Recycled or linen papers are also good options because they have rougher textures that customers will not expect.
You can also create texture with particular imprint methods.
Your printer can help you decide if embossing, foil stamping, or letterpress printing is right for your design.
The third and final way is to ditch the paper and go for an entirely new manufacturing material.
People have made their cards out of things as crazy as:
Cotton
Burlap
Leather
Metal
Wood
Meat
Crackers
Chocolate
3 – Shape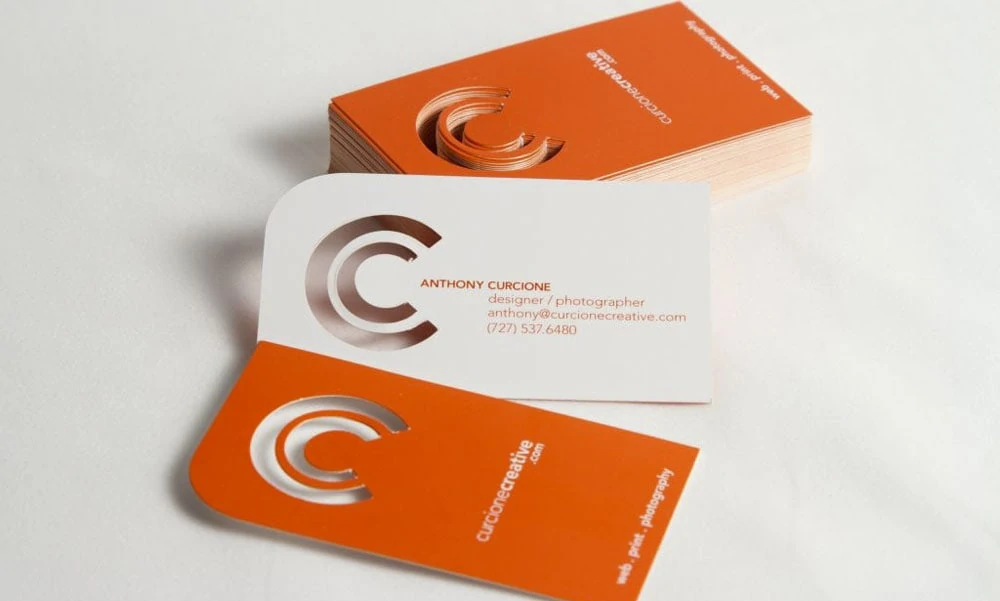 The shape can refer to the form of the logo or image you print on your card—or it can refer to the shape of the card itself.
Custom die-cuts let you make the card look like literally any object you want.
You can use them to create a mini product replica, reminding prospects precisely what you do.
Some printers will even help you make 3D business cards if you pay the right price.
Lego, for instance, invested in little Lego people who look like its execs and bear their contact info.
Of course, multiple custom dies will cost a bit more than regular ones.
If you want to save money, it may be a good idea to stick with a more straightforward geometric shape.
Shapes are similar to colours in that each one has its own unique set of psychological associations.
Circles, for instance, are considered friendly because they do not have the sharp edges that many other shapes have.
If a ring feels too perfect, you can stretch it into an oval instead.
Triangles are athletic and symbolise motion.
Ironically, they are also the perfect design for a pizza place since they are shaped like a delicious slice of pepperoni.
Squares have a reputation for stability since all four sides are equal in length.
They have all the properties of a traditional rectangle card—just with a bit of a twist.
If you are concerned that an unusual die-cut shape will not work for your business card, that is okay.
You can also opt for subtle changes, like sides that bulge out slightly, so your card is not a perfect rectangle or round corners in place of standard square ones.
4 – Layout
The goal of creating business card designs is to develop something so interesting people cannot bear to throw it away.
But nobody wants to keep a business card they cannot read.
Having a good layout is your ticket to an effective business card.
The first step is to create a design hierarchy.
This means using size and spacing to set the most critical elements apart.
For example, your company logo design is a vital part of creating brand awareness—so it needs to be in a larger size.
This should funnel down to your business name in a slightly smaller size, then your contact info in the smallest size.
Because even though contact info is important, nobody will use it if they are unsure whom they are reaching out to.
The next step is to allow plenty of white space in the design.
While much of the advice on white space refers to web design, the principles on a website will work on your business card—just on a smaller scale.
One excellent resource is this post from the Interaction Design Foundation.
It defines different types of white space (yes, there is more than one) and explains how to choose the proper amount of white space for your design.
The idea is that rather than cramming elements into every single area, you should leave open sectors that give the brain a break from trying to process all the info on your card.
If you are struggling to fit everything on your card, go through your info again.
There is a good chance you do not need all of it.
Don't you think you can take anything out?
Planning to print on both sides of the card to double your available design space instantly.
5 – Get Help Creating Business Card Designs
It does not matter if you have all the right ingredients for a great business card—your design could still be a disaster if you do not know how to put them together.
You will need to have someone help you review your design, whether that is your business partner, employees, or a friend who happens to have some design experience.
However, amateur advice will only get you so far.
If you are serious about creating a business card, you must look for a professional Graphic Designer to help you.
So before you start worrying about the cost, relax.
There are lots of designers who offer reasonable rates and turn projects around quickly, like this one.
You can also search for designers by area of expertise.
After all, it might be good to get someone who specialises in business card design to help with your, you know, business card.
Another option: search-based experience level in creating business card designs.
Sometimes, the best designers are not the ones who have been in the business the longest—especially since veteran artists may get set in their ways or charge high prices.
Instead of hiring a designer based on what they have already done, look for someone based on what they can do.
This strategy of recruiting for potential is highly effective because it will help you find someone willing to learn about your brand and your needs to create a sound business card.
Once you have found a designer or Branding Agency that meets all your criteria, you can sit down with them to make a creative brief.
This will give them the necessary information to turn your great ideas into a one-of-a-kind business card design!