Top 4 Presentation Templates For Brand Strategy
A brand is a mere perception, and the brand strategy helps perception match reality over time. 
A brand strategy sets your business apart from the competition, maximising the presence, awareness and relevance while building customer loyalty. 
Branding strategy is extensively coupled with the company's values and beliefs; this drives the premium brand experience. 
Without a perfect brand strategy, you can't extend your brand's relevance in the minds and hearts of your customers. 
The customer of today seeks seamless experience and emotional intellect from brands. 
People buy from companies whom they know, like and trust. 
A brand strategy helps establish just that. 
It can be said that brands outlive their services over time. 
Your brand strategy keeps you afloat and flexible by helping you expand the product line. 
Brand strategy is your key to continuous brand growth and generating more reliable financial results, respectively. 
Mapping a brand strategy is crucial for business success. 
Often comes when you're required to present your brand strategy to garner the attention of stakeholders and audience. 
An expressive PowerPoint design template can help you showcase the purpose behind the brand, establish a brand mission statement, and determine the target audience and buyer persona. 
This post will discuss some of the most premium PowerPoint presentation templates suitable for your brand strategy.
Brand Strategy Diagram Presentation Templates
Every brand has a different story to tell. You can use the Brand Strategy Diagram template to concisely showcase the brand narrative to your stakeholders and customers. 
To attract and rally potential customers, brands must craft a compelling backstory. 
The template can help you visualise the whole branding process for your audience, establish trust and build a long-term relationship with customers. 
You can demonstrate your brand's value proposition in a superior fashion with the template. 
Companies often lose sight of the customers by solely focusing their message on their services or products.
Successful brand strategies lead customers to the solution businesses provide. 
You can use this template to emphasise how your brand can solve problems with innovative solutions. 
You can showcase the buyer persona by characterising their wants, feelings and needs on the slide. 
Outlining the key benefits and what your brand offers goes a long way in brand building. 
Once you know your target audience, you should give them a reason to pick you over others. 
Your brand strategy presentation should be able to achieve the same. 
It should make customers aware of how your brand improves consumer's lives.
Slides Carnival PowerPoint Templates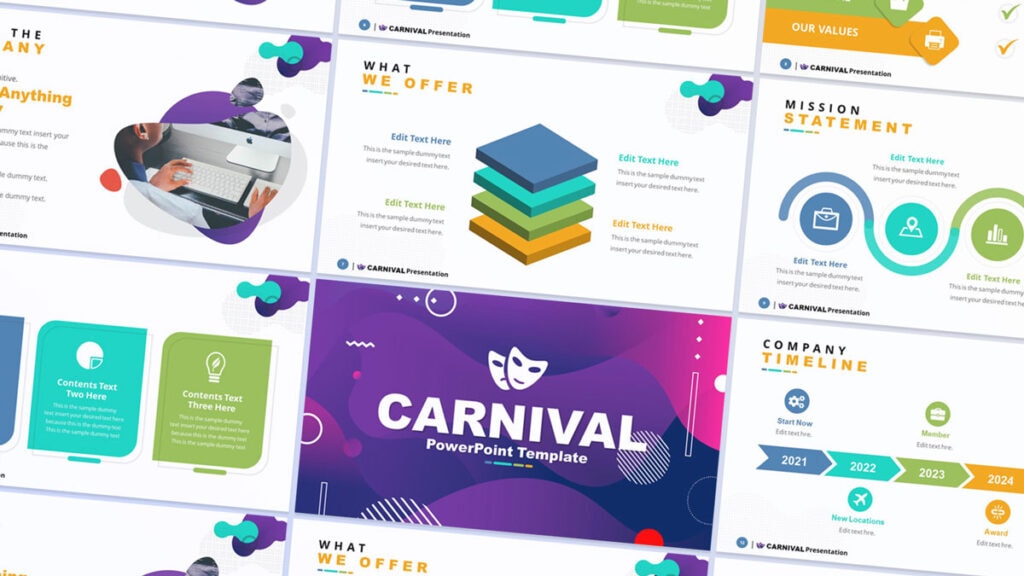 When bringing your audience's focus to your services, products or brand, the Slides Carnival PowerPoint template can be your best pick. 
These presentation templates use an expressive range of graphics that can help you woo your audience. 
Every brand is a journey; the template enables you to showcase the process in an attractive journey map. 
You can showcase what makes your brand different and start catering to your audience's challenges, thoughts and feelings through the template. 
Most importantly, you can project the buyer journey in an out-of-the-box fashion. 
For any brand strategy document, showcasing "The Buyer Journey" is one of the most critical components.
The 13-slide deck is suitable for businesses across various verticals. 
You can easily demonstrate business proposals, purposes and processes. 
You can customise and manipulate every element on this template to demonstrate the business better. 
The template has slides for the welcome message, about the company, service description, team members, mission and vision, SWOT analysis, company timeline and more. 
Presenting a brand strategy was never so easy. 
Entrepreneurs and start-ups can save vast amounts of time and present their brand strategies in an out-of-the-box fashion. 
Brand strategists can leverage this beautiful template to create outstanding marketing plans.
Brand Strategy Roadmap Templates
For every customer, the purchase they make with a brand is a journey. 
From interacting with the brand for the first time to coming aboard, it's a journey. 
Inculcating a Brand Strategy Roadmap template in your presentation can allow you to specifically highlight timelines, events, and touchpoints throughout your customer's journey. 
The template will help you identify more touchpoints and create lead magnets, content which will nurture customer experience throughout the buyer's journey. 
Presenters can use the template to cover every stage of the buyer's journey, such as awareness, interest, desire, consideration and decision. 
When you have a dedicated roadmap in your hand, teams can leverage the presentation repeatedly to fine-tune the deployed marketing and sales strategies. 
The Brand Strategy Roadmap template is handy with an editable roadmap for your brand strategy-related processes. 
You can create and highlight milestones and touchpoints and plan phases seamlessly. 
The template allows you to project the brand strategy and customer journey as a story. 
This boosts the chances of success since people are more likely to engage with stories. 
A strong brand dictates the foundation of your business, how it looks and feels, tone and aesthetics. 
The correct presentation templates can help you achieve just that.
STP Templates
Segmenting, Targeting & Positioning are among the most recognised marketing strategies organisations use worldwide. 
STP segments the market into groups and enables brands to target the right groups and pitch relevant products and services to the same groups. 
Segmentation deals with characterising the market into distinct groups or segments of customers. 
Targeting involves picking the most attractive or lucrative customer segments to deploy marketing efforts. 
Positioning tells about placing the brand and its products for each target segment for maximum ROI. 
STP template comes with over 27 premium slides for your brand strategy needs. 
The template features state-of-the-art charts, graphs and infographics, which can be used to showcase process flows and numbers. 
STP template comes pre-packed with a dashboard and PESTLE analysis diagram. 
Your brand can leverage the presentation templates to reach out to different customer segments correctly.