How to Harness the Power of Inbound Email Marketing
It won't be wrong if we use the words 'Inbound marketing' and 'permission-based marketing' interchangeably!
Informed customers today prefer to engage in business they sign up for. 
So, If you're aimlessly 'cold calling', wishing for a miracle to happen, it's time you employ a measurable inbound marketing strategy where the customer-centric approach plays a significant role.
While crafting an inbound marketing strategy for your business, don't forget how email is still the channel that drives the maximum revenue. 
When segmented by interest groups, emails witness 74.53% more clicks than the non-segmented campaigns. 
Emails are impeccably useful with personalisation, and inbound email marketing is all about leveraging trigger-based marketing that can benefit your brand and the consumer both.  
The following stats are proof of how emails rule the digital marketing front.
Crucial Inbound Email Marketing Stats
Email acquires consumers 40x more than any social platforms – Campaign Monitor
99% of consumers check their emails daily – HubSpot
Email marketing ROI is coming in at $42 for every $1 spent – Litmus
72% of the marketers experienced an increase in email engagement in the past year – HubSpot
80% of professionals believe that email marketing improves customer retention – HubSpot
3-5 emails per week is an ideal frequency that over 35% of the marketers follow – HubSpot
42.3% Americans subscribe to brand newsletters for savings and discounts – Eleventy
The numbers validate the fact that effective, personalised communication yields fruits and emails have the potential to convert. 
Like any other marketing and sales funnel, email marketing too has stages of nurturing the leads. 
Inbound email marketing is an approach to deploy inbound marketing methods into custom email campaigns for desired outcomes. 
Let's learn how that is done…
The anatomy of inbound email marketing
While emails are an excellent medium for sales professionals to reach out, sending unwanted emails to the prospects who never expressed interest in your product or services can label you as spammers. 
Inbound marketing is a thought-driven approach to provide insightful, valuable content to your prospects and consumers. 
Incorporating inbound methodologies in email marketing helps you build meaningful connections with your leads and nurture the relationship. 
Emails in inbound marketing work just the same as any other channel. 
As any marketer would be aware of the four inbound marketing stages designated as i) Attract ii) Convert iii) Close and iv) Delight, emails can incentivise for each step just right. 
To provide a better perspective to all the campaign designers and email developers, we have collected some inspiring email templates from the brands that have deployed the inbound email marketing for their audience. Take a look.
Email templates for the 'Attract' stage
The 'attract' stage generally involves tools that drive visitors to opt-in/ sign up for your email lists, because that's the only way to get them to give their personal information like of course, their email addresses. 
Some of the ways to acquire their email addresses are content marketing, Ads, trade shows, sweepstakes, and gated content. 
Whatever the means you use, once you get your hands on an authentic email list, the inbound email marketing journey begins. Check out the templates below: 
1. Rock Candy Media
What we liked about this email – is how the agency is enticing the readers with 'reverse psychology' text. Being creative with your email template design is a great way to attract!
2. Casper
What we liked about this email – is how Casper is providing some interesting facts around their product line to improve customer interest. It is not all about sales all the time, and especially when you're nurturing the prospect, informative content goes a long way than a pushy, salesy pitch.
3. Taylor Stitch
In this email – from Taylor Stitch, there are multiple elements that marketers can take cues from. i) the message that says they care ii) showing the benefit they can offer iii) a detailed guide about how the exchange works iv) social responsibility by giving back to the community. All in all, an email design that can sell, care, and attract!
Email template samples for the 'Convert' stage
The second stage calls for emails that can turn the prospects into 'warm leads'. 
When you segment your email lists correctly, you have a database that can be targeted with specific behavioural aspects. 
And as mentioned earlier, personalised content rings the bells like no other, and there are chances that you succeed to send the right email, to the right person, at the right time. 
Convert stage is all about putting the collected data to use. 
For instance, when you are aware of the subscribers' locations, you can send them location-based emails that they can directly resonate to. 
You can send them invites for local events or email in-store offers. 
Another way to convert them is by knowing their interests and sending specific emails around it. 
For instance, they are sending product options from the brands that a user frequently browse. 
Here're a few examples to look at…
1. Ritual Co
The template here – is super-personalised for offering details about the trending food items around the reader's office. There are high chances for this email to get opened and clicked due to the value it adds. The right use of demographics can take your email marketing success in a long way.
2. Netflix
What we liked about this email is how based on the recent streaming, Netflix is suggesting similar shows, encouraging to build a list, attracting to finish the unfinished shows, and asking to re-watch the ones already watched. The sort of personalisation shown here can be achieved with email automation and is highly effective in converting leads.
Email designs for the 'Close' stage
The third stage is to ensure that you onboard a customer with an offer or discount. 
You've enticed your subscribers with smart, informative, and helpful content about your product/service, you've flattered them with a personalised message, and now is the time you acquire them. 
You can offer some exclusive vouchers or discounts, based on reading the metrics like email open and click rates. 
These can be your direct promotions, offer emails, product display, and more. 
When you go by the inbound marketing stages, at this point, your prospects or subscribers are aware of your brand and philosophy. 
Once they pass the convert stage, they will become your customer and start giving you regular business. Here is how you can pull that off.
1. FoxFuel
What we absolutely loved about this email – is how they're sending festive greetings with an invitation to an event. At this stage, your subscribers will confirm by engaging with your emails, and that is how you can close them to be a part of your purchase, event, webinar, or any other service you are offering. Not to mention, the stunning HTML email template design is worth the applaud!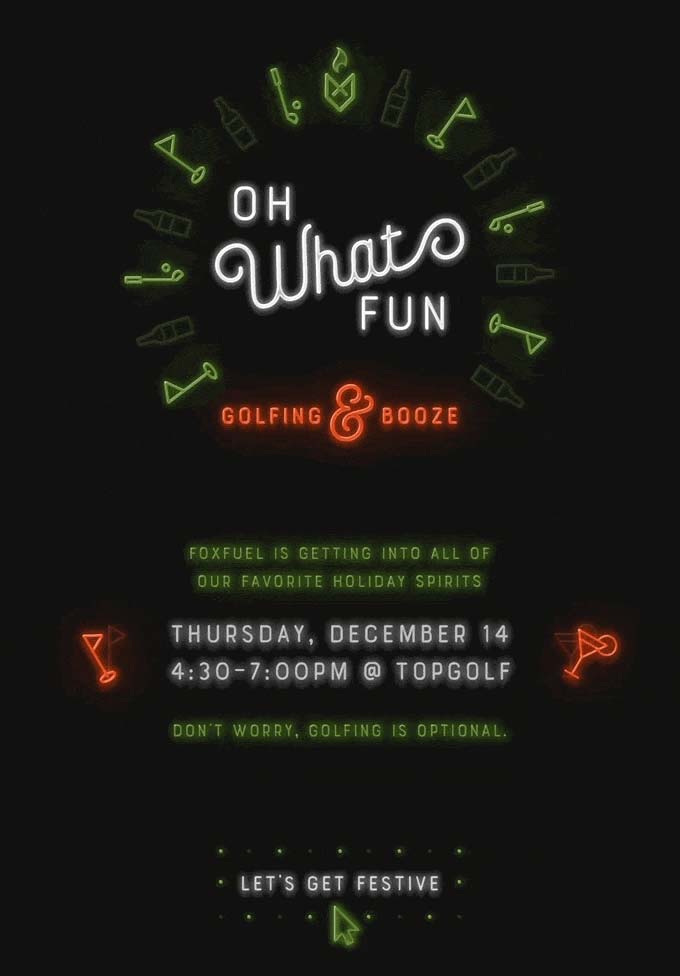 2. Framebridge
This email by Framebridge –  is an example of how your brand can keep the communication going even after you land a customer. It is always about nurturing, whether it's a lead or a customer, and this is how post-sale support can be offered to keep the workflow going. The stage is essential for customer relationship management and loyalty.
Email examples for the 'Delight' stage
The final stage in the inbound marketing strategy is to retain, refer, and resell! 
It is always advisable to get your old customer repurchase rather than capturing new leads. 
The delight stage is all about winning their brand loyalty and encouraging them to refer you among their circle. Have a look at how brands are doing it…
1.GasBuddy
What we liked about this email – is how referring a friend comes with delight! You can simply ask for a review, tell them to rate, and encourage your current customers to refer you. This way, you can create 'social proof' which is impactful for your brand presence.
2. Mailchimp
Email Service Providers (ESPs) like Mailchimp offer a plethora of free email templates within their library for the businesses to simply customise and use. Also, Mailchimp delights its customers by providing informative tips regarding bettering their business by using their tools time-to-time. It is an inspirational way to offer valuable customer support. Check out this beautiful Mailchimp email template below.
Wrap Up
We can stimulate Emails to contact, connect, & convert, and when used with authentic opt-in list segmentation, they can create wonders! 
Inbound email marketing is all about how you anticipate value at each stage. 
We hope the email template designs we displayed cater to deliver fruitful inspiration for your email developers and campaign managers to come up with result-oriented concepts as per your industry. 
Amalgamating inbound marketing into emails can help you build a powerful communication channel.
Happy inbound email marketing fam!
Author Bio: Kevin George is Head of Marketing at Email Uplers, one of the fastest-growing custom email design and coding companies, and specialises in crafting professional email templates, PSD to HTML email conversion and free HTML email templates.
Last update on 2023-03-09 / Affiliate links / Images from Amazon Product Advertising API