Email Marketing Automation: How to Make Message Sending Easier with AI Help
Automation is an integral part of modern world development. It's everywhere. Whatever industry you take, you'll hear about various opportunities to make the work easier and quicker. 
Various equipment facilitates the day-to-day activities (e.g., a dishwasher or robotic vacuum cleaner). 
The same possibilities exist for marketing and email marketing mainly. The last became popular nowadays as 4.03 billion people use email (according to Statista reports).
But how exactly can you automate newsletters and use Artificial Intelligence for email sending? These are the points we are going to cover in the article.
Email Marketing Automation: Definition and Its Benefits
We can define email marketing automation as sending relevant and personalised messages to the list of recipients at the proper time. 
However, it isn't only a process or a way to do an email marketing campaign. It's a chance for marketers to use one of the less expensive strategies most effectively. 
Indeed, email marketing is known as a strategy with the highest ROI. However, automation can make it higher, which eliminates time-consuming routine activities. 
Nowadays, technologies and tools include various fantastic features for newsletter automation. You can add multiple elements to your email and make it perfect with them.
Email marketing automation has multiple benefits, but the most important are the following:
1 – Increase marketing team efficiency
Though email marketing is the most profitable strategy, it's also time-consuming. Marketers spend hours and days developing a perfect message for each segment of subscribers. They would spend even more on newsletters' sending-delivering process.
Email marketing automation saves time and resources. It eliminates routine processes, which appropriate tools can do. 
As a result, your marketing team focuses on strategy development, idea generation, and other creative and brainstorming activities.
2 – Maintenance audience engagement
You cannot keep your audience engaged by manually sending email marketing campaigns. Why? Because delivering the required amount of messages to a required group of people would take tremendous effort. 
However, with email automation, it's easy. You need only define what, whom, and in which cases you send, and set up your tool accordingly. 
There is a possibility to arrange various messages, for instance, welcoming emails or cart abandonment, which bring much more value.  
3 – Rates improvement
Email automation makes newsletters nearly perfect for subscribers due to good personalisation and sending emails correctly and to the right segment. 
As a result, the audience becomes open to receiving more emails from your company. 
Sending expedient emails one by one will increase the open and click-through rates as the subscribers become more interested in the information you share. 
It will also drive conversion from prospects to leads and leads to customers.
How to Use Artificial Intelligence for Email Marketing Automation?
Artificial intelligence (AI) has significantly transformed email marketing. Today it gives plenty of possibilities to stand out from the competitors by performing various cognitive tasks. So, if you don't use it, you'll probably be behind those who have updated their strategy with AI.
You can use AI marketing within an email marketing campaign in different ways. But generally, the process starts from a complex analysis of the data about your company, its audience, its activity, and the product you promote. 
Based on this information, AI provides you with personalisation options, subject line ideas, the best time for newsletter sending for different subscribers, reports on your campaign results, etc.
Let's stop on this point and review the spots where artificial intelligence brings you the most benefits.
1 – Deeper personalisation of emails. 
It's possible to do some personalisation without using automation, but what quality does it have and which efforts require? 
With manual personalisation, the variables are general: subscribers' name, profession, or the company he works in. They make the email more friendly, but you can't surprise or interest your audience with such messages.
Artificial intelligence gives you many options for personalisation. It checks past user behaviour and predicts future actions and likely trends for your audience. 
This approach is widely used to email recommendations for goods or services that might interest your subscribers.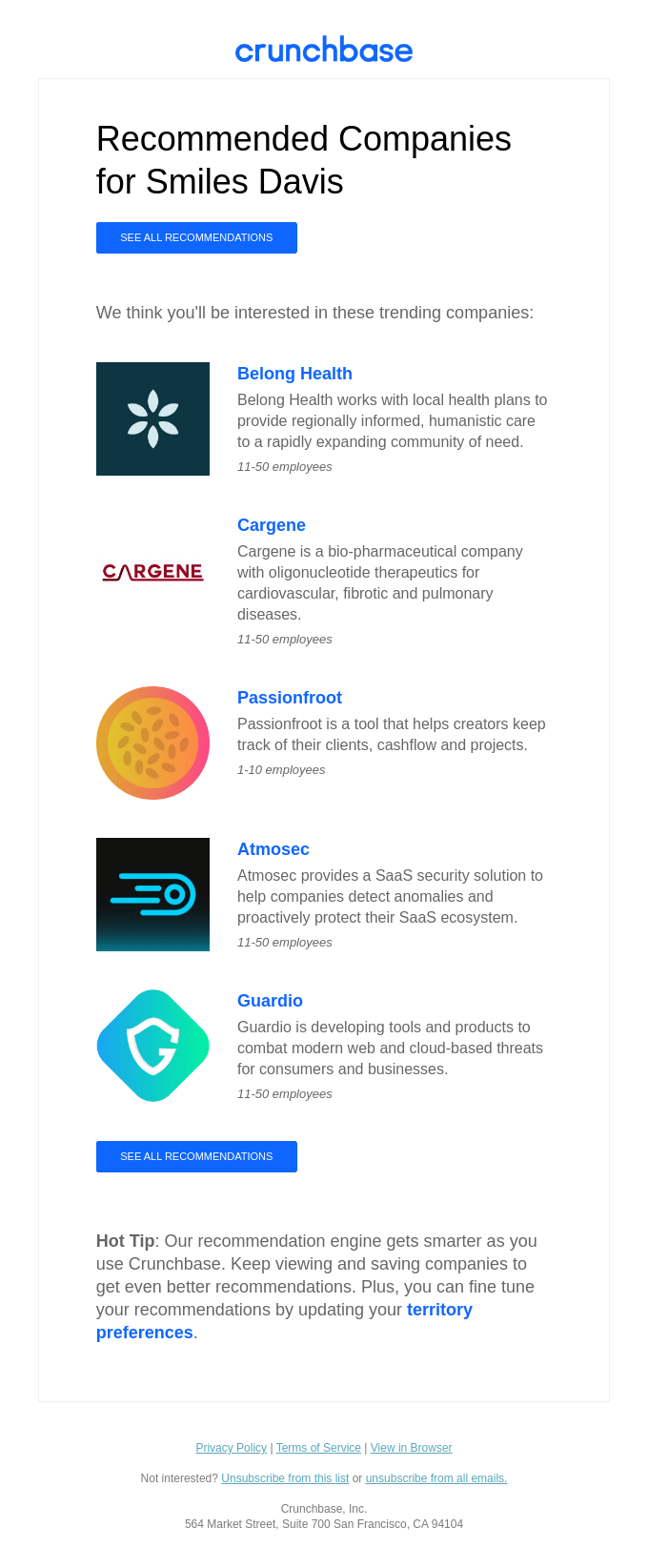 AI can also help with email personalisation by sharing unique statistics on personal experience with your product or services, like Grammarly, Duolingo, or Postscript do. Such kind of data is exciting and beneficial for subscribers.
2 – Sending email campaigns at the perfect moment for subscribers. 
With a vast audience, it's oppressively to deliver an email marketing campaign at the perfect time to everyone. People may live in different time zones, have different work schedules, or follow various habits in message checking. 
Even if you choose the time which works well, you cannot be sure if it's perfect.
However, AI erases this problem. You don't need to choose a single time for the whole segment. AI does the analysis based on when users usually open and click through your emails. 
It can define the right time of message sending for each specific user. It makes your newsletter come at the perfect moment for everyone and improves campaign results.
3 – Deeper and more influential audience segmentation. 
Manual segmentation is poor because basing on general criteria: by country, age, profession, gender, etc. It's better than nothing, but it's not a good division for a successful email campaign.
The AI allows you to segment the audience based on users' experiences and interests. You can create various groups, dividing the subscribers by goods or services they purchase, the frequency they visit your site, and their preferences. 
So, using this technology, you can create the perfect email for each segment.
4 – Create perfect subject lines
It's commonly known that the subject line is a key to email marketing campaign success as it impacts the open rate of your newsletters. 
So, creating one that engages the audience to read the message is challenging. 
However, AI can help with this as well. It involves an algorithm to analyse the current and previous campaign content and subscribers' open and click-through rates for previous subject lines. AI proposes the most suitable option for your newsletter based on this data.
5 – Deliverability and email list relevance
There is a common situation when newsletters aren't delivered to the inbox for various reasons: wrong or invalid email addresses, SPAM regulations aren't met, etc. 
Or there are situations even worse: the person has unsubscribed from your newsletters, but you still have him on the list and constantly annoying with new emails. If the first case ruins your statistics, the second does the same with your company's reputation.
So, using email marketing automation and AI, you can eliminate these issues and get additional benefits. Your subscriber list will automatically update relevant email addresses with the proper tools. 
As a plus, AI can also update subscribers' job titles or other details about them and remove inactive ones. As a result, you'll have a fine-tuned relevant list of email addresses.
6 – Content Automation
You probably already understand that AI can do a lot for email marketing. But what about content automation? 
AI-powered software copes with it as well. Its algorithms allow finding the perfect content components to get the highest conversion rate.
Content automation saves the time of the marketing team. AI can use content copies, images, posts on your website, links, and other elements to form the best email for audience perception. It significantly reduces human involvement.
What emails require automation the most?
Email automation and AI provide multiple opportunities for any email type you send. However, some messages for which their usage will be the most beneficial. 
They welcome abandoned cart emails, restricted sales or discount notifications, newsletters before anniversaries, and emails to subscribers about to churn. 
These messages have the highest impact on your audience, so their optimisation with AI is crucial. Let's review what exactly can be done.
1 – Welcoming emails
Welcoming emails show your subscribers that you care about each of them from the beginning. These messages are also a chance to introduce your brand to newcomers and give an idea of what kind of messages they'll receive. 
You can also propose some discount for the first order to push a person to the decision to purchase. 
Email automation makes it easy to send a welcoming email to new subscribers. You can set up a workflow for these messages and the conditions for their sending. 
And don't forget to run your content components through an AI-powered tool to make all elements visible to newcomers.
2 – Abandoned cart emails
Abandoned cart emails bring significant value to the business. Often they push potential customers to complete their purchases when they've forgotten about doing it. 
However, the time of sending is essential here as well. If you send them too early, you may seem annoying to your subscribers. If you do it too late, the person can already purchase in another place. 
But how do we know which time is perfect? Someone will need an hour or two to decide; another can wait a few days.
AI provides the solution by analysing historical data of when each customer usually completes the purchase after abandonment and when he doesn't. 
Based on this data, it sends the abandoned cart notification at the best possible moment.
3 – Restricted sales or discounts
Typically, companies launch sales and discounts for a specific period: a few days or weeks. To notify the audience about it, they're sending email marketing campaigns. 
However, these campaigns should contain not one email only but several. The number of newsletters depends on the scale and duration of sales or discounts. 
For instance, you can deliver one or a couple of emails before it starts, one at the moment of sales launching, one or a couple during the sale period, and one when the sale is almost finished. 
Setting up all of this manually isn't very easy. Here, automation is handy, as you can configure workflows for each message. And AI will help you define the right moment and frequency for their sending.
4 – Newsletters before important dates
There is no need to mention how important it is to email your subscribers on the eve of significant dates, e.g., birthdays, company, or subscription anniversaries. 
Your audience is waiting for your message and the proposition of sales or discounts. 
With automation and AI support, you can send these messages at the perfect time to the proper person and with the required level of personalisation. 
5 – Emails to customers about to churn
The most sensitive group of subscribers is inactive subscribers. They receive your emails, but you have no return from them, even if previously they have been active customers. 
This part of the audience is very close to clicking "Unsubscribe".
However, they're still with you and read your emails. So, you can impact them and try to return them to active status. 
Artificial intelligence allows you to define the customers corresponding to this group. With it, you can send them a message with a special offer, a survey about your work, or another point that would help take them out of the churn.
Conclusion
Email marketing automation incredibly facilitates the work of the marketing team. There is no need to spend time on activities which can be automated and executed by corresponding software. 
It's time and cost-effective, and your team can have more time for creative activities.
Artificial intelligence allows the automation of processes that previously required human involvement and mental work. 
With its help, you can make great personalisation and send messages at the perfect time to the proper people with minimum effort.
To summarise, it brings email marketing to more considerable success and ensures higher ROI.
Author bio: Iryna Hvozdetska is an active Content Writer. She has over two years of experience in creative copywriting and project management. Iryna is fond of reading and loves to create content that people would enjoy. You can connect with her on LinkedIn.