Healthcare Branding Tips – a Logo Design Guide for the Medical Industry
Strong brand recognition within healthcare branding has a positive impact on business performance.
It is crucial for all businesses irrespective of size or niche.
The healthcare industry is highly competitive, and many companies spend billions of dollars on various marketing strategies.
However, the backbone of any successful marketing strategy is the medical logo design – a significant unifying element.
Healthcare logo designs are used extensively in medical branding.
They appear in various media, lab coats, letterheads, and other marketing materials which come from the company.
There are factors you need to consider when creating a medical logo design.
Think of visiting a hospital for the first time only to discover the signage was difficult to read.
Such can cause stress to other patients who may even be in critical conditions.
So can you create healthcare branding that stands out?
Let's figure out the answer to this question.
Three mistakes to avoid in medical logo design and healthcare branding.
As an expert, you are expected to deliver a perfect design.
That is why the company hired you for their logo design in the first place.
However, some designers get carried away too quickly and find themselves making mistakes that are costly to the project.
There are things you should avoid when creating a healthcare logo design.
Here are a few examples.
1 – Using downloaded content or clipart
It is unprofessional for a graphic designer to use downloaded content or stock art to create a medical logo design.
The medical professional is highly disciplined, and negative report may affect their brand image.
A healthcare business should have a unique logo design to gain the trust of customers.
Using stock art and other 'template' content will give the wrong impression of the company.
Your healthcare logo design should be original and avoid using stolen materials.
Instead of using the content, you can use ideas for inspiration.
This is important for all businesses that want to create the right brand image irrespective of size.
2 – Complex design
You do not need to prove how creative you are by creating a logo that is too complex.
You have to make sure that your healthcare branding blends well with the medical profession.
As you already know, the medical field is a profession where things must be done orderly.
So your medical logo design must be simple, humanistic and engaging.
A graphically complicated or stylised logo design will make customers develop a negative mindset towards the company.
Make your brand logo design relevant, and appear simple enough that customers can remember it with ease.
Avoid the temptation, do not make your logo too complicated.
3 – Generic symbols hurt
We talked about not making logo design complex earlier.
This time, avoid common or generic symbols in your design.
Professional logo designers are known to be highly creative.
It is what stands them out from the crowd.
So whether you are creating a logo for a small or big company, apply that creativity to make the project unique.
For example, using an object like a stethoscope in your design can make it look too cliched.
Even if the idea is to use something that people are familiar with, come up with other ideas.
You also can even create a statement with your design without the use of everyday objects in the medical profession.
Characteristics of logos that stand the test of time in the healthcare sector
There are specific characteristics a logo must have to stand out in healthcare branding.
There are thousands of medical brands looking to stand out.
So your logo should have these traits to stand the test of time.
1 – Elegant
A healthcare logo design should be sophisticated.
To achieve this, all you need to do is to choose the right colours and fonts.
Also, your choice of colour must align with the culture and marketing values of the company.
It will be made use of throughout the existence of the company.
Note that every company has a cultural concept.
It is something that ties them to their goals.
So when deciding the imagery or colour palette to use, ensure it aligns with that of the company.
2 – Conceptual
There is a message behind every logo design.
Moreover, people can decode that message when the elements in your logo blend well.
A logo without a concept will be difficult to remember.
Colour, lettering, shapes and other things used in the logo must mix perfectly.
Conceptual logos are easy to recall and would stand the test of time.
3 – Versatile
Being versatile does not mean your logo should be complicated or represent more than one thing.
It has to be well presented and be easy to enlarge or resize at any point in time.
Quality should remain intact whenever you alter the size.
4 – Distinctive
The healthcare sector is growing every day, and thousands of companies spring up.
That said your logo must beat the quality of the existing ones to stand out.
It must be distinctive in order not to get lost in the tons of healthcare branding designs out there.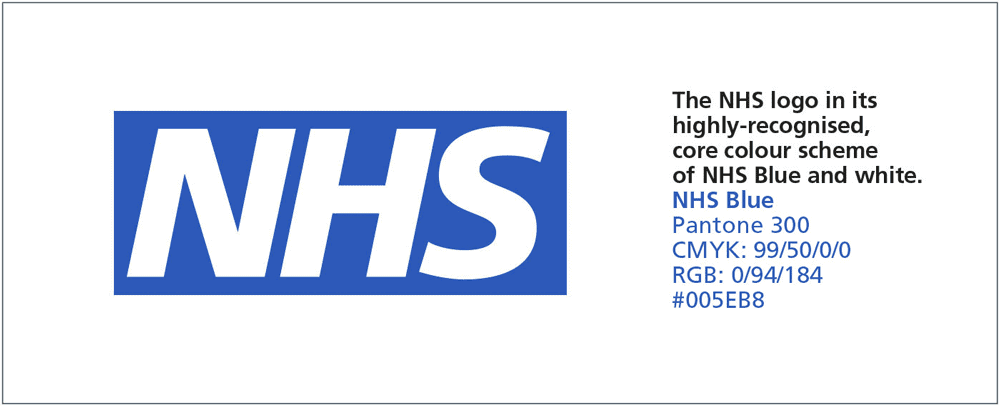 Tips and Guidelines to follow when creating your healthcare branding.
Every company needs exposure and brand recognition.
They crave it irrespective of size or financial power.
As a graphic designer, keep in mind that a well-designed logo will benefit your client a lot.
They can gain market relevance and tremendous exposure for their brands.
Remember these companies are looking for ways to stand out, and there are tons of designers seeking to help out.
To increase your knowledge and expertise in creating these fantastic medical logos, here are tips and guidelines you can follow.
1 – Choosing the colour for a medical logo design
Colour is the bedrock of any design project.
Choose the right combination, and your brand will gain exposure in no time.
Colours are said to cause social and mental reactions in humans when the eye comes in contact with particular hues.
So take advantage of this to provide the perfect combination of colours for your design project.
Tips
Choice of colour is critical.
You do not have to choose the one you feel is catchy and thus, would attract people more.
Ask the company if they have any specific colour in mind or suggest some options to them.
Here are simple tips to consider when picking a colour for a project.
• The region the company is located.
• The company's culture and primary product.
• The characteristics of the market the company is targeting.
• The marketing strategy that will be employed to promote the business and create more brand awareness.
There is a vast choice of colours, but many designers prefer green and blue for medical logos.
They believe these two have a calming effect on people.
You will also find some logos mostly with the red to yellow as well as blue to green colours range.
These are colours that make a difference in healthcare branding and are used by famous brands.
No colour is by law a must-use for a medical logo design.
It depends entirely on what you or the client wants.
Also, the number of colours to combine should be within the range of 2-4.
However, make sure they blend well and deliver the complete message to your targeted audience.
2 – Choosing a symbol for a healthcare logo design.
A logo is considered the face of a business.
Since the medical field is broad, using the right symbol will help people identify the company with ease.
The sign selected for a medical logo should communicate the business to prospects with ease.
Using generic or cliche symbols does not show creativity.
Instead, opt for a symbol that is easy to identify but unique.
Here are some of the standard symbols for medical logos.
• Rx symbol: The Rx symbol is one familiar symbol used by pharmaceutical companies.
• Caduceus symbol: This ancient sign is commonly used in the healthcare industry too. It is known as a sign of the god, Hermes, featuring a winged rod with two snakes wrapped around it.
• Cross symbol: The cross sign is used in medical logos and is very popular too. It represents the hospital and is used on the red-cross logo.
• Teeth symbol: The teeth symbol appears in logos for many dental clinics.
Tips on how to choose a symbol for a medical logo
The company you are designing the logo for can request you use a symbol which you must deliver.
In this case, you have no choice but to work according to the instructions.
• Avoid symbols that appear to be taboo in other cultures.
• Though the level of education is not something to consider when choosing a symbol, whatever symbol you select should be easy to read and understand.
• The symbol should look like a sign in the logo. Resist the temptation to make it overly illustrative.
3 – Choosing fonts for your medical logo
A font is an essential component of your medical logo.
It can help to create that strong healthcare branding or business identity and show the kind of profession it represents.
You can use any font for your design, but make sure it is clean and straightforward.
Using such fonts will help to set the right tone for your business.
Things to consider when choosing fonts
Before deciding on a font for your client, the following should be considered.
• Choose a font people can easily understand no matter its size.
• Make sure that your font and icon blends well.
• Do not use fonts that are fancy or handwritten; they will only make your text difficult for people to read and understand.
• Do not use multiple fonts in your logo. If you are bent on doing so, use two matching colours.
Conclusion
The medical industry is highly competitive and delicate.
As a medical logo designer, you must help your client present their business in the right image to create brand awareness.
There are many benefits attached to creating the right logo for a company and is more critical for the medical field.
The logo should be simple, enticing and easy to understand.
In fact, people should be able to tell what service you are offering by mere looking at your logo.
The above tips will provide you with the knowledge to design healthcare branding for your clients in the medical industry.