Website Design Checklist: 12 Things To Do Before Launching
With today's technology, creating an online presence through a website has become more accessible and affordable than ever. Entrepreneurs, businesses, and freelancers can now build their websites with the help of user-friendly website builders and content management systems (CMS). However, launching a website is not as straightforward as simply publishing it. There are many factors to consider, such as user experience, security protocols, testing usability, and more.
A comprehensive website design checklist ensures everything goes smoothly when launching your site. The checklist should cover pre and post-launch steps; luckily, several guides outline every step you need to take to complete a successful launch. Having the right tools on hand will also go a long way in streamlining the tasks involved in website launch preparation and ultimately allow businesses of all sizes to make their mark in the digital world.
12-Step Website Design Checklist
Every web and mobile app deserves a proper launch. Launching without pre-launch preparations can have damaging and unforeseen consequences, such as technical glitches, web design errors, etc. This is why web design can be so difficult. Ensuring every element of your website is well-executed is essential to the web development process.
As such, we've put together our pre-launch website checklist to help you get started before the big day. Our website design checklist covers 12 essential tasks before launching your website's final version – from checking for broken links to optimising web designs for mobile devices; our pre-launch checklist will keep your website launch looking polished and professional.
#1 Update Your CMS
A content management system (CMS) is essential for creating, managing and publishing web pages. CMS has become increasingly popular in recent years because it enables non-programmers with no technical background to build and modify sites without relying on developers. Furthermore, there are numerous advantages to using a CMS, such as content creation and distribution, team collaboration, and image storage.
Keeping up with the latest version of the CMS is also beneficial as it provides more powerful performance capabilities and improved security mechanisms. The majority of suppliers of content management systems also make installation easy due to a one-click setup.
At the same time, updates are automated, ensuring users have the most up-to-date version. Investing in a quality content management system offers tremendous benefits to businesses looking to improve their web presence through a reliable platform for efficient content delivery and website optimisation.
#2 Check the Image Compression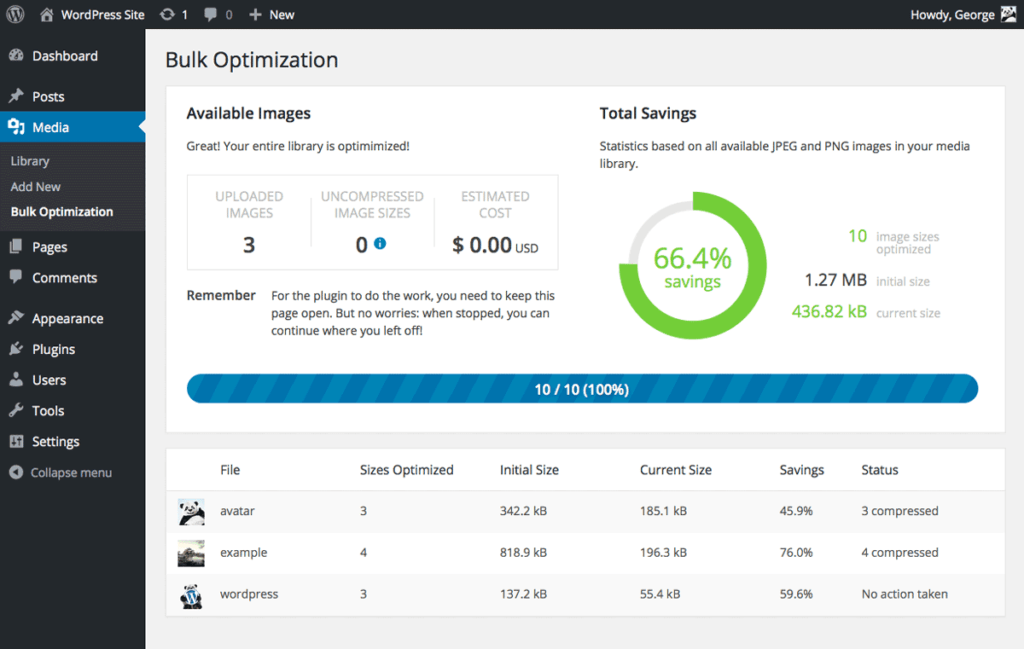 Compressing web images is a great way to make them easier to download while preserving image quality. This can dramatically reduce page loading times, improve the user experience, and save web admins' frustration in dealing with slow load times.
An excellent way to compress images is with TinyPing, a web-based tool that tends to achieve the best results out of the tools we've tested. If you're using WordPress, various plugins like Smush will automatically compress uploaded images, although this may not be as effective as manually compressing images via TinyPing. All in all, it's crucial to optimise website load times by compressing images on your website or app.
#3 Activate an SSL Certificate
Securing your website has never been more important. An SSL certificate is critical in protecting sensitive data and promoting trust among visitors. An SSL encrypts the connection between a web server and a browser, keeping all transmitted data secure.
Any websites that process information like usernames or credit card numbers should invest in an SSL certificate for privacy protection—look for URLs beginning with HTTPS instead of HTTP, as this indicates it has an active certificate. To ensure maximum security, especially for high-traffic sites like eCommerce businesses, consider investing in an Extended Validation (EV) SSL certificate. Even if you are on a budget, you can get started thanks quickly to providers like Hostinger offering free SSL certification on all hosting plans. Don't risk your online security– activate that certification today!
#4 Form Test
Forms are so necessary that there's no way of running a successful website without them. Forms enable you to capture visitor data, collect leads and personalise the user experience. It's also essential that you double-check before launching your site that all forms are accurate and ready to go. Try not to ask too many questions in the fields, as too many can deter people from filling them out.
Ensure that notifications work correctly, so key stakeholders will be alerted when someone fills out a form. In terms of tracking conversions, create distinct forms for each page or section, even if they appear similar – this helps ensure accurate data collection and tracking results. These steps combined should result in a practical form system for your website.
#5 Check Links
The design of your website is essential for making a good impression on potential customers. But design isn't the only factor – ensuring every site link works correctly is equally important. Broken links are aesthetically displeasing and cause visitors to leave without further clicking.
No business owner wants to send their visitors away, so it's essential to double-check all links from time to time and make sure they take visitors to the appropriate webpage. Automated tools can help crawl through sites and check each link to save time and alleviate headaches. Broken Link Check is one tool to ensure your site design is as functional as attractive.
#6 Make Sure Backups Work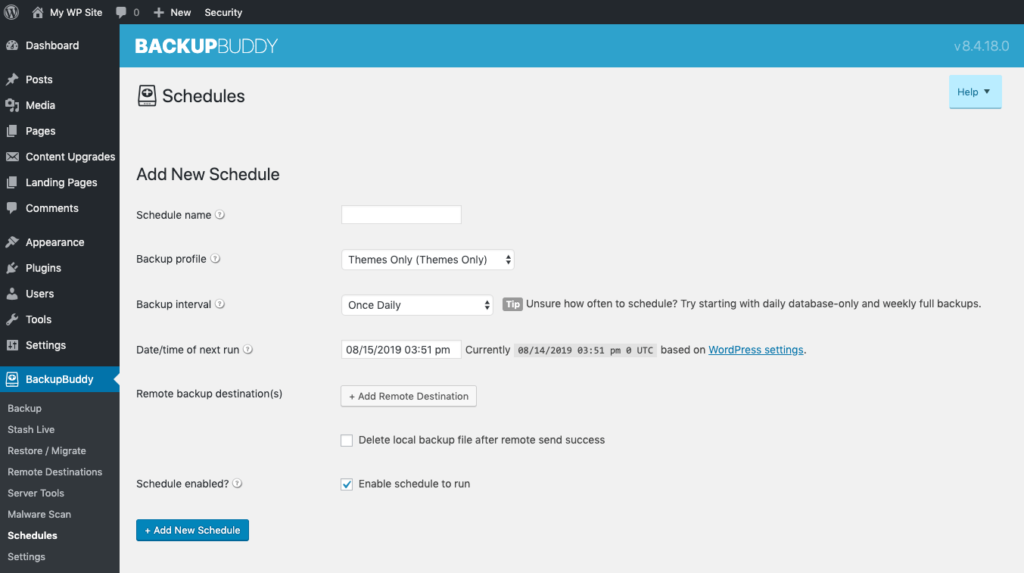 Good practices in web design call for regular website backups to protect companies from data loss due to unexpected errors or security breaches. For businesses that depend on the internet for revenue streams, such as eCommerce sites, data loss can have a negative impact not only on operations but customer relations as well.
Choosing a hosting plan with automated website backups is the most efficient solution, though manual backups are also possible by downloading web files with a third-party service. Companies like Hostinger offer automatic weekly and daily backups for business-oriented hosting plans. Additional one-click backup and complete website download options are available through their custom control panel, hPanel.
#7 Set Up Custom Error Pages
Error pages, part of the HTTP status code that signifies technical issues, can cause web browsers to present users with a default HTML error page automatically. This is visually uninteresting and not very user-friendly, causing users to lose interest and click away from the website. Therefore, it is vital to set up custom error pages whereby one can design their own 404 page that includes a message explaining why the requested page cannot be found.
Hostinger Tutorial's 404 error not found page provides an ideal example of how one could customise their 404 error pages. With such an option, visitors will remain engaged and more likely to stay on the website rather than clicking away due to an unappealing server-side glitch.
#8 Connect Google Analytics
Google Analytics is a vital tool for any website. By implementing this service, you can track and measure the performance of your website and be better informed to make decisions on how to improve. You get detailed data on visitors visiting your website, including how they found you and where they landed.
We often hear how important it is to 'track our data', but we don't always know where to start. Installing the Google Analytics tracking code is relatively easy. For WordPress users, all you need to do is copy the GA tracking code into a specific section to get up and running quickly, ensuring this essential tool is set up before launching your site.
If you are having issues with setting up or managing Google Analytics or would like advice, there is a range of knowledgeable professionals who can help guide you through this setup process. With this powerful resource in place from the outset, measuring your website's performance progress can prove easier. Make sure Google Analytics is used correctly in your overall digital marketing strategy.
#9 Test UX
Aside from an attractive website design, mobile app developers must ensure that their applications offer a seamless user experience (UX). UX measures whether a site's interface is user-friendly and how quickly visitors can complete specific tasks. To evaluate the usability of mobile apps, developers should conduct usability testing. Through this process, they can identify areas of the mobile app where navigation or interactions may be confusing and take steps to improve flow.
Several popular tools are available to help mobile app developers test website usability and find ways to optimise their user experience further.
Crazy Egg's cool heat map feature collects data points to measure user engagement on specific pages.
Lookback helps users assess the usability of their web pages through live interviews and real-time screen sharing across multiple devices.
Optimizely is an A/B testing platform with analytics features that lets users gather customer feedback to determine if their current website strategy is working.
#10 Work On Key Web Pages
As software developers, we must understand incomplete website pages' impact on our projects. Websites lacking the necessary information to create a positive customer experience can have a high bounce rate, appear unprofessional and perform poorly on search results. To guarantee success, software developers should ensure that all essential pages are adequately placed upon launch.
Homepage. A website homepage is the front door to your business. The experience someone has when they first visit your website can make or break their interest in learning more and ultimately becoming a customer. That's why it's essential to put time into crafting an effective homepage that puts your best foot forward. First, utilise a hero header that communicates the benefits of your unique offer and catches the eye of visitors on arrival. This should provide an inviting glimpse into what lies ahead as visitors explore the site further, fostering curiosity and inspiring action. When done right, an engaging homepage will leave visitors eager to see what's next.
About us. This page offers visitors a deeper insight into the business behind our site and who we are. Here we share our brand vision and most noteworthy achievements to give people a clear understanding of what drives us as an organisation. We also believe in the power of captivating personal stories to make customers relate to our values, mission, and culture. By inspiring our audience with meaningful content, we create a genuine connection between their needs and what our brand stands for. We are proud of what we have achieved thus far and excited to see where this journey will take us.
Contact page. This is a must-have page for any website. Visitors can easily connect with you and submit inquiries quickly and conveniently without leaving the site. Include all relevant information about your business, including your email address, phone number, and physical location. To make things easier for visitors, consider adding a contact form that they can use to submit inquiries right from your website quickly. You can easily integrate a WordPress contact form plugin into your page! Give visitors no excuse not to reach out and get in touch with you.
Product (service) page. Product and service pages are vital for any eCommerce or business site. Keeping this page up-to-date can provide customers with an exceptional user experience. Optimising your product pages is as simple as writing compelling and detailed descriptions of each item and ensuring that any featured images are of the highest quality possible. Photos should be high-resolution and taken in such a way that generates an emotional connection between the buyer and the product. Not only does optimisation make for a better customer journey, but it can also lead to increased sales. Ensure that effort is always put into creating great product reads and photos so visitors to the page will not be disappointed!
#11 Check for Mobile Compatibility
With more than half of global web traffic coming from mobile users, businesses of all sizes must create mobile-friendly websites. Simple best practices like responsive design, which will adjust content to fit different screen sizes and orientations, can give businesses the right competitive edge to appeal to customers on their mobile devices.
Other ways to increase mobile user engagement:
Implementing Google's open-source Accelerated Mobile Pages (AMP) framework can significantly improve mobile device readability while reducing page loading times and improving user experience. Businesses should utilise these best practices to reach their potential customers and create engaging, mobile-friendly websites.
Pop-ups can be incredibly annoying and disruptive to the user experience, especially on mobile devices. Thankfully, there are a variety of measures that web developers can take to ensure pop-ups stay within the overall user experience. One such measure is to avoid pop-up ads and opt for more discreet web elements for marketing purposes.
Dynamic serving is another tactic that involves responding to requests with different codes depending on the device used. By better understanding the user's environment and needs, developers can eliminate intrusive pop-ups and provide a better overall experience.
Separate the URL from the domain. When creating a dedicated space for mobile individuals online, it is vital to research the correct ways of doing so. Creating a separate URL with a domain ending in "m.websitename.com" is a great way to begin so that users can easily recognise if they are visiting your mobile site.
Use mobile testing tools. Ensure you use the various mobile testing tools developed to confirm and test your site's mobile capability. Google, for example, offers FREE services where you can check the visibility on different types of devices, so your visitors get an optimal experience while browsing your website.
#12 Implement SEO Practices
Implementing search engine optimisation (SEO) practices is essential for improving their online presence. SEO helps increase website ranking on a search engine's results pages and drives organic traffic. One can employ many popular strategies, such as keyword research, internal linking, content creation, technical audit, etc.
Each action can boost your website's visibility on SERPs and help you target the right audience. If done correctly, SEO helps you significantly raise your site's success rate and broaden its reach. Therefore, applying SEO tactics is a handy tool that should be addressed when developing an advertising strategy.
Check out the following SEO aspects:
On-page SEO is one of the most critical parts of any website's success, as it allows web users and search engine crawlers to find relevant content quickly. By performing proper keyword research and strategically including those keywords throughout the website's content, web developers can optimise individual web pages for improved visibility in search engine results. This process involves placing relevant keywords in titles, header tags, and meta descriptions to ensure each page performs optimally within search engine algorithms. Ultimately this helps make a website more engaging for both customers and bots alike by providing them with the answers they need without forcing them through needless menus or aggregated data lists.
Off-page SEO is one of the most critical elements in improving a website's ranking. It covers any activity outside your website to boost its positioning in search engine results pages. Link building is vital to off-page SEO and involves getting high-quality websites to link to yours. This helps increase the domain authority associated with your site, leading to improved organic traffic and higher rankings for relevant keywords.
Local SEO is to produce localised content tailored to your target audience and optimise your Google My Business (GMB) account. A GMB account increases the chance of ranking higher in search results for terms related to your niche or industry and strengthens trust with potential customers. Additionally, having an actively managed GMB profile enhances engagement with current customers through reviews and posts, improving SEO performance. Local SEO should be a cornerstone of any effective digital marketing strategy for small business owners looking to compete locally.
Technical SEO can be one of the most important and impactful steps in any company's SEO strategy. Often overlooked, it has the potential to give enormous boosts to a website's visibility and likeliness of being found. By improving aspects of the website, such as speed, architecture, and mobile friendliness, search engine algorithms are more likely to pick up on and rank a website higher in their results. Large-scale changes with Technical SEO implementation can drastically impact a business's online presence and web traffic abilities in the long run.
Final Words
The success of any website depends on a solid SEO strategy that focuses on both on-page and off-page optimisation, local SEO, and technical SEO. With the right approach, you can ensure your website is visible in search engine results and attract more customers to your business. SEO requires time and patience, but the benefits are worth it in the long run – increased organic traffic, higher rankings, and better visibility in search engines.
A practical website design checklist is essential to stay ahead of the competition and ensure your website stands out. Also, have a crucial role in looking at your competing sites, so "from the shore" to think about their approach and design content. You will succeed by collecting and skillfully integrating all these critical factors into your project!