Top 5 WordPress Plugins for Website Designers
WordPress plugins are the booster of your current website. They extend your current website, thereby increasing its functionality and versatility. 
When you have a website, you will wish to extend its versatility. This is precisely why we download plugins on our WordPress website.
But before that, let's discuss a bit about WordPress.
All You Need to Know About WordPress
WordPress is one of the most popular website development platforms.
A CMS allows millions of business owners to be the backend admin of their business websites. And, with WordPress, you get the privilege to run your website!
WordPress is also the most-loved platform and the most-used website development platform globally. 
It has tremendous community support to help developers resolve their online bugs. Nevertheless, it is a platform that shouldn't be overlooked while launching your upcoming website or blog.
How WordPress Extends Its Versatility?
WordPress has a lot more than its platform itself. The best thing about WordPress is that it is never dull. It has got the best extendibility to enhance the versatility of your website. So, what is that?
Plugins
Themes
WordPress has got plugins and themes for every requirement.
For example, WordPress layout plugins for enhancing the website layout, inbound plugins for increasing the website visitors and sales, slider plugins for helping your website with revolving sliders, etc.
It has all different plugins for matching the very minute to the primary requirement of your online website. 
Likewise, WordPress has got themes for every business type. Pick any business, and you will get a business theme ready to launch your upcoming website.
Are you a Web Designer?
Well, website designers from every country have one thing in common. Guess what? The answer is 'creativity; I bet you thought the same.
For creative and engaging people, WordPress has got multiple themes and plugins.
There are thousands of WordPress Plugins for designers in the WordPress plugin directory. You can easily download any of those to enhance your website's creativity or versatility. 
Free and Paid WordPress Design Plugins
As discussed above, WordPress has all different plugins for website designers and developers. 
While surfing the WordPress directory, you will come across a list of different plugins, both paid and premium. Also, many plugins offer a free trial followed by a premium subscription.
All you need to do is visit WordPress Plugin Directory and download your website's best WordPress design plugins. 
Now, the question is which design plugin is the best for your website. If you are confused, we are here to resolve it now!
So, let's discuss the top five WordPress plugins for web designers like you.
Top 5 Best WordPress Plugins for Designers
As a designer, you shall need a WordPress plugin for various purposes.
Maybe it is for enhancing your eCommerce website's functionality or boosting your website's speed. 
The design plugins for personal and eCommerce use are different.
When you talk about a personal or ordinary website, you might not require a fully functional design plugin for your website.
But yes, when running an eCommerce portal, you require the best WordPress design plugins for your website. 
In short, a designer may need a popular and functional plugin for his business or eCommerce website.
Let's talk about the top five WordPress plugins for web designers.
1 – WP Slick Slider and Image Carousel
As a designer, the first thing that keeps repeating in your mind is the presentation of the website. How would you present your website the best?
Website presentation refers to the first impression of your website in the mind of the visitors.
You may know or not, but your website visitors acknowledge website designs as they visit many more websites daily. Hence, they are aware of the sites that are professional or just ordinary.
Here is the first suggestion for the best WordPress design plugins to help you achieve maximum creativity on your website's presentation. 
The WP Slick Slider and Image Carousel is a fantastic WordPress plugin for creating stunning slideshows. It is designed and developed by Essential Plugin – the hub for different WordPress Plugins.
Here are some significant reasons for installing it on your website.
Creating slideshows is easy and instant
All slides created for enhancing your website appearance are completely SEO-optimized
Slideshows are 100% responsive. Hence it adapts to screen size on various devices.
Get the thumbnail navigation with image previews
Access from 5+ unique layouts
90+ designs available for creating a powerful slideshow
Get eight arrows and 12 pagination designs
Compatible with various WordPress themes and page builders.
The WP Slick Slider and Image Carousel are available for download with an exciting prize of 119 USD for a year. You can also get a lifetime purchase by paying an unbelievable 149 USD. 
To download WP Slick Slider and Image Carousel plugins, visit the official website (Essential Plugin) or the WordPress plugin directory. 
The prices are subject to change per the festival and non-festival offers; we have updated the price as per the current date. 
2 – Elementor Page Builder
Need a pixel-perfect design for creating beautiful web pages?
Here you go!
Web designers require a page builder plugin for creating beautiful websites.
Elementor Page Builder will be one of the best WordPress plugins for web designers. It helps create custom, unique, attractive WordPress websites with advanced features. 
It comes with a drag-and-drop interface for allowing the designers to create new custom pages easily and quickly. 
Also, the designers can choose from the available 90+ widgets for accomplishing their design goals. All you get at the end is a flawless design by downloading the Elementor Page Builder.
Designers can get either the free or PRO version to get started with new website pages.
From positioning the content to adjusting the height and width or resizing columns, the Elementor Page Builder is one of the essential plugins for website designers.
Designers can get these fantastic WordPress design plugins by paying 199 USD/year for an expert plan and 499 USD/year for a studio plan from their official webpage.
The prices are subject to change per the festival and non-festival offers; we have updated the price as per the current date. 
3 – WPforms
What are the forms on the website? Website forms help you take control of the information that you can collect from the customer. 
Hence many websites or business owners wish to get WordPress forms built to collect customer or visitor information. 
A WordPress designer needs to create forms on the website for various purposes. Different types of forms can be made using the WPforms.
Here are five types of Website forms that are built using the WPforms plugin for designers and developers.
Contact forms – Helps in building contact forms on the website.
Payment forms – Helps in building payment forms on the website.
Newsletter forms – Helps in building newsletter forms on the website.
Registration forms. – Helps in designing registration forms on the website.
Survey forms – Helps in placing the survey forms on the website.
WPforms is one of the most required WordPress plugins for web designers.
Installing it, WordPress designers can build forms for any of the abovementioned features. Above all, creating the form is easy and quick with the help of the drag-and-drop form builder. 
Nevertheless, these forms are easy to customise and can be adapted to any need. 
For installing WPforms on your WordPress website, you can choose from the different plans the plugin developer offers. 
The Plus plan is 99.50 USD/year, and the Elite plan is 299.50 USD/year. 
4 – Modula Image Gallery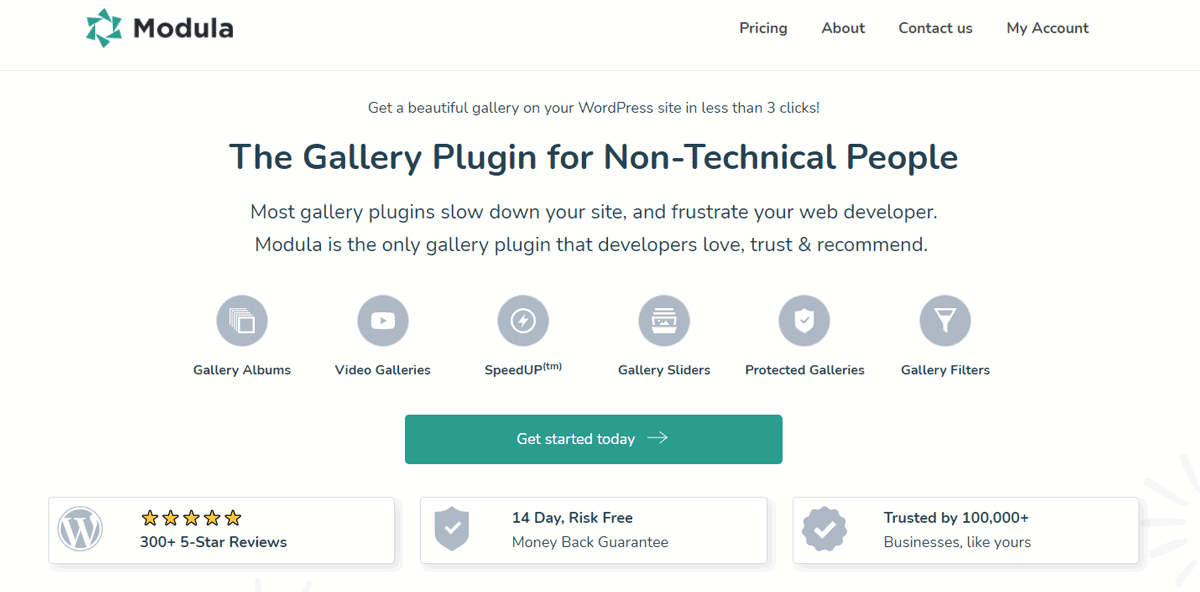 Designers looking forward to installing a perfect gallery plugin must download the Modula Image Gallery for WordPress. 
99.99% of eCommerce websites require the best gallery plugin features for displaying products. Because the well you show your products, the well you can pitch for sales. 
Believe it or not, you cannot display your website products better than an image and gallery plugin.
Wondering why?
It changes how your website displays images and gives a perfect appearance with perfect crop and resolution. 
Just drag and drop the image to make it look stunning and perfect to the page size.
As a website designer, you can help your owner display the products in a stunning format without compromising the resolution and size.
The customers can quickly scroll through all the products y to get a complete idea of the quality and appearance.
Above all, the Module Image Gallery plugin offers various options to display your website's photo and video galleries. Hence, the designer can choose from the available options rather than any default theme or layout.
5 – JetPack
What does the designer worry about the most? The data that has been collected and created, am I correct?
Besides the gallery, layout, and design, website designers worry about data security. 
The JetPack WordPress plugin for designers fulfils all the parameters, and hence it is on our top five list of WordPress plugins for designers.
The WordPress JetPack is one of the crucial WordPress plugins for web designers. It has got the perfect elements to upgrade your website.
Downloading the JetPack, the designer can take care of website security, data backup, speed, and growth in one go!
Yes, just a plugin that will cover all these essentials apart from what other WordPress design plugins do on your webpage. 
Users can download the plugin for free from the official website or get it from the WordPress Plugin Directory.
Conclusion!
Before we close the blog with a defined conclusion, we would like to frame some of the questions with the correct answers from the experts to help you understand more about WordPress plugins.
Is investing in the plugins viable?
Well, definitely, yes. Investing in a subscription fee for downloading and activating the plugin to enhance your website's appearance is bright. 
The best design plugins for WordPress can help you get incredible sales, thereby increasing user engagement. So, imagine it is worth the premium fee.
Do plugins decrease my website speed?
Well, it all depends on the type of plugin that you have downloaded from the WordPress directory.
Plugins in our top five list will never create an issue with your current website or eCommerce site speed. Indeed, it will help you in managing your website better.
Also, a tip when discussing the website speed and plugins. To keep your website up-to-date, it is vital to keep your plugins updated from a speed and security point of view. 
Inactivate the plugins that are not in use to save your website from any unknown threats.
What is a Plugin Bundle?
A bundle refers to a group. Here the plugin bundle refers to the group of plugins, each helping your website with different needs.
Many plugin development companies help you buy the entire bundle of plugins rather than one in the combo or discount price. Here you can help your website become versatile using the bundle of plugins. 
Nevertheless, you can consult WordPress experts online if you have more questions about WordPress security while installing the plugins. 
They will help you with the correct answers and a technical justification regarding the plugins and themes downloaded on your website.
Finally!
It was all about the different types of WordPress plugins for web designers. WordPress offers different types of plugins for enhancing the technical as well as creative aspects of your website.
Here we listed the top five WordPress plugins for web designers. You can either download these plugins from the respective brand's online website or get them from the WordPress Plugin Directory.
You can try the free version for a trial period and later get it premium if you think it is best for your website.
Author Bio: Amisha Parmar is a content writer and SEO marketing manager at Essential Plugin, which sells a WordPress Plugin Bundle that includes front-end utility plugins. Expert Inbound Marketing Tools, Templates, and Security are required for the overall development of a WordPress website. Amisha loves to share creative content that helps users improve their knowledge and enrich their lives.