7 Advantages of UI and UX in Mobile App Development
UI and UX design are quintessential aspects of app development and can solely be responsible for its success or failure.
The world is going towards digitisation at a fast pace.
Today, people execute their daily tasks with much ease and speed due to digitisation and widespread internet networks.
Mobile phone penetration among consumers has made it a powerful tool for business to achieve maximising growth.
With the help of the mobile application, businesses can execute a complicated task with ease and efficiency.
Mobile apps have genuinely expanded the potential of the digital network by making countless important activities possible.
What makes mobile apps so popular is their familiarity and acceptance among everyday users.
A fantastic app, which offers value, has a simple yet attractive user interface (UI) and provides an immersive user experience (UX) can solely drive a business to success.
Today there are 3.5 billion smartphones with full and free access to many app stores, making apps popular among ordinary users.
But from the business point of view, this gives birth to higher competition and makes recognition difficult for a new player.
Here also, a slick UI and UX design can help an app stand out.
Another critical aspect of an app's success is its utility.
What is the purpose of an app, how good it is in what it offers, offers a vital service that we need every day like transportation or does it offer something better than what already exists in the market.
With articulated UI and UX design, apps can achieve multiple business goals and can solely drive growth.
This article will discuss seven essential aspects of UI and UX design development that are true for Android and iOS app development and how they can push an app's growth and the business it supports.
But first, let's see what a useful UI and UX design is.
What is a useful UI and UX Design?
UI and UX define how the app will be presented in front of the user and how will he/she be able to use it.
A great UI and UX design not only makes an app look nice but is also relatively easy for a user to understand and use.
So first let's see what can be referred to as a good UI and UX design?
User Interface (UI)
The user interface is the appearance of the app.
All the front end screens of an app are part of its UI design.
All the headers, footers, dialogue boxes, pop-ups, commands and controls, all this and much more constitutes the user interface.
The user interface aims to make the app interactive and understandable for the user and maintain its branding with colours, graphics, presentations, and other media.
A good UI design should be simple, uncluttered, well-labelled, not over-labelled and should match the app's goals.
To find what kind of UI design will work for your app, you should do extensive research on your target audience, understand their habits and technical efficiency and plan your app's interface accordingly.
User Experience (UX)
User experience is explained as the emotions, feelings or perceptions the user goes through while using the app.
A great UX design makes the app desirable, and users keep coming back.
How usable is the app, how efficiently it does what it says and what level of satisfaction it gives to the user, all comprises user experience?
Designing a good UX app requires a lot of testing and research.
It would be best to keep upgrading the app until it can assure a pleasant experience during every use.
Top 7 Advantages of UI and UX in Mobile App Development
A great UI and UX design is vital for your app's success but requires significant research and testing.
Here are the top 7 reasons why you should spend enough time and resources in refining your app's UI/UX design.
These reasons will help you define your goals while designing your app.
1 – Attract downloads
UI and UX directly affect the app's performance.
If an app is excellent at its features but has a high learning curve or takes forever to load, the app's performance is of no use.
On the other hand, if an app is well built, offers simple design and assistance, and delivers what is expected of it, the user will keep coming back and introducing it to others.
"Talking Tom Cat" is one of the most downloaded apps which cashed on the unique UX it offers to the user.
Despite not solving any real-world issue, this app still has maintained its popularity years after its launch.
That is the impact of a great UI/UX.
2 – Get featured in-app store
Getting high rankings in various app categories, ratings from the customers and positive reviews, help the app get featured in the app store.
Getting featured in an app store makes it a fixture on the app store's home screen, attracting many new users each day.
High UI/UX ratings and increased downloads help the app get recognised by the app store and get promoted as a tested and verified app.
3 – Customer loyalty
If your app solves an everyday problem, is easy to use and performs as per expectations, chances are the user will feel satisfied and will visit again whenever the need arises.
Giving a higher level of satisfaction to the user helps build a user base that is loyal to the app and the brand.
Offering a great UI/UX design means that you have a good understanding of your audience, and you can deliver what they expect from you.
It is a two-way process, where the loyalty of the users will rise with better UI and UX, and a better UI/UX will deliver more loyal customers.
4 – Saves time and cost of development
For creating a great UI/UX design, it is vital to have a deep understanding of your target audience.
Without knowing what your audience wants, there is no way you can satisfy their needs.
With a better understanding of your user-base, you will design the app's wireframe and flow, which will resonate better with your audience and provide features and functionalities that are more relevant for the users.
5 – Enhance ROI
If your app's UI/UX design satisfies the customer's need, the user will keep coming back to your app for your services.
Creating an app that satisfies a user's needs increase your app's business and contributes more to the profit.
Designing a great UI and UX design app helps in enhancing the return of investment in minimum duration.
6 – Helps to understand the audience
The way your audience interacts with your audience will help you better understand your target audience.
As mentioned above, it is a two-way process where improving the UI and UX design helps retain more customers, and the feedback from the customers helps make the UI and UX of the app better.
By implementing various UI and UX ideas, you can see which steps work for your app and don't.
In a short duration, you will understand and predict your target audience's behaviour up to a certain level.
7 – Expand your Brand image
Apps have been used as impactful branding tools in the last few years.
Apps can be used to reach out to your users individually and deliver them personalised emails, offers, deals and discounts.
Apps can also be used to leave a lasting impression in the minds of the users.
They can also help explain what the vision of the company is and what it is all about.
Many efficient UI and UX designs successfully represent an organisation's value without using much screen space or text.
Important points to consider while planning your app's UI/UX
There are a few general practices which you can go through before you draft a strategy for your app's UI/UX.
Maintain uniformity
Our eyes follow symmetry everywhere.
In nature too, symmetrical things appeal more to us than those with random shapes.
Same is true for app design also.
Maintain symmetry in fonts, colour schemes and other icons that can be used at various app places.
A consistent and familiar design helps in attracting more users.
Keep it simple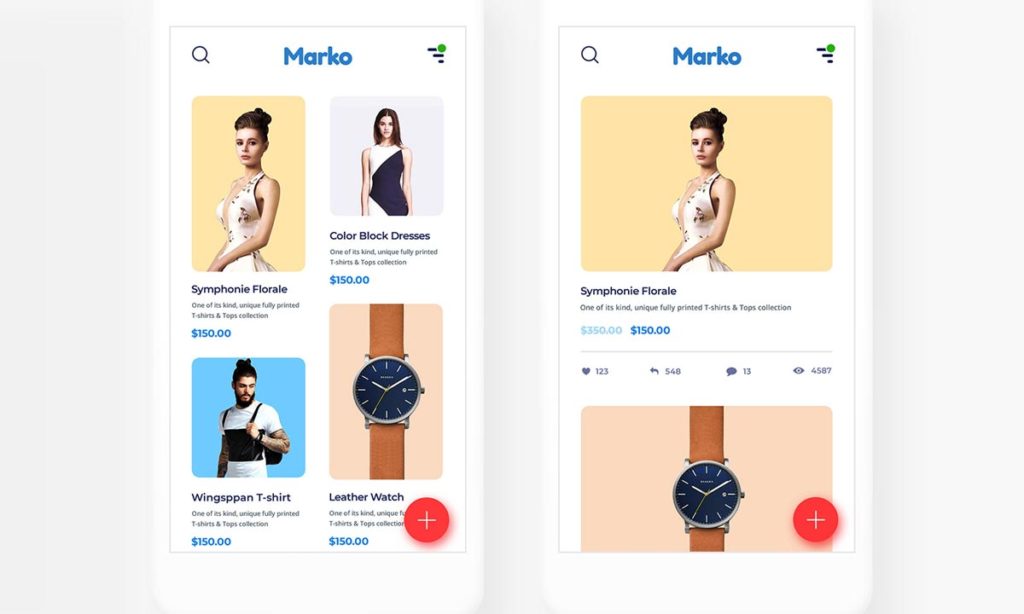 Remember, simple is suitable for apps.
The simpler your app will be, the easier it will be for the user to understand your app.
The simple design helps the users get familiar with the app and add it to its use without much thought.
Whereas, if an app has a steep learning curve, users will lose interest in the app after trying the app's functionality for a few minutes.
Keeping the app design simple helps in making it popular and shared among users.
Offer fast loading speed
Smart devices are becoming faster every day, and with it, people are also getting users to fast functionality and less response time.
Make sure your app follows the same suit and offers fast response whenever interacted with.
Making your app fast will keep users engaged in communicating with the app instead of waiting for the app to respond.
Invest in wireframing
Wireframing is a way to test the functionality, looks, appearance and usability of an app.
It is done on an app sample which gives details about the app's functionality and intended functions.
A proper wireframe app will perform better when the real product is launched in the market and lead to fewer changes in the app's UI and UX design in the longer run.
Any business owner needs to analyse the target audience before making a UI/UX strategy and utilise it to create a design that can resonate with the end-user.
Spend time in testing and refining the UI and UX designs of the app.
A better UI/UX design will serve you better than any other aspect of mobile app development.
How Ul/UX Design Makes Your Mobile App Successful?
Mobile app users prefer using apps which are easy to understand, intuitive and attractive.
Successful apps like Whatsapp thrive on always keeping their interface attractive and including more features without complicating the overall design.
Research has shown that mobile app users prefer attractive apps with a user-friendly design over apps with higher functionality but ordinary appearance.
Developing a great UI/UX for an app is the starting point of a great app.
A great UI gives the user a realistic feel while using the app and allows a continuous flow of valuable information.
With such feats, more and more people will be interested in your app, elevating the organic traffic, overall number of installs and conversion rate, differentiating your brand from the rest.
Conclusion
There is no formula to make a successful app.
Instead, there is a series of steps which have to be done correctly to get expected results.
But if something can impact your app's performance in many ways is the UI/UX designs.
There are endless examples where a good UI/UX design has led to the app's success and many cases where lousy design leads to disastrous failures.
Ensure that you spend enough time planning and tweaking your app's UI/UX and ensuring an excellent app user experience.
Hire an experienced UI/UX designer aware of the leading trends, technologies and best practices.
Having a great UI/UX is the stepping stone from establishing a great app with lasting impact.
Also, remember that the process of refining the UI/UX is never-ending.
Even when your app is live and performing well, you need to find ways to make your apps even more aligned with their needs and expectations.
So when its time to plan the UI/UX design of your app, make sure you step your best foot forward.
Author Bio: Holding a Bachelor's degree in technology and two years of work experience, Jason focuses on making technology digestible to all. Being someone who stays updated with the latest tech trends, he's always armed to write and spread the knowledge. When not found writing, you will find him answering on Quora while sipping coffee.