How to Migrate From Shopify To WooCommerce
If you currently operate a Shopify store and wish to transfer to WooCommerce, you may feel overwhelmed. It would be best to determine what steps you need to take.
You do not want to lose any existing client data or orders while moving from Shopify to WooCommerce and want the operation to be as straightforward as possible. This article will assist you with this.
How to migrate to WooCommerce from Shopify
1 – Manually migrate store data.
(a) Export data from Shopify.
First, export the CSV files for customers, orders, and products. These files will subsequently be imported into your WooCommerce store.
Select " Products " from your Shopify admin and click "Export" above the product list.
Screenshot of Products page with Export button highlighted.
The window "Export products to CSV file" will appear. Under "Export," choose "All products" and then "CSV for Excel, Numbers, or other spreadsheet programs" under "Export as." After you've selected all of your options, click "Export goods."
A Screenshot of the Export products to CSV file window will popup, with the Export products button highlighted.
The exported CSV file will be sent to the email address associated with your account.
(b) Import data to WooCommerce
To access your WooCommerce store, navigate your WordPress dashboard's "WooCommerce" section.
Select the content categories you wish to import, then choose "Products."
From the top menu, select "Import."
A screenshot of the WooCommerce Products page with the Import button highlighted window would pop up.
By clicking "Choose File," a file explorer window is opened. To begin, select the CSV file you wish to import, in this case, the product CSV file and click "Continue."
The Column Mapping panel will then appear.
WooCommerce will automatically match column names to the Shopify CSV file you uploaded, ensuring that the product fields in WooCommerce are correct.
It is recommended to verify that these were correctly extracted and, if necessary, manually insert some.
Then, click "Start the Importer" to initiate the import process. This may require some time to process. Wait until this is complete before repeating the process for any new data types that require migration.
2 – Using store App for automated migration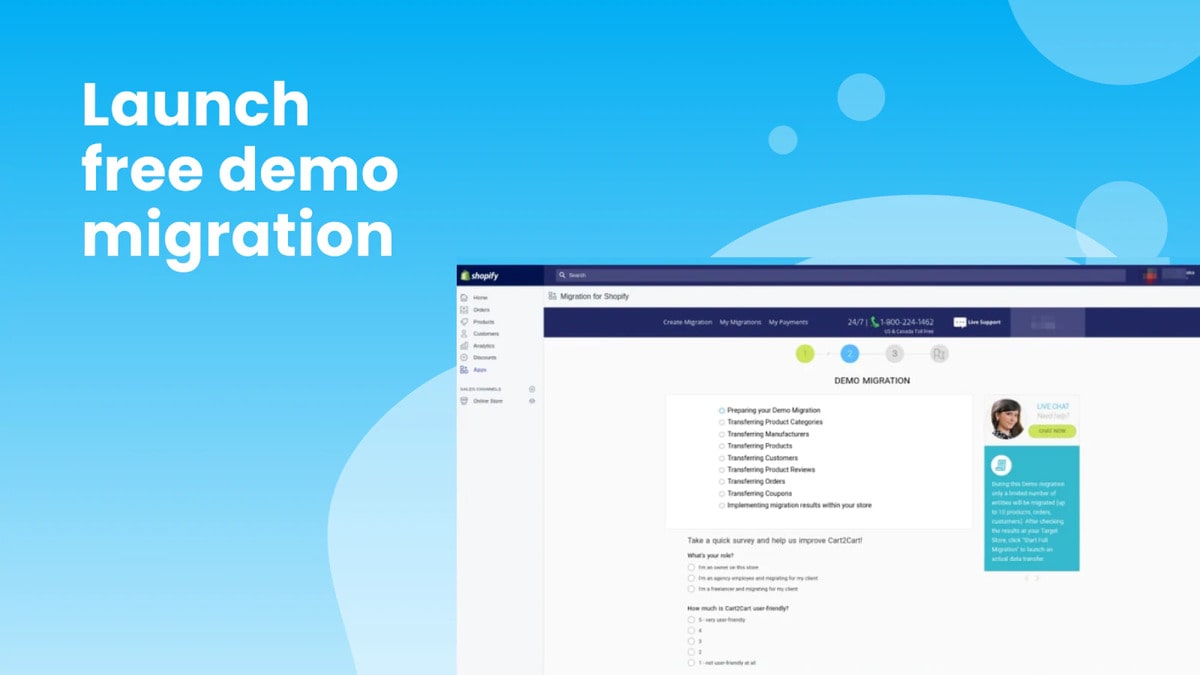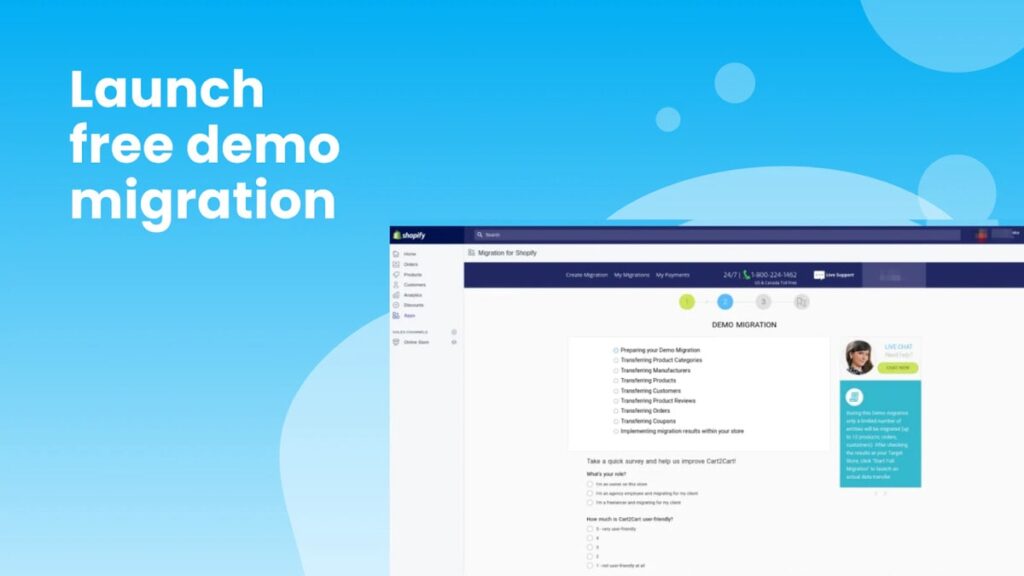 Rather than manually moving products, customers, and orders, you may utilise an import application to simplify and streamline the process, particularly for novices.
These programs may be downloaded and installed, and they will then automate and expedite a large portion of the migration process.
You can use a free Demo Migration to see precisely how the process will function. Additionally, your Shopify store can stay operational during the migration, ensuring that you do not lose sales due to downtime.
These Apps plugin enables you to migrate several types of Shopify data from your store, which are:
Information about the product names, descriptions, SKUs, prices, weights, and variants.
Product classifications; names, descriptions, URLs.
Information about the customer names, emails, addresses and so on.
Information regarding your order IDs, dates, statuses, quantities, discounts, and shipping details.
Information about coupons.
Information about blog post titles, descriptions, dates, URLs, content, and images.
Information about this page titles, dates, URLs, and statuses
Utilising a store App for an automated migration service is also advantageous for SEO since it enables you to create 301 redirects for your URLs.
This will help you maintain the domain authority you've earned and direct customers to your most recent pages.
3 – Hire Technical Assistance to move store data.
If you are unsure of your technical abilities, you may want to hire an expert to ensure that your migration is completed correctly and fully.
You can let them perform it for you if you have a developer, as most will be familiar with or experienced with the procedure.
Since WooCommerce is an open-source platform, WooCommerce does not provide direct customer assistance.
You can, however, connect with WooExperts, who have been hand-selected by WooCommerce for their high-quality work and experience with WooCommerce.
You may utilise these professionals and the greater WooCommerce community to obtain support as needed. Filter the WooExperts page by a nation to assist you in locating a professional in your area.
How much does it cost?
Pricing is determined by the size of your shop and the amount of data to be moved. However, the beginning price is $69.00 and includes migrating up to 1000 products, 500 customers, and 500 orders.
This price is subject to change based on the size of your store.
Additionally, upgrades are available for any additional functionality you choose, such as 301 redirects and blog post-migration.
Final thought
You can migrate your store from Shopify to WooCommerce quickly and efficiently, whether you do it yourself, hire a professional, or use a migration App.
It's a prudent decision to find a step-by-step guide to help with the move from Shopify to WooCommerce, which will benefit both your customers and your bottom line.