Educational App Development Costs: What You'll Pay for a Custom App
Learning today has embraced digital technology and is not just confined to the four walls of schools and colleges. Currently, there are no more classrooms with tedious settings; but rather enthusiastic and interactive UI over smartphones. Numerous educational or e-learning apps today are available in the app stores where students and teachers can find it easier to communicate with each other and meet their academic requirements.
Educational applications have been given more priority, especially after the pandemic. The pandemic created an opportunity for education apps and digital education models to gain popularity and convert physical education classes into digital ones. Many educational institutions are flipping their physical classroom into digital classes or adopting the hybrid education model.
It is one of the primary reasons why many new educational apps also came into the market, offering various educational courses. Therefore, if you are looking forward to creating your educational app, you must understand what is already happening in the market under the same segment and what they offer.
Since there has been a considerable rise in the number of educational apps in the market, one should know what they offer and how they can introduce their educational app as a different and unique offering to the customers. It all starts with partnering with the right custom education app development company, which allows businesses to see an entire roadmap of what they will be creating.
This growing demand for e-learning apps has made education a lucrative business. This is just the perfect blog for you if you are an educational institution or startup looking to transform your idea into a successful e-learning app.
Let's begin with the basics:
Overview of the Online Learning App Market
The one-learning app market has grown by multiple folds in the last couple of years. As per GlobalMarket Insight, the e-learning market will reach $1 trillion by 2027, with North America being the biggest e-learning market in the world.
Educational tech is growing at a rate of 16.3% and will grow 2.5 times yearly until 2025. Top e-learning platforms like Duolingo have received over $183.3 million in funding from more than 12 investors, and it is not the only educational app company to do so. 
Since the market is already at an all-time high and is expected to rise even further in the future, it is crucial to create an educational app that ensures that it can meet the customers' future requirements. It is why it becomes vital for the app creator to understand and research a few points before they finally start creating the app.
Factors To Consider Before Developing an Educational App
Before you start building a custom educational app, you need to create a roadmap on how it will be created and what kind of features it will have. It is vital to research these things to make a future-proof educational application that can meet all the modern educational demands of the users. Let's have a look at some of such topics that you should research before creating your custom educational application.
Decide on what you plan to offer.
With the e-learning industry expanding fast, it is essential to understand what the existing educational apps are offering and what can be offered to the users in the future to maintain exclusivity. There are currently hundreds of popular education apps in the market, which can be referred to before their development to understand what they offer and why they are popular among users. 
It would give the educational app developers a good enough idea about what is offered to the customers now and what is popular among them. It would help the developers in listing down the features which should surely be in the app. Listing such features down is one step ahead in building a successful educational app.
Similarly, many more unique features can be listed and added to the roadmap of the app creation—things like sync, multi-language support, integration, audio and video tests, and more.
Before the actual development of the application starts, one should have a complete list of features ready with them to have a clear roadmap of what needs to be created. It also includes the look and feel of the application. It should include the requirements of what the target audience would like to see and the features that will attract them.
Understanding and researching the market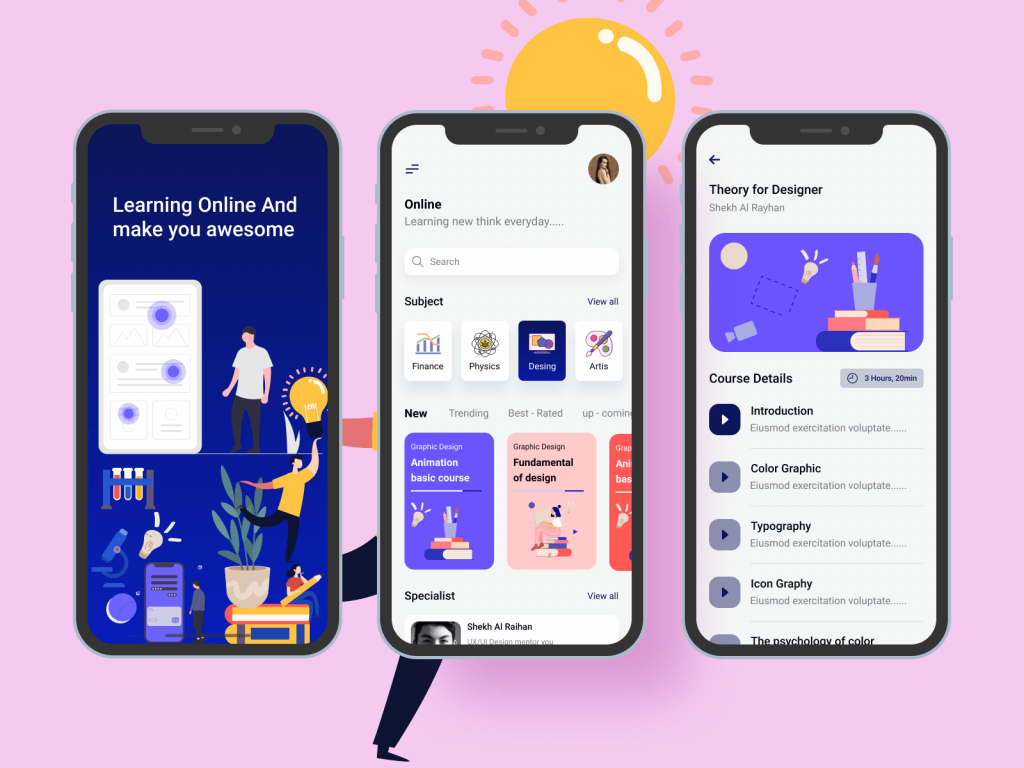 If you are launching your educational application, it would always be suggested to research the market beforehand to understand the requirements. One cannot risk an entire investment in creating an app even before knowing if it is required by the customers or not. There are many reasons why market research is necessary before creating education applications.
It helps to analyse the requirement of education as per the customers.
To understand the challenges of the customers.
Research helps create e-learning and educational app solutions for the target audience.
To understand how the app will bring efficiency to the business.
Research helps determine which revenue model will be more successful and how you could use different monetising plans.
Helps improve the existing apps and strategies.
There are different ways to conduct market research depending on the type of educational app and the kind of audience one wants to capture using it. One common practice is to check the app stores on multiple platforms for apps similar to your educational application. 
Understand and read the feedback for those apps from the customer. It will help you understand their requirements, the app's flaws, and more than your target audience needs. Also, try to find the mistakes and opportunities that your competitors missed in their educational applications.
However, if you do not have the time and resources to do so, it would be better to hire a market research company that can provide you with actual data immediately. You can also choose to conduct a SWOT analysis for the app development, which will help you list down various features, weaknesses, and opportunities that would help develop your app.
App Design and complexity
Developing a user-friendly and appealing app design takes significant money and time. An app that has robust navigational features and interactive designs involves more complexity. Therefore, you will determine the cost based on the type of UX and UI design you choose for your application.
The ambiguity of your app idea would determine how straightforward or complex your education app would look. The simpler your app is, the cheaper its development will be. Learning platforms with just the basic features will cost you less time and money, although it is imperative to create an educational app that is quality-oriented and top-notch.
Features for the app
Researching the market would also include researching various features that the other educational apps have and what you need to include. Many educational apps have popular features among users and some that are not. Also, you would see the user's reviews asking for new features that do not exist in these apps.
It is one of the best ways to build an educational application that can be easy for the users and have all the features they want, with a mix of some of the already existing and popular features in the market. Some of the features that you can look out for are
Audio and Video content
Live and recorded classes
3-D lectures and gamification
Push Notification
Chat and group discussion
Screen Recording
Dashboard to track progress and achievements.
These are just some of the features which can be researched while creating your educational application. However, there is a lot more that you can offer the users. Just read and understand the review and comment sections for some of the most popular educational applications.
App development platform
It is one of the most important things you must consider while creating an educational application. Different platforms like iOS, Android, and Windows exist now and are the most used worldwide. Having an educational application on just one of these means you are missing a large amount of the user community on the other platform.
It is crucial to have the presence of your educational application on multiple platforms with the sync function. It helps the users to access the content in the same ways across platforms. Although it could be a rise in the cost of educational app development, it will still provide much value in terms of customer base and revenue in the long run.
Android has the most significant number of customers worldwide, but it would not be a great idea in the USA, where half the market share uses iOS. Therefore, having the presence of an application on multiple platforms is the way to go forward.
You would have to research what the customers need from cross-platform apps, which can work regardless of device and location. You can also hire a mobile application development company to guide you in choosing the best platform for your application.
Launch and promotions
Understanding and knowing which market will launch the educational app is vital. If it starts with just a specific geographical location, then the app must be researched and created accordingly to the market needs of that particular location. If it is for the global market, research on the international market's needs should be considered.
To reach the target audience, you can also promote your applications on various platforms, have a press release, and do a lot more. Researching your educational app's most effective promotional techniques will help target the right audience and have more potential customers.
Blogging, Social media, Video introductions, and Optimisations in App stores are a few ways that can bump your application among users immediately after launch.
Technology stack
To make a large-scale education app project with highly navigational features, you must modify or expand it using the right tech stack. Here, you will have to deal with the custom plugin development, which is quite expensive in budget and person-hours. The right technology stack set is another factor that determines the overall cost of your e-learning app development.
Some of the standard technologies that are recommended for e-learning apps include frontend (React Native and React), backend (Node.Js and the NestJs), database (MongoDB), and cloud support (AWS).
Development team location and size
The developer's location significantly affects the cost of building the e-learning project. For instance, developers from different locations charge differently. Always prefer a development team from a country that charges a lower cost for your educational app development. However, considering the development team's technical education and skills should be outstanding, ensuring high-quality work.
Moreover, the size of the development team influences the total salaries made by the product owner. Educational app development companies have a big team size consisting of UX/ UI Designers, Project Managers, Team Leaders, Developers, QA Engineers, and others. The number of employees involved in the project determines the cost of developing an e-learning app.
Developing your educational app might be a complicated process initially. Still, once you are completely clear about your project requirements, estimating the entire cost and time required for developing an e-learning app becomes more manageable.
Advanced Features That Determine the Cost of Your Education App Development
By 2026, the global e-learning market is estimated to reach $400 billion. This shows the growing demand for educational apps on a worldwide basis. Let's check some of the advanced features that determine the cost of your e-learning app:
Licensing and copyright
Data protection and licensing are essential to mobile app development services. It plays a crucial role in the overall budget. For example, you need to install anti-theft software on the application so that your users can keep or trust sharing personal information on your app.
Customisation tools
The course developers or the app owners can easily customise their products by setting up text highlighting or automatic translation of video materials which is only possible with the implementation of special plugins. This unique feature plays a decisive role in the final cost of developing education apps.
Gamification
While you take the budget of your e-learning app, consider the gamification factor too. Implementation of gaming features is now quite common in most user-engaging e-learning apps. Advanced chemical gamification tools like AR, VR, 3D graphics, artificial intelligence, and other complex game mechanics can cost you a bit more as these are challenging to implement and expensive.
Top Pricing Model Before Estimating the Cost of your Educational App
Before you move on to estimate the cost of your educational app, consider these pricing models first.
Value-based pricing model – With this pricing strategy, you will get an idea of what your customers think about your product and how much they value it. 
Cost-based pricing model – The cost-based pricing model is an excellent example of a successful pricing strategy. Determine the production cost of your app and then study the market to determine the markup.
Fixed pricing model – Fixed deadline, a clear budget, and a low risk for the plan are the main benefits of this fixed pricing model.
Estimated Cost and Time of Your Educational App Development
Depending on the type of features and requirements of the app, the development time and cost could vary heavily. However, if you go to industry professionals, there is a specific time limit within which you can create certain features in the app. It would give you a good enough idea of how much time it takes to create a particular feature in the application.
Here is the table that will make you understand the required time to build an educational application from scratch to the moment it is tested and delivered. An estimated time of person-hours required by professional development for an educational app. However, it could vary under various circumstances.
Education App Development Process Estimated Hours
The timeline is divided further depending on the type of features you would want to see in the application. Every feature you add to the app will increase the development time and add more person-hours to the process.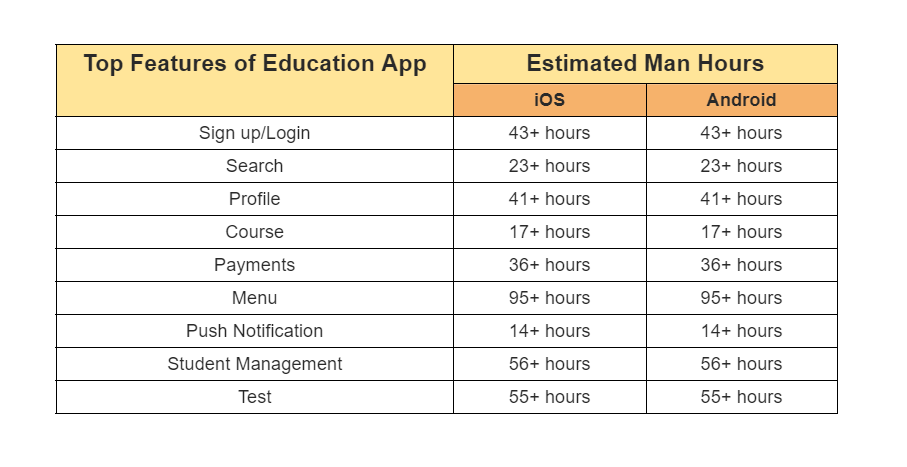 You can create a new app if you want to get inspired by already popular e-learning or educational application. Mentioned below is the reference for the number of person-hours required to create an application similar to some of the most popular ones in the market.
Regardless of the features you will add to the application; the cost will vary based on the professional you hire and the hiring location. An app development professional can cost around $25-$150/ hour, depending on their experience in the field. 
Android, IOS, and the Web are the three major platforms on which present-day applications are built. Each of these platforms requires a particular set of tech stacks. Therefore, it will cost you more to develop an educational app, in case you want to build it for Android and IOS. in case you are using a single platform, it won't cost you more.
These tables would help you to understand the time and cost involved in educational app development based on specific criteria. Where these numbers cannot be accurate and the same for every app development process, it does provide an idea about the investment of time and resources you need to give in.
Get your Education App Built by the Experts Today
Conceptualisation, design complexity, set of app features, developer's experience, and a few others are some of the top factors affecting the overall cost of education app development. Although it is difficult to presume, hiring the right education app development company can help you chart the exact cost estimation.