11 CRO Strategies for eCommerce Sites You Should Try
So you've managed to attract online users' attention and are now browsing through your eCommerce website. 
Great. 
Now, it's time to measure how effective your website conversion rate optimisation (CRO) strategy is. 
Don't you have any CRO strategies?
No worries, we've prepared 7 CRO strategies for your eCommerce site that will turn your website into an unforgettable user experience and boost conversion rates. 
But let's start from the beginning. 
What is CRO? And Why Do You Need It? 
Conversion rate optimisation or CRO is commonly defined as boosting the number of users who perform a desired action on your website. 
Desired actions range from clicking on a link, signing up for a service (email newsletter, for example), adding a product to a cart, and finally purchasing. 
However, a more holistic, user-centric approach to CRO could work better when you're looking to increase engagement. 
The alternative definition focuses on understanding what drives, stops, and persuades users to do a particular action on your website. 
By knowing what motivates users, brands are better prepared to offer the best user experience and convert more users to clients. 
Currently, just 22% of businesses are happy with their conversion rates, indicating conversion rates optimisation is something eCommerce businesses looking to gain a competitive advantage need to implement. 
Here are 7 CRO strategies you should consider when looking to improve your conversion rates. 
1 – Offer Impeccable Product Listings
It will help if you grab your potential customer's attention from the moment they jump on your product page. 
Provide visually comprehensive product listings that will give your visitors an idea of your product and variety to make a fast and informed choice. 
Freedom Fighter provides an excellent example with their patriotic t-shirts page – grabbing attention right away with high-quality product images, colour variations, short and to-the-point descriptions, and price – everything the customer needs to make to make a purchase decision.
2 – Enhance Your Product Photo Gallery
People rely on their senses to navigate the world around them, so it's only natural that we apply the same principles when shopping. 
Touch, feel, sight are important in decision-making and often determine whether your product will convert users. 
However, when you run an eCommerce business, you can only rely on the visual appeal of your product. It's not only essential to create a rich product gallery, but an impactful and action-urging photo collection. 
The photos of your product have to make it come alive and compensate for the lack of physical touch and feel users like so much. 
Only then you'll be a step closer to convincing potential customers that your product will deliver what they're looking for. 
High-quality photography and immersive graphics will help you achieve all that. Showing photos of your products from multiple angles will also help.
Lifestyle product photos and images on a white background are a great way to focus on functionality and benefits. 
You can also create a visual narrative in which your product photography tells a story and ensures your product delivers what's promised.
Here's an example. 
Ammu Beauty is a natural beauty brand that demonstrates how less is more. The company's product page is minimalistic, its colours gentle and welcoming, and their products photography impeccable. 
3 – Immerse Users With Video Product Galleries 
If you want to take your eCommerce product page experience to the next level, you should start creating product videos. 
As a start, video content incentivises users to stay longer on your website – which boosts your ranking in search engines and gets your website in front of more potential buyers. 
In addition, video content helps users understand how your product will behave in real-life situations. 
The clothing brand Mother gives an excellent example with their immaculate product photography and video product page "Move It". 
Users can see how each garment looks, feels and carries itself while a person is wearing it.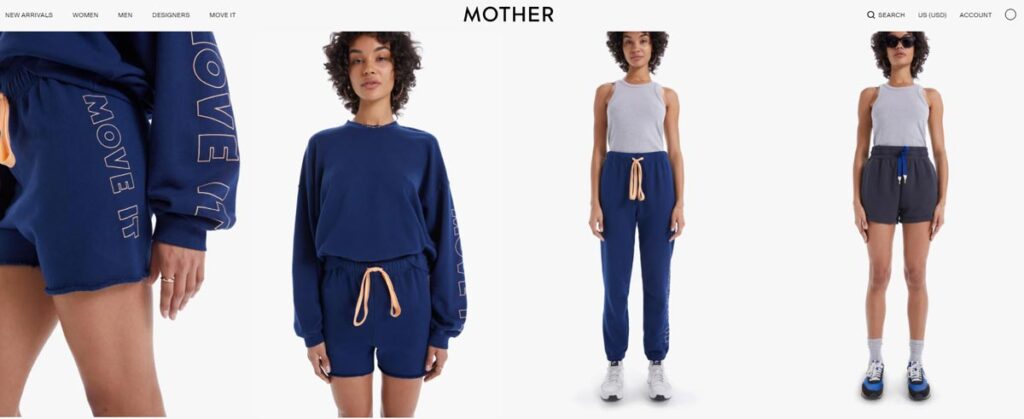 4 – Provide Informative Product Descriptions
A well-written description of your product can go a long way in convincing users to take action. In addition to a detailed description of the product's characteristics, you can add the story of its creation. 
The more people know about your inspiration, process, and dedication to your business and its impact on the world, the more likely they are to appreciate your work, trust, and bond with your brand through shared values. 
Son of a Sailor gives users all the essential information they need to know about each product from its home page. 
What's that? The Irena Bracelet. What is it made of? Glass and brass beads. How can you use it? Perfect for layering. 
You get all the essentials right away, and if it's what you're interested in, you go to the product page and learn more. 
You're introduced to the whole touching story behind the bracelet's name on the product page itself. Find out its measurements, care instructions, and can also view related products. 
5 – Add Product Benefits Section
Your product descriptions help highlight the features and benefits of the product that might compel the user to buy it. 
Not only that, but they're a great way to provide your potential customers with all the information in one place, ensuring convenience and a better user experience. 
EcoBrot Box – a German brand that sells plastic-free, stainless-steel food containers, offers a short but informative list with all its products' benefits. 
This makes it easy for their target audience to immediately get all relevant information about what they would be purchasing in one place—no endless browsing and frustration to make an informed decision. 
6 – Encourage & Use Product Reviews
No matter how far technology advances and how much marketing evolves, word-of-mouth marketing is still the most effective and persuasive technique you can use to convince on-the-fence prospects that your product is what they're looking for. 
Users trust their peers and prefer to get their opinion before purchasing from you, especially if they're unfamiliar with your brand. 
Almost half of the consumers in North America look for online customer reviews when they want to learn more about a product or service. 
Using customer reviews on your product page will prompt shoppers to action because it will give them social proof that you deliver actual value.
Satorisan – a Spanish high-quality shoe brand, has a beautiful customer review section complemented by badges showing users the brand has been certified as a European Trustmark. 
This guarantees that the customers' reviews are honest, and the brand has an absolute money-back guarantee. 
Start asking your customers to leave reviews and make the process as simple as possible so they can't say no. 
You can further motivate clients to leave reviews by offering an entry in a contest or a small reward for their efforts.
7 – Create Support Page for Social, Environmental, Charitable Cause
Business is no longer about selling products and services. Indeed successful brands are those actively engaged with social, environmental, or charitable causes. 
A sincere commitment to the betterment of society and the switch to sustainable production practises is important to users and helps them trust you are not only after the profit. 
Many brands take that sort of a commitment even further, focusing their mission around the shift to more sustainable and ethical principles.
Take the Swedish jewellery brand Akind, for example. Their pieces are made with sustainable, ethically sourced, and often recycled materials that third-generation artisans then handcraft. 
The brand is very open about how they do things and how prices are formed – humanising the brand and winning users' trust. 
8 – Provide Special Sign-Up or Time-Limited Offers
Nothing motivates people like the fear of missing out or FOMO. 
You'll be able to drive more sales if you offer your customers special time-limited offers for signing up for a service or purchasing your product. 
20% off a particular product or collection of products around a holiday or special celebration in your company will drive attention to both your brand and the discount you offer. 
Similarly encouraging would be if you offer your customers sign-up or first-order discounts.
Look at Longitude's landing page offer. They immediately grab your attention by offering a very high discount of 40% off your first order. It's an offer that anyone looking for the products they offer can hardly pass. 
9 – Help with Suggested Search
The search bar is no doubt necessary for any eCommerce business. But have you thought of implementing a suggested search? 
The suggested search bar option improves user experience on your website, suggests more products to potential customers, and helps you keep them browsing through your webpage longer. 
Your visitors will be able to see a full range of products and services before making their purchase and be confident they're making the right decision.
The suggested search bar will also allow your customers to find the products faster, and the faster they find them, the more likely they are to buy them. 
Paula's Choice Skincare has done exactly that for its customers. When you go to the search menu and start typing your search, the site pulls search results suggestions as soon as your word matches a product description. 
That's a beautiful way to help customers navigate through a search – find what they need and even get new ideas on products they might be interested in trying out.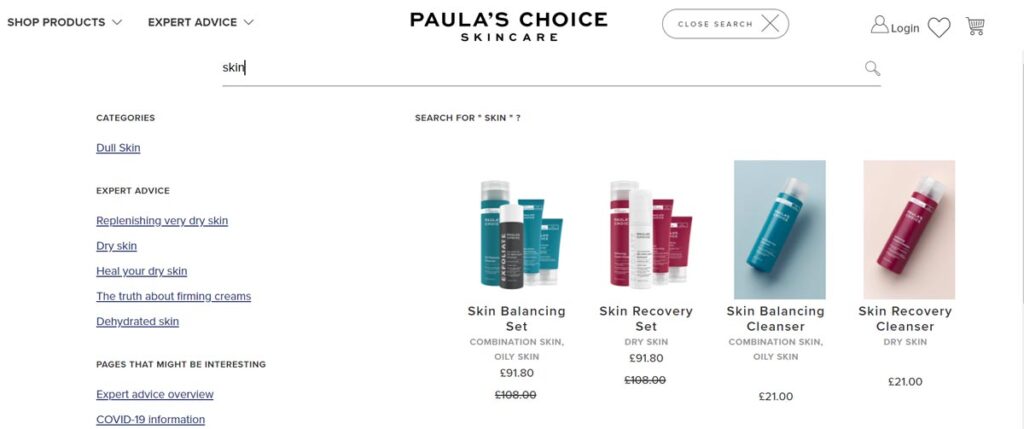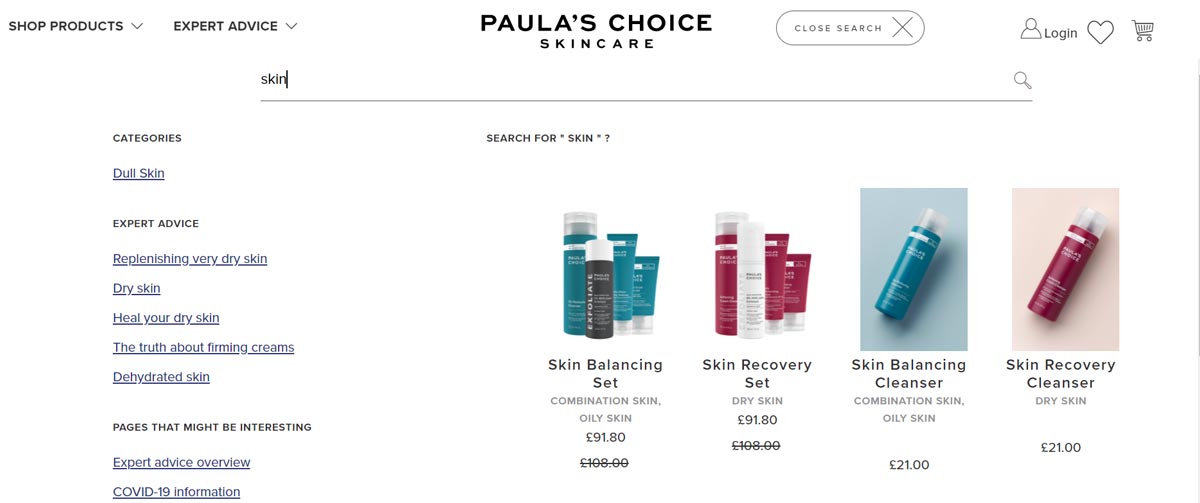 10 – Add an FAQ Section
The frequently asked questions (FAQ) section on your product page aims to give your prospects valuable information about critical questions around your products, brand, purchase, and delivery conditions.
FAQs improve customer experience and serve as a form of customer service. They help customers get a deeper understanding of what it's like to buy from you and can also boost your SEO and marketing efforts. 
An effective FAQ section goes a long way in attracting new customers and persuading them to take further actions on your website. 
To be successful with your FAQs, you have to be concise, informative and include internal links audiences can follow to get even more in-depth information elsewhere on your site. 
Etsy has dedicated a whole FAQ page on their website that aids users in learning the most important things around using their services. 
Get inspired by their example and start creating your FAQ sections to help your customers navigate better on your e-commerce site and have a more satisfying user experience.
11 – Simplify Checkout & Encourage Addition Purchases
If your client has successfully reached your checkout page and is about to purchase from you, the last thing you want is to overwhelm them with a cumbersome checkout process. 
Optimise your checkout page to be smooth, visually uncluttered, and easy to follow. Cut all the filler and provide clean visual guides on how far into the client's checkout process. 
Indicate all your payments methods with icons, offer guest checkout options, progress indicators, trust badges, and specific order form fields. 
Progress indicators are an excellent way to encourage visitors to follow checkout steps and not get frustrated. Bombas has taken the progress indicator to another level.
Customers see how far into the purchasing process they are and how far away they are from getting free shipping on their orders. 
That encourages visitors to add more products to earn free shipping. The tactic is efficient in increasing motivation in visitors to fulfil the order and even continue to browse and purchase more. 
Apply similar techniques to your eCommerce website, and you will no doubt improve your CRO strategies.
A Final Note on these CRO Strategies
Gaining insight into what draws users' attention, what motivates them, and persuades them to take a particular action on your website, is what any conversion rate optimisation strategy is after.
The information you gain through optimising helps your brand better navigate your customer journey and provide clear and concise value for users. 
The more your brand knows how users think and behave, the better chances you have in converting them to customers. 
These 7 CRO strategies for your e-commerce sites are something you should try out. They will help you convince users that you deliver value with your eCommerce business and improve your bottom line. 
Author Bio: Terry Tateossian, Founding Partner of Socialfix Media, is a fourth-generation entrepreneur recognised as an Inc. 5000 America's Fastest-Growing Private Companies, Forbes' Top Women in Business, Fastest Growing Women Presidents by WPO, and 40 Under 40 Business Leaders by NJBIZ. Terry has been featured for outstanding leadership and career accomplishments in numerous industry publications as an engineer, a thought-leader in technology, and an innovator in marketing. But her favourite and the toughest earned title is being "Mom" to her two children.