Top 10 Best Laptops for Web Development & Design
Laptops are a versatile invention that has made a seamless intervention in the professional world. Unlike desktops, laptops are much easier to carry and have various features and tools. You can do anything on your laptop, whether you want to write, draw, design, or code. 
Laptops come with varying price ranges; every laptop may have specific advantages and limitations. For instance, the need for graphics cards can make it difficult for the designers to view the colours appropriately. Web developers may face challenges if the space and speed are not up to the mark. Web developers have to spend endless time writing codes and will undoubtedly have to spend time on a laptop that they can use for extensive hours.
Whether a beginner or an expert, consider investing in a suitable device to improve your efficiency and work appropriately. Here we present a guide on the best web development laptops available today. 
We have also created a comprehensive web development laptop buying guide to aid you in making an informed decision. Go through the article and note the best choices available in the market.
Best Laptops for Web Development
If you want to buy a laptop online, here are a few options with detailed reviews and information. Make sure to check the features and specifications of the computer before deciding on buying it. 
1 – Dell XPS 9500
Consider this one if you are looking for a laptop that can withstand extreme conditions. The screen is impact and scratch resistant as it is equipped with indestructible Corning Gorilla Glass 6. The Infinity Edge narrow-bezel design will make it easier to look at every detail appropriately. This feature makes the laptop highly efficient for web design as it relies on colour accuracy. 
The trackpad of this laptop is 62% larger than the previous versions, making it worth the money as it will improve your productivity. It is one of the best laptops for web design because it can generate high-resolution graphics and leads to 100% Adobe Color information integrity. The battery life of the laptop is up to 9 hours. The computer provides more than 16 million ultra-vivid colours, 40 times brighter than ever. The excellent colours and graphics make it a perfect choice, bringing it to the best laptops for graphic design and web development.
Pros:
Narrow bezels
Sophisticated BIOS programme
Full HD+ Display
Effective graphically intensive apps
Spacious keyboard
Cons:
Trackpad is a little uncomfortable 
Average battery life
2 – Apple MacBook Pro M1
If you are a professional and want a versatile laptop, the Apple MacBook Pro M1 could be a versatile option. It will allow you to design and develop applications across various platforms. The upgrades are unbeatable, and the overall build is versatile. The M1 chip features 8-cores and a 14-core integrated GPU. The laptop also has 16GB RAM and 512GB SSD. You can also buy a 1TB variant but must pay more. 
The images appear sharper and more vibrant on the 14.2-inch screen, equipped with a Liquid Retina XDR display with 3024*1964 resolution. The stunning display with colossal processing prowess makes it an excellent choice for developers. Whether you are into front-end, back-end or full-stack development, this could be a perfect addition to your life.
Pros:
It features a powerful M1 chip
The brilliant display makes it ideal for front-end developers
Spacious and comfortable keyboard
Excellent for coders
Excellent connectivity options
Cons:
No user-upgradable RAM
No upgradable storage
3 – HP Spectre X360 (2022)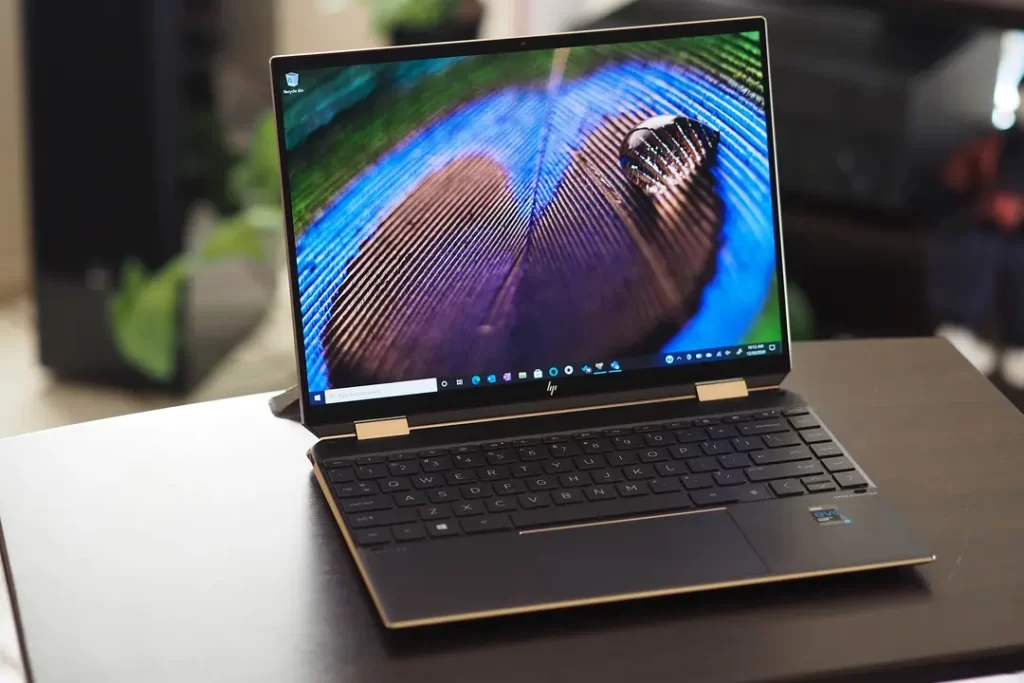 HP Spectre x360 (2022 model) is an update of the Spectre x360 14 that has been on the top list for most programmers. It has an OLED touch screen and a 3,000 by 2,000-pixel resolution, regenerated with 12th-generation Intel silicon. The latest HP series is also tough on the outside and inside, with excellent battery performance. The sleek design and sturdy interface make this an excellent choice for programmers. However, the users are a little disappointed with the poor keyboard layout, and the lack of an HDMI port could be a downside for some users. However, the laptop is equipped with a mini dock.
Pros:
Sleek and sturdy design
3:2 aspect ratio 
OLED touch screen 
Excellent battery life
Powerful Intel processors
Cons:
No HDMI ports
The keyboard layout is a little disappointing
4 – Apple MacBook Air M1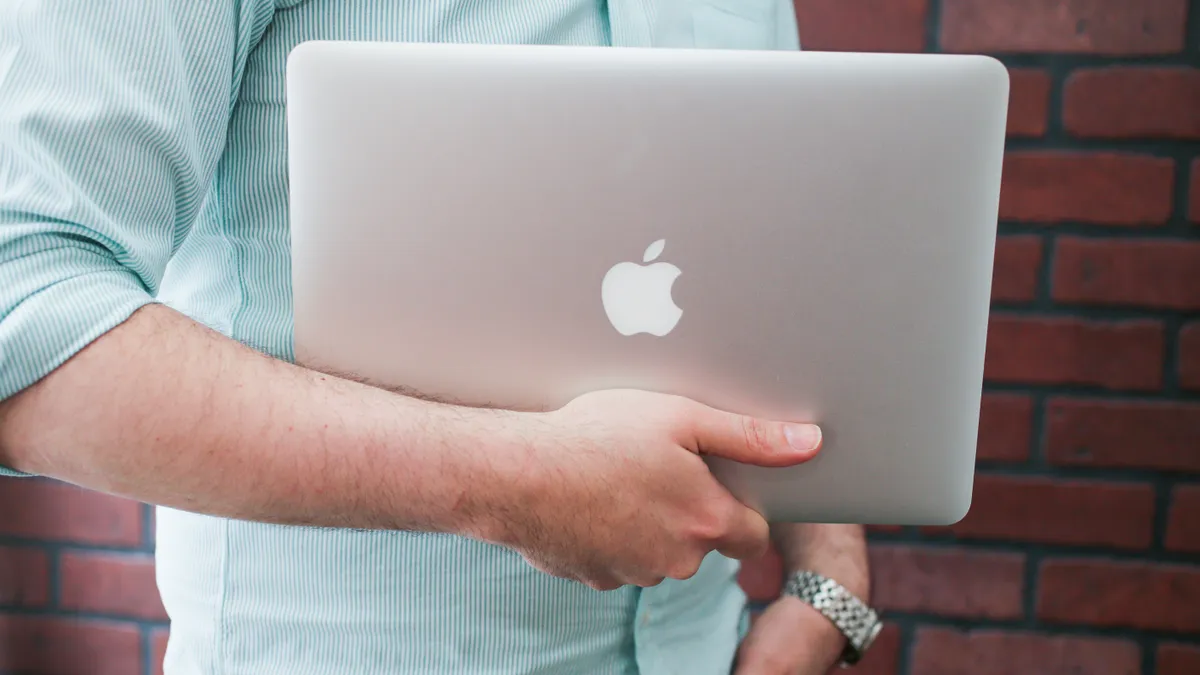 Apple MacBook Air M1 is easy on the pocket for developing apps for the Mac environment. It is a thin, portable and travel-friendly laptop for professionals who want to code on the go. The low variant option has 8GB RAM and 256GB SSD, which may be ideal for beginners.
It may not be an excellent choice for professionals as they may feel their hands are tied to a fully functional development environment. In contrast, if you want to use Visual Studio, an M1 chip could be an excellent investment. The 13-inch IPS screen and 400 nits' brightness deliver exceptional image quality. If space is a constraint, you can buy another version with 16GB and 2TB SSD. 
Pros:
Compact and lightweight
Spacious keyboard
Excellent battery life
Thunderbolt and Wi-Fi 6
Cons:
No touchscreen options 
There are only two Thunderbolt port devices which limit the function and expansion of I/O devices
5 – Lenovo ThinkPad X1 Carbon Gen 10
While multiple options and brands are available, Lenovo ThinkPad X1 Carbon has been the go-to for many professional web developers. If you are an expert, consider investing in it as it comes with a high price point. The laptop is thin, lightweight and highly portable. The laptop features Intel's vPro platform and high-end specifications, which delivers top-notch performance and makes this an excellent choice. 
The ThinkPad X1 Carbon Gen 10th Gen has a 12th-generation Intel core i7-1270P processor. The laptop also comes with 32GB DDR5 RAM and a 2TB SSD, which provides ample space for web developers. The keyboard's design is excellent and spacious, allowing you to type out endless lines of code. The 14-inch IPS panel display has a 16:10 aspect ratio and delivers 400 nits of brightness, making the performance superior to the laptop. The Wi-Fi 6E and Thunderbolt 4 ports help enhance the high-speed connectivity of the computer. The excellent performance even makes it an ideal choice for gaming laptops.
Pros:
Lightweight and portable
Thunderbolt 4 ports
Wi-Fi 6 E makes it an excellent choice for high-speed wireless connectivity 
The 16:10 aspect ratio lets you view more
Cons:
Highly expensive 
Not an ideal choice for beginners
6 – MSI Summit E13
MSI Summit E13 is an excellent choice for beginners as it has upgradeable features and specifications. You can start with a basic model in the beginning and upgrade later once you have developed hands-on software and technicalities of web development. The laptop uses Intel 12th Generation Core i7-1280 processor and a 4.80GHz clock speed. The variant comes with 16GB RAM and 512 GB SSD storage.
You will also have the option to choose from other variants offering 16 GB RAM and 2TB SSD. You can select depending on your usage or start with a low-end model and upgrade eventually when work demands. Wi-Fi 6E and Bluetooth 5.2 make it convenient and allow high-speed connectivity within the laptop. The 13-inch screen laptop may not be preferred by professionals who want a comprehensive laptop to write a thousand lines of code.
Pros:
The 16:10 aspect ratio lets you write more
Upgradable specifications will allow you to scale up whenever required 
Bluetooth 5.2 and Wi-Fi 6E enhance high-speed wireless connectivity
Cons:
Poor battery life
Professional coders do not prefer the 13-inch screen
7 – Asus ZenBook Pro 14 Duo
Asus is another highly trusted brand and one of the first choices among coders or programmers. The Asus ZenBook Pro 14 brings convenience as it includes an additional screen. One can use it for the command line window or document the development process. You can extend the 12.7-inch touchscreen IPS display to your main screen, a 14.5-inch OLED. The high-end specifications, such as Intel Core i7-12700H with 14 cores and 4.70GHz clock speed, make it worthwhile. However, the keyboard could be more cramped because of the unconventional design of the laptop. You can use Thunderbolt 4 and connect it with an external one easily. 
Pros:
Dual-screen design
Efficient for multitasking
Plenty of connectivity ports
Intel's Evo platform will increase your productivity and ensure fast charging
Cons: 
The keyboard is cramped, and you will have to use an external one
8 – Acer Aspire 5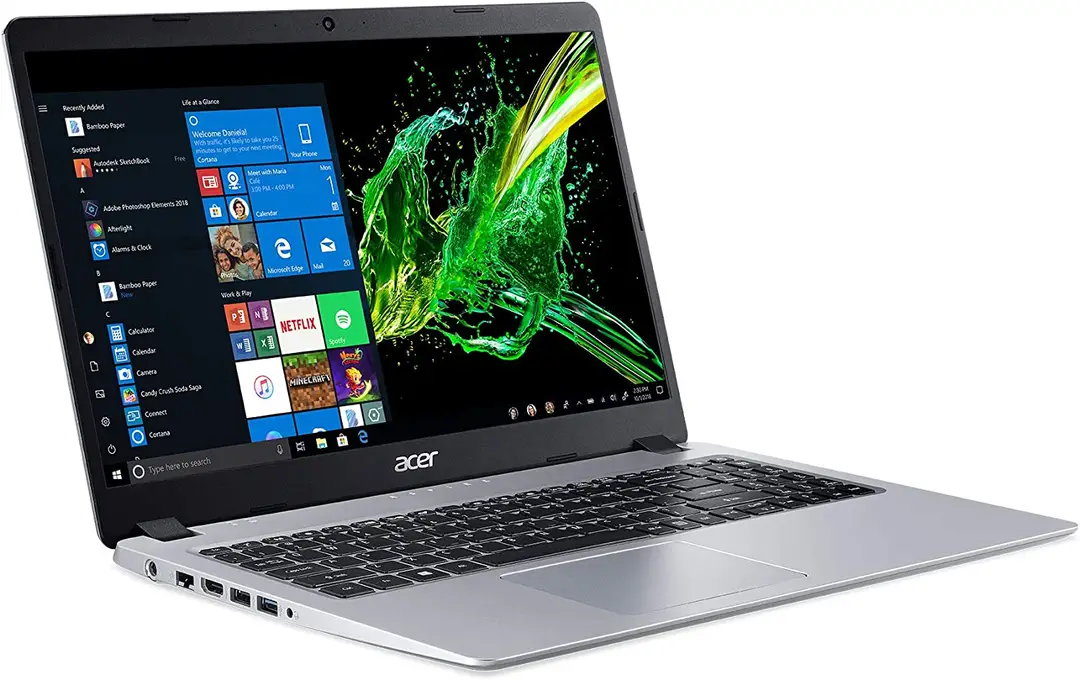 Acer Aspire 5 is an excellent choice for individuals who want to work on a laptop round-the-clock. It could be an excellent investment whether a web developer or a creative professional. The computer features Acer True Harmony Technology, providing exceptional audio quality and delivering superior bass with increased volume. It supports multiple interfaces, including HDMI, USB 3.1 and USB 2.0. 
In addition, the Acer Color Intelligence ensures a true-to-life colour display and offers the best user experience. The lighted keyboard will provide comfort and make it easier to work in different settings. The Acers Blue Light Shield feature will protect your eyes from straining and make it ideal for extended usage. It even features thin bezels and other functionalities, making it worth the investment for web developers.
Pros:
Quick Navigation 
Blue Light Shield feature protects your eyes from straining
Powerful CPU
Lighted keyboard
High-definition screen quality 
Easy to configure 
Cons:
9 – HP Envy x360
HP Envy is another competitive device by the brand that will not cause a massive hole in your pocket. The HP Envy may not provide excellent RAM and storage like the X1 Carbon, but it is equipped with features that make it equally powerful. It has 12th Generations Intel Core i7-1260P processor and a 4.70GHz clock speed. 
The 16GB RAM and 1TB storage further enhance the laptop's productivity and make it a versatile choice for web development professionals. The bright and colourful OLED display will also make it easier to work long hours as it is equipped with Low Blue Light emissions that are not heavy on the eyes. You can even flip onto a laptop to add more convenience.
Pros:
Affordable laptop with excellent features
Low Blue Light Emissions are not heavy on the eyes
Backlit keyboard
Thunderbolt 4 and Wi-Fi 6E provide high connectivity features
Cons:
No 16:10 aspect ratio
The larger size variant can make it challenging to use it in the laptop variation
10 – CHUWI HeroBook Air
If you want a budget-friendly laptop, consider this one by Chuwi. It may be ideal for individuals still in their learning stage and who want to spend wisely on the computer.
The 11-6″ laptop powered by Intel Celeron Processor has 4GB RAM and 128GB SSD storage. It is skinny and portable, making it convenient for professionals looking for a travel-friendly laptop. The 220 nits brightness and display of Intel UHD Graphics 600 make it an elegant choice according to the price point of the computer.
Pros:
Lightweight and travel-friendly
Good value for money
Excellent image quality
Cons:
Web Development Laptop Buying Guide
Every profession requires a particular set of tools for quality and efficient working. Web developers are professionals who must maintain the quality of web deliverables on time. Whether you are a front-end, back-end or full-stack developer, your requirement for a laptop will differ from other professions. You may require laptops that are more efficient and convenient than other models on the market. Here are some factors you must consider while choosing a laptop for web development.
1 – Choose an Operating System
The first and most important thing you must consider while selecting is choosing the right operating system. Ideally, you will have four options: Chrome OS, Windows, Mac OS X and Linux. Each operating system may have its own set of specifications, advantages and disadvantages. If you are a beginner, you should be very careful about your requirements and choose the OS carefully. 
Chrome OS – Chrome OS is the simplest and easiest operating software available. You should be aware that Chrome OS does not have a file browser. It does not run applications; you must do the entire work via browser-run web apps. The operating system could be ideal for individuals who code directly in raw HTML and CSS. 
Linux – Linux could be a problematic operating system for beginners as it would require you to enter commands directly into the command line. However, if you can adapt to this software, it could be the most powerful and customisable option to match your needs and create an excellent development environment.
Windows – Microsoft Windows is the most powerful operating system and is used by a high percentage of web developers across the world. Windows is available on a variety of laptops and at different price points. Therefore, you can choose according to your price and other preferences required in a computer.
Mac OS X – Mac is a powerful operating system quickly becoming the go-to for web designers and developers. The built-in terminal even provides easy access to visualisation software and git tools. It is only available on Apple units.
2 – RAM
You should check the RAM carefully, as it can significantly impact the laptop's performance. Web development tools are heavy, and the file sizes get complex and more considerable. If you choose a computer with less RAM, you may have to face certain restrictions regarding working efficiency. While it may be fine for beginners and learners, it can be a massive issue for professional web developers. The RAM requirement depends entirely on your laptop usage, but we suggest you buy a laptop with a minimum of 8GB RAM. Initially, consider using a user-friendly Windows laptop with a minimum of 8GB to get hands-on practice and improve your skills.
3 – Upgradeable RAM and Storage
It is another feature you must consider while looking for a laptop for web development. Not all of us are professional and well-versed in the technicalities of web development. It will help if you are looking for a computer with upgradeable RAM, which may allow you to scale up whenever required. Therefore, once you have gained good knowledge in the field, you can upgrade the RAM and storage according to the requirements. Most laptops do not have this feature, while others that provide it may be available at a higher price. It would be best to be careful about your needs while making this decision.
4 – Aspect Ratio
Aspect Ratio is another factor that must be considered while selecting because colours need larger screens to ensure you can simultaneously view complete lines of code. A screen with a 16:10 ratio would be ideal and improve your productivity, making it easier to read more lines of text. This will make it easier to focus on the project's development. Many people even consider buying a desktop for extended usage. But comparing laptop vs desktop, laptops are much more convenient and travel-friendly. You can carry them on your shoulders and work around more conveniently.
5 – Battery Life
Another important feature will be the battery life, as you may not want it to drain out quickly. Front-end and back-end developers may use common programming languages like HTML, CSS and JavaScript. However, the back-end developers may require additional hardware support as they may also have to work with programs like Python and MySQL. 
Besides that, full-stack developers will have to take care of every aspect. Web developer professionals will require a faster CPU and at least 8GB of RAM. You might also need a laptop that doesn't require constant charging every few hours. Make sure to invest in a computer that performs well for hours and comes with excellent battery life.
6 – Budget 
Before hunting for a laptop for your web development needs, consider settling on a budget. If you are a beginner, you can begin with a fast processor and decent RAM usage. Check the space and additional add-on you are getting on the laptop. If you want a computer, you can use for a few years; you may consider splurging on an expensive model. There are excellent options available within the budget as well. You should know your needs and requirements for the laptop to make an informed choice. Consider buying the computer online or during the sale to save extra money. It will even allow you to buy a higher variant laptop cheaper.
These are some of the factors you must consider to understand your requirements and make an informed decision. Start by listing the features and other necessities you are looking for in a laptop, and then look for options based on your budget. Check the review of each computer and buy the one that meets your needs and requirements. We have created a comprehensive list and included laptops that may be ideal for beginners and experts. We hope this guide helps you make an informed deck and pick the right laptop for your web development.
Author Bio: Fidha works as the Growth Assistant at myG, south India's most trusted digital establishment, delivering values beyond expectations to the customers and, thus, India's most trusted and service-oriented electronics dealer. She is a Math graduate who developed her fondness for digital marketing. Being in the marketing field for the past four years, Fidha is proficient in identifying techniques, strategies, and tactics to boost the number of visitors to a website and secure a high rank on the results page of search engines. She occupies her leisure time gaining new skills and practising creativity and mindfulness.
Last update on 2023-03-13 / Affiliate links / Images from Amazon Product Advertising API