15 Best Freelance Tools for Professional and Efficient Work
Freelancers work on their terms without any constraint from a boss, company, or employee.
Yes, it's an old-school way of working, but it has rewards and satisfaction. A freelancer can work at home on his laptop with a good internet connection worldwide.
Freelancing can be a healthy but stressful career. You need to constantly learn new skills, deal with numerous clients and projects, and deal with much ambiguity.
Freelancing is becoming increasingly popular as more people realise the benefits of being their boss.
However, the "freelance" lifestyle means that sometimes you must get your hands dirty regarding some of the tasks involved in running your business.
Freelancers love having different tools that help them achieve the end goal of being a service provider.
You can use some freelance tools for different purposes; others are more specific to a particular field, like graphic design.
If you are a freelancer, your life is complete with a toolbox of reliable tools, and finding the right ones to use can take time and effort.
This article will cover the 15 best freelancing tools in 2024 that you will find helpful.
List of 15 Freelance Tools That Every Freelancer Needs to Know
Upwork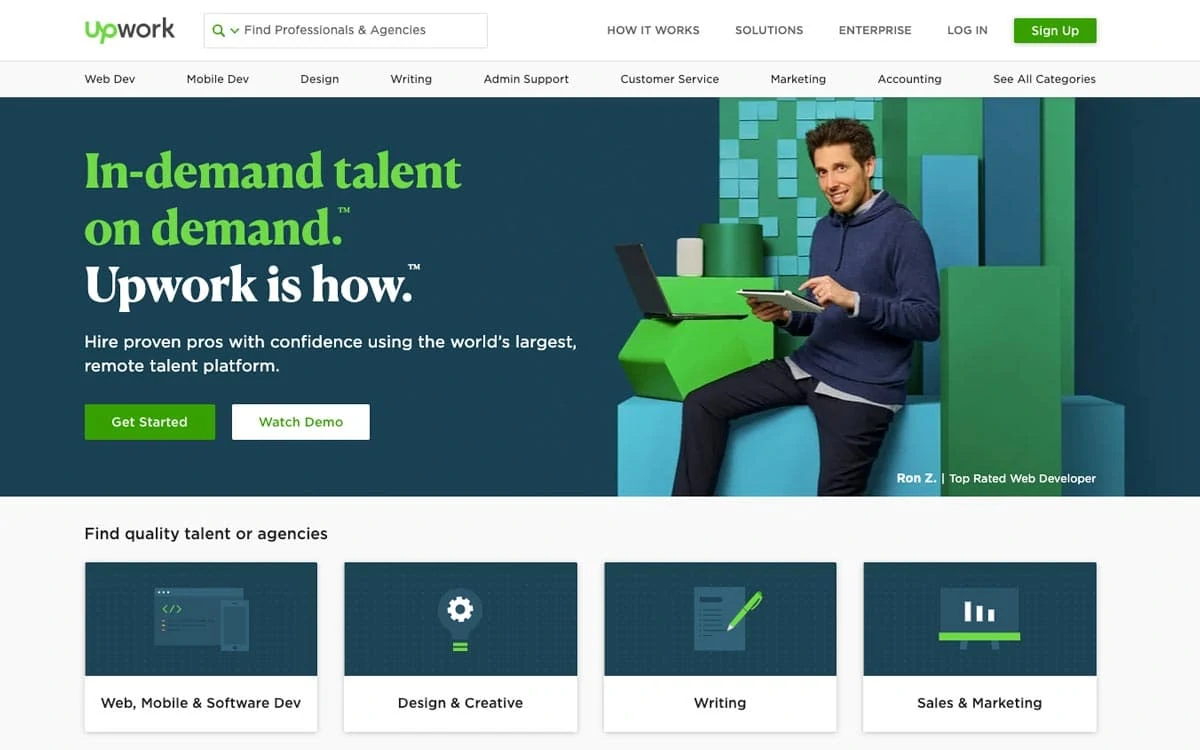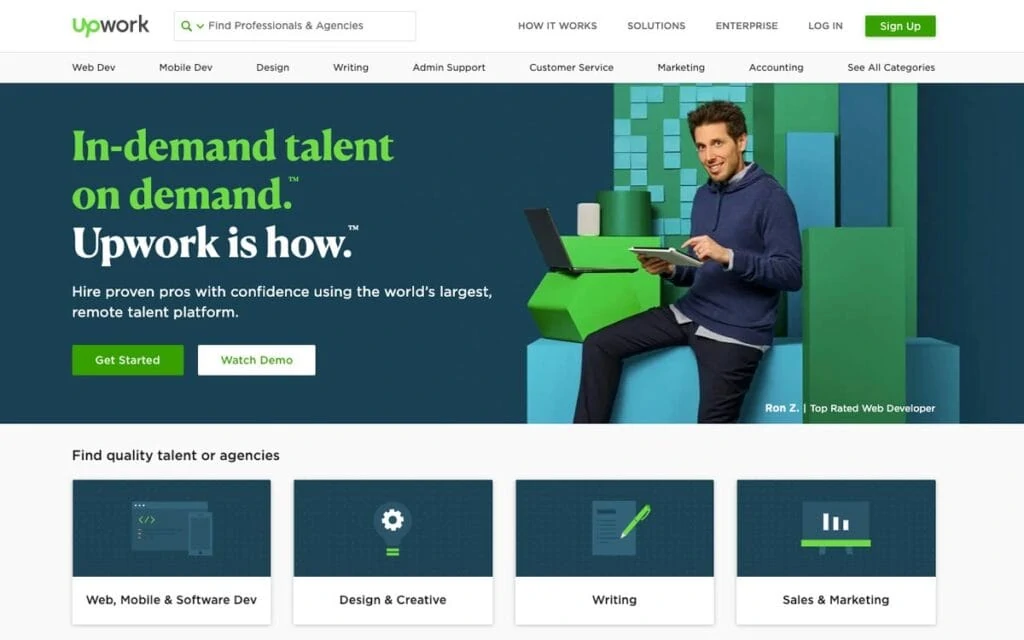 Upwork is a freelancing website that connects freelancers and clients worldwide. You can search for jobs, post job listings, or browse other people's listings.
You can also use the Upwork app on your phone to find jobs and schedule interviews with clients.
The platform can help you find the right client from across the globe without any territorial restrictions.
There are two types of jobs there: hourly and fixed price. You can set an hourly rate on your profile and apply for jobs that offer that specific rate.
When you see available positions in the job feed, you can see the proposed budget and other essential elements, such as client rating and total spending on the platform.
Prefer applying for jobs according to your skill set because if you attempt to perform something you are not good at, you will likely welcome negative feedback to your profile – which is not what you want as a freelancer.
Upwork can be a life-changing platform for those who have exceptional skills in the digital landscape. They have a dedicated time-tracking app to track the time you spend doing a specific job.
Furthermore, Upwork's messaging app lets you directly communicate with the client to discuss things in detail before you start performing a job.
Fiverr
Fiverr is a website where you can sell your services as anything from a writer to a photographer to a web developer.
The catch is that you only get paid if someone books one of your gigs – so it's not like Etsy, where you can just set up shop and make money whenever you want.
Each gig has its price point, so it's really up to what kind of person you are as a freelancer. The platform allows you to create gigs and sell them to customers worldwide.
If compared to Upwork, it's more accessible for beginners. You can write content to translate documents into different languages, create video tutorials, and do data entry work.
It is gaining popularity worldwide due to its simplicity and feasibility for beginner-level freelancers. It works everywhere across the globe without any geographical distinction.
That's why freelance workers worldwide can sign up and build their fortunes right from the comfort of their homes.
Rephraser
Rephraser is an online paraphrasing tool that will help you rewrite text from your research into engaging copy for social media posts, blog posts, or any other purpose.
It's super easy to use:
Type the text you want to rewrite into the box on the right-hand side.
Choose which language you want it written in (English or another).
Click "Paraphrase."
This tool benefits freelancers because it lets them convert original text into a unique piece they can use wherever they want.
Furthermore, they come across a complex copy to comprehend due to the use of uncommon words. In that case, a rephrase can help them translate that text into easily understandable content. As a result, you can better understand things before acting upon them.
The tool is free for everyone and does not put a condition on registration. That means you can use it wherever you want without worrying about installation or completing the sign-up process.
Online Notepad
You probably have a notepad on your computer if you're a freelancer. But what if you need one to satisfy your needs?
You might be unable to use it as an online notepad because these note-taking tools are device-specific.
You can only use them on a laptop, tablet, or smartphone. You cannot use them if you wish to use them online.
However, we have a solution: an online notepad tool like onlinenotepad.io or Evernote. You must upload your document (or any file) and make the necessary changes within seconds.
Here, you get an editable version of the original file that you can save, share, or use for any other purpose.
You can also take notes immediately by visiting the tool online. There are three note-taking modes: plain text, rich text, and task list.
You can choose the one that satisfies your needs in the best way. The best part about this tool is that it's free and requires no download.
This is also a great place to start when you're looking for a new job or are just exploring the freelance world.
You can use this tool to write down your ideas and keep track of things you have to do, and it will let you organise them by date.
Freelancers can use it to keep track of their projects and tasks. You can use this to store information on new clients, details about existing clients, and even project-related documents like proposals.
A notepad tool can help you keep track of your work and stay on top of things, especially if you are new to the freelancer industry.
You can save the progress of each project or task as you go with this tool and then delete it when it's done.
Google Drive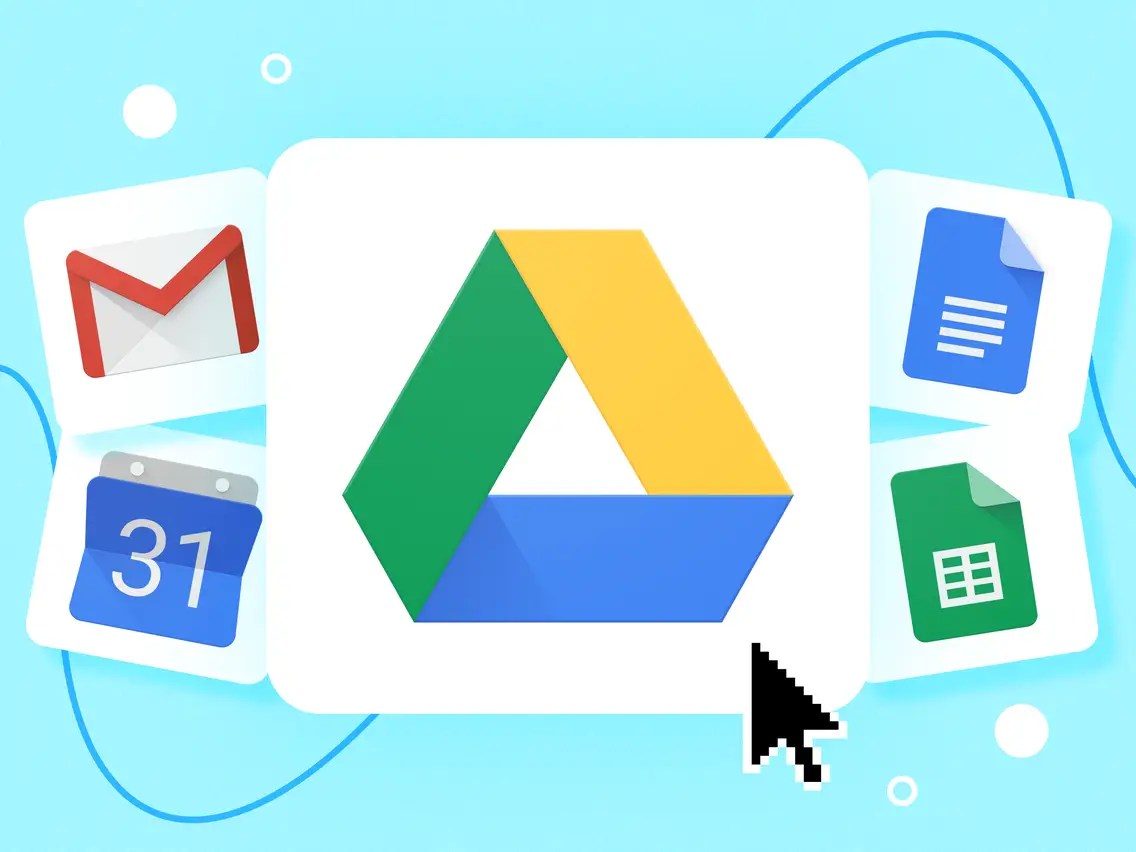 Google Drive is another free tool that works with Microsoft Office documents – including Word and Excel files – and PDFs.
With this tool, you can create presentations from scratch or import existing ones into Google Drive, so you don't have to worry about keeping track of all those files.
It is a cloud-based storage platform that gives you access to your files anywhere in the world – even on a different computer.
Suppose you're working with clients through email. In that case, this is especially helpful because they'll be able to access their documents wherever they are, too, rather than worrying about downloading them themselves (which may take days).
You'll also get full access to any documents shared with you – so if someone asks for something specific, send them a link instead of copying and pasting it over again.
Being a cloud storage solution, it lets you access your files on any device – from PCs to Macs to Android devices – with a web browser.
Some of the features include automatic file backup to the cloud (unless you're using a paid version), offline viewing/editing (when you're not connected), Google Docs compatibility (including real-time collaboration), and integration with Gmail, Drive File Manager (to move your files around), and more.
Slack
Slack is an instant messaging app that has grown in popularity over time due to its ease of use and ability to integrate with other apps, such as Trello and Zapier, to automate specific processes like sending emails or sharing files.
Slack is the right way to go if you have a remote team and want to use every opportunity to communicate with each other in real-time.
It makes your work faster, lets you know who can chat, places video and audio calls, helps you privatise channels, creates different channels for different teams, and much more.
Zoom
Zoom is an excellent tool for freelancers because it allows you to communicate with people worldwide. Being a freelancer, you have to interview clients and talk to them regarding projects.
Zoom provides a convenient way to place video and audio calls with added features. Using the chat function, you can also talk to your colleagues or potential clients.
It allows you to upload documents and send them to whomever you want.
The tool requires an established internet connection to work smoothly because a poor internet connection will not let you enjoy an unbroken experience.
There is a dedicated mobile application for both IOS and Android users. You can install it on your tablet or smartphone to stay connected on the go. With millions of active users around the globe, Zoom has become the industry leader in communication.
Trello
Trello is a project management tool that allows you to create boards for your projects and assign tasks to yourself or others.
It also allows you to communicate with your team in real-time, which is a huge help when collaborating in project management software.
It also has a feature where you can link it to Slack to get notifications when someone completes a task, which helps keep everyone on the same page.
The best part about Trello is that it has a free plan for project managers.
It is an excellent tool for managing and keeping track of your freelance tasks. You can use it to create a simple list that includes a description of each task and what needs to be done, when it needs to be done, who's doing it, and how long it will take.
In short, it can be your go-to tool that helps you organise your tasks and projects. You can add different lists and sub-lists to it, making it easy to manage the different parts of your job.
It also can add files, images, and videos you want to work on in your project.
Canva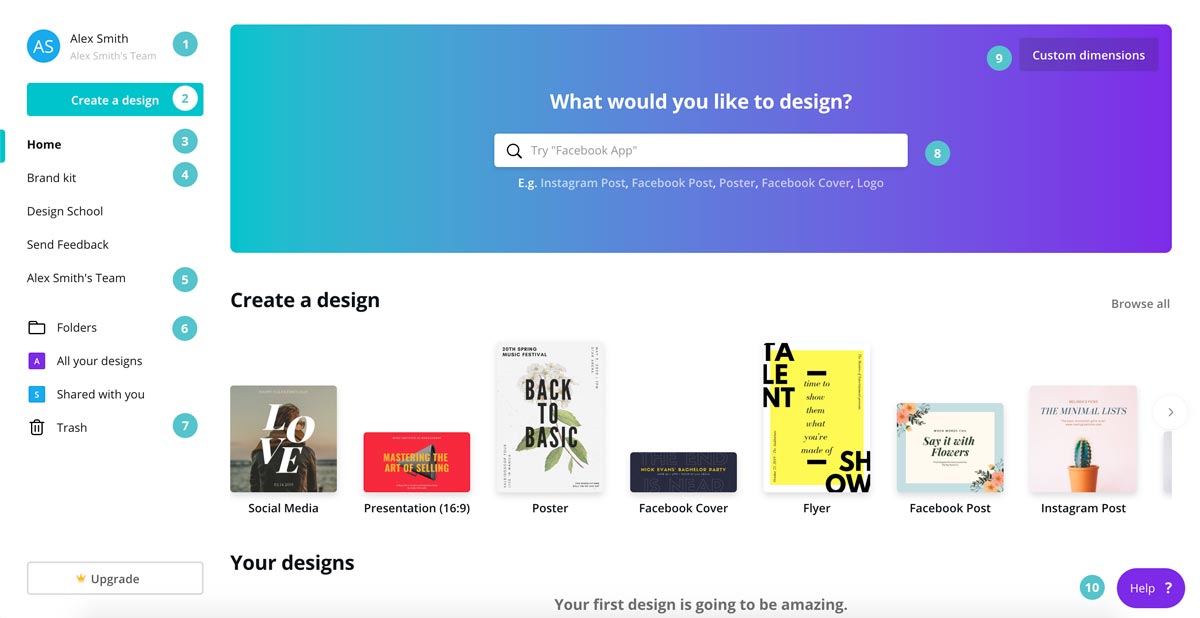 Canva is a tool that allows you to create graphics for social media posts and websites. You can upload images from your computer and play around with them to make stunning visuals.
Canva will also help with design if you choose to use its templates.
Did you know that Canva is an excellent tool for freelancers? With this tool, you can easily upload images and create beautiful infographics.
It's perfect for freelancers who want to communicate their ideas clearly without writing much text or spending too much time on design creation.
This free online tool lets you create beautiful images and designs. It has many templates, so you can find one that will fit your needs perfectly.
The basic version is free to use. However, there are paid plans available for those who need advanced access.
Dropbox
Dropbox is a cloud storage site that allows you to upload files to Dropbox and download them from there. This is great for storing documents or any other file that needs to be shared with others.
Like Google Drive and One Drive, it facilitates storing and sharing files on the cloud.
That means you can access and share files anywhere in the world, even if you cannot access your personal or office computer.
You need to know the logins to access and share Dropbox files. It is considered an excellent service for keeping a backup of your files.
As a freelancer, you might have different types of documents or files that need to be with you 24/7. For instance, you might have to share project samples with new potential clients.
In that case, Dropbox allows you to share samples instantly to maximise your chances of getting hired by new clients.
You can get 2GB of storage free if you are a free user. However, you can opt for the paid plan if you need more.
Toggl
Toggl is a Time-tracking tool that keeps track of your time on specific projects. It helps with billing clients and understanding how much time you spend on work-related tasks.
If you're working on a project-based job, this is one of the best tools to streamline your work and ensure you're giving a client the most accurate estimate.
They have a dedicated desktop time tracker that you can use to keep track of your work.
Grammarly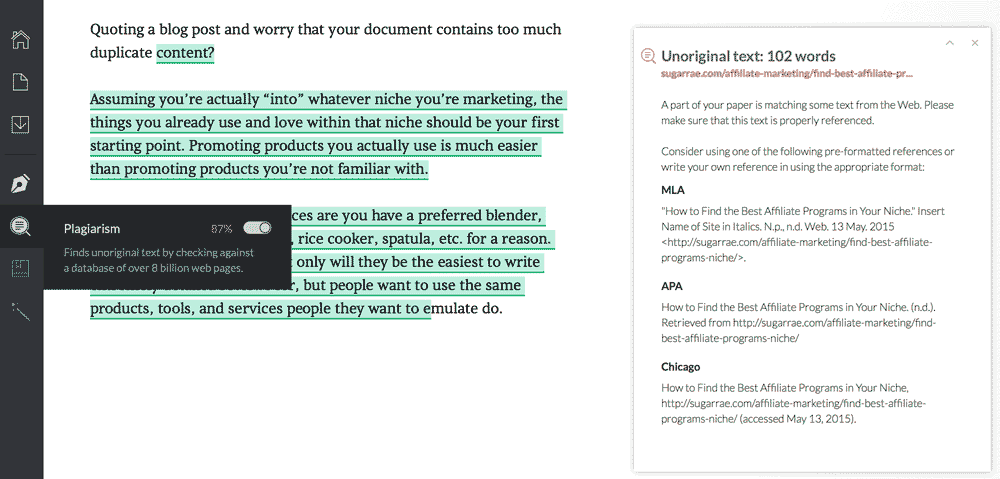 Grammarly is an excellent tool for editing your writing. It checks the grammar and spelling of your text and then gives you suggestions for better ways to structure your writing.
If you have any formatting issues, it will even fix them for you. It's an excellent way to get used to using proper English and keep your work clean and professional-looking.
It is considered an excellent tool for both writing and proofreading. This checks your spelling, grammar, and punctuation. It also helps you avoid embarrassing typos.
It is free for primary use. However, you can opt for a paid version if you need access to advanced features.
Hootsuite
Hootsuite is a social media management tool that helps you schedule tweets, manage posts from your blog and website, schedule Facebook updates, and more.
You can also add specific hashtags to each tweet so they show up when your followers search for those terms online.
This is especially useful if you try contacting people with specific interests (like sports or travel).
For freelancers, it is an excellent tool for managing social media accounts and creating content on the fly. It allows you to schedule posts and campaigns and monitor engagement levels on each post.
If you have a project such as a social media manager, Hootsuite can help you run successful campaigns without worrying about sending them at the right time with proper hashtags.
Boomerang
It's easy to get distracted when you're working on a project. You might be checking your email, answering a question from your team, or responding to a client.
Boomerang allows you to schedule emails for later in the day. You can choose the time you want to send the message or specific days of the week.
You can also set up multiple Boomerang accounts if you manage more than one job or team.
This free email scheduling tool can help you stay organised by automatically sending emails at specific times or intervals.
This is especially helpful if you work from home or want to remember the crucial things in life, like sending essential details to clients.
The tool lets you schedule emails at specific times or days of the week, so they go out automatically when they're supposed to be sent out — even if your computer isn't online.
It also lets you send emails from mobile devices, so you don't have to log into your email account whenever you want to send one out.
If you already use Gmail for your email needs, Boomerang will work seamlessly with it.
Skype
"Old is Gold." Skype is by far the most widely used communication tool. It has millions of active users from different parts of the world.
The reason is that it is available for free. Freelancers can use it for day-to-day communications with clients, colleagues, and other important people.
You can use this application for free conference calls with up to 10 people at once, which comes in handy when working with other freelancers or clients with whom you want to collaborate remotely.
Benefits of Online Tools for Freelancers
There needs to be more clarity about online freelance tools and how they can benefit freelancers.
The truth is that there is a wide range of tools out there that can help freelancers increase their productivity and profitability.
They can help in many ways, and some of them are mentioned below:
Save Time and Money
Freelancers can save time and money by using online tools. These tools help them to manage their work, track their progress and make a budget.
This can also help them save money on printing and postage costs, which they would have spent if they had used traditional paper-based tools.
Keep Track of Deadlines
Online tools also help freelancers keep track of deadlines and client feedback, which is crucial for maintaining good client relationships and managing workloads effectively.
Once you are using online tools for freelancers, it becomes easier for you to manage your schedule and stay on top of your tasks at all times so that you can do them efficiently without any hassle or stress.
You will also be able to give your clients the best possible work quality at all times because you can monitor things from one place rather than having multiple places where you have to look at everything separately.
Improve Efficiency
Freelancers can also use online tools to improve their efficiency and productivity levels within their freelance business workflow.
This helps them focus more on the tasks rather than worrying about how much time has passed since they started.
Easy Access
Freelancers can use technology to make their work lives more manageable. They can use websites like Upwork and Fiverr to find clients and get paid quickly.
Online tools also allow freelancers to communicate more easily with each other and share insights about the industry they work in.
More Control Over Your Schedule
Freelancers have more control over their schedules than traditional workers because they don't have to report to an employer during working hours.
Instead, they are free to take on projects as they are available – or not if they choose not to work that day or week anymore.
Flexibility
Freelancers can use online tools at any time and from any location. This means that you can work on projects and complete tasks no matter where you are.
You don't have to worry about finding the right equipment, making copies, or accessing a computer.
Promote Self-Employment
Suppose you want to start freelancing but need to know what business model will work best for your needs. In that case, online tools can help guide you through setting up a business and promoting it online so that it gets noticed by potential clients and leads to additional income opportunities for yourself.
Wrapping Up
Freelancing is becoming increasingly popular among individuals and businesses alike. Some start their freelance businesses to see what it's all about.
If you're looking for freelance work, you may be surprised by the top freelancing tools in 2024 that are available to help you become more productive.
These are 15 freelance tools worth considering to improve your freelancing workflow and overall experience.