Laptop Vs Desktop – Which One is Best for Graphic Designers?
As a graphic designer, your work setup can be just as (if not more) important as the work you put out. 
Whether it's digital design such as logos and graphics, UI/UX design, or 3D work and video rendering – it's essential to find a setup that makes the most sense for your workflow, location, and style.
As a graphic designer, you already more than likely have a desktop, laptop, tablet, or a mix of all three that you predominately work from, personally at home or while at the office.
A question that has been posed and debated for years is – Which is better for graphic designers and design work in general? 
A laptop or a desktop? MacBook or PC? Is power most important, versatility, or ease of being able to travel with your work wherever you go?
Ultimately what it boils down to is your workflow and what you personally need or use most efficiently to streamline and better serve yourself and your clients while designing. 
Cybersecurity and other security features may be necessary to you, which Mac tends to have the upper hand in – and is worth keeping in mind.
In an ideal world, of course, it would be easiest to situate yourself with both – a desktop for the office or home, and a laptop to take while travelling, meeting with clients, or just wanting to lounge on the couch while you work without sitting at a desk all day.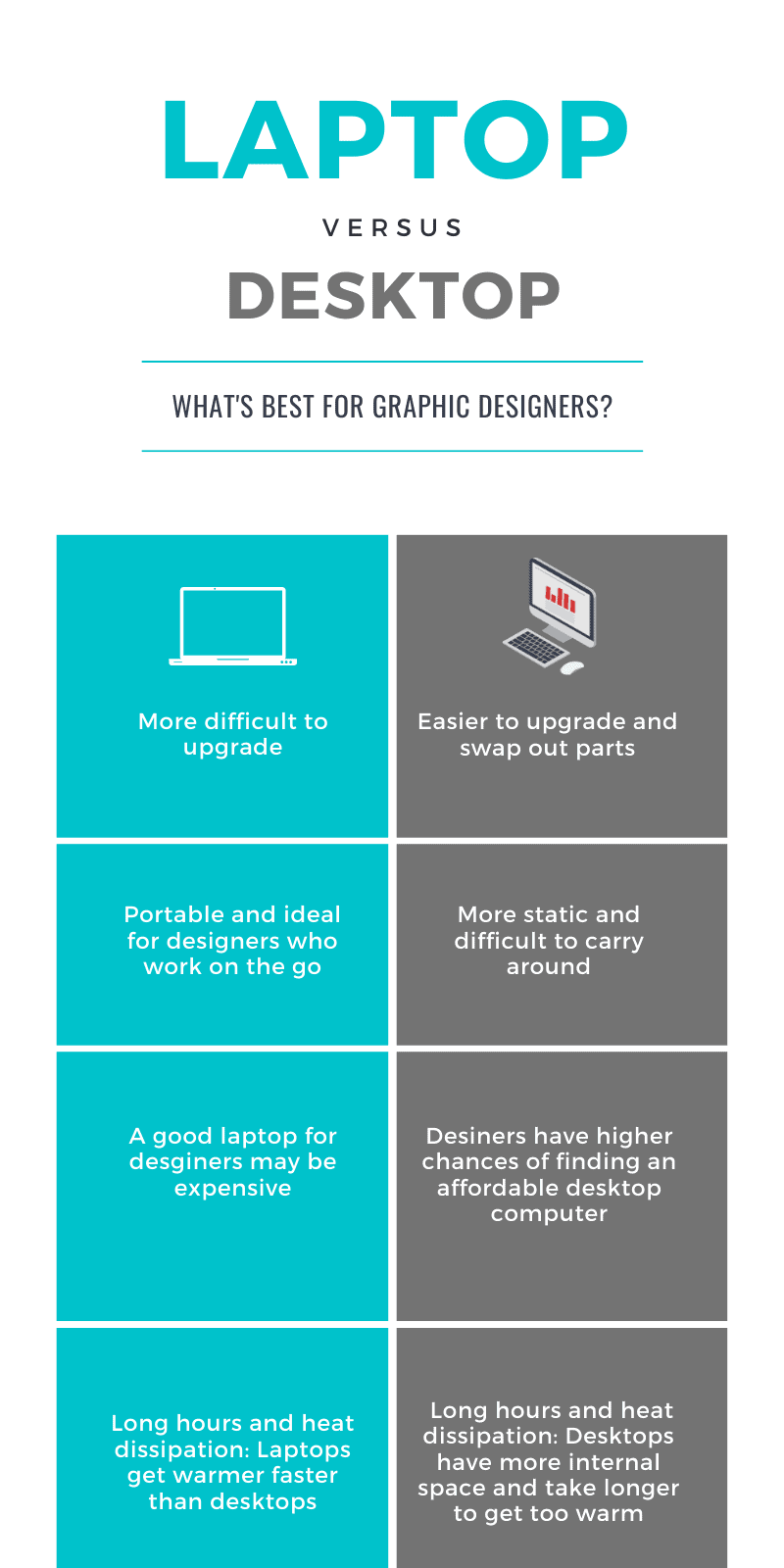 Why choose between laptop vs desktop?
Consistency and compatibility
It should be consistent and compatible with your setup, your clients and be easy to navigate and work with when it comes to your graphic design work. 
Choosing between or even working between a laptop and desktop is essential to always have that smooth, streamlined process going from start to finish – without worrying about technological hiccups interrupting your workflows, such as incompatible programs or drives.
Such as working between PC and Mac products, for example.
Differences in what runs smoother with certain file types is also a key to keep in mind.
Keeping up with technology
Desktop computers are much easier to upgrade and swap out parts for, such as adding more RAM (computer memory) or upgrading your GPU (graphics card) is easy and keeps costs down, as you don't have to get a whole new setup every few years – swap what you'd like to change when you can.
Laptops, on the other hand, are generally more challenging to upgrade and keep up to date. 
Most will need to be entirely replaced after a handful of years, give or take six years, depending on how much you use it and put it through the paces. 
Some can be customised and upgraded but tend not to be – due to the parts and limited casing space that laptops have.
Travelling vs office
If you're set up or will be situated in an office setting and will be static more often than not, then a desktop computer would make the most sense for your situation. 
On the flip side, if you're mobile between offices, travelling often, or prefer to take your work with you between rooms, investing in a laptop would be ideal.
Sale
Bestseller No. 1
Weight and cost play a significant factor with laptops and should be given some thought, significantly bulkier rigs if you're using them to render more intensive graphic design works. 
Nevertheless, MacBook's and other lighter PC laptops are still trendy and used essentially worldwide, especially when having to travel and work on the go or show clients your work while out of the office.
Tips for narrowing down your choice
Durability and performance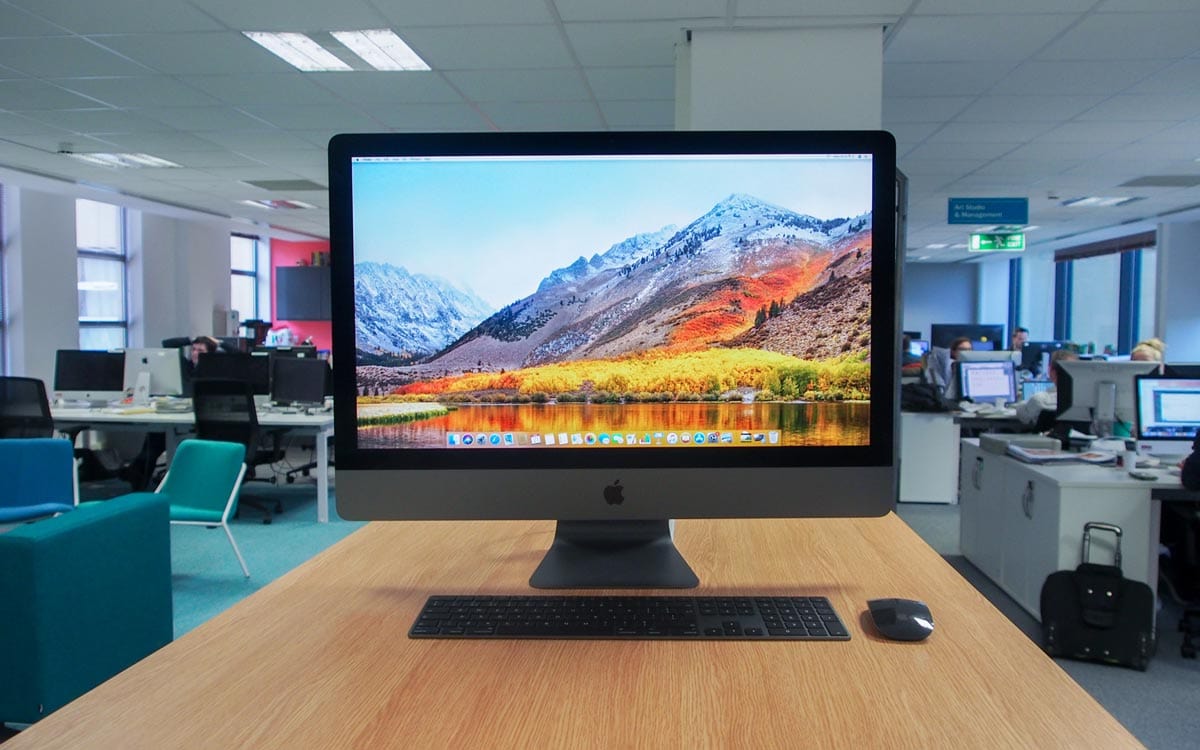 The meat of your choice can or should come down to durability and performance, along with the topic after this that covers display and colour accuracy. 
The speed at which you can open web browsers and how others can perceive your site and work is equally as important.
Durability for a laptop is critical, as a desktop case can generally take a knock or two. However, a dropped laptop can mean your entire livelihood being destroyed in one accidental swoop, and we don't need to tell you how costly a good laptop can be.
A solid laptop case is a good start, especially if you're using a pricier MacBook or expensive PC build. 
Laptops are more durable than you'd expect, though, and if you're lucky, they won't tank after one drop or minor accident. 
Bestseller No. 1
ASUS TUF Gaming F15 Gaming Laptop, 15.6" 144Hz FHD Display, Intel Core i5-11400H Processor, GeForce RTX 2050, 8GB DDR4 RAM, 512GB PCIe SSD Gen 3, Wi-Fi 6, Windows 11, FX506HF-ES51
FX506HF-ES51
SUPERCHARGED RTX GRAPHICS - Gameplay graphics are silky smooth with the NVIDIA GeForce RTX 2050 4GB GDDR6 at 70W with Dynamic Boost.
READY FOR ANYTHING - Use your gaming laptop to stream and multitask with ease thanks to an Intel Core i5-11400H with 12M Cache, up to 4.5 GHz, 6 cores and 8GB of blisteringly fast 3200MHz DDR4 RAM on Windows 11.
SWIFT VISUALS – Stay one step ahead of the competition thanks to its 144Hz 15.6" Full HD (1920 x 1080) IPS Type Display
AMPLE STORAGE FOR ALL YOUR GAMES - Store all your game library, and load them fast on your 512GB PCIe NVMe M.2 SSD to take advantage of the full RTX gaming experience.
Luckily if your laptop does take a tumble – it's easy to get your saved files off of your hard drive using a universal USB drive adapter and another computer to load everything onto.
Performance should go without saying. It's difficult to design anything when your computer gets bogged down and lags with only one program running, crashes in the middle of a design, or a couple of web browser tabs slow your entire system. 
Be sure to check the specs for whichever desktop or laptop you're eyeing to purchase for design work, these two being the most important.
RAM (computer memory) is critically important to performance and will determine how much you can run at a time, how responsive those apps are, and how well your computer can perform without lagging or crashing while running said applications or browser tabs. 
More RAM alone won't solve every issue, but it's generally the thing that could use an upgrade first when a computer starts to fall behind in performance. 
Sale
Bestseller No. 1
Corsair Vengeance LPX 16GB (2x8GB) DDR4 DRAM 3200MHz C16 Desktop Memory Kit - Black (CMK16GX4M2B3200C16)
Hand-sorted memory chips ensure high performance with generous Overclocking headroom. SPD Speed-2133MHz
Vengeance LPX is optimized for wide compatibility with the latest Intel and AMD DDR4 motherboards.
A low-profile height of just 34mm ensures that vengeance LPX even fits in most small-form-factor builds.
A high-performance PCB guarantees strong signal quality and stability for superior Overclocking ability.
A solid aluminum heatspreader efficiently dissipates heat from each module so that they consistently run at high clock speeds.
8GB and 16GB should be enough for most graphic designers, with options available for nearly any amount you can stuff into a desktop case – 32GB, for example, is considered rather overkill.
GPU (graphics card) directly affects your systems speed. A larger/newer GPU will be able to tackle almost anything you throw at it. 
Sale
Bestseller No. 1
At the same time, a smaller or older card will fall behind and not perform up to par with what you're trying to do, especially if your graphic design line of work falls under 3D renders or video that need much power to flow smoothly.
Display sizes and colour accuracy
Monitors can be used easily with desktops and laptops and are available in nearly any size you could imagine – Such as Samsung or ASUS' staggering 49" curved and crisp widescreen monitors. 
iMac comes in 21" or 27" sizes for their desktop setup screens and are often touted for their crisp colour and detail.
Like with any design work, and more so still in graphic design, colours being correct and what you need them to be is imperative. 
A larger screen doesn't always constitute a colour and contrast correct screen, and smaller doesn't mean better, especially for larger projects or wanting to get a good look at what you're working on.
Sale
Bestseller No. 1
SAMSUNG UJ59 Series 32-Inch 4K UHD (3840x2160) Computer Monitor, HDMI, Display Port, Eye Saver/Flicker Free Mode, FreeSync (LU32J590UQNXZA)
WIDESCREEN UHD: With 4x the pixels of Full HD, get more screen space (vs 16:9 screen) and UHD images; View documents & webpages w/ less scrolling, work more comfortably w/ multiple windows & toolbars, and enjoy photos, videos & games in stunning 4K
A BILLION COLOR SHADES: Supporting a billion shades of color, the UJ59 delivers incredibly vivid and realistic images; Its color accuracy means colors appear true to life, making the UJ59 ideal for photo, video and graphics applications
SEAMLESS UPSCALING: Samsung's UHD upscaling technology includes signal analysis and detail enhancement that seamlessly upconverts SD, HD and Full HD content to near UHD-level picture quality
WIDESCREEN 4K GAMING: With 8.3 million pixels supporting a wide range of colors and resolving every image with astonishing clarity, UHD gives you a wider view for a truly thrilling and immersive gaming experience
SMOOTHER GAMEPLAY: AMD FreeSync synchronizes the refresh rate of your graphics card & monitor to reduce image tear & stutter; Low Input Lag Mode minimizes the delay between mouse, keyboard or joystick input and onscreen response for smooth gaming
A separate monitor to go with a laptop is an ideal plan of action, especially when you hit those points where you're tired of looking at a small screen and want to switch up to something more significant and make sure your design is coming out the way you want on different scales, along with the colour differences that do go between displays.
One monitor, screen, or tablet display won't be identical to others for colour settings, and it's always good to have a second look. 
Another critical point for colour accuracy in the current market world is how important it is to keep social media consistent with colour schemes and branding.
Expansions and upgrading
Some laptops can be upgraded and improved upon, but most aren't capable due to the small casing of components and the heat that comes with everything being so close together. 
Large laptops meant for gaming or video editing that are fantastic for graphic design as well since they can handle anything you throw at them will cost a pretty penny brand new – and will possibly be obsolete within six to seven years, if not sooner, depending on how much you put it through the paces.
Desktops can be upgraded and changed on a whim, at a much lower cost after the initial build. (iMac's being the exception to that, as they can't be user upgraded and will need to be replaced over the years for newer models)
RAM and GPU can be replaced and updated, saving you time and money with keeping up to date with current technology as it continues advancing. 
Heat dissipation
Along with performance, how well your desktop or laptop dissipates heat will further help your design work. 
Laptops tend to get warmer and become slower than desktops due to their compact design and everything being jam-packed together.
If you want to keep your laptop running smoothly at peak performance, you can buy external cooling fan pads to rest your computer while working that helps keep the heat down and your working applications from crashing.
Sale
Bestseller No. 1
Laptop Cooling Pad, Laptop Cooler with 6 Quiet Led Fans for 15.6-17 Inch Laptop Cooling Fan Stand, Portable Ultra Slim USB Powered Gaming Laptop Cooling Pad, Switch Control Fan Speed Function
✔【6 Super Cooling & Quiet Fans】Laptop cooling pad has 6 noise-free fans, with blue LED, not only beautiful but also show fan is working. Very quiet rapid cooling effect prevents your laptop from overheating under different use situation.
✔【Adjust Fan Speed & Cooling Pad Height】Our laptop cooling pad 6 fans can work together, or 3 big fans and 3 small fans run separately, two separate switch control fan speed from 0 to max freely. The pad have 2 height for you select, free adjust suit different laptop.
✔【Unique USB Port Design】Laptop cooling pad with built-in two USB ports, allows to connect other USB; using nylon braided cable, more cool and durable, also easy to set into storage box.
✔【Ergonomic Design & Non-Slip Baffle】Laptop cooling pad with ergonomic design is comfortable in all-day using. Laptop cooler stand can be hidden when you don't use it. Two non-slip baffle can prevent your laptop following down on slanting surface. Also have enlarged and thickened anti-skid pad at the bottom keep laptop stable.
✔【Wide Application & Support】Our laptop cooling pad suitable almost all 12"- 17.3"notebook, such as Dell, MacBook Pro, Alienware, ThinkPad, Lenovo, HP, ASUS, etc. Just feel free to contact us when have any question about laptop cooler.
Location / Travel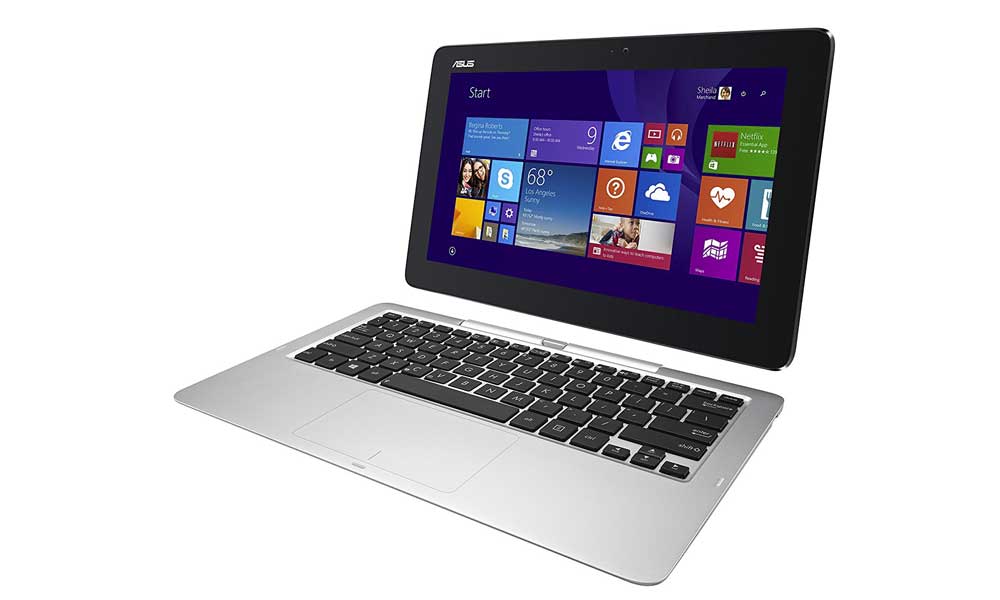 This ties in with earlier points about whether you travel, like taking your work with you to the park or a café or work statically in the office every day.
Ideally, if you're able – a blend of working at a desktop, laptop, and perhaps even a tablet such as an iPad is the best mix. 
With the power of a desktop and relatively no lag, and a large monitor, it's easy to design more intensive works. 
In contrast, a laptop is perfect for designing on the go or doing smaller projects that don't necessarily need a bigger screen or significant processing power.
If you travel a lot for work, something light but powerful such as a Macbook, would be ideal, or a lighter gaming PC laptop that doubles for design, with its increased processing and cooling features. 
There are many laptops to choose from that are more than capable of handling graphic design projects.
Costs
Desktops are the most affordable option between laptops and desktops, depending on what you're aiming for. Mac is at the higher end for costs. 
If you wanted to go all out and have the budget – that has the most powerful specs. 
The desktop itself starts at $6,000, so unless you need that kind of machine – generally, you can spend far less for a powerful rig for all of your graphic design needs, whether they're marketing and advertising, packaging, publications, web design, or illustrations.
Bestseller No. 1
For a decent desktop rig that can handle everything, including Adobe Suite programs, Blender, or whichever other design programs and apps you prefer to use – you're looking at around $1500 to $2000, give or take, and also depending on what you want for display monitors. 
Those by themselves can be pricey if you want the top of the line, but generally, you can get fantastic monitors with accurate colour display and crisp contrasts for $400 to $600 at the higher range.
Laptops powerful enough to handle graphic design and rendering will cost around the same, if not more, than their desktop counterparts. 
They can be pretty heavy to carry around daily if you need a real workhorse of a machine. 
So $2000 tends to be the baseline, with those numbers being higher or lower, of course – dependent on brand and features.
That said, they are more versatile and can still be used with external monitors if you need a larger display to work.
Generally, laptops (and most desktops now, if you're building your own) are fitted with SSD's (solid-state drives), which are more durable, faster, reliable, and there's no worry about moving parts like their counterpart, the HDD (hard-disc drive) that used to be the norm. 
Admittedly, HDD's are slightly cheaper, but if you want your work to stay safe and for everything to boot faster while working – SSD is the way to go.
Author Bio: Nikki Lyka is a writer for Rank-it.ca, a product review and comparison site that helps buyers find the best version of what they're looking for.
Last update on 2023-05-31 / Affiliate links / Images from Amazon Product Advertising API