Top 10 Best Laptops for Graphic Design
The revolution and massive advancement in computing technology mean that we are now in the era of smart, sophisticated and superfast computers that can efficiently process complex programs and algorithms.
There are various manufacturers in the market that produce a series of laptops in a diverse range to satisfy the different requirements of their customers.
For instance, graphic designers have different requirements for gamers and other consumers.
Graphic design is a fantastic job, and an increasing number of people choose design as their profession in the software industry.
Like any other profession, a graphic designer needs the right type of tools and platform to be efficient and create their success story.
Having an efficient, responsive laptop that optimises performance and provides ease of working is essential.
You don't necessarily need an expensive graphic design laptop for graphic design as there are loads of affordable options in the market that come packed with robust software and good specs to provide efficient solutions for your design requirements.
Let us have a look at some of the best laptops for graphic design.
Top 10 Best Graphic Design Laptops in 2022
Let us document some of the best laptops for graphic design that have good specs and provide the necessary efficiency for your various requirements such as the Adobe suite amongst others.
1 – Apple MacBook Pro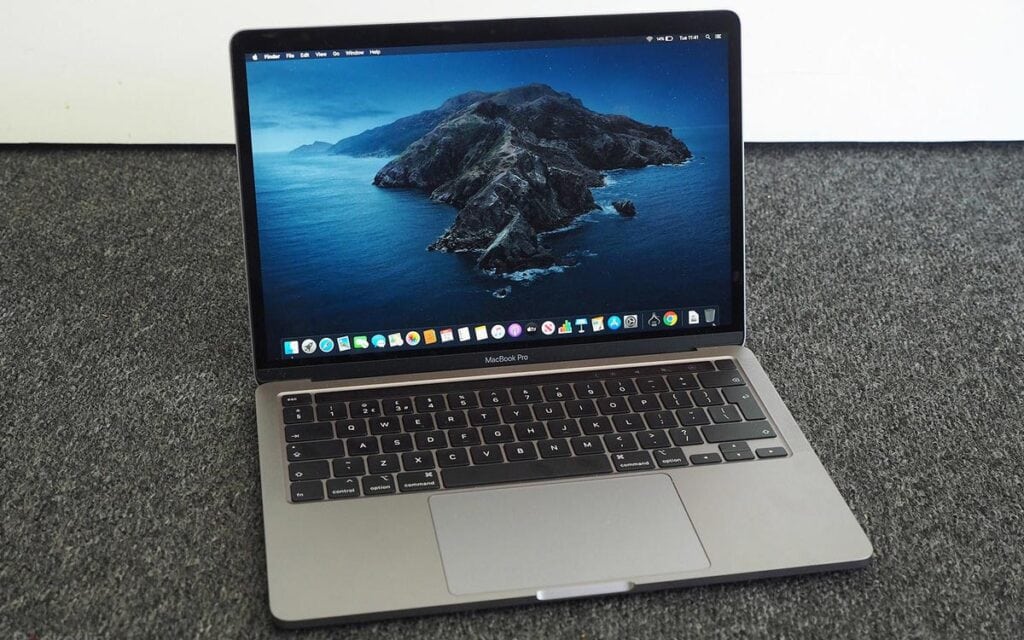 Sale
If you have grown up in the Apple ecosystem, then you may find it difficult to migrate to the Windows operating system.
There are various options in the Apple universe when it comes to efficient laptops.
The Apple MacBook Pro is one of the best options that has got good processing power, powerful software and efficient specs to fulfil the majority of your processing requirements.
This laptop comes packed with an i7 processor as well as 16 GB of RAM. Besides this, the MacBook Pro comes with an AMD Radeon Pro graphics card as well as a high-resolution screen, which means that the computer is capable of handling extensive graphic applications such as design software and video editing.
This machine also comes equipped with 512 GB of flash storage. The laptop also has a retina display with a 13.3-inch panel as well as a high native resolution which ranges between 4K and full ultra HD.
The colours on this graphic design laptop look brilliant, and the text is considerably sharp as well. It also has a feature of true tone that optimises the screen's white balance ambient light nature around the laptop.
The screen of the MacBook Pro has some advantages over MacBook Air, such as a higher brightness level as well as support for the P3 colour gamut that offers a more diverse array of colours.
Sale
Apple 2020 MacBook Air Laptop M1 Chip, 13" Retina Display, 8GB RAM, 256GB SSD Storage, Backlit Keyboard, FaceTime HD Camera, Touch ID. Works with iPhone/iPad; Gold
All-Day Battery Life – Go longer than ever with up to 18 hours of battery life.
Powerful Performance – Take on everything from professional-quality editing to action-packed gaming with ease. The Apple M1 chip with an 8-core CPU delivers up to 3.5x faster performance than the previous generation while using way less power.
Superfast Memory – 8GB of unified memory makes your entire system speedy and responsive. That way it can support tasks like memory-hogging multitab browsing and opening a huge graphic file quickly and easily.
Stunning Display – With a 13.3 inch Retina display, images come alive with new levels of realism. Text is sharp and clear, and colors are more vibrant.
Why Mac – Easy to learn. Easy to set up. Astoundingly powerful. Intuitive. Packed with apps to use right out of the box. Mac is designed to let you work, play, and create like never before.
The camera on this laptop is equipped with a 720p webcam, which offers a decent quality of video. The MacBook Pro has an inbuilt fingerprint reader that is known as the touch id sensor in the Apple ecosystem.
This sensor is located in the upper corner of the keyboard, and this touch ID also serves as a power button of the laptop. The touch ID also provides the additional functionality of Apple pay authentication for the purchases as well as granting permission for the different apps without requiring the physical typing of the macOS password.
Pros and cons: The MacBook Pro has got a lot going for it but has some drawbacks as well. We will list some of the pros and cons here.
The advantages include improved comfort of the keyboard, brilliant retina display, long-lasting battery life, excellent computing performance and good graphics.
The cons for this laptop include touch expensive, limited variety in ports and lack of support for the Wi-Fi 6.
2 – Lenovo Ideapad
Lenovo Newest IdeaPad 3 17.3" HD Business Laptop, 10th Gen Intel Core i5-1035G1 (Beat i7-8550U), 16GB RAM 512GB SSD, for Business and Student, Webcam Windows 10 Pro | 32GB Tela USB Card
【Intel 10th Generation i5 Processor】Intel Core i5-1035G1 Processor(4-Core, 1.0 GHz Up to 3.6 GHz, 6 MB Cache), Intel Iris Xe Graphics with shared graphics memory.
【17.3" HD Display】17.3-inch HD (1600x900) Anti-glare LED-Backlit Non-touch Narrow Border Display. Watch what you love in all its clarity with detail and saturated colors from edge to edge thanks to the 17.3" HD display.
【16GB RAM】Adequate high-bandwidth RAM to smoothly run multiple applications and browser tabs at the same time. It gives you enormous space to save all of your files. Enhance the overall performance of the laptop for business, student, daily usage.
【512GB PCIe SSD】Boot up in seconds, get to files faster, and have room for loads of files with the lightning-quick solid state drive. Original Seal is opened for upgrade ONLY.
【Windows 10 Pro & 32GB USB Card bundle】Windows 10 Pro, the best version of Windows OS and built for business and education use. Protect your data with enterprise-grade security, login from any device anywhere, and boost productivity with powerful management tools. 32GB USB from Best To Buy.
The biggest USP of the Lenovo laptop is its incredible large display that brings the images and videos alive and provides the ultimate viewing experience.
This model has got decent specs, and it has got sufficient processing power to satisfy the graphic designing requirements that are demanded by the software.
The Lenovo Ideapad comes equipped with an Intel 10th Generation i5 Processor, and it has a full HD display size of 17.3 inches.
The laptop is packed with 16 GB of RAM, and it has hard disk storage of 512 GB. This laptop runs on Windows 10 operating system and weighs about 2.99 kg which is considerably lightweight and thus highly portable.
As far as connectivity options are concerned, you get Wi-Fi 802.11 ac plus it has 2 USB ports, a VGA port, HDMI port and Mic in the ports.
The Intel processor packed with this laptop is a fifth-generation processor, and it has a base speed of 2.2GHz as well as a turbo boost that goes all the way up to 2.7 GHz which is sufficient for the majority of the applications, programs and software that you might work on.
In terms of graphics, the Lenovo has an Intel Iris Xe Graphics processor, and it comes with 2 GB of video RAM.
This graphics card combined with the processor you get provides sufficient processing power to run most games however there are some intensive game titles where you would need to tone down the resolution and graphic settings for better performance.
The Lenovo has a decent battery life of close to 4 hours and it should you get through most of your tasks in the day.
Overall what you get with Lenovo is a solid performer that is available at a reasonable price.
You get decent gaming performance and an excellent viewing experience with this laptop.
The pros of this laptop include a powerful processor, comfortable keyboard and sizeable full HD display amongst others. Some of its drawbacks include the battery life which could have been a tad better at this price point and the lack of a backlit keyboard.
3 – Acer Aspire Nitro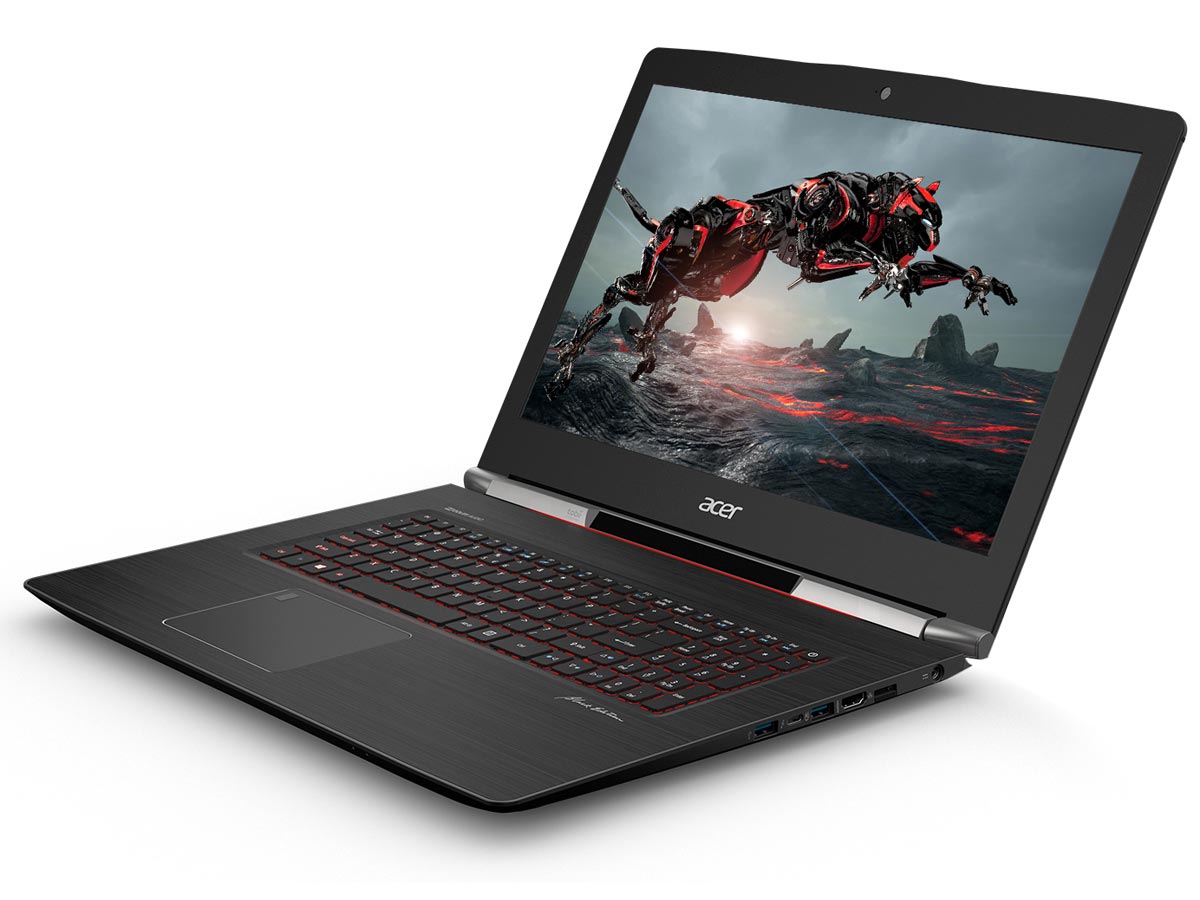 Acer Nitro 5 Gaming Laptop | 17.3" FHD 144Hz IPS Display | NVIDIA GeForce RTX 3050Ti Laptop GPU | Intel Core i7-11800H | Killer Wi-Fi 6 | 3 in 1 (32GB RAM | 1TB PCIe SSD | 1TB HDD)
【17.3" FHD 1920 x 1080 IPS】 Explore game worlds in Full HD detail on the 17.3" widescreen LED-backlit IPS display with 1920 x 1080 resolution, 144Hz refresh rate and 80% screen-to-body/16:9 aspect ratio.
【Core i7-11800H | Win 10 | RTX 3050 Ti】Great performance meets long battery life with the Intel Core i7-11800H Processor - up to 4.6GHz, 8 cores, 16 threads, 24MB Intel Smart Cache With Windows 10. The latest NVIDIA GeForce RTX 3050 Ti (4GB dedicated GDDR6 VRAM) is powered by award-winning architecture with new Ray Tracing Cores, Tensor Cores, and streaming multiprocessors support DirectX 12 Ultimate for the ultimate gaming performance.
【Stay Cool Under Pressure】When heavy use requires an added boost, Acer CoolBoost technology increases fan speed by 10% and CPU/GPU cooling by 9% compared to auto mode, overall increasing thermal performance by 25% for better gaming comfort.
【32GB RAM | 1TB PCIe SSD | 1TB HDD】Configure your laptop for maximum speed and storage using NVMe technology and up to 32GB DDR4 RAM and 1TB PCIe SSD 1TB HDD. We do provide a 1-year standard warranty on upgraded RAM/SSD.
【Features and Ports】Backlit KB | Killer Wi-Fi 6 | NitorSense Key | Alexa | HDMI 2.1 | USB 3.2 Gen 2 | Type-C USB 3.2 Gen 2 | USB 3.2 Gen 1 | Ethernet (RJ-45) | Accessories
Acer has now established itself as one of the prominent brands in the computing industry. The Acer laptops for graphic design are reliable, and you can expect excellent performance from the company's products.
The Acer Aspire V17 Nitro has an i7 processor and 2 GB of the graphical processing unit which makes this laptop powerful enough to handle the graphic design requirements and also most of the visually intensive games in the market.
The Acer Aspire V17 Nitro comes with a 2TB of hard disk storage which means you have sufficient space for all of your storage requirements such as applications, movies, games and music.
The Acer Aspire V17 Nitro comes with 16 GB of RAM, which means it is super responsive and the laptop can multi-task different programs as well as applications efficiently without ever lagging or causing delays.
Due to its specs, the Acer Aspire V17 Nitro can be used as a gaming laptop also, and the powerful graphics card of Nvidia GeForce GTX 860M ensures that the consumers get to experience some of the most smooth gaming experiences.
As far as battery life is concerned, you get approximately seven and a half hours of battery duration with this laptop on a single charge. This is decent and does the job for most of the consumers; however, if you are a heavy user who travels a lot, then you could have expected a bit better in this department.
In terms of display, the Acer Aspire V17 Nitro comes with a Full HD panel, and it has got wide angles of viewing as well as the technology of in-plane switching for the best user experience.
You also get the HD webcam with this laptop; however, here it is important to note that this webcam doesn't support face detection for logging into Windows.
There is no option for a fingerprint reader so you will have to rely on the traditional method of typing in the password.
The pros of Acer Aspire V17 Nitro include inbuilt eye-tracking technology and the inclusion of a sturdy keyboard for robustness.
In terms of cons, this laptop has a smallish touchpad, and it has got dull Matte screen colours which cause blurring of some windows.
4 – ASUS Transformer Book
This is a powerful laptop in its price category, and it comes with a touch screen feature for those consumers who prefer interactive and smooth responsive display.
Many graphic designers prefer the touch screen feature since that allows them to operate better with their workflow.
The ASUS transformer book T200 TA comes packed with a 64-bit Quad-core processor, and it is equipped with 4 GB of RAM as well as 64 GB of SSD storage.
The laptop has a 12-inch detachable screen, and this means this laptop is highly portable and you can take it with you anywhere.
The ASUS transformer book T200 TA comes with an IPS touch screen which is glossy, and it has got great viewing angles.
In terms of the battery, you get almost a full day of usage on the ASUS transformer book T200 TA with a single charge.
The approximate time of non-stop continuous battery usage is around 10.4 hours which means you can use this computer extensively without having to worry about the battery dying any time soon.
The ASUS transformer book T200 TA doesn't provide an upgradable SSD or memory however if you want you can choose to install SSD or the SATA hard drive in the keyboard dock.
This laptop has a non-backlit full-size keyboard, and it is very comfortable for use as the touchpad is located in the centre of the keyboard deck. The 11.6′ screen has a resolution of 1366 x 768, and it provides the capability of 10 point touch.
This IPS panel allows you to view actions from literally almost any angle. The web pages and the YouTube videos look good, whereas the touch screen is extremely responsive.
The volume from the speakers which is inbuilt is soft, and if you want more intense sound, then you would need to use the headphones for listening to music and other stuff.   
The biggest USP of this hybrid laptop is the detachable 2-in-1 tablet feature. Besides this, the pros include in-plane switching of the IPS screen and the SATA hard drive which is user-accessible in the dock.
This laptop also comes with an Ethernet port. In terms of drawbacks, this laptop only comes with a 40 GB SSD which could have been a lot more and soft speakers as well as the micro USB port and micro HDMI.
5 – ASUS ROG G752VL
The ASUS ROG G752VL is a lightweight laptop which means it is highly portable, thus fulfilling one of the essential criteria of the graphic designers.
This laptop comes equipped with the 6th generation processor belonging to the Intel Core i7 family, and it has got 1 TB of HDD storage. Besides this, the ASUS ROG G752VL has 16 GB of DDR4 RAM, which means that the laptop is super responsive and can handle various process-intensive applications simultaneously.
The inclusion of excellent graphics specs in the form of the Nvidia GeForce GTX card means that this laptop is ideal for games and graphic intensive software.
In terms of the build and exterior, the ASUS ROG G752VL comes with plasma copper and armour titanium appearance which looks great.
The grill of the rear fan is imposing and is something that you would typically find at prototype car shows. You will also find some red LEDs which are nestled within the grille, thus making it look like the hot exhaust.
The keyboard that comes with this laptop is well-spaced, and it has got a brilliant, chic-let style pattern plus it is super responsive, which is always vital when you are working on your laptop.
The keyboard also features the Asus' technology of keyboard anti-ghosting. There is also a dedicated key for recording as well as macro programmable keys which are situated above the keyboard, and these can be configured for providing rapid access to the preset functions within the game which is a very productive addition for hardcore gamers.
The trackpad on this laptop is super responsive, smooth and large in size.
Even though understandably it doesn't replace the capabilities of the precision mouse, it can serve as an efficient substitute for general use and RTS gaming which is considerably slower paced.
The ASUS ROG G752VL comes with a plethora of ports so that you can plug in different peripherals at your own convenience.
Some of the pros of this laptop include high-end specs as well as quality performance.
The inclusion of the G-Sync technology is important helps with the smooth play, and the laptop comes with an attractive distinguished design.
Some cons associated with this laptop include a slightly heavy design and exclusion of the 4K screen as well as average battery life.
6 – MSI Creator Pro
Although the MSI is not as big or prominent a brand as some of the others such as Lenovo, Dell and Acer but still it manufactures some of the best laptops for designers with great specs for different requirements.
The MSI laptop is an excellent choice if you are looking for graphic design work since it comes equipped with 1 TB of HDD / 128 GB SSD.
In terms of the display, the MSI design laptop has got 3840X2160 resolution which you get greater detail for viewing the designs on a 15.6″ screen.
In terms of the graphics, the MSI Creator is equipped with the Nvidia GeForce GTX graphics which helps the machine to run various graphic extensive applications such as Adobe Suite efficiently and smoothly.
The design of this laptop is inspired by sports cars, and thus those who are ardent car lovers will appreciate the design on this computer.
As mentioned above the MSI Computer sports a 15-inch screen and has a full 4K Uhd (3840X2160) resolution which means you excellent viewing experience.
The steel series keyboard on this laptop provides excellent quality and colour, which allows the change of lighting through 4 zones that comes with free software.
The keys on the keyboard are convenient to use and can be considered relatively durable. The brushed plastic is used in the touchpad, and it combines aesthetically with the keyboard deck.
The Dynaudio speakers on this laptop offer good quality of sound which doesn't degrade when you play audio at high volumes.
The MSI Computer provides different ports such as Ethernet port, HDMI port, USB 3.0 ports, USB-C port, Displayport connector and microphone as well as headphone jacks.
Overall the MSI Computer is a good laptop for graphic design and gaming applications, and it provides efficient performance on its big screen, and it is available at an affordable price.
Its strong points include a large display, stable performance and excellent storage capability.
Some of its drawbacks include the relatively heavyweight of the laptop and average battery life.
7 – Lenovo Flex 5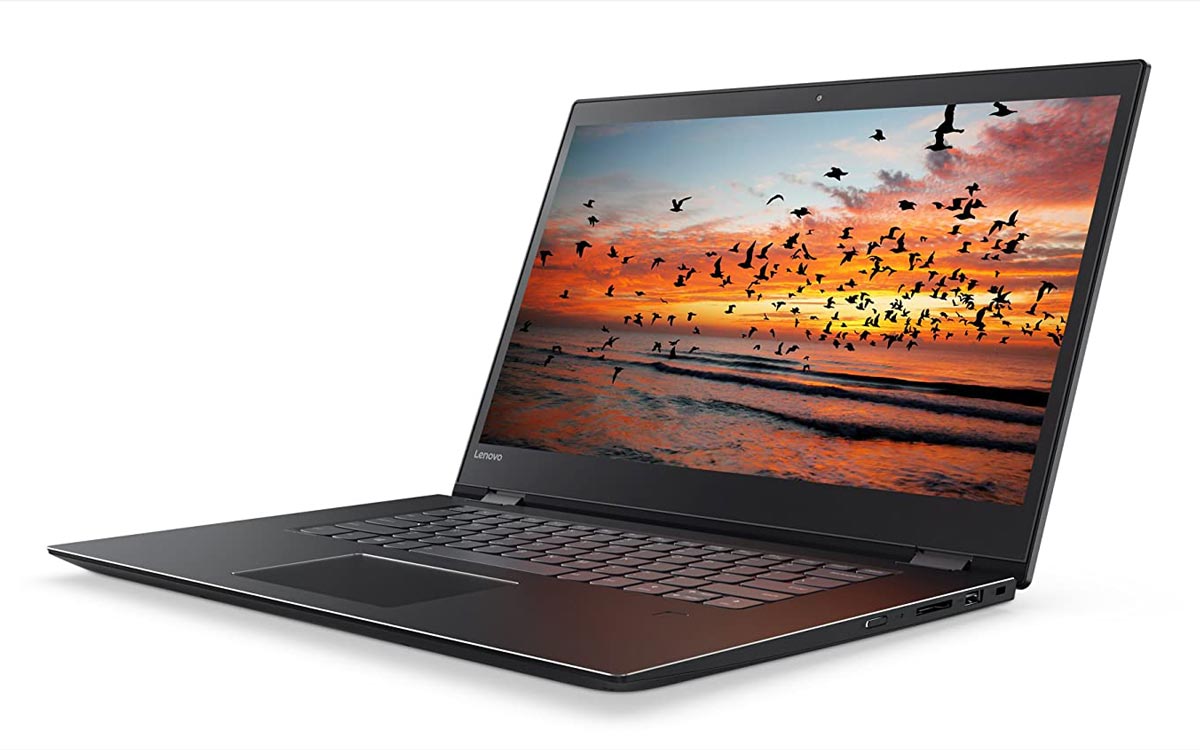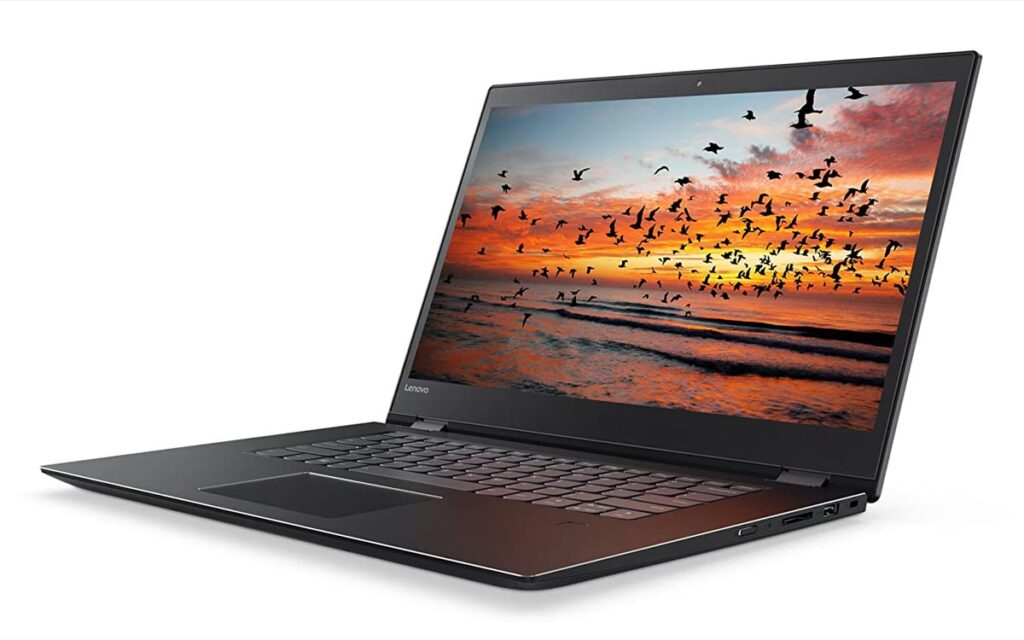 Lenovo Flex 5 Laptop, 14.0" FHD Touch Display, AMD Ryzen 5 5500U, 16GB RAM, 256GB Storage, AMD Radeon Graphics, Windows 11 Home, Graphite Grey
Powered by an AMD Ryzen 5 5500U mobile processor with Radeon graphics, this portable notebook computer has 16GB DDR4 RAM and 256GB NVMe SSD Storage
Reduce the clutter - The Flex 5 14 touchscreen laptop has a narrow bezel on 4 sides for more viewing area and less clutter on the IPS FHD (1920 x 1080) display
Designed to keep your ideas flowing, anywhere, anytime with the ability to multi-mode, this Windows laptop has a 360⁰ hinge so you can use it in laptop mode for everyday computing, tent mode for sharing, stand mode for binge-watching your favorite streaming shows, or tablet mode for easy interaction
A physical shutter on the webcam improves your privacy, allowing you to keep out unwanted attention
Stay connected with integrated 2x2 WiFi 6 (802.11AX), Bluetooth 5, 2 USB-A ports, 1 USB-C with PD to support power charging, HDMI, a 4-in-1 card reader, and an audio jack
This device from Lenovo is a great portable option for graphic designers so that they can carry their laptops anywhere and work from there.
In a similar category, we have an Asus transformer however that computer has a 12-inch screen whereas we get a larger 15-inch display with the Lenovo Flex 5 convertible touch screen notebook.
Now let us have a look at some of the specs that we get with this portable laptop for graphic designers.
The Lenovo Flex 5 convertible touch screen notebook comes equipped with the i7 processor @ 1.80GHz and 16 GB RAM.
In terms of storage, you get a 1 TB hard drive, and this will ensure that this computer from Lenovo fulfils most of the user's processing, storage and graphic requirements.
This laptop is very lightweight as it weighs approximately just 2 kg. Thus the compactness of the design lends to its portable nature which is hugely beneficial for programmers and graphic designers.
The keyboard on the Lenovo Flex 5 convertible touch screen notebook has full-sized keys which are good since it helps with the typing as small-sized keys can often cause inconvenience.
The Lenovo Flex 5 convertible touch screen notebook is a hybrid of laptop and tablet, and multiple manufacturers in the market are launching products of similar design.
If you want you can choose to convert this laptop into slate mode just by pushing the screen all along the way until it lies flat leaning against the back of the notebook.
However, considering the size of the Flex, thickness and weight, it might be problematic for any extended use.
One of the things that work for the Lenovo Flex 5 convertible touch screen notebook is the array of ports provided by the manufacturer on this device.
This includes an always-on USB 2.0 port, USB 3.0 ports, full-size Ethernet, full-size HDMI and the SD card slot.
Some of the pros of this laptop include the affordable price, good battery life, robust build, IPS touch screen display, spill-resistant and overall decent performance.
When it comes to the cons, the keyboard is not backlit, and the specs are somewhat below average.
8 – Toshiba CB35-B3340 Chromebook
This graphic design laptop comes at a very reasonable price in comparison to some of its competitors and thus it is one of the affordable options for graphic design students and other consumers who are looking for the budget option.
This device comes equipped with the Celeron Intel processor as well as 16 GB of SSD.
The device has also got 4 GB of DDR3L memory RAM, and it means that you can experience decent performance at an affordable price.
In terms of display, the Toshiba CB35-B3340 Chromebook comes with a 13.3 IPS panel, and this is combined with the integrated graphics of Intel HD.
The processor that you get with the device is the dual-core Intel Celeron @ 2.6 GHz which has got sufficient processing power for your basic designing and other requirements.
This Chromebook supports a full HD display with a resolution of 1080p.
The processor packed with this laptop means that you get excellent battery performance which gives you approximately 9 hours of work time, and thus this device is excellent for some of the lighter computing tasks.
The full HD display and the 1080p resolution is one of the USPs of this laptop as it is an ISP panel it provides more substantial and better viewing angles of about 178 degrees.
This means that you can view the screen from any angle and you would get a good display regardless.
This laptop is also considerably lightweight and compact, which makes it ideal for portability so that you can carry it around wherever you want.
The slight texture, as well as the polished silver finishing provided on the Toshiba CB35-B3340 Chromebook, means that you get a premium feel and look.
One important thing to note here is that you won't be able to run the standard Windows software as well as apps on the Chrome OS. However, a number of these apps have been replaced with user-friendly versions of Chrome.
The pros of this Chromebook includes a full HD IPS screen as well as a good battery life of approximately 9 hours.
The drawbacks of this laptop include no feature of touch screen and exclusion of 3G/4G./LTE service.
9 – Toshiba Satellite Fusion
This laptop-tablet hybrid is an excellent option for graphic designers as this model provides more opportunities for design approach and integrating different innovations as well as design methods.
The Toshiba Satellite Fusion 15 L55W-C5259 comes equipped with an Intel Core i5-5200U dual-core processor which operates at a CPU speed of 2.7 GHz.
The Toshiba Satellite Fusion 15 L55W-C5259 has an 8 GB DDR3L RAM with two memory slots provided, and it has a storage capacity of 128 GB.
In terms of screen size, it has got 15.6″ with a TFT LCD panel. It has a screen resolution of 1920×1080 pixels and an aspect ratio of 16:9 with 10 point touch screen support.
The laptop comes with integrated Intel HD graphics, and the graphics memory is shared.
The Toshiba Satellite Fusion 15 L55W-C5259 has a DTS sound audio technology with stereo speakers which are tuned by the Skull Candy.
You also get high definition webcam integrated with the laptop.
In terms of ports you get USB 3.0, USB 3.0 with sleep and the charge feature, USB 2.0 port and the HDMI port with the 4K output capability.
You also get the backlit keyboard with Toshiba Satellite Fusion 15 L55W-C5259 which is an excellent feature to have.
The processor, memory and SSD combination provided in the Toshiba Satellite Fusion 15 L55W-C5259 ensures that you get excellent and fast boot time, improved and upgraded software responsiveness as well a more fluid experience for the users.
However, an important thing to note with this device is its considerably low storage capacity which means that if you have high storage requirements, then you would need to store it on cloud services such as Google Drive, Microsoft One Drive or Dropbox.
The IPS screen of full HD that comes with Toshiba Satellite Fusion 15 L55W-C5259 rotates entirely, and this is one of this model's unique features.
The pros of this device include decent specs, light and compact design, premium finishing on the exterior and sleep-charge features.
The cons of this laptop are relatively lower battery life, limited storage space, no inclusion of Ethernet and it comes loaded with additional software.
10 – Asus Zenbook
ASUS ZenBook 13 Ultra-Slim Laptop 13.3" FHD WideView, 8th-Gen Intel Core i7-8565U Processor, 8GB LPDDR3, 512GB PCIe SSD, Backlit KB, NumberPad, Military-Grade, Windows 10 - UX333FA-AB77 Royal Blue
Powerful & fast for effortless on-the-go computing: 8th generation Intel Core i7-8565U processor, 512GB PCIe NVMe SSD & 16GB RAM
Durable & reliable: meets the ultra-demanding MIL-STD-810G military standard for reliability and durability, undergoing a punishing testing regime
Long battery life: powered by a high-capacity battery that won't let you down
Exclusive ErgoLift design: an engineering masterpiece designed to automatically tilt the keyboard to the most comfortable typing position, plus it improves cooling and audio performance
Professional Grade: use Windows your way with Windows 10 Professional and hardware TPM security
The Asus Zenbook is an excellent combination of stunning looks and powerful performance packed in one.
The 13-inch screen Asus Zenbook sports an all-metal external body which gives it a premium look. As a signature element of this notebook, the concentric metal circles are one of the impressive features which adds to the aesthetics of this ultrabook.
The weight of this Zenbook is approximately 1.45 kg, and it doesn't feel very sleek or lightweight when you hold it in your hands.
The build quality of this notebook is outstanding and sturdy, thus adding to the robustness of this laptop.
The Asus Zenbook UX303UB has a chiclet-style keyboard and the keys on this keyboard are very convenient to type on.
It is a backlit keyboard which is always an excellent feature to have if you tend to type in the dark.
The keyboard deck on the Asus Zenbook UX303UB provides wide-ranged palm rest which is convenient for keeping your wrists there without causing any hitch.
In terms of specs, you get an Intel Core i5-6200U processor @ 2.3 GHz, and it runs on the Windows 10 (64 bit) operating system.
The laptop comes packed with RAM of 4 GB and HDD storage of 1 TB. It has a 13.3-inch screen with full HD display resolution. You also get the Nvidia GeForce graphic card with 2 GB of video memory plus an integrated Intel HD 520 graphical processing unit.
The accessories that you get with this laptop are cable and sleeve.
The pros of this device are attractive looks as well as the screen lid design. Besides this, you get outstanding computing performance out of this device along the lines of standard performance in this category.
On the downside, the battery life can be a bit average, and the overall laptop feels a bit clunky and heavy for the ultrabook version.
What to look for in laptops for graphic design?
When you are looking to purchase the best laptops for graphic design, then it is essential that you must look at some specific parameters and specs which should serve as an indicator for your eventual decision. Let us have a look.
Processor: The processor is one of the most important considerations when you are purchasing laptops for graphic design. A better processor will handle most of the applications and programs efficiently, thereby boosting the productivity of your work hours. The visual specifications are also very significant for graphic designers they deal with graphic extensive software and applications for their work. You must choose laptops with suitable graphical processing units for the best results.
Memory: The RAM that is provided with your laptop is vital in efficient multitasking of various process extensive applications. If you want a smooth working experience on your laptop – without any lag or errors, then you must go for a laptop with higher RAM specifications. The RAM helps in providing seamless switching across applications as well as scrolling through multiple files.
Storage: The different storage options that you get with laptops these days are SSD or HDD. Even though the HDD provide more capacity and are generally cheaper in comparison they can prove to be problematic in laptops. The solid-state drives (SSDs) on the other hand are faster, more durable and lighter than hard drives so you must prefer SSD laptops over HDD laptops. Also, higher storage specs in a laptop are an added advantage since you get more space for your different requirements.
Display type and size: Since graphic design is a visual domain, the display specs are critical when you are choosing a laptop for your graphic requirements. If you can, you should choose a graphic design computer with a screen size of 15 inches or above since anything below that is a bit too small for the graphical requirements. There are various laptops now that come with the touch-screen feature for added responsiveness. These laptops also double up as tablets thus providing the dual option. Besides this, the full HD display panels on laptops are obviously perfect for viewing and provide a superior display experience to others. If you have graphic-intensive applications and want to play games, then a large screen and full HD support with touch-screen features are obviously desirable.
Colour accuracy: The colour accuracy and the appropriate representation for a wide array of colours is an essential aspect of any monitor screen. Usually, when you are looking for a good computer screen, you must ensure that the screen has the complete Adobe RBG. If the colour accuracy is not what you are looking for, then probably you can get away with choosing a monitor that has 100% sRGB. The measurement for colour accuracy is done in Delta-E, which indicates how far the screen is from providing complete accuracy. So the lower the Delta-E number is, the better the screen is with regards to the colour accuracy. If you are looking for an accurate colour representation screen, then you must look for the Delta-E number, which is less than 5.
Other Notable Graphic Design Laptops
Verdict
The constantly evolving technology means you get new models and products with the latest features as well as specs from the different manufacturers all the time.
There are so many good options available in the market that provide you with the necessary specs and features that you need for your graphic designing requirements.
And many of these models are available at reasonable, affordable prices too.
The key lies in doing your own comprehensive research by extensively looking at different options and then comparing their specs so that you get a good idea of what to expect.
You must also look at customer feedback and reviews so that you get a basic understanding of whether the performance matches the specs.
That concludes our list of the top 10 best laptops for graphic design and creative web designers. What graphic design laptop do you use? – Let us know in the comments below!
Last update on 2023-09-25 / Affiliate links / Images from Amazon Product Advertising API