30 Effective Travel Logos That Take You on an Adventure
"Traveling – it leaves you speechless, then turns you into a storyteller" – Ibn Battuta.
Embarking on new adventures and journeys is the greatest way to unravel and relax.
If you are in this business, then you might know the responsibility and leisure of it.
It is the duty of a trip planner and the travelling agency to guarantee their customers with the best time of their lives.
A design that enthrals the audience and encourages them to go on new adventures enables the audience to put their trust in travel agency and business.
For that, you need a great command on design techniques, an appropriate skill set, and most importantly, a creative mind.
Whether you run a travel agency or works as a travel blogger, well-designed travel logos are all you need to convince the targeted audience to book their next flight with you.
Here is our comprehensive guide on travel logos inspired by some of the well-recognised brands and travel businesses:
1 – Nostalgic Vintage Logo Designs
Vintage designs help in creating an emotional connection with the targeted audience as it has its place in the history of each one of us.
Vintage logo design not only induces nostalgia, but it also evokes wanderlust.
2 – A Logo with Adventurous Flair
Travelling provides you with the opportunity to explore and go on adventures.
A brand that guarantees memorable vacations and trips can communicate this through its high-quality logos.
These types of logo design are ideal for tour groups or hotel that provide the visitors with a similar travel experience as the destination itself.
3 – A Safety-Guaranteed Logo
Whether you are a frequent traveller or a seasonal one, safety and reassurance are the major concerns of every traveller.
Logos that fall in this category assures the travellers with their safety and well-being.
4 – Logo with Vehicle Rendition
A watercolour depiction will do just the trick.
A mode of transportation makes your logo design quite self-explanatory.
Your brand is not about getting people from one location to other demographics; rather, it all about providing them with an unforgettable journey and exceptional experience.
5 – Minimalistic Logo Designs
The most preferred way to create a unique logo is to follow the holy grail of simplicity.
Scaling down an idea to its essential components and elements is an ideal way to promote and your travel agency and brand as an ultra-modern company.
6 – A Logo with Renowned Monuments
One of the most successful tricks in creating unique travel logos is to embed a popular and recognised landmark in it.
You could either use the entire image of the monument or just the outlines to capture the attention of the targeted audience.
Experiment with different symbols and landmarks to get your message across the global audience.
7 – A Logo with a Peek of Your Hotel
Logos of this category are useful in communicating an honest opinion about customer expectation and helps them in remembering your place.
You could either use an image of your hotel or the just outlines to keep it simple and eye-catchy.
8 – Go Air-Crafty With Logos for Long Vacations
Including an aeroplane in your logo is the perfect depiction of what it means to go on vacation.
There are numerous ways you can incorporate the image of a jet in your logo design.
Either you could morph it into a letter or replace an alphabet with a plane figure.
9 – Rave-Up Your Logo for the Roisterers
Include something triumphal and celebratory and couple it with a great colour scheme to make your logo the attention-capturer of the party goers.
Probably the best way to communicate the motto of celebrating adventure and travel across the targeted audience.
10- Less-Imagery, Less-Wordy Travel Logos
Cluttering multiple textual and graphic content leaves a negative impact on your business.
Keep the lines, text, and images clean and understandable and sync them with the colour scheme.
11 – A Nature-Loving Logo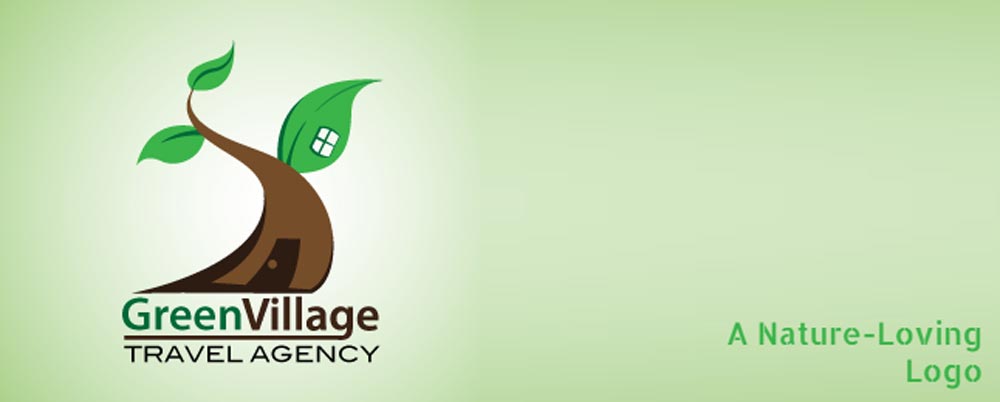 Channel your inner love for the greenery and nature and beautify your logo with trees and fauna.
The best logo design approach for locations which are the known for their scenic views and landscapes.
12 – Sparkle-Up Your Logo For Magical Experience
Make skyline the focus.
Play with different shades of opal, aquamarine, and blue to highlight the horizon or use artistic backgrounds to represent starry night.
It might also go well with the bonfire and camping nights that you offer.
13 – Reach The Skies With Hot Air Balloons
If the minimalistic logo design is your preference, then including a hot air balloon in your logo is the perfect way to portray your services and invite the audience to experience the world with you.
14 – A Logo with The City's Silhouette
One of the best travel logo design practices to market your tour is to make the city's outline of your company's logo.
Alternatively, you could use a fantastic watercolour rendition of the city's silhouette to give an appealing quality to your logo.
15 – A Logo with a Hint of Fairy-Tale
A castle of the Neverland or a cloud of pixy dust from wonderland or whichever phantasmagorical element goes well with your design idea and is relevant to your firm will do just the trick.
16 – A Geometrically Designed Travel Logo
Make proper use of lines, circles, trapeziums, and any geometrical element that fits your idea will do just the job.
Be careful with the colour schemes and make sure that elements work well with the firm's name and stature.
17 – A Logo That Sails Across the Global Audience
Using the vast ocean as your travel logos background is the perfect depiction of all-inclusiveness of your services and business growth.
It also conveys a positive image of your company and firm.
18 – Your Company Name as Your Logo
Couple your firm's name with an eye-catchy background or a picture of a tourist destination to maximise the appeal and memorability of both your company's name and logo.
Make sure to choose a readable and easy to understand font for your company's name.
19 – A Logo That Actually Travels Across the World
Nothing represents the global reach and recognition of your brand better than the symbol of Earth.
You could use it in the background or as a replacement for alphabets or in morphed letters—be as innovative and original as you can.
20 – Roads For What Lies Ahead
Using imagery of roads is the classic approach to grab the attention of the targeted audience and fellow travellers.
Roads are the quintessence of what travelling means.
Not only this logo speaks volumes about your business, but it also tells a lot about your business growth and reaches without using a single word.
21 – A Well-Mapped Out Logo Design
Using a collage of maps is another way to communicate your business values and objectives.
You could use a colourful map to increase the visual appeal or a sober-coloured map for text legibility and viewer's understandability.
22 – Go International With Flags Of Different Nations
Another way to represent the international recognition of your travel company is to use one or two flags in your design.
However, avoid cluttering your logo with too many flags and ensure that you can use light coloured boundaries.
Make proper use of space.
23 – A Logo with a Coastline
Undeniably, the beach is a representation of fun and frolics; you could use it as a design background or a painting or a stamp.
The symbol of the beach is synonymous to good vibes and assures your clients and customers with a fantastic trip.
24 – A Logo with a Span-New Destination
Choose a plain and simple background couple with the best-suited colour scheme, including the rising sun, and you will end up with immaculate travel logos that not only works well for your firm's benefits.
25 – A Logo from A Child's Perspective
The way a child view thing is quite different from the adults.
Let your customers feel they are living their childhood dreams.
Childhood is probably the best and most memorable time of one's life, so should be the journey.
26 – Round-Off Your Design With Majestic Alpines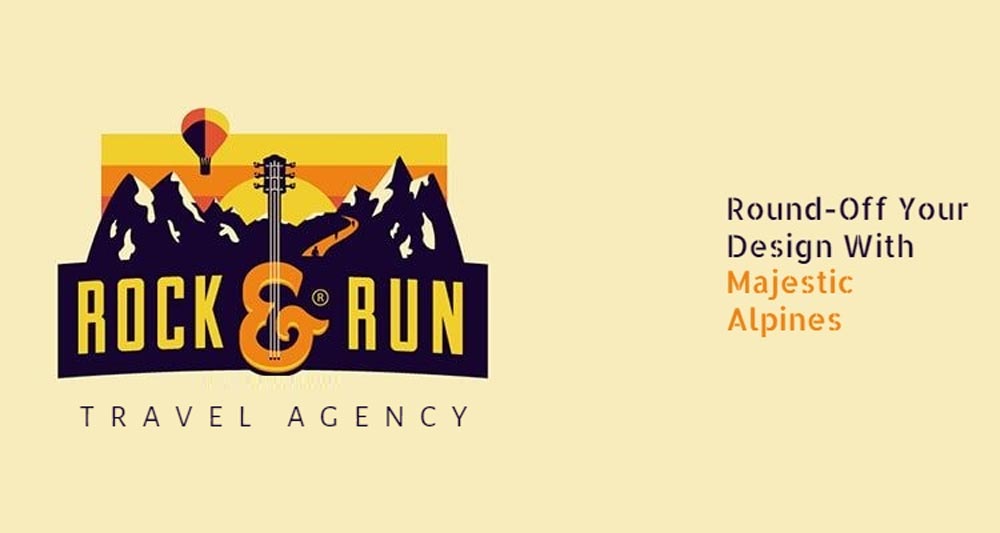 Select an exceptional snap of pristine snow-capped mountains and perfect your logo design with it.
Let your patrons and customers resonate with the call of mountains.
27 – Pictographic Logo
Use pictographs to typify objects like a ship, boat, and islands, and everything that goes with the selected theme.
Let the pictorial version of your business representation speak for itself.
28 – Stick To The Logo Basics
Choose a simple coloured background and enhance it with basic print patterns and artistic calligraphy.
Include a meaningful message or an inspiring quote on travelling.
Make sure that the calligraphy is comprehensible and readable.
29 – A Logo with Ethnicity
Come up with an in-trend Sanskrit quote and use it in your logo design.
Make sure to provide the translation of that quote.
Include it in your design and let the ethnic colours, indie fonts, and traditional feel do the marketing job.
30 – Use Stamps As Logos
Stamp out your marketing and branding issues with this design approach.
Make a stamp like a logo and leave the rest to the skilled marketers and hired Wikipedia page creation services to deliver the brand's message and personality to the targeted audience.
---
Every end is a new beginning, and it's time for you to start working on your travel logo design.
Get inspired, pick the right design layout and tone drive the sales of your travel agency and brand.
Author Bio: Valeed Rehman is an Inbound Marketing Expert. His previous experience includes Digital Marketer and Content Strategist for Digital Agency. His passion lies in content creating on different niches and helped many brands in expanding their business like App Development Company UAE. Follow him on @valeeddd.