How Small Businesses Can Launch An SEO Strategy (Without Breaking The Bank)
Being a small business owner is about managing resources, first and foremost.
This is especially important in those earlier stages, when resources may be scarce.
How do you know to focus your attention on guest posting or a branding campaign?
The first and probably the most obvious one is your money.
It would help if you made a variety of investments for your business to grow, but overextended yourself too much, and you no longer have the cash needed to function.
The second area is your time.
As a small business owner, you wear many hats, but being a "jack-of-all-trades, master of none" could mean your business has nothing to stand out with.
How does this all factor into an SEO strategy?
When it comes to smaller businesses, SEO is one of the most potent ways that you can build organic interests in your web pages.
However, the time it takes to try and build a strong SEO strategy scares some people off.
The same comes with the price tag of bringing on skilled professionals to do the job for you.
Here's an in-depth explanation of what you can do to help improve things on your own.
Optimising Existing Pages
First, let's talk about small business owners who may have a website in place already.
Maybe they know a little bit about SEO strategy and tried to put it into action themselves. Perhaps it wasn't a priority at all.
In either case, you should focus on trying to make your existing site the best it can be.
There are two main steps to this.
The first is reevaluating your keyword selection.
If your business specialises in car detailing, "car detailing" may seem like an obvious keyword, right? Not necessarily.
As a small business owner, many of these "obvious keywords" have been swallowed up by major companies, making it difficult for you to compete in the rankings.
Instead, you want to focus on keywords that are more specific in fitting with your speciality.
For example, "vintage car detailing in Toronto" is a keyword that you're going to be able to rank a lot higher for.
Ultimately, when choosing your keyword, you want to strike a balance between something that people are likely to search for, but there isn't much content optimised for.
Tools like Ahrefs can help you determine what meets these criteria.
The second step is taking a look at your existing pages, and making sure the keyword is applied (appropriately) in as many spaces as feasibly possible. This means looking at:
The body of the content itself.
Titles and subheadings (critical)
Alt tags on any images you use (best if the image is also related to the keyword)
Meta descriptions on the back end of your website.
Any multimedia on the pages.
Your first goal should be eliminating any older keywords you may have been working towards and focusing on that new set.
This gives you a base you can work off of for future content.
There's a way you can even get an early start in that regard.
In many cases, small businesses may have a few spare blog posts from a content marketing effort that sputtered out.
This happens, but you can refresh and refurbish old content to build a base for your new strategy.
This doesn't even require a full rewrite a lot of the time. Some key steps you can take are:
Reorganising the piece to make sure pertinent information is placed at crucial points (beginning, end, alongside visuals, etc.)
Remove any existing references or dates so it can be more evergreen.
Add section/sections if a new subtopic/keyword has become more prominent.
Updating your links to remove any broken/outdated ones.
Adding additional multimedia content.
Put together an "updated" label and save the post with a new production date, and you have a new optimised tool for a fraction of the time.
Best of all, some topics allow you to do this repeatedly every year.
Putting together a mega-post on the "Top 10 Food Storage For Camping Trips?" You could update this every year, keeping the same basic framework.
As a final note, if you haven't optimised your site for mobile yet, now is the time to do so.
This may require a little effort from an older page, but it is well worth it.
More people primarily use mobile devices to view web pages than desktop computers, and you don't want to alienate your audience with pages that either doesn't load properly or are difficult to read.
Supplementary SEO Tactics
In general, working on better keywords and more useful content are the twin pathways to SEO success.
However, there are a lot of tangential steps that small business owners can take with their websites to support their efforts.
Best of all, some of these are relatively quick to implement.
One of the first things any business owner should do when looking to improve their SEO is check as many pages as they can, and chart how long they take to load.
This is important for two main reasons.
Website load speed is one of the major factors that determine page ranking.
You only have about 2 seconds for a page to load before the average person assumes something's wrong with your site. This means you could do everything else right SEO-wise, and miss on that conversion anyway.
There are a few main steps that you can take to ensure that your pages load at a proper speed.
Look out for larger image sizes. This is the most common culprit for many websites that take a while to load. Many sites and tools can help you reduce the images you want to web-friendly versions.
Minimise your redirects: Each redirect can cause your page to load slower, getting you closer to that 2-second mark.
Regularly check for broken plugins/applications: This is especially important if you're trying to refurbish a legacy site.
The secondary non-keyword related point of action to support your SEO strategy is trying to boost your link profile.
Google sees sites linking to your content as a sign that others are endorsing your content.
In turn, this boosts your ranking.
To utilise this to your advantage, you want to try and get other sites that are highly ranked and regarded to link to your content.
There are a few ways to go about this.
Trying to get a guest post on a major publication, then including your link in your content or bio.
Reaching out to content creators on social media to share your content.
Using social media to share and broadcast your content, so more people in your niche are aware of it.
Along with this, you also want to try and include more links in your existing content as well to improve your ranking.
Just make sure you're not linking to anything that could be competitive in your niche.
This doesn't necessarily hurt your ranking, but your reader could end up being on your competitor's site instead!
Implementing a Local SEO Strategy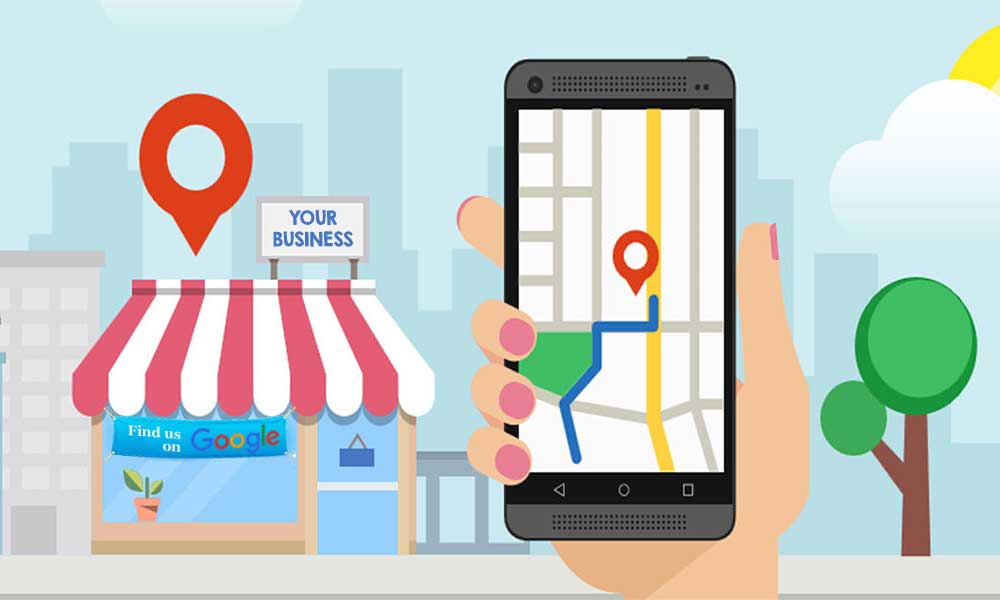 No small business SEO conversation can be complete without talking about local SEO.
We mentioned earlier how specialising your keywords is the way small business owners can carve out their own space in search engine rankings.
Local SEO is taking this into action.
In essence, the "vintage car detailing in Toronto" keyword is an example of local SEO.
People who are looking for local businesses are going to use location-based variants on common keywords to narrow down their search.
By building your pages around this concept, you can reach them.
This isn't a small market, either. Stats show that 46% of all Google searches are local.
There are a few key steps you can make to try and capture the mobile audience.
For one thing, remember how we said more and more people prefer mobile searches?
For local SEO, the balance tips are even higher in favour of mobile devices, so optimising your site is a priority.
You also want to make sure you're thinking about all the potential variants of local keywords your site can use.
For example, "vintage car detailing in Toronto" is good, but a person with the same need may enter "Toronto vintage car detailing" "detailing for vintage cars in Toronto" "vintage car detailing near me" and other similar entries.
Ideally, you want to try and capture as many of these as possible.
Finally, a very underrated tool for your local SEO strategy is creating a profile on online directories like Google My Business.
This allows you to get your branded keyword and other local keywords out there in a new setting, as well as additional relevant information like services and business hours.
Putting Forward SEO-Friendly Content
Many people don't see the forest for the trees when it comes to their SEO content.
In some cases, they see SEO-friendly as carte-blanche to use every single opportunity for a keyword possible, focusing on that over the actual content they create.
This is perhaps one of the biggest SEO mistakes.
In the "wild west" days of SEO, this strategy was a bit more effective, but Google put heavy work into their algorithm to counter the classic notion of keyword stuffing.
Now, their algorithm supports the ranking of content that is not only optimised but also effective.
The more unique information you provide, the more helpful people find your content (enough to link to it), the better your site performs.
So, the best "SEO-friendly" content is often the best content, period.
This puts small business owners in a bit of a bind.
Delegating a few articles a week or a few product descriptions to an intern may seem like a good idea, but do they have the industry insight and knowledge to create truly "useful" content as well?
If you find you don't want to go that route but are struggling to find success on your own, it may be worth it to reconsider getting that outside help.
When Am I Ready To Go To The Next Level?
At this point, we've covered the actionable steps you can take to improve your small business's SEO strategy by yourself, with minimal investment.
However, as your business grows and evolves, your needs and budget may change.
Suddenly, it may be more feasible to reach out to an outside SEO service to optimise your pages rather than doing the legwork yourself.
How do you know when/if the time is right to make that leap?
Here are a few things to consider:
You are no longer able to manage the process alone: It's one thing to optimise a home page, a few category pages, and maybe a basic contact page.
However, your site may grow in features, offerings, and content, and all of them need SEO optimisation to perform at peak levels.
Outsourcing can ensure your quality doesn't dip as your quantity grows.
You see the quality of your SEO diminishing: In some cases, you may delegate SEO tasks internally so that they still get done while saving money. However, it's essential to take a look at things like the Google Search Console to see how your pages are performing in metrics like visit time and bounce rate. If you find these are getting lower or never rising, the people you may have delegated this to may not be qualified when it comes to SEO strategy.
You are doing a complete website refresh: In some cases, growing businesses end up rebooting their websites from scratch to be easier to use on the front and back end. In this case, hiring an outside firm to do your SEO for the new site may save enough time and energy to compensate for the added costs.
You can't get content marketing off the ground: Content marketing is at its most effective when it's done on a frequent and regular basis. After all, how can you build yourself as an authority in your niche when you can't commit to a weekly blog post or more? However, it's challenging for a small business owner to balance this, in some cases, with actually running the business. As a result, many outside SEO firms also have services to help you provide optimised, useful content.
As a final note, in all these cases, you still need to do your part to help these outside firms do their job.
They can provide ideal keywords for you to target, but you need to communicate your target audience and services to do so effectively.
So, ultimately, small business SEO strategy success, at any level, translates to thinking ahead of your audience and understanding the questions that drive their action.
Author Bio: With over 10 years of experience helping hundreds of businesses succeed online, Paul Teitelman is one of the most respected and top-ranking SEO consultants in Toronto & across Canada. A passionate SEO expert that works directly with clients and offers custom white-labelled services to search marketing and digital advertising agencies in Canada and the United States. Add Paul on LinkedIn or check out his SEO blog for more great tips.