Top 8 Tips for PowerPoint Design Presentations
Have you ever attended a presentation that left you disappointed due to lack of quality images, inconsistent colour palette, and poor fonts and made you wish for it to end quickly?
Well, as a professional, we all experience one such moment in our career. But, when it comes to preparing your presentation, how effectively do you do it?
Mundane presentations kill the speaker's reputation and take no time in turning attentive listeners into drowsy zombies, counting the slides and nodding without any interest.
Most of us have a misapprehension that it takes years of experience and extensive expertise to prepare an engaging and winning presentation, but the fact is different.
Even beginners can enhance their PowerPoint skills, prepare outstanding PowerPoint design presentations, and win the hearts of the mass audience by following the below-given tips. Let's have a look!
1 – Prepare An Outline
First of all, brainstorm and plan your presentation to look at the larger picture. Then organise all the points and finalise the theme. For a successful presentation, you must prepare two outlines:
Preparation Outline
This outline covers the content that your audience will see and hear. It consists of:
Attention-Grabbing Statement – A statement that will keep your audience hooked and listen to you.
Introduction – This section provides your audience with a general idea about your presentation, giving them a clue of what to expect.
Body – This section comprises the main points, research, and other relevant information.
Conclusion – It contains the summary of the presentation along with a powerful call-to-action.
Miscellaneous Message – The final message that you want your intended audience to remember.
Speaking Outline
This outline is not intended for the audience. It serves as valuable notes for speakers to enhance their speaking skills. Keep this outline aligned with the main points.
2 – Keep it Minimalistic
Minimalism is all about using simplicity at its finest. The main features of a minimalistic presentation are flat design, dramatic typography, effective use of white space, few UI elements, and limited colour schemes.
Minimalist design gives your PowerPoint slides an uncluttered look, making them easy on the audience's eyes.
The minimalism approach is highly subjective; what may appear minimal and clean to you may appear humdrum to others.
So, the key to making the audience's experience enriching is to keep their needs at the top of your mind while designing the presentation.
3 – Pay Heed to the Content
To make the presentation look more compelling and captivating, we pay more attention to transitions, sounds, and images, thereby wholly overlooking the textual content.
Neglecting the content may sabotage the entire objective of your presentation, leaving the audience in a dilemma.
Instead of starting with something clunky, begin with eye-opening facts or surprising statistics.
Create your presentation into a story format and use visual metaphors to prove your points.
Don't overcrowd your slides with text; include only key points.
Bullet points make it easy for the audience to comprehend the information but avoid overusing them.
The content must match the interest level of the audience.
PowerPoint provides you with options to present your plain text with style. You need to select the text box and click on Shape Format > Quick Styles from the toolbar.
From here, you can choose rotations, Word Art, and custom styles.
4 – Choose the Right Images
You can incorporate images relevant to your content to support your point. Various popular websites offer free and paid professional quality images.
To make your slides more communicative and meaningful, you can use icons, diagrams, graphs, and charts.
You can easily adjust the pictures/images in PowerPoint. Just go to Picture Format > Quick Styles, and select from the available options.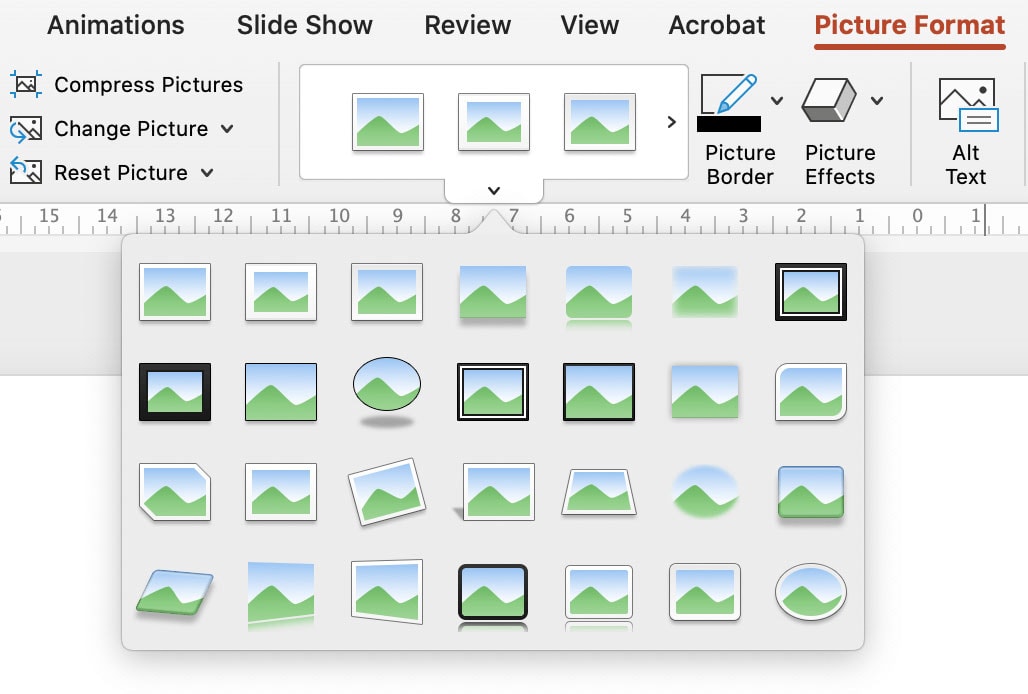 PowerPoint also provides you with the option to compress the images.
You need to add the images that you want to compress. Then go to Picture Format > Compress Pictures.
5 – Customise the Pre-Designed Templates
PowerPoint provides several pre-designed templates; you can choose the one and easily customise it as per your presentation's requirements.
And if you don't find any template relevant to your presentation's theme, you can get professionally designed PowerPoint templates from various online sources.
You can change the direction of the text (choose the text and go to the Text Direction option on the toolbar), align all graphics (select multiple graphics by pressing CTRL key and then go to Shape Format > Align), work on background themes (Design Tab > Format Background), and make many other customisations.
6 – Apply Transition Effect
By applying a transition effect to your slides, you can bring your PowerPoint presentation to life. What you need to do is, choose the slide to which you want to add a transition.
Then go to the Transitions tab > choose a transition > see the preview > Effect Options > Preview.
You can use an automatic advance transition option to avoid any interruption. Go to Transitions (from here, set a particular time for each slide).
If you want to remove the transition effect, select Transitions > None.
7 – Embed Your Own Fonts
If your organisation uses a particular font, you can embed the same fonts in your PowerPoint design presentation. Simply go to File > Options > Save > Preserve Fidelity.
Here, enable the option of "Embed fonts in the file" under Font Embedding. The embedded fonts will not get distorted even if you present them on another system.
If you are using PowerPoint on MAC, you can go to the menu to select "Preferences". A dialogue box will open, and then under the "Output and Sharing" option, click on "Save".
Under "Font Embedding", select the "Embed fonts in the file" option.
8 – Embed Sound and Video
Adding sound and video to your slides is not a hard nut to crack with PowerPoint design presentations. Just go to Insert > select the sound or video that you want to embed.
You can select from the available library of Microsoft or browse your system where the media is stored.
You can also set videos as a background for your slides. If the video is short, you need to go to Video Tools > Playback.
And if the video is long, you can drag and drop it to fit its size as the background of the slides.
Besides these, PowerPoint comes with many other features to help you design your presentation like a pro.
The Bottom Line
Powerpoint designs provide a unique perspective of your information to the intended audience.
PowerPoint comes with many design options to help beginners unlock the new level of innovation and modernisation in their upcoming presentations and convey their message with utmost clarity.
Moreover, with PowerPoint, you can easily make customisations to the pre-designed templates to craft presentations aligned with the brand guidelines specified by your organisation.
You need to explore these features, learn about them, and use them to the fullest. Happy Designing!
Do you have any other expert PowerPoint design tips that you would like to share with our readers?
Let us know your thoughts in the comments below. And, if you like the blog post, do share it on your social media handles.