The Importance of Wireframing in Web Design
Wireframes can be considered as the blueprint on which the final design of the site is created.
The primary objective of website wireframing is that everyone involved with the website design and development process understands the client's vision.
Before we start, It is imperative to understand why we are learning what we are learning.
So let me ask you these simple questions.
How do you decide how many components should be there in your navigation bar?
How do you decide whether your web pages should use 4 column grids or 3 column grid?
Where should the images be placed on a web page? How about the placement of videos?
All these questions need to be answered before we begin the design.
Yes, I do understand that for a basic website these things are often ignored.
However, for multi-billion dollar companies like Amazon, Alibaba or Uber these things cannot be overlooked.
In this article, we will learn how these decisions are made by online marketing giants like Google, Amazon, Alibaba, Uber etc.
Why do you need a wireframe?
A wireframe is essentially the foundation on which the website design and development will be done.
As there are multiple people involved in the creation of a website, wireframes ensure that everybody working on the site are on the same page.
As the saying goes, the more you sweat in practice the, less you will bleed in the battle.
That is why it is recommended to do brainstorming with all the concerned persons starting from the client coordinator, project managers, designers, developers and all those who are involved in the project during the wireframing and prototyping phase of web design.
The time and cost of any minute changes during the development phase are much larger than what it takes for these brainstorming sessions.
Always make changes during the wireframing phase.
Whenever you are working for a prominent client or big company, there is a concept called wireframing that everyone follows.
When beginners in web design move on to bigger companies in their career, they are often confronted with the concept of wireframing and are clueless.
There are experts specialised in the wireframing aspect of the design, but most often they are not needed as this is something a web designer could do with a little training.
Many times your project manager and developers sit together and brainstorm and come up with a good wireframe.
So let me give you an introduction about wireframing in web design and what are the tools used for wireframing.
How do you create a website wireframe?
Website wireframing is merely an idea of how you want your data to be shown on the website.
Here is a quick hint to identify a wireframe, if you see a simple design layout in just black and white that is a wireframe.
In wireframing we are not worried about how our buttons are going to look, what colour we will choose, what images we use etc., it's all about data, what kind of data we want the user to see at the very first page, known as primary data.
What is the data that can be moved to the second page so that users clicks on something before seeing that data?
These are all very controversial decisions, as everybody involved in the decision making will be having a different opinion often, which could be for the best outcome.
In wireframing we do not use any images, videos or colours instead, we mock up the screen.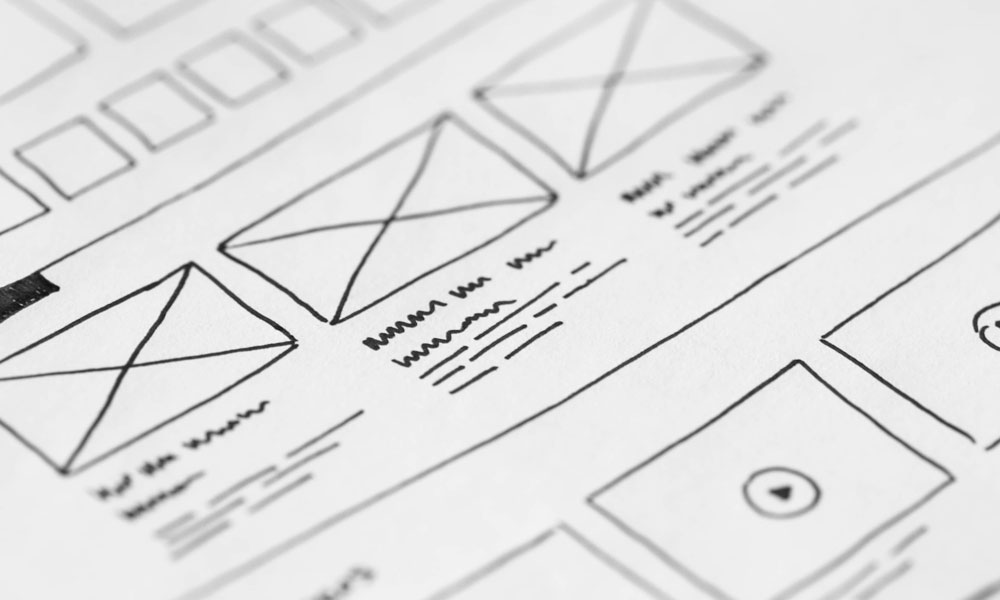 Standard wireframe element to represent an image.
To indicate the position of images in a website, we use an image with just a cross sign as shown in the above picture.
Now the goal here is I want the image in this section and data at this section, what should be in our navigation bar and where should be our navigation bar.
What should be the image and the content of data is not finalised in wire-framing.
Wireframing has two stages, the Low fidelity wireframing and High Fidelity wireframing.
Fidelity means how accurately the wireframe represents the final version of the design.
Low fidelity wireframing is the initial stage of wireframing and does not represent the final design, while high fidelity wireframes give a more accurate outlook on how the final design will be.
Low Fidelity Wireframes
The objective of low fidelity wireframing is to lay a basic structure of the website based on the vision of the client.
In low fidelity mockups, you can start by picking up a pen and paper and start drawing.
It's far easier to change anything in the design phase.
If you didn't like any aspect of the design, you can throw out the paper and start drawing again.
These low fidelity frameworks may sound time-consuming, but it saves a lot of time and money.
Because it's very costly and often requires much time to make even a small change during the development phase of your website.
When all the people involved agree on the low fidelity wireframe, which is done on paper, we move on to the next stage of wireframing.
This initial stage of the wireframing using pen, paper and sharpies are called low fidelity mockups.
High Fidelity Wireframes
High fidelity wireframes or mockups are done after everyone involved with the project agrees on a low fidelity framework after detailed discussions.
High fidelity wireframes give a lot more detail to the designer by providing information about how real UI elements should look like in the final design.
It is a lot easier to understand for the clients and developers.
High fidelity wireframes may use logos and real content, button style etc. so that the designer completely understands the desired outcome.
This part of website wireframing is done using wireframing tools.
There is customised software with a lot of advanced features, just for doing the high fidelity wireframing.
You can also use standard design software like Photoshop, illustrator or sketch for this purpose.
High fidelity wireframes take comparatively a lot of time compared to the low fidelity wireframes and will increase the cost of web design services.
It would help if you communicated with the client whether they need a high fidelity wireframe before starting the project.
Difference between website wireframing and prototype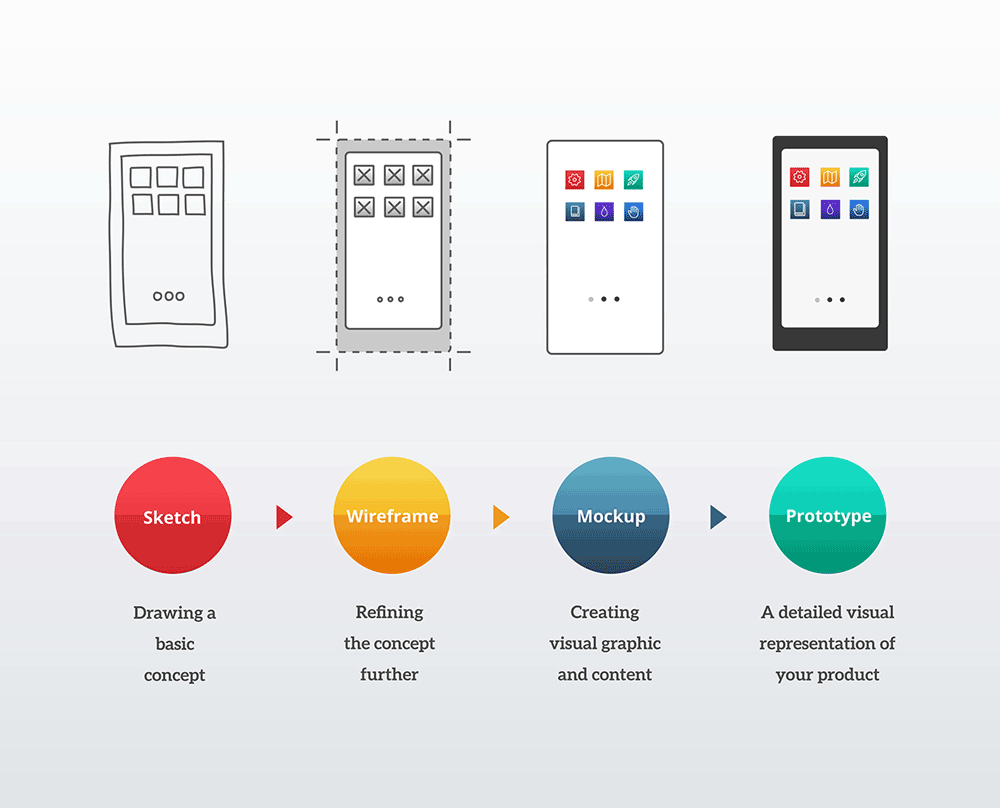 Website wireframes and prototypes of a website are completely different and serve a different purpose.
Website prototype is a simple working model of a website created to test the efficiency of the site before the final output.
A prototype will contain all interactive elements of the website trying to resemble the final product as much as possible.
Prototypes help the UI/UX designers to examine the user interactions and to make changes that improve the usability of the website.
Top 15 Wireframe Tools to Fire Up Your Creativity and UX Designs
This segment covers the list of top 15 wireframe tools that break you out of your conundrum and helps you unleash your artistic side:
Operating on the principles of HTML5, CSS, and JavaScript, FluidUI is an open-source wireframe tool. It is considered to be the leading wireframe tool amongst the designers. 
Conglomerates like Oracle, Google, etc. majorly use it for creating stunning wireframes of their websites and mobile applications.
Available for both Android and iOS platforms, it also supports Mac, Windows, and Linux operating systems. With a built-in library of 2000 components, it becomes easier for the designers to create interactive wireframes on FluidUI. 
Price: Starts from $8.25 per month
Featuring drag-and-drop functionality, the Balsamiq Mockup tool ranks at #2 position in our list of best wireframe tools.
What makes it unique is its ability to integrate with Google Drive alongside the app/desktop and web browser support allowing the designers to work in offline mode as well.
Massive repository of UI elements, Sketch and wireframe skins, secure collaboration with third-party apps, and a free trial of 30 days are just a few perks that make it flexible, convenient, and easy to use for the beginners. 
Price: Starts from $9 per month
Tech giants like Apple and Facebook prefer Sketch over other wireframe tools because of its simplicity and exclusive support for MAC OS. 
Some other benefits which designers get by using Sketch include:
It supports both the vector-based designs as well as artboards. 
It doesn't contain any built-in UI components, yet allows designers to use third-party UI kits seamlessly into their wireframes.
Automatically updates its system refreshing its overall interface and improving its efficiency. 
Sketch comes with only one downside. 
Price: $99
Pidoco comes with a large pool of drag-and-drop interface elements along with the unique feature of adding multiple pages and layers. 
Two factors, which made Pidoco a part of our list are: 
Designers can share and edit screen with others and engage in conversation with them on a real-time basis.
Pidoco offers easy customisation and integration support for JIRA, PLANIO, and others via its API
Designers also get the flexibility to create custom building blocks which are reusable without any time constraints.
Price: $9.99 per month. Its pricing options are categorised into four segments.
Light on pockets with several additional features built-in is what makes Figma the right choice for both an individual designer as well as for a big team. 
It supports multi-collaboration allowing teammates the flexibility to indulge in a conversation all within the design file. 
A predesigned Wireframe Kit makes it easier for the designers to create artboards, add visual elements, and keep it organised.  
Price: Its free plan permits the creation of three projects, while PROFESSIONAL & ORGANIZATION starts from $12. 
Designed by ADOBE, Adobe XD allows the designers to create sitemaps, sketch wireframes, and create storyboards. 
It operates only on MAC and Windows OS and supports a good range of UI elements and comes with a primary wireframe vector-design tool. 
A unique ability of ADOBE XD is that it makes it convenient for the designers to create wireframes, prototypes, and mockups in the same design file, thus avoiding possible reiterations. 
Price: 
FREE Plan – Supports the creation of only one prototype with 2 GB cloud storage space
PRO Plans: $9.99 and $52.99 per month, offering 100 GB cloud storage space
Moqups gives you the ability to design sitemaps, flowcharts, storyboards, and functional prototypes. 
Supportable on MAC, Windows, iOS, and Android, Moqups is only a web-based platform which allows designers the flexibility to work from anywhere. 
It comes integrated with a majority of styling and font options, stencil kits, drag-and-drop ability making the overall process quicker. 
Price: $20 per month for three users, $7 for extra user
Operating on the lines of Adobe Flash platform, MockFlow offers a clean and minimal interface to its users. 
It is incorporated with a range of features like version tracking, sitemap creator for pages and folder, etc. Mockflow emphasises more on mutual collaboration and sharing.
Price: $14 per month per user
UXPin tends to be popular among designers because of varied reasons. A glance at some of the major ones:
It's flexible and easy to use 
Offers nearly 1000+ UI elements for web, mobile, and cloud-based wireframes
Operates well on iOS, Android, Windows, Bootstrap, and Foundation
Designers get robust and interactive wireframe and prototype design
Designers can customise existing UI elements by altering or adding new CSS code
UXPIN offers another unique feature dubbed the PREVIEW mode, which makes it easier for the designers to showcase their prototype design through a working model
Price: $12 per month per editor
Despite, ranked at #10, Marvel holds a good number of users across the globe. Feature-wise, Marvel has a lot to offer to its customer base like:
It provides the designers' support for both Sketch and Photoshop files and the option to add their designs to a Marvel library
Users are allowed to test their designs on any size screen inclusive of Apple Watch
Fully compatible with iOS and Android platform
Integration with applications like Slack and Dropbox boosts the workflow process to a great extent.
Marvel is intuitive and comes incorporated with a beautiful user interface, which transforms how designers incorporate their ideas on it.
Price: $14 per month per user
A web-based online diagram editor, Gliffy, is used for creating and sharing flowcharts, network diagrams, and user interfaces. 
It enables you to create UML diagrams and flowcharts. This wireframe tool also provides you with real-time editing of layouts. Here're a few advantages offered by Gliffy:
It has Venn diagrams, which help you as a user to create your organisation's charts. The Venn diagrams help in creating a fantastic wireframe.
It has three paid versions and provides an easy drag and drop interface.
It facilitates users to protect accidental change and track changes.
It lets users share the wireframe on any platform with anyone that is quite easy.
Price: $7.99 per month
A diagramming and digital illustration app, OmniGraffle is used to design your website wireframe, diagrams, and page layouts. 
When it comes to mac, then it must be your first choice. Check out some of the powerful features, which are embraced by OmniGraffle:
Users will get a vast library of stencils to choose from. Each stencil is easily customisable. 
Three paid versions of OmniGraffle can be bought by paying a certain amount. 
This excellent tool allows users to make diagrams and drawing apps.
It has a little steeper learning curve and provides a simple drag and drop environment to create functional wireframes, UI mockups, and flow charts.
An authoring tool, Justinmind Prototyping tool, is used for web and mobile prototypes and high-fidelity website frames. 
It proffers capabilities found in diagramming tools like drag and drop placement, resizing formatting, and export/import of widgets. 
It also embraces features for annotating widgets and defining interactions such as animations, conditional linking, calculations, simulating tab controls, and database simulation with real data.
Price: $19/user per month
This popular software tool is aimed at web, mobile, and desktop applications. It is a wireframing, rapid prototyping, documentation, and specification software tool. It also offers drag and drop placement, resizing, and formatting of widgets. 
Moreover, it is an excellent source to evaluate web or mobile apps. Check out some features of Axure RP wireframe tool:
It supports prototyping Rich Internet Applications and generates HTML websites for preview and team collaboration.
It can also connect to other tools and services such as Slack and Microsoft Teams for collaboration. 
It also offers three paid plans to choose from.
Lastly, it provides an excellent level for prototypes.
A cloud-based solution, Invision, is used for designing a wireframe for a website or an app. 
For designers, it is considered as an ideal choice for high-fidelity designs. 
This wireframe tool also provides a wide variety of prototyping tools and features that enable designers to create a completely functional prototype.
Wireframes are an essential part of web designing, and these tools have everything you need to bring your ideas to life. 
Which wireframe tool out of our 15 best choices do you think is the best match for your designing requirements?
Do you need wireframes while designing websites for smaller clients?
Companies like Uber, Amazon and Google develop their websites and apps with great perfection, and they can afford to invest more in wireframing and prototyping.
But what if you are working for a mediocre client who barely knows what he wants on a website, then following this procedure will become a lot trickier than you expect.
Doing wireframing and prototyping before website design is going to increase the cost of web design services.
Sometimes developers at a small web design company may skip this aspect of web designing.
However, this is not a good practice, and you obviously will end up making a lot more changes during the development phase, when working for a client who does not have a clear picture about how his website should look like.
You may even charge such clients for conceptualisation and wire-framing separately as they have no clear picture about what they want.
It is better to educate the clients about the importance of wireframing in web design and how it will help them to save cost and speed up the project.
Time is money in this field, most designers are charged for an hourly rate, and you don't want to partner with a client who does not have any idea about what they want, as there will surely be a lot of unpleasant experiences with such clients.
Contributors:
Hardik Shah works as a Tech Consultant at Simform, provides application development services. He leads large scale mobility programs that cover platforms, solutions, governance, standardisation, and best practices. Connect with him to discuss the best practices of software methodologies @hsshah_.
Pranoy Sundar is Digital Marketer in Global Media Insight, a Dubai web design agency. He is passionate about everything to do with digital marketing – from designing websites, creating content to online advertisements and SEO.