13 Advanced SEO Strategies to Boost Website's Rankings
Have you ever observed how SEO is a living, breathing creature? Nothing can be done to avoid it. When you believe you understand exactly what Google is looking for, an algorithm update shatters your strategy.
However, some tried-and-tested SEO strategies will always be relevant to your business. By implementing these tactics on your website, you improve your chances of succeeding with SEO and safeguard it from future Google updates.
With SEO, there are three approaches to implementing change: on-page, off-page, and technical SEO. You must carefully study these SEO methods and learn how to use them efficiently.
SEO will be much easier if you have guidance from professionals who are experts in the field. Nowadays, Google is becoming more volatile, and many SEO agencies will assist you with their On-page, Off-page, and technical SEO services.
These tactics have always been crucial throughout the history of SEO, but Google is improving at analysing signals and figuring out which material genuinely complies with these requirements. Let's look at some advanced SEO strategies you can use in 2023 to boost your website's SERP rankings.
1 – The new 'E' in 'EEAT.'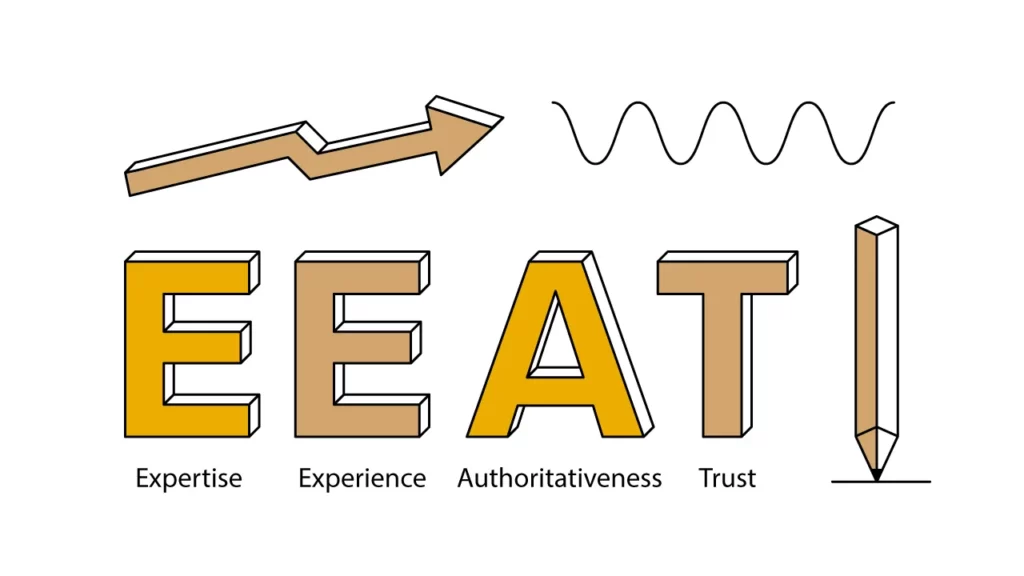 E-A-T, which stands for Expertise, Authoritativeness, and Trustworthiness, plays a crucial role in SEO by influencing how search engines evaluate and rank your websites. As of December 2022, Google added 'E' to its website evaluation criteria.
Here's a brief explanation of how E-E-A-T factors into SEO:
Experience
The first and the newest 'E' belongs to 'Experience,' i.e., Google will now consider the experience level of the author or creator of a website or content while evaluating the quality of the page.
Google will look into the experience level of the content creator and will see if they have real-world experience in the niche they are talking about.
Expertise
Search engines seek out high-quality content that demonstrates your qualifications. It's crucial to provide content that identifies you as an expert in your field and is well-researched, accurate, and insightful. This makes it more evident to search engines that your website offers consumers helpful information.
Authoritativeness
Building authority is crucial for success in SEO. Search engines consider the authority of your websites when ranking them. You can enhance your authority by earning backlinks from relevant and reputable websites, being mentioned or cited by influencers from your industry, and obtaining positive reviews and testimonials.
Trustworthiness
Trust is vital for SEO. Users and search engines must trust your website to get ranked and more leads and conversions. Some factors can ensure search engines and your customers trust your websites.
Ensure your website has a secure HTTPS connection.
Provide accurate and reliable information.
Display your contact information and privacy policy.
Provide a positive user experience and get low bounce rates.
Get positive reviews from your past clients.
Remember that E-A-T is a framework that search engines employ to evaluate the value and relevance of webpages rather than direct ranking criteria. You can increase your website's likelihood of ranking well in SERPs and draw more organic visitors by concentrating on producing high-quality content, developing authority, and fostering trust among customers.
2 – Provide audience-targeted content
To engage your target audience, you must create content specifically for that audience. Here are some necessary actions you can take to create such engaging content.
Identify your target market: By considering demographics, hobbies, requirements, and pain points, you may identify your perfect audience. To gain a comprehensive image of your target audience, establish buyer and user personas with the information you collected on them.
Conduct keyword research to find the appropriate words and phrases that people in your target market will probably use to find information about your business or products. Make use of keyword research tools to see these relevant and popular terms.
Create attention-grabbing headlines and introductions that clearly explain the value and relevancy of your content to capture your audience's attention. Address their concerns and provide solutions or advice.
Offer valuable and pertinent content: Produce top-notch content that speaks to the wants and preferences of your target audience. Offer helpful advice, in-depth guides, insights into the sector, or responses to frequently asked questions. Ensure your information is well-organised and simple to read.
Use a conversational tone: Writing in a conversational tone can make engaging and connecting with your readers easier. Unless your audience is very technical, stay away from jargon and sophisticated vocabulary.
Add multimedia and visuals to your material to make it more engaging. Examples of visuals include pictures, infographics, videos, and audio components. Visuals can improve engagement and aid in the more effective delivery of information.
Encourage audience participation and input by incorporating calls-to-action, comment sections, or social sharing buttons. Responding to criticism and comments will help you connect with your audience.
Remember that developing content for a specific audience necessitates continual research and change depending on audience input and shifting trends. Analyse your analytics data frequently to determine what content resonates with your audience and adapt as necessary.
3 – Target long-tail keywords
Targeting long-tail keywords for SEO has several benefits. In contrast to generic, shorter keywords, long-tail keywords are more particular and frequently have lesser competition. As a result, your chances of appearing higher in search results have increased.
Second, long-tail keywords point to more focused user intent, enabling you to target your content better to meet user requirements. You may get higher conversion rates and improved audience engagement from this.
Additionally, as people who search using specific terms are more likely to be searching for information or making a purchase, long-tail keywords frequently provide more qualified traffic. You can tailor your content to the precise requirements of your target audience and enhance your overall SEO performance by concentrating on long-tail keywords.
4 – Use keywords in Alt Text for images
Alt text, or alternative text, briefly describes a picture. It is used as a ranking factor in image searches.
Alt text has three purposes:
Accessibility: For visually impaired users, alt text can be read aloud using a screen reader. Unfortunately, 55% of e-commerce sites do not fulfil basic accessibility standards.
Context: When an image cannot be loaded onto the website, the alt text serves as an alternative to offer readers context.
Search engine optimisation: Alt text is used by search engine crawlers to assist them in indexing an image properly. In 2021, Google affirmed that alt text is still important for SEO.
Google's algorithm improves as the internet becomes more widely available. This means that search engines favour accessible websites over inaccessible ones. Here are some ideas on using keywords in the alt text.
Consider the image first, then create a description to go with it.
Make sure your description accurately describes the image. On the other side, keep it simple and don't overcomplicate things.
Consider using your primary or secondary keywords in the alt-image text. For instance, highlighting that the image is a screenshot of the procedure described in your content.
5 – Use Keywords in Headers
When you use keywords in headers, you tell search engines and people who read your content the purpose behind the search terms. Keywords in headers give context for search engine bots like a table of contents does for people.
However, before determining where to position your target keywords or other variants, consider the user experience and Google suggestions. Avoid keyword stuffing at all costs. It will only backfire on all your efforts.
Here are some pointers on how to use keywords in headers:
Choose your post's target keyword to add in the headers.
Use a keyword research tool to find other keyword variations and pick the one that receives the most searches.
Optimise at least 40% of all the H1, H2, and H3 headers.
6 – Create a comments section in your post
The comments section of an article is vital since it enables audience engagement, fosters debates, and gives valuable feedback about a product or service. It develops a feeling of community, builds relationships with readers, and can lead to new ideas or views on the subject.
Comments may benefit your SEO in three ways:
For starters, comments may be a direct ranking element.
Second, comments provide readers with additional content to read and do. This might increase dwell duration.
Finally, a comments area contains information that Google crawls, indexes, and ranks.
7 – Product page SEO
As Google continues to favour long-form, informational content, sites with these types of content, such as product pages, may benefit from offering more helpful information to their customers on the page.
Drop-down menus, FAQs, and customer reviews are all examples of methods to add to the material on a product page. Although including keywords in the product description is beneficial, consider answering additional queries that customers may have about the product before purchasing, like the ones below.
Do you provide free shipping?
What are the return policies?
Does the product come with any warranties, upgrades, or add-ons?
Is it possible to include client testimonials or reviews of the product?
8 – SEO Competitor Analysis
Looking to competitors has always been an intelligent approach to developing a successful SEO strategy. With the additional support of SEO tools, competitor analysis has become much easier and more successful in 2023.
As Google focuses greater importance on industry knowledge and "topic areas" of websites, looking at thought leaders in your business and how they implement SEO for their websites will be a guaranteed approach to determine what sorts of material will rank in your market.
You can use SEO competitor software to compare competitors' content, Domain Authority, backlinks, and more.
Examine how competitors develop experience, competence, authority, and trustworthiness via on-page and off-page signals, and apply those findings to your SEO initiatives and content strategy.
9 – Use Internal Links
Building backlinks is critical to SEO success. However, it would be best if you also analysed the structure of your internal links.
When you link to internal material, you take visitors further into the site. This enhances the likelihood of people engaging with your content in meaningful ways (for example, commenting on a blog post or sharing on social media), which boosts SERP rankings.
Here are some pointers on how to include and leverage internal links:
Choose pages with additional content related to the topic from which the user found you.
Use natural anchor language that encourages readers to go to the next page.
Avoid generic anchor sentences like "click here" or "read more." More detailed anchor text assists Google in determining how to index your page.
Ensure the essential pages of your website are just two or three clicks away from the first page your customers see.
10 – Focus on 'Top of the Funnel' keyword phrases
In SEO, broader, more general keywords are referred to as the 'top of the funnel' (TOTF) keyword phrases since they are frequently utilised by customers just starting out on their buyer's journey or looking for general information. Here's why they're crucial for your business.
A larger audience can be attracted to your website using top-of-the-funnel keywords with a higher search volume. Focusing on these keywords improves your chances of connecting with a broader group of potential clients and generating more organic traffic.
Increases brand awareness: Users may not have a specific brand or product in mind when starting their study or discovery. You may introduce your brand, create credibility, and raise awareness among people who may not be familiar with your offerings by optimising your content for TOTF keywords.
Lead nurturing: Not every user is prepared to purchase or act immediately. You can offer insightful details, instructional materials, or other resources that nurture leads and assist them in progressing down the sales funnel by focusing on TOTF keywords.
Long-term SEO strategy: TOTF keywords are crucial for your long-term SEO strategy while maybe having lower conversion rates than more focused keywords. By focusing on these broad phrases, you can build a solid foundation and attract consumers early in their user journey.
In your SEO approach, remember to balance top-of-the-funnel and bottom-of-the-funnel keywords. You can draw in a large audience, nurture leads, and eventually increase conversions by focusing on a combination of both.
11 – Focus on Local SEO
Local SEO is essential for businesses that target people from a specific location. Here are some reasons to focus on local SEO for your business growth.
Enhanced visibility: Local SEO makes your company appear in relevant local search results and makes you more visible to local clients. This is especially useful for businesses with physical locations and local service providers.
Targeted traffic: Local SEO enhances your website and online presence to draw local clients more likely to convert into leads or sales. You may attract targeted traffic from those looking for goods or services in your region by using location-specific keywords and optimising your Google My Business (GMB) profile.
An advantage in the competitive marketplace: Local SEO enables small and medium-sized companies to compete with bigger businesses. You may improve your visibility and differentiate yourself from the competition, especially in the local market, by optimising your web presence for local searches.
Optimisation for mobile and voice search: As mobile devices and voice search have increased, local SEO has become even more critical. Many users use smartphones or voice assistants to search nearby businesses. You can appear in these mobile and voice search results by optimising your website and content for local searches.
Online reputation management: Managing online ratings and reviews is a part of local SEO. High ratings and favourable reviews significantly impact what potential buyers decide. Your internet reputation can be improved, and trustworthiness among your local audience can be increased by continuously monitoring and responding to reviews.
Local business directories and map listings: Local SEO entails effectively and consistently putting your business on regional review sites, map platforms, and local business directories. These ads make it simple for customers to identify your company and offer crucial details like your address, phone number, and operating hours.
Local SEO enables businesses to compete in the local market, boost exposure to local clients, produce focused traffic, target specific geographic areas, manage online reputations, and use local directories. Businesses may build a strong local presence and interact with potential clients in their target area by investing in local SEO methods.
12 – Audit existing pages for refreshes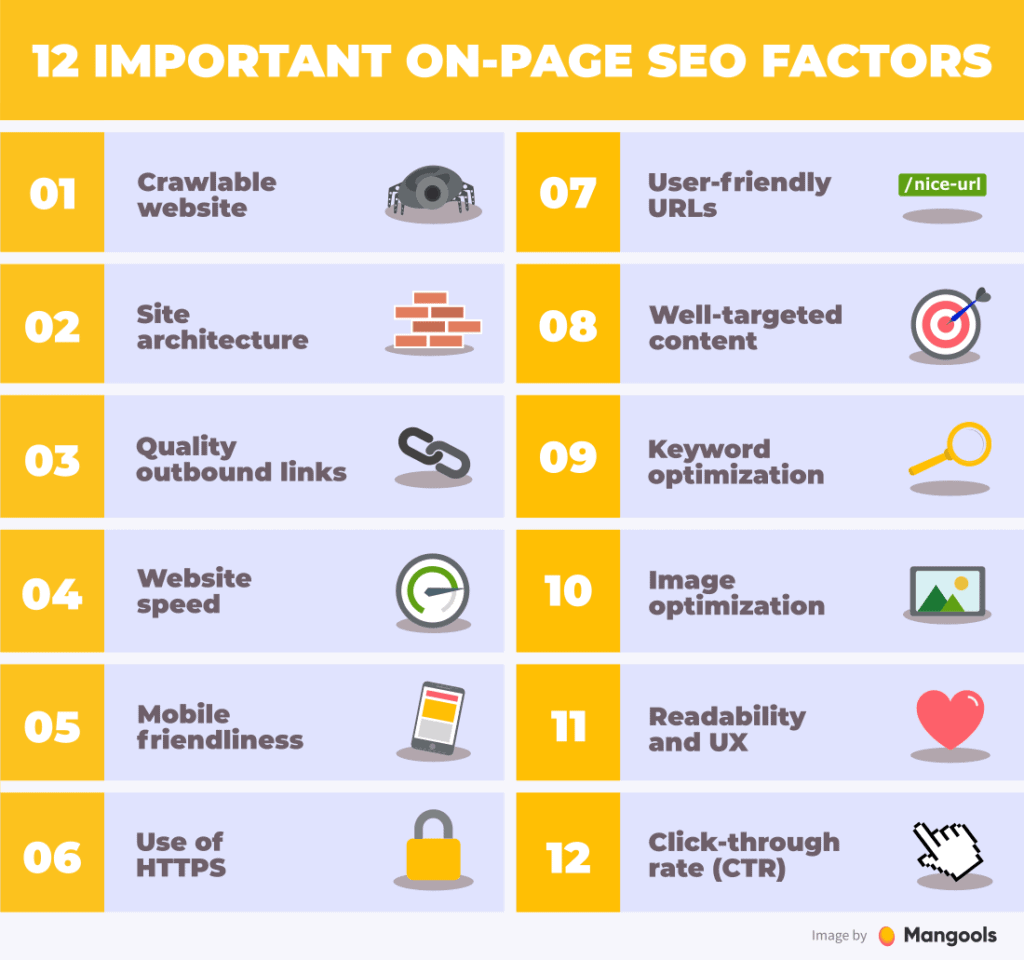 Regularly auditing and refreshing current pages is one of the best SEO tactics. By doing so, you can keep them informed about the most recent statistics, brand-new target keywords, and updated meta tags.
A critical advantage of updating the content on your website is that it will perform better in search results. Additionally, keeping up with Google's Freshness Algorithm requires updating out-of-date or obsolete content with new, pertinent information.
Here are some guidelines for performing an audit:
To examine your website thoroughly, use an internet tool like Ubersuggest, Semrush, or Ahrefs. This will make it easier to find any technical problems that might be hurting how well you rank in search engines. For instance, watch for broken links, sluggish pages, and photos without alt or meta descriptions.
Review the effectiveness of each page. Look at statistics like traffic, engagement, bounce rates, and conversion rates. Keep track of the pages that are working well and those that want improvement.
Look at your rivals' websites to see how they do for related keywords.
Then, review the information on each page of your website. Does it offer readers value and contain relevant keywords? Remember that quality is more important than quantity; try to write excellent articles rather than fluff articles that are keyword-stuffed.
Look at your material right now. Is it exciting and pertinent? Are your keywords used consistently throughout? Do each page's unique meta descriptions and title tags stand out on search engine results pages (SERPs)?
13 – Work on fixing your Core Web Vitals
Three critical criteria are covered by Core Web Vitals (CWV): visual stability, interactivity, and loading speed.
Visual stability checks whether page elements move around unexpectedly or create layout shifts as it loads, while loading speed measures how quickly a page loads, interactivity measures how long users interact with it, and so forth.
Even though CWVs are crucial to UX, only 39% of them meet the standards set by Core Web Vitals, with the remaining 61% falling short.
Check Google Search Console to see how your CWVs compare.
Here are some suggestions for enhancing Core Web Vitals.
Give improving page speed a top priority. The Largest Contentful Paint (LCP), which determines how long it takes for a page's primary content to load, is used to measure this metric.
Check for visual stability by ensuring nothing moves while the page loads or visitors interact with it.
Reducing unused JavaScript and CSS code is another efficient method for enhancing fundamental site functions. By doing this, you may speed up page loads and make it simpler for search engines to crawl and index your website.
To gauge website load times, conduct a technical SEO audit.
Improve interaction by implementing tools like lazy loading and unlimited scrolling. These methods can speed up page loads while also enhancing user experience.
Wrapping up the Advanced SEO Strategies
The trends listed in this article will all be essential to remember in 2023, as they are all directly influenced by Google's algorithm upgrades, values, and objectives. Additionally, you can use SEO tools to more simply and successfully meet Google's ever-higher demands for content.
As much as Google's algorithm and SEO evolve, one constant remained: providing your customers with relevant, high-quality content.
Implementing the various on-page, off-page, and technical SEO methods outlined above will ensure you dominate SEO with Google. These advanced SEO strategies will assist you in improving your content for both users and crawl bots to provide a clean, engaging experience.